The recent crisis between Russia and Ukraine has led to significant drops in Russian shares. Russian stocks were already cheap before the recent crisis, and took further beating after the Crimea standoff. For contrarian and value investors this may represent a good time to buy, especially quality companies with below-average political risk. One interesting opportunity may be Lukoil (OTCPK:LUKOY), one of the world's largest oil & gas companies. Its current market capitalization is about $45 billion, and is traded in the U.S. in the over-the-counter [OTC] market.
Lukoil is Russia's second-largest oil company, and one of the world's biggest vertically integrated companies for the production of crude oil and gas as well as for the refining of petroleum products and petrochemicals. Headquartered in Moscow, Lukoil is the second-largest public company, after Exxon Mobil (NYSE:XOM), in terms of proven oil and gas reserves. In 2012, the company had 17.3 billion barrels of oil equivalent [boe], accounting for some 0.8% of global oil reserves. The company has operations in 38 countries around the world.
ConocoPhillips (NYSE:COP) was one of Lukoil's largest shareholders for several years, but it sold its stake in 2011. Currently, Lukoil's management owns more than 50% of the company shares, which is quite unique for publicly traded Russian companies. This is one major positive factor compared to Gazprom (OTCPK:OGZPY), in which the Russian government holds most of the control in its hands due to its equity stake above 50%. Usually, government interests aren't necessarily aligned with private investors, thus in Lukoil's case it seems that management's interests should be in line with the remaining shareholders' interests.
Lukoil was formed in 1991 by the merger of three state-run companies due to the reasoning at the time that the only way Russians could compete against western companies was to copy their business model. That meant vertically integrating the three branches of the industry - exploration, refining, and distribution - that were strictly separate under the old Soviet system. Lukoil was one of the first Russian companies to receive full listing on the London Stock Exchange and the first company traded on the Russian Trading System [RTS] stock exchange, being currently one of the largest components in the RTS index.
Despite its attempts to increase diversification outside of Russia, the company still relies heavily on Siberia. This is the leading region in Lukoil's hydrocarbon reserves, proven oil reserves, and exploration and production drilling. Even though Lukoil has oil reserves in seven countries, about 95% of its oil reserves are located in Russia. Regarding gas, its reserves located in Russia account for 75% of its total gas reserves, with Uzbekistan and Kazakhstan accounting for most of the remaining gas reserves.
In 2013, the company produced 2.202 million boe per day, an increase of 1.5% from the previous year. For 2014, the company expects to increase its production by more than 1%, which is nevertheless below its long-term goal of CAGR of 3.5%. The crude oil production in western Siberia has declined for a number of years, but the company is expanding to other regions like the Urals and Timan-Pechora, which should enjoy expanding production. Combined with Lukoil's gas projects, this should lead to future production growth for the company. Gas is expected to increase its weight in the company's hydrocarbon production from 16% in 2011, to 27% in 2021. Most of this growth is expected to come from new projects that should be operational until 2016.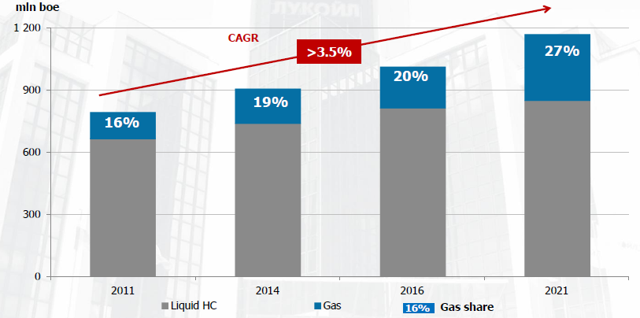 Lukoil's lifting costs per boe are well below the cost of many of its competitors, which leads to above-average financial efficiency. Its EBITDA and net income obtained from each boe of production is among the top of the industry, as shown in the next graph.

Regarding its financial performance, Lukoil reports its financial accounts under US GAAP and will switch to international standards [IFRS] from 2015. This means its accounting its directly comparable to its peers based in the U.S. and Europe, being another positive factor compared to other Russian companies that report their financial performance under Russian accounting standards. In 2013, Lukoil's revenues amounted to $141.5 billion, an increase of 1.6% from the previous year. Its EBITDA was about $16 billion, representing an EBITDA margin of 11.3%. Its net income dropped by 28% to $7.8 billion due to asset impairments ($2.5 billion), but without this one-off effect the decline was only 6% to $10.3 billion. Its earnings were also affected by low refining margins in Europe and the political situation in Ukraine, two factors that continue to persist in 2014 and should remain a headwind over the coming months.
Going forward, Lukoil should report relatively stable revenues over the next three years but its profitability should improve. Its EBITDA is expected to reach more than $20 billion by 2016, or an EBITDA margin close to 15%. These forecasts seem to be relatively conservative, and could be revised upwards, especially if oil prices go up over the next few years.
Lukoil has a very good dividend history, given that it has consistently increased its dividend since 1996. Its last annual dividend was $2.53 per share related to 2012 earnings, an increase of 20% from the previous year. For 2013, its annual dividend is expected to be above $3.00 per share. At its current share price, this translates into a dividend yield of roughly 5.6%. Lukoil has distributed 23% of net income in 2012 and is looking to boost the payout ratio to 30% in the medium term. This means it should continue to increase its annual dividend payments for several years. The company is also moving from annual dividend distribution to paying them out twice a year, increasing its income appeal. For the next few years, Lukoil's goal is to increase its dividend by not less than 15% year-on-year.
Lukoil's dividend seems to be sustainable as it is also supported by the company's relatively good cash flow generation capacity and strong balance sheet. Despite the company's ambitious investment program until 2021, Lukoil expects its free cash flow to improve as new projects start to operate over the next few years. Its balance sheet leverage is low, given that its net debt was only $9.1 billion at the end of 2013, or a leverage ratio of 0.59x. This is below the industry's average leverage ratio, showing Lukoil's conservative financial profile.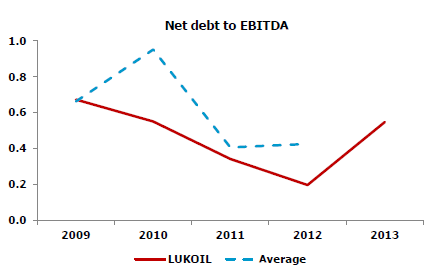 Regarding its valuation, like most Russian companies, Lukoil is currently trading at very undemanding multiples. Its price to earnings ratio is only 3.6x and its EV/EBITDA is 2.66x, way below the industry's average. Moreover, it offers high and growing dividends and still retains good growth potential, making it a clear bargain. On the other hand, investors should be aware that Russian companies always trade at a discount to developed markets because they carry some additional risk due to transparency issues and potential governmental influence. Nevertheless, Lukoil seems too cheap to ignore and offers a very attractive dividend yield, which gives investors some margin of safety over the long term.
Disclosure: I have no positions in any stocks mentioned, but may initiate a long position in LUKOY over the next 72 hours. I wrote this article myself, and it expresses my own opinions. I am not receiving compensation for it (other than from Seeking Alpha). I have no business relationship with any company whose stock is mentioned in this article.