The economic reports this week for the Canadian economy have been positive. Earlier in the week, the IVY PMI came in at 58.9, less the the anticipated 64.1, but still above a neutral 50. Today the trade was given a pleasant surprise when new employment was up 93.2k, much bigger than the 17.9k anticipated, and the 24.7k in the previous period. This resulted in the unemployment rate dropping to 7.9%, down from 8.1% in the previous period. Housing starts, at 189k, were hearty, though less than the anticipated 193k.
The good economic news plus a better global equities market has helped the loonie. Early in the week, the C$ traded at 1.0670 versus the USD, but today's news sparked a rally to the 1.03 handle. This week's price action has given us a tweezers top, and an engulfing candle suggesting there may be more strength forthcoming in the loonie.
Another variable in the analysis of the C$ is the Central Bank's meeting scheduled for the 20th of July. Will another week of good markets and positive European news result in a 25 point bump in the central bank rate?
Until this week the C$ had been weakening against the yen. The perceived safety of the yen during the June equity sale, caused the speculators to get long the yen. The latest COT report confirmed this, but yesterday, however, the futures open interest went down 8519 contracts, so it seems we have some long capitulating.
Another reason the yen attracted some buying was the new PM Kan decided it was time to embark on a fiscally responsible path. Currently Japanese government revenue accounts for less than of their expenditures, with the issuance of debt paying for the rest. This plan, which calls for a 5% increase in the consumption tax and a sharp decline in corporate taxes, is attracting a lot of negative attention.
This weekend there is an election of the upper house. PM Kan's party, the Democrat Party of Japan, does not have a majority in this body. If the DPJ loses seats in the upper house, this might imply that Kan's reform proposals are endangered. According to Reuters:
"If the ruling parties do win a majority, we would expect the government to raise the consumption tax, cut corporation tax, and raise income taxes. If they do not, we would not expect to see a consumption tax hike or other tax reforms for a while," said Citigroup analyst Tsutomu Fujita in a note to clients."
A loss of seats for PM Kan seems a little bearish on the yen, and the economic news from Canada remains constructive. The recent break in the CAD/JPY was from 90 to 81.60. We have bounced from the bottom, but remain short of the 38.2% level. The MACD is giving us a cross over on the daily chart. We want to try the long side of the C$, either on a pull back to the 85.10 level or on a break out above last week's high of 86.51. (Click to enlarge)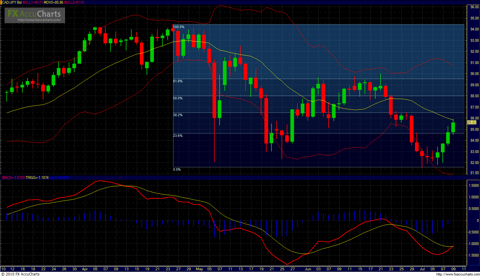 Disclosure: No positions