Bank of America (NYSE:BAC) continued to consolidate last week. The stock has lost more than 5% in the last week alone as equity markets corrected sharply as well. While falling stock prices make for interesting newspaper headlines, the real interesting thing is how cheap investors can now buy one of the leading banking franchises in the United States.
Growth and capital deployment
Just last month Bank of America presented good news regarding a settlement with the Federal Housing Finance Agency highlighting further progress on the mortgage front. A related press release laid out the specifics:
CHARLOTTE, N.C.--(BUSINESS WIRE)--Mar. 26, 2014-- Bank of America today announced it reached a settlement with the Federal Housing Finance Agency (FHFA) as conservator of Fannie Mae and Freddie Mac to resolve all of FHFA's residential mortgage-backed securities litigation with Bank of America, as well as other legacy contract claims.

The FHFA settlement resolves four lawsuits FHFA filed against Bank of America, Countrywide, and Merrill Lynch entities beginning in September 2011, alleging they falsely represented that the underlying mortgage loans complied with certain standards. Approximately $57.5 billion (in purchase cost) of private-label RMBS purchased by Fannie Mae and Freddie Mac are covered by the settlement.

The FHFA settlement is expected to reduce first-quarter 2014 income by approximately $3.7 billion (pretax), or $0.21 per common share (after tax). The company expects its Basel 3 common equity tier 1 capital ratio (fully phased-in under the Standardized Approach) for the first quarter ending March 31, 2014 will be in line with the fourth quarter ended December 31, 2013, based on the impact of the FHFA settlement and other factors, including interest rates, that are known as of today's date.

The FHFA settlement resolves one of the most significant remaining pieces of RMBS securities litigation facing the company. With this settlement, Bank of America has now resolved approximately 88 percent of the unpaid principal balance of all RMBS as to which RMBS securities litigation has been filed or threatened for all Bank of America-related entities.
By reaching a landmark settlement with respect to long-lasting mortgage woes, Bank of America can now finally look forward. Litigation and potential settlements have impacted Bank of America's stock performance for years and the market started only in 2012/2013 to become more constructive on Bank of America's legacy issues.
In addition, Bank of America continues to shift its focus to capital deployment. The bank announced in March 2014, that it intends to increase the common share dividend to $0.05 and authorized a new $4.0 billion common stock repurchase program. Both measures should support the share price in the medium and long-term.
Intrinsic value estimate
The table below summarizes Bank of America's historical operating-, investing- and debt cash flows for the years 2011-2013 and includes a reconciliation to the free cash flow to equity. The table also contains my cash flow estimates for Bank of America's fiscal year 2014.
I expect Bank of America to return to normalized free cash flow to equity levels in 2014 as most settlements and one-off items will have been accounted for. A large part of Bank of America's free cash flow to equity is also driven by significant debt transactions.
In any case, I project Bank of America to achieve approximately $17 billion in free cash flow to equity in 2014 which translates into $1.48 in FCFE per share. With a current share price of $15.77, Bank of America trades at only 10.66x forward FCFE and exhibits an initial free cash flow yield of 9.39%.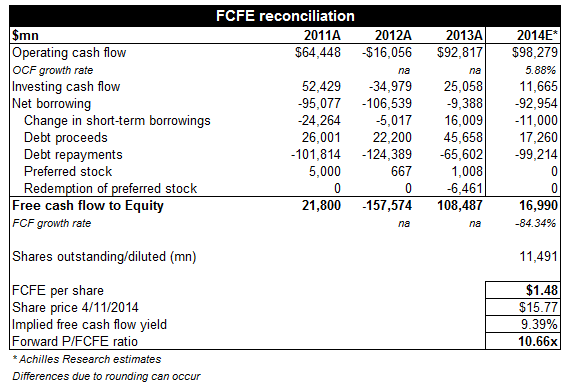 (Source: Achilles Research, Bank of America 10-K SEC filing)
Applying a discounted free cash flow model (equity cost of capital 10%, long-term sustainable growth rate of 4%) yields in an intrinsic value of $25.73 per Bank of America share. This indicative value reflects about 63% upside potential for shares of Bank of America.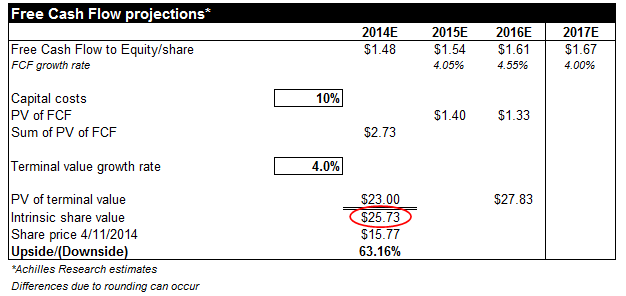 (Source: Achilles Research)
Conclusion
Bank of America is riding a strong recovery. With the majority of settlements in the rear view mirror, the bank can now focus on growth and shareholder remuneration. The valuation model from above suggests, that Bank of America has about 63% upside potential while I believe the bank also retains quite a significant amount of earnings surprise potential.
Bank of America exhibits a forward P/E ratio of 9.84 which somewhat substantiates the free cash flow multiple derived above. In addition, bank analyst Dick Bove sees Bank of America trading at two times book value down the road (and I agree). With a tangible book value of $13.79 per share, this implies a potential share price of $27.58 which is also quite close to my intrinsic value estimate of $25.73.
The bottom line is, that while hardcore contrarian investors purchasing Bank of America stock in 2012 made a killing, Bank of America still retains substantial upside potential in 2014 and beyond. The current consolidation in the equity market only makes Bank of America a more attractive investment. Strong, long-term BUY.
Disclosure: I am long BAC. I wrote this article myself, and it expresses my own opinions. I am not receiving compensation for it (other than from Seeking Alpha). I have no business relationship with any company whose stock is mentioned in this article.