After reading a Seeking Alpha article on Ford (NYSE:F) yesterday, Ford Motor: Should You Load Up The Truck At $15?, I wanted to evaluate whether Achilles Research's truck-loading price of $15 was in fact a good level to consider. I don't own a truck, but I think I could stuff a lot of Ford stock into my SUV.
Going back to 2010, the year I consider a return to normalcy for Ford and any kind of fundamental analysis on the stock, we saw a very sharp increase in earnings. Since then, the stock has been trading in line with earnings growth but seemingly overshooting the normal PE ratio to both the top and the bottom. In addition, the company reinitiated a dividend in 2011, which has increased to $0.40 per share and is expected to increase an additional 25% to $0.50 per share in 2014 despite an expected decline in earnings per share.
The catalyst, and Achilles Research touched on the reasons in his article, is the 41% earnings growth expected in 2015. Applying a PE multiple of 10 to earnings of $1.91 results in a price target of $19.10.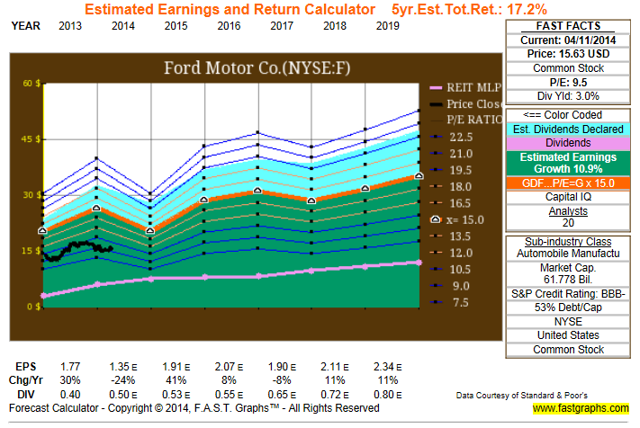 Add to that a dividend of $0.53/share in 2015 and investors are looking at a 28%+ return from today's levels. If we wait until the stock hits 15, the returns would then be 34% if our estimates play out.
Interestingly, according to Morningstar, the fair value estimate of the stock is $25, but coincidentally, their 'consider buying' price is $15.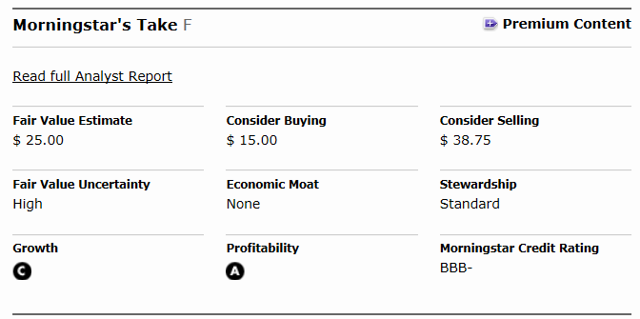 Source: Morningstar
The stock has lagged both the broader S&P 500 Index and the Morningstar Auto Manufacturers. Ford stock had a total return of 22% in 2013 while the S&P 500 was up 32% and Auto Manufacturers were up 31%.
Source: Morningstar
On a year to date basis, the stock is outperforming, yet still looks like it is undervalued relative to peers. While it does trade at a relatively high price to book of 2.3, on a price to earnings basis, it is much cheaper than Honda (NYSE:HMC) and General Motors (NYSE:GM), and slightly undervalued relative to Toyota (NYSE:TM) and Nissan (OTCPK:NSANY).

Source: Morningstar
I think so, and I'm not sure I would wait until the stock hits $15. according to the chart in the previously mentioned article, the stock will have support at levels just above $15, at the 50 day moving average, say around $15.40. It could certainly reach $15, but I wouldn't be surprised if it bounced sooner.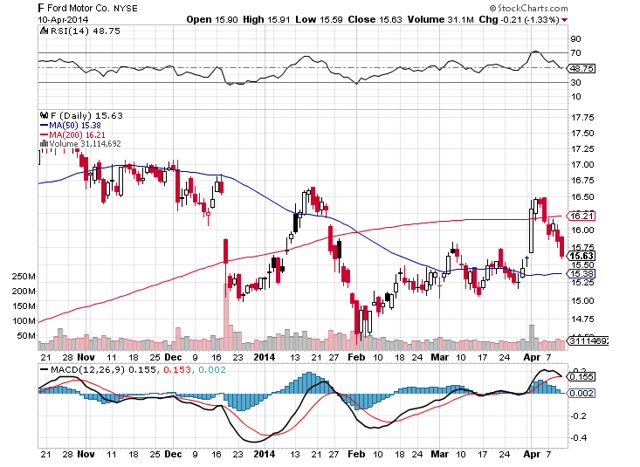 Source: Stockcharts
For investors interested in adding or initiating positions, I would watch two levels very closely for a possible reversal. The $15.40 50 day moving average, and the $15 target mentioned by Achilles Research and Morningstar. Either way, I agree with both analysts that Ford is a great buy.
Disclosure: I have no positions in any stocks mentioned, and no plans to initiate any positions within the next 72 hours. I wrote this article myself, and it expresses my own opinions. I am not receiving compensation for it (other than from Seeking Alpha). I have no business relationship with any company whose stock is mentioned in this article.