ASML (NASDAQ:ASML) is a lithography equipment manufacturer for the semiconductor industry, without which chip manufacturers cannot make computer chips for the computer and telecom industries.
ASML is nearly a monopoly company in the semiconductor lithography market with 74% of the market share. Traditional lithography has reached the limits and smaller chips can only be made using extreme ultraviolet lithography [EUV].
ASML enjoys a monopolistic position in EUV as it is the only company that is developing EUV equipment to produce these smaller computer chips. The capital required is so huge that ASML's main customers such as Intel (NASDAQ:INTC) are participating in a customer co-investment program.
EUV equipment is the only technology nearing production status that will prevent Moore's law from breaking. Computer chips will not become smaller (and faster) in the near future if EUV fails.
The volatility of ASML is high and timing is crucial.
ENVIRONMENT
ASML is a - relatively unknown - Dutch company with its origins in Koninklijke Philips (NYSE:PHG), just as NXP (NASDAQ:NXPI). ASM International (ASMI), which is another leading semiconductor company, was co-founded with Philips. All these companies are still located in the Eindhoven region.
The Eindhoven Region was chosen as Intelligent Community of the Year 2011 (in the world). The Eindhoven region also has a high quality Technical University and business incubators to facilitate the development of new technology and business.
This mix of technology and business feed each other with ideas, capital and people.
FUNDAMENTALS
| | | | | | |
| --- | --- | --- | --- | --- | --- |
| ASML (x1M) | 2013 | 2012 | 2011 | 2010 | 2009 |
| Revenue | $7,239 | $6,530 | $7,798 | $6,221 | $2,203 |
| Net income | $1,401 | $1,582 | $2,024 | $1,410 | -$208 |
| EBIT | $1,446 | $1,596 | $2,265 | $1,726 | -$225 |
| EBIT% | 19.98% | 24.45% | 29.04% | 27.74% | -10.22% |
| EPS | $3.23 | $3.70 | $4.72 | $3.22 | $-0.48 |
| Dividend | $0.84 | $8.82 | $0.65 | $0.57 | $0.57 |
| Dividend Yield | 0.94% | 9.81% | | | |
In 2012 ASML did a reverse stock split to facilitate the Customer Co-Investment Program which returned 77 shares on 100 shares in possession. An extra dividend payment was done to compensate this.
RESEARCH AND DEVELOPMENT
Extreme Ultraviolet Lithography [EUV]
Moore's Law, which indicates that the number of transistors on computer chips double every 2 years, is becoming impossible to meet with traditional production methods. Traditional photo lithography uses light and optics to print semiconductor designs onto silicon wavers.
Extreme Ultraviolet [EUV] allows smaller chips, but cannot use 'normal' optics and 'normal' machinery. These have to be developed and is a huge task as it is uncharted territory. To quote Forbes: "the equipment gets pretty weird as well, and starts to look like a spaceship."
The following chart indicates the position of ASML in the semiconductor equipment market. Lithography is the most profitable, but also the most difficult and capital-intensive segment of semiconductor producing equipment.
. Source: Gartner Data, Berenberg Bank estimates)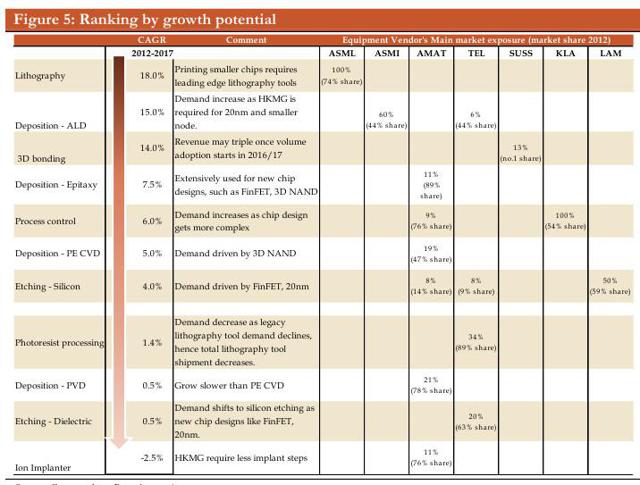 Research and Development is extremely expensive, and ASML has a Customer Co-Investment Program in place where Intel, Samsung (OTC:SSNLF) and Taiwan Semiconductor Manufacturing Company (NYSE:TSM) participate in. TSMC is Apple's (NASDAQ:AAPL) partner and produces the computer chips for new Apple equipment.
The participating companies do not have voting rights and their participation is a maximum of 23% of the total shares.
Without new EUV equipment Moore's law will break and computer chips will not become smaller. New technologies will have to be found to make computer chips smaller. These have to be invented first and then developed into equipment that is economically viable to produce with.
This process will take decades and also requires a lot of investments to achieve. EUV is around for almost 20 years now and hasn't reached the final stages yet. The same will apply to alternative technologies.
Larger Wafer Size
ASML also works to make equipment compatible with a larger wafer size. Especially the transition from 300mm wafers to 450mm wafers. According to Intel, this will probably deliver a 30 to 40% cost reduction.
FUTURE
ASML is 100% involved in lithography based semiconductor equipment and controls 74% in this market segment . Other manufacturers such as Canon (NYSE:CAJ), Nikon (OTCPK:NINOF) or Ultratech Stepper (NASDAQ:UTEK) have declining market shares and are only selling older technologies.
ASML is the only company which is developing EUV equipment as there are no real competitors left in the semiconductor lithography equipment market.
This market dominance is because ASML had chosen to increase investing in Research & Development when the financial crisis in 2008 started. The technology is very advanced and the required knowledge-level is extremely high.
The majority of ASML shares are owned by major shareholders which are listed below. A lot of these positions have been held for a very long time.
| | |
| --- | --- |
| Intel | 14.10% |
| MAKTSJAB | 14.10% |
| Capital Group International | 12.26% |
| Taiwan Semiconductor Manufacturing Company | 5.00% |
| FMR | 4.95% |
| Artisan Investments | 4.93% |
| Barclays Global Investors | 4.93% |
| Magellan Fund | 4.77% |
| Blackrock | 4.42% |
| UBS | 3.70% |
| Wellington Management | 3.12% |
| Total | 76.28% |
ASML has a bright future ahead, but a lot depends on the development of the EUV lithography machines. These developments should be monitored closely.
Involving their main customers in the Customer Co-Investment Program is a smart move by ASML. It not only helps with the capital required for research and development, but also ensures future revenue. Customers will buy the lithography machines developed by ASML.
INVESTING
ASML is a very volatile stock. The stock price can change dramatically in a short period of time. 3 to 4% changes on a single day are not exceptional. Timing is essential and positions should be taken piecemeal.
On April 16 ASML will announce its 2014 Q1 results, when the development of the EUV machines probably will also be announced.
ASML is a good company to write options because there is a lot of volatility and the options have high prices with a lot of time-value (theta).
A strategy could be the selling of uncovered put options when the share price is overbought. When the put options result in receiving the shares, covered call options can be sold.
Disclosure: I am long ASML, PHG. I wrote this article myself, and it expresses my own opinions. I am not receiving compensation for it (other than from Seeking Alpha). I have no business relationship with any company whose stock is mentioned in this article.