It continues to be all about ecosystem. Most of my articles about Microsoft (NASDAQ:MSFT), Apple (NASDAQ:AAPL) or Google (GOOG, GOOGL) go into some form of depth with regards to the ecosystem that these companies are trying to create for consumers. They want your PC, your tablet, your car, your home appliances, your video game console and, of course, your phone.
Also, I'll say up front that I'm an Amazon (NASDAQ:AMZN) fan. I've shopped on the site for years, but what I'm fan of is the value, not the "Amazon" brand name or the OS experience.
Anyone who knows Amazon or follows the market knows that it is part and parcel with several other "momo" stocks that trade at lofty valuations to what they actually earn. Companies like Netflix (NASDAQ:NFLX) and Tesla (NASDAQ:TSLA) also help make up this constituency.
Momentum stocks have been crushed this last month.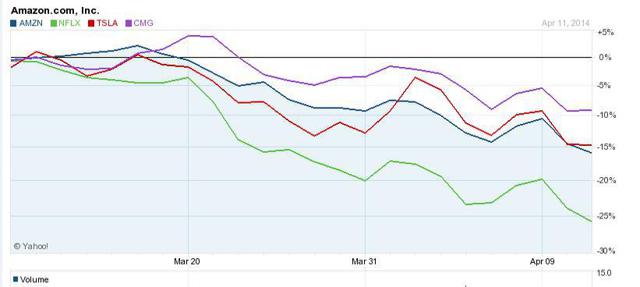 Which naturally leads me to ask, "where are the values?"
Amazon has been trading poorly so far this year, off 21.8% alone in 2014, but still maintaining 1 year gains of 14.2%.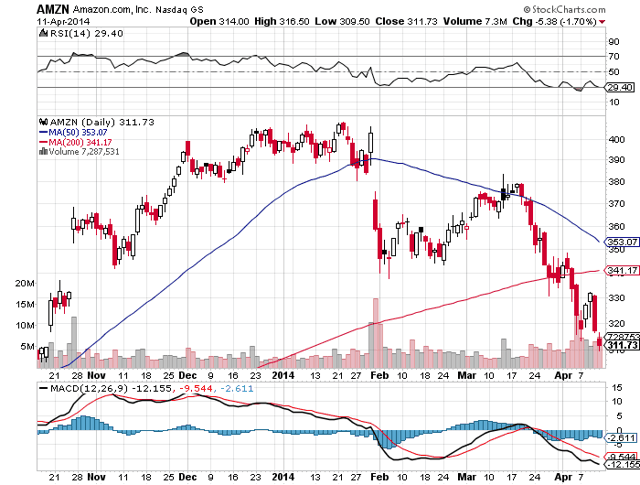 All of these companies, at least in some regard, deserve their aggressive valuations: Tesla is rewriting the auto market, Netflix is revolutionizing streaming media, and Amazon is top-notch for online sales.
However, the news I read this morning gives me a bit of pause about Amazon. The latest news about Amazon is that they're working on a smartphone.
Seeking Alpha reported, citing the Wall Street Journal:
Is the long-rumored Amazon smartphone finally on tap? Sources tell the WSJ the e-commerce giant plans to begin selling a smartphone by the end of September after announcing it in June, and has been showing off demo models to developers.
In-line with past rumors, Amazon reportedly will include a display capable of showing 3D images (no glasses needed) with the help of eye-tracking tech and four front-facing cameras. Past 3D phone attempts didn't pan out, but the technology they used was less sophisticated than what Amazon is said to be relying on.
An Amazon smartphone would undoubtedly include access to the company's broad app/content ecosystem. But assuming Amazon continues using its home-grown version of Android, it won't have access to the Google apps/services (Now, Maps, Gmail, YouTube, etc.) that come bundled with Google's version of Android.
The phone would also enter a crowded smartphone landscape featuring Samsung, Apple, and a slew of Chinese OEMs (Lenovo, Huawei, Xiaomi, ZTE, etc.) competing aggressively on price.
A caveat: Two recent WSJ reports involving Amazon wound up being denied by the company.
Bulls are excited about this news. A new niche for Amazon equals more top line revenue equals better net income equals higher share price, right?
Bulls will cite the fact that Amazon has successfully broken into the tablet market with its Kindle - it had a niche in being a reader and then it drew upon that to push out towards the functionality of other consumer tablets. Plus, as an Amazon buyer, I get it. The tablet links up and works with the Amazon store to forward content to you that you may want to purchase, and it streamlines the process for consumers who are buying from Amazon.
In my opinion, it's unlikely that Amazon will be able to engineer the same success with a phone for a couple of reasons:
1. There's no major advantage to shopping on your phone versus your tablet.
2. The phone doesn't function well as a reader, unless it's phablet-sized.
3. Mobile is not an easy market to simply break into.
4. I cannot, in my mind, draw a straight line from "mobile phone" to "benefit of being an Amazon user." I'm sure bulls in the comments will help me with this one.
A phone is simply too much risk for not enough reward for Amazon, in this investor's opinion.
Additionally, due to the valuation at which Amazon trades, a phone and the capex involved in trying to successfully launch and compete in the mobile industry poses a serious risk to those who are currently holding Amazon stock at its lofty valuation. If they botch a phone launch, one could see Amazon's stock getting roped in rather quickly.
With regards to the phone, Amazon - things are going so well right now for you, why tempt fate when it could ultimately be the catalyst for catastrophe?
Best of luck to all investors.
Disclosure: I have no positions in any stocks mentioned, and no plans to initiate any positions within the next 72 hours. I wrote this article myself, and it expresses my own opinions. I am not receiving compensation for it (other than from Seeking Alpha). I have no business relationship with any company whose stock is mentioned in this article.