Energy


Crude oil
rose 4% this past week, as the commodity took its cues from rebounding equity markets. A fairly uneventful economic calendar allowed for a bit of optimism, with some traders speculating that any potential economic slowdown had already been priced in. Peak-to-trough, the S&P 500 fell nearly 17%, while oil fell 26.3% using the May 20th low and 18.4% using the more recent low put in this Tuesday.
Another disappointing ISM figure, this time measuring the service sector, was released on Tuesday. The Index fell from 55.4 to 53.8 in June, which was below the 55 analyst consensus. Though oil and equities attempted to rally in spite of the poor reading, they gave up much of their gains by the end of the session. Indeed, oil settled slightly to the downside. Not to be discouraged, bargain hunters reentered the markets on Wednesday, with a lack of news enabling them to carry markets higher uninterrupted. The positive momentum carried into Thursday's session, aided by a drop in initial U.S. jobless claims which fell to 454,000 from 475,000 in the prior week.
The DOE crude oil inventory data was also released on Thursday, a day later than usual due to the 4th of July holiday. The government reported that in the week ending July 2, 2010, U.S. crude oil inventories decreased by 5 million barrels, gasoline inventories increased by 1.3 million barrels, distillate inventories increased 0.3 million barrels, and total petroleum inventories increased 0.4 million barrels. While the storage figures look bullish on the surface, they are very much in line with the 5-year average. Moreover, approximately 1.4 million barrels of production was shut-in last week due to Hurricane Alex; adjusting for the storm impact yields a 3.6 million barrel crude oil draw and 1.7 million barrels total petroleum build— figures which are slightly more bearish than the 5-year average.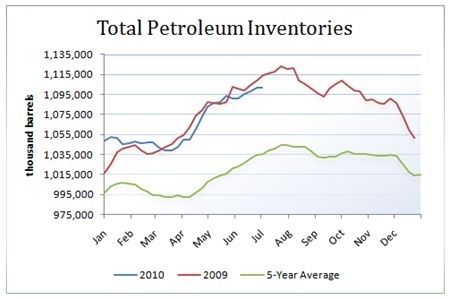 Nevertheless, it has been quite some time since inventory figures had any lasting impact on crude oil prices. Storage is extremely high across the OECD, though the surplus is stable and not increasing. Crude oil prices have instead been at the mercy of the global economic outlook, as well as that of U.S. Gulf of Mexico output. The latter has been a bullish underpinning, while the former has presented a headwind in recent weeks. This tug-of-war has served to keep oil largely contained between $70 and $80. The evolution of the world economy and GOM production will determine whether prices can break free of this range.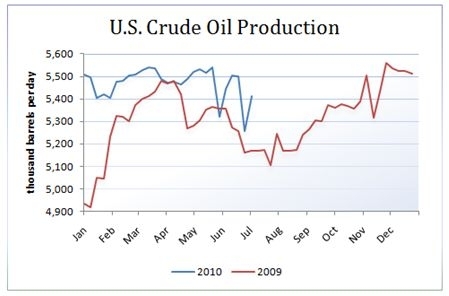 Friday's rally in oil took prices back above the 200-day EMA, as well as $75.50 resistance, though it seems that particular price has lost its significance as a technical level. Importantly, crude oil has been in an uptrend since putting in its lows in May, as the pattern of higher highs and higher lows remains unbroken. Barring another leg down in global equity markets, crude oil may continue toward recent highs near $78.50. On the downside, support is at $71.50 ().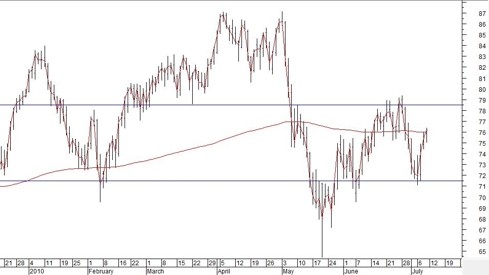 Spurred by a bearish inventory report on Thursday, North American natural gas prices continued to sink, losing 5.8% this week. Bullishness over much warmer-than-normal temperatures has receded, while concerns about the structural imbalance between supply and demand are reemerging ().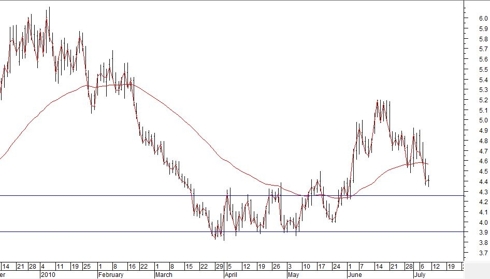 The EIA reported that storage facilities injected 78bcf of natural gas in the week ending July 2. This was above most analyst estimates which were in the low to mid 70's. Though the injection was less than the 5-year average of 90bcf, it was larger than last year's 75bcf injection, which caused the YOY storage deficit to slightly decrease from 37 to 34. It was the first time storage increased less than the comparable period a year ago since April.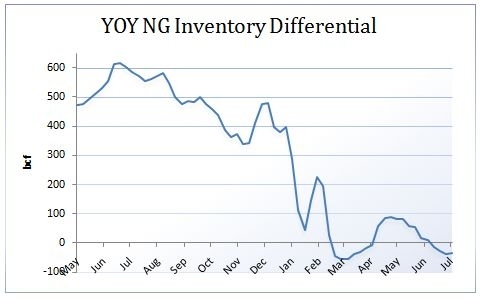 We maintain that over the next few months, natural gas inventories will reestablish a year-over-year surplus and that consequently, storage will reach record levels by November and prices will fall below the $3.81 March low. Our analysis suggests that natural gas balances are 2.5bcf/d looser than the 5-year average, weather-adjusted, and that this imbalance is set to deteriorate even further as production continues to increase at a pace much faster than demand.
Weather forecasts generally indicate above-normal temperatures across the nation, except in parts of the South. The densely-populated Northeast has been especially hot, which will undoubtedly lead to high levels of natural gas demand for electricity generation. Regardless, the weather will moderate by the end of August at the latest, which will allow storage levels to increase swiftly. Indeed, our base case forecast is for a record net injection in September.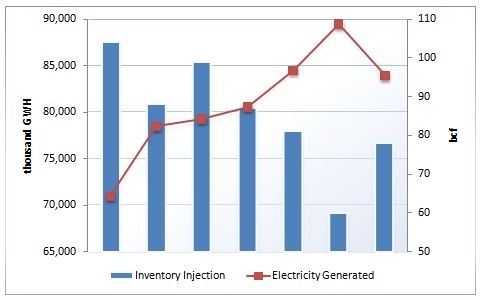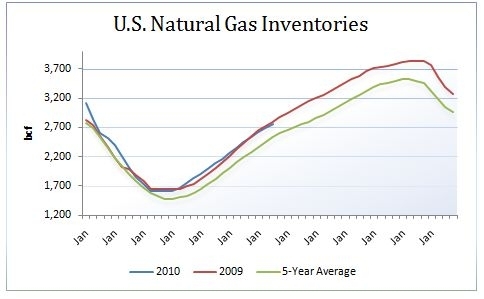 European natural gas continues to rally on the back of rebounding demand and reduced LNG supply. The industry has been caught off guard by developments in the LNG market. Production, which has soared 32% since 2008, has largely been absorbed. In turn, prices have steadily risen since bottoming out near 18.38p/t ($2.99/mmbtu) last year, in the midst of the economic turmoil. While some may point toward outages in Nigeria or heavy maintenance in Qatar as reasons for the latest rise, the more important factor is demand. At 30bcf/d, the LNG market is quite small (compared to the 60bcf/d+ U.S. market). Thus, demand growth from established markets in Europe and Asia, as well as from emerging markets such as China, India, and parts of South America, can readily absorb any supply additions. Over the past week, U.S. LNG imports have taken another leg lower to around 0.5bcf/d from close to 1bcf/d, as spot cargoes move to higher-priced markets in Europe and Asia (click on chart to enlarge).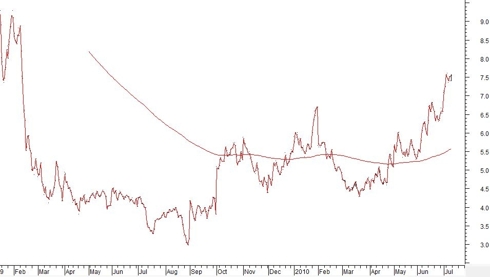 Central Appalachian coal prices were close to unchanged week-over-week. Coal is benefitting from reduced production (year-to-date down 6.5% from 2008 levels), increased market share at the expense of natural gas, and rising production costs. Though coal is temporarily benefitting from gas-to-coal switching in a reversal of last year's steep market share losses, the structural trend is for more losses in market share. The long-term outlook for coal is not pretty, and we see natural gas overtaking coal as the primary fuel for electric generation by the end of this decade. Currently, coal has a 45% market share versus 23% for natural gas (click on chart to enlarge).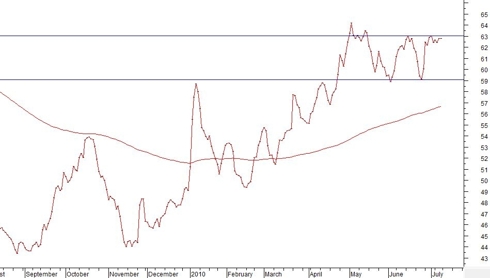 Metals

After an up day on Friday, gold managed to finish the week essentially unchanged. Earlier in the week prices probed levels below $1200, hitting a low of $1185 on Wednesday, which is 6.4% below the $1266.50 all-time high ().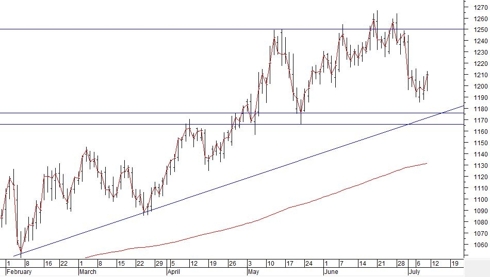 Flows into gold ETFs continue at a steady pace, as holdings increased 181,112 troy ounces (5.6 metric tons) to reach a new record level. The fact that investors have not turned their backs on gold is encouraging and bodes well for an eventual retest or break of the all-time highs. In the near-term, however, another class of market participants—short-term and momentum traders—are now more cautious on the metal following last week's breakdown. Reduced demand from this segment could keep things choppy. Gold got close to, but did not reach the initial support level between $1166 and $1177. Resistance can be found between $1210 and $1215.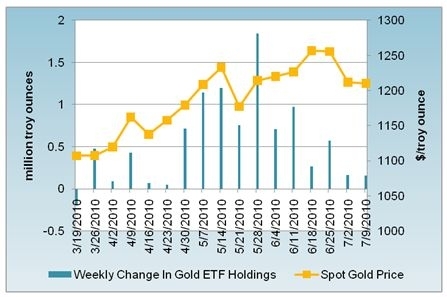 The gold/
silver
ratio decreased to 67.00 from 67.84 last week, as silver reversed some of last week's steep underperformance relative to gold. The ratio is well below the year ago level of 72.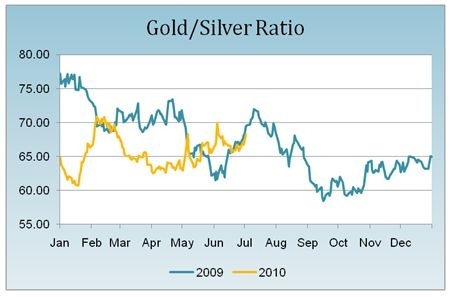 Copper
prices rose 4.9%, as the metal got a boost from the general increase in optimism and risk appetite this week. Copper stocks in exchange warehouses fell nearly 15,000MT week-over-week.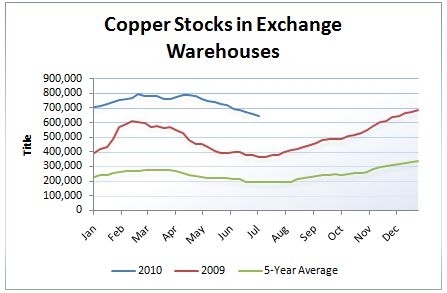 COMEX copper is nearing the $3.10 level, a break of which would signal an end to the downtrend which has plagued the metal since April. On the downside, support levels to watch are $2.85, $2.75, and $2.65.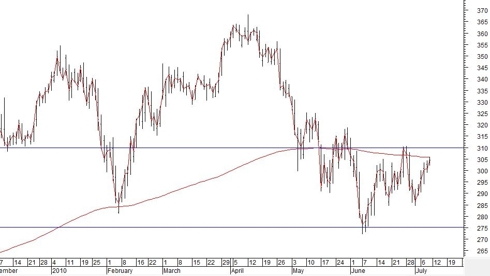 Disclosure: Short UNG from $8.70