The last month has seen one of deepest and violent rotations investors have experienced in years. High PE names like Netflix (NASDAQ:NFLX) and high momentum sectors like biotech that led the market higher in 2013's huge rally have cratered over the past month.
Meanwhile, solid-yielding blue chips with reasonable valuations have held up quite well. Many have even managed to post gains while the overall market has had a significant decline. Saturday, I profiled one of these blue chips, Microsoft (NASDAQ:MSFT). Today we look at one of the better-performing large caps in the market over the past 30 days, ConocoPhillips (NYSE:COP).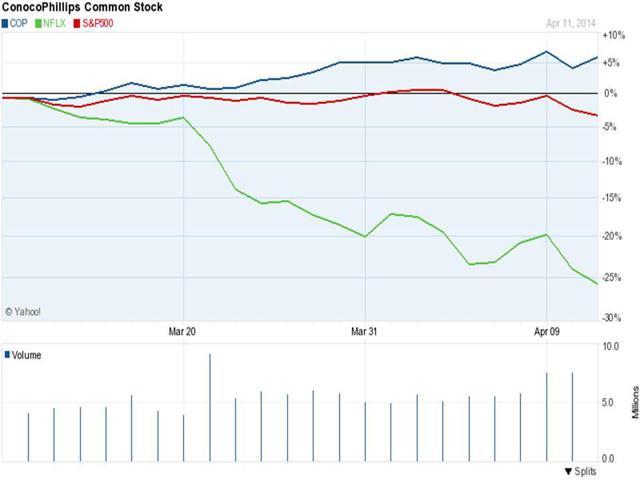 Dividend Yield:
One of the main reasons Conoco has posted an over 5% gain in the last month is money is moving to the high yield, safe large cap stocks in the market. Conoco's 3.9% yield certainly qualifies it as a good yield play. 10 year treasury yields have also declined to a 2014 low of 2.6%. This is down from just over 3% to start the year.
Unless rates spike in the next few months - a low probability event - this should continue to be supportive of high yield plays. In addition, the shares pay a higher yield than the other two domestic energy giants. Chevron (NYSE:CVX) pays a 3.4% dividend and Exxon Mobil (NYSE:XOM) yields 2.6%.
Valuation:
Even with their recent run-up, the shares are priced at ~11.5x forward earnings. Exxon is priced at over 13x forward earnings and Chevron is in-line with Conoco's forward earnings valuation. It is cheaper on an operational cash flow [OCF] basis. Conoco is priced at under 6x OCF. It is also reassuring that Conoco has beat earnings estimates by at least a penny for six straight quarters.
Growing North American Production:
The main reason I only own Conoco among the three biggest domestic energy concerns besides the higher dividend yield is that the company is transforming itself into a North American focused pure E&P play.
ConocoPhillips divested its refinery assets through the spin-off of Phillips 66 (NYSE:PSX) in 2012. 60% of its capital budget is allocated towards growing production in North America. It is seeing double-digit increases in production in its acreage in the Bakken, Eagle Ford and Permian shale formations in the United States. The highest natural gas prices in years are also a nice tailwind.
In summary, although I do not expect big returns from ConocoPhillips in 2014, I do expect a respectable overall return with its dividend yield and some capital appreciation. It is a good solid single in a market that is seeing an increasing amount of strike-outs.
Disclosure: I am long COP, MSFT. I wrote this article myself, and it expresses my own opinions. I am not receiving compensation for it (other than from Seeking Alpha). I have no business relationship with any company whose stock is mentioned in this article.