China released its monthly trade figures for the month of June, reporting a trade surplus of $20.2 billion (versus consensus estimates of $15.6 billion), much improved on figures earlier this year, and a surplus of $8.2 billion for the same period of 2009. The outlook is likely for continued trade surpluses for China this year (certainly, it's likely we've seen the bottom level of the rolling annual trade balance), unless global demand and trade volumes slip again, or if the yuan significantly appreciates.
Click charts below to enlarge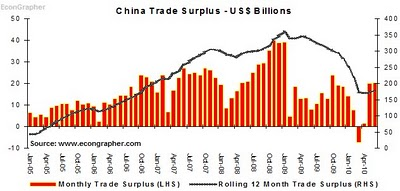 It's also worth noting within the results, that exports hit $137.4 billion in June, which is at a record level (the previous highest was $136.7 in July 2008), and up strongly compared to last year (up 43.9% year over year versus consensus estimates for 38% growth). Imports also climbed strongly to $117.4 billion (up 34.1% versus an expected 35.4%), reflecting growing demand in a still buoyant (yet potentially slowing) economy, as well as export driven demand (i.e. raw materials as inputs for production of export goods).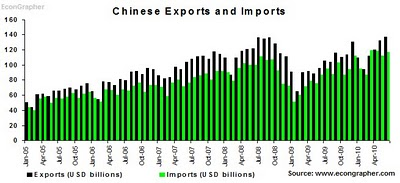 So on the trade front China is still doing very well (see quarterly data), and while any yuan impact will be some time coming, there is unlikely to be a major impact from the recent policy adjustment unless the renminbi is allowed to move more than it's small politically driven token concession to date. But again, within the results there are many positives; for one, the fact that exports are growing strong shows that global demand is recovering - or at least remaining steady.
Indeed, given China's importance in international trade, this data should be particularly informative for the state of the global economy. And of course, the rise in imports is a positive - especially for those nations who supply China with its raw materials. The key is, will imports continue to grow? and of interest to the US, can they outpace exports?
Sources
Disclosure: No positions