Is "growth" really returning to the airline industry? Based on almost daily press releases, airlines appear to be adding new destinations every week.
Analysis by AirlineFinancials.com shows most airlines are not adding any significant growth, but simply moving the chairs around the deck, as opposed to adding new ones. In other words, most airlines are – transferring - aircraft and resources from one route to another opposed to – adding – capacity.
Airline industry for this report includes the nine largest US airlines: Delta (NYSE:DAL), American (NASDAQ:AMR), United (UAUA), Continental (NYSE:CAL), US Airways (LCC), Southwest (NYSE:LUV), JetBlue (NASDAQ:JBLU), Alaska (NYSE:ALK), and Air Tran (AAI). Except where noted, data represents mainline operations.
Mainline Operations - 1st Half 2010 Compared to 1st Half 2009

Contrary to popular belief, available seat mile capacity (ASMs) shows Alaska, Air Tran, and JetBlue as the only major airlines actually adding capacity compared to last year. Collectively the nine airlines covered in this analysis flew 5.8 billion less ASMs in the first half of 2010 than they flew in the same time period a year ago.
United had the largest year-over-year capacity decline at 3.8%, followed closely by Southwest at a 3.3% decline. JetBlue had the largest increase at 5.8% (see following chart).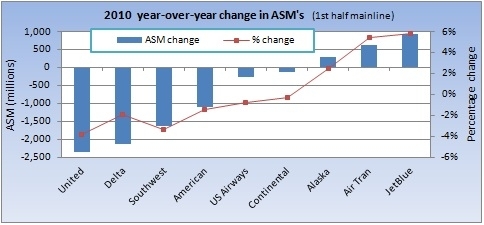 Full-Year 2010 Capacity Projections Compared to 2009
Based on each airline's investor updates, Air Tran, Alaska, and JetBlue will once again lead the industry in 2010 capacity growth compared to 2009. Only Southwest and United are projected not to add any capacity for 2010 (see following chart).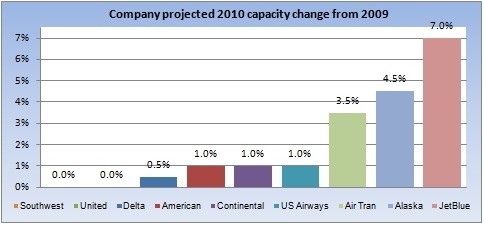 Regional Affiliates – YOY Change 2007 - 2010
Another current misnomer is that the legacy mainline airlines have all increased their regional affiliate capacity while shrinking the mainline. Reality is, United is the only airline to have continuous increases in their regional affiliate capacity. Regional affiliate capacity for Delta, American, Continental, US Airways, and Alaska has been flat to declining over the last three years.
As a ratio of total consolidated capacity for 2010, US Airways is projected to have the highest regional impact, closely followed by United and Delta. American has by far the least amount of regional capacity compared to other legacy competitors (see following chart).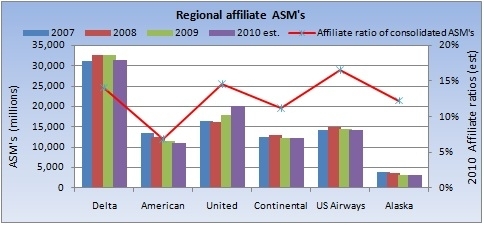 Ten-Year Look Back
Capacity Change – 2nd Quarter 2010 Compared to 2nd Quarter 2000
The last major profitable growth period for the airline industry ended nearly ten years ago. Year 2000 was the last full year following approximately five years of record profits and growth for the airline industry.
Even after accounting for the 45% capacity increase from Alaska, 73% increase from Southwest, 345% increase from Air Tran, and the 8.7 billion ASM increase from upstart JetBlue, these nine airlines plus their merged partners, cumulatively operated 6.4% less ASM's than they did in the same time period ten years ago (see following chart).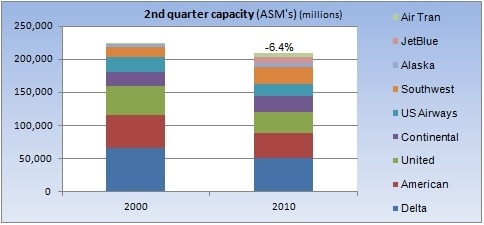 Note for 2nd quarter 2000 capacity: Delta includes Northwest, American includes TWA, and US Airways includes America West.
Load Factor Change – 2nd Quarter 2010 Compared to 2nd Quarter 2000
One of the most significant industry changes over the last decade is the increase in every airlines' load factor. Specifically for the 2nd quarter, Southwest's 6.7% change in load factor was the industry's smallest increase compared to ten years ago. All other airlines increased load factors from 10.3% to 14.6% (see following chart). Note: Load factor is the percentage of passenger seats sold.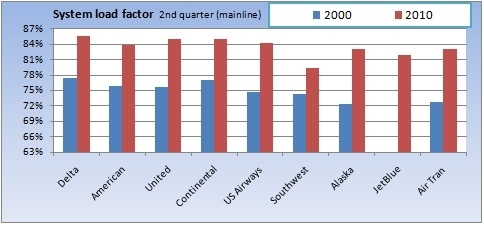 Conclusion: It is the opinion of AirlineFinancials.com that passenger demand reconciled with little to no increase in capacity will continue to provide record load factors for at least the 3rd quarter of 2010. Further, this historically high traffic demand combined with lower fuel costs than previously projected will lead to significant profits for most of the airline industry.
Data sources are SEC, BTS and Corporate filings.
Disclosure: No positions