There are innumerable tenets of investing that pundits continuously expound as being crucial to generating alpha. The likelihood of success with these various principles is dynamic as many do not provide an objective outlook on the future. However, two precepts of investing are indisputable. An investor should seek an industry with growth and a company that is currently undervalued in that industry. After the earnings release on April 10th, it is apparent that Rite Aid (NYSE:RAD) fits this model.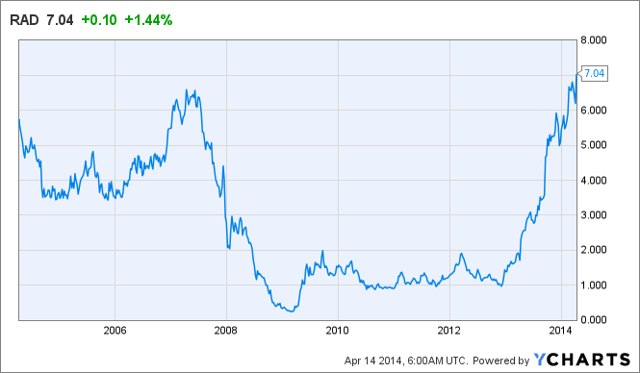 Earnings Results
Q4 of 2013 marked the 6th consecutive quarter of profitability for Rite Aid and signaled an inflection point for the company. Revenue for the quarter was $6.6 billion which is up $142 million or 2.2% compared to the same period last year. This resulted in net income increasing to $55 million from $29 million compared to Q4 of 2012 when the large LIFO credit and tax benefits are excluded. This quarter's results also included a one-time $123 million loss on debt retirement and refinancing of loans.
EBITDA margin increased to 5.4% of revenue compared to the same quarter last year of 5.3% driven by an increase in generic purchasing efficiency as well as an increase in front-end gross profits. Throughout fiscal 2013, the same store sales in remodeled locations were up 3.2% vs. non-remodeled stores. So far, out of the 4600 stores, 1215 have been remodeled. Further, script growth, which was previously a concern, remained steady even with Walgreens reentering the Express Scripts (NASDAQ:ESRX) Network.
Positive Industry Trends
The Affordable Care Act has been met with much opposition during its implementation. Debates are ever present about the efficacy of the program, but one industry that clearly stands to benefit from this watershed bill is the drugstore industry. "We expect script count growth benefits from the ACA." (Rite Aid Q4 2013 Earnings call)
Under this bill, millions of Americans that were previously unable to afford insurance will have the ability to get it. The result of this will be Americans increasing the number of prescription drugs they purchase. Further, the mix of drugs purchased will shift from brand name to generic as the insurance companies will be less likely to reimburse for brand name drugs. Generic drugs provide drugstores with higher profit margins so this will be a boon to the industry.
The other prevalent trend that will prove beneficial to this industry is the aging U.S. population. Baby-boomers are entering the senior age and will have a greater reliance on pharmaceuticals. Coupled with this increasing reliance, the recent Medicaid expansion in 18 states that Rite Aid operates in will boost sales.
Pivoting Business Model
McKesson Agreement
In order to cement its foothold in the dynamic drugstore industry, Rite Aid has altered its business model to capitalize in developing trends. In February of this year, Rite Aid expanded its distribution agreement with McKesson. Under the five-year agreement, McKesson will be responsible for sourcing and distribution of both branded and generic pharmaceuticals. This alliance will allow Rite Aid to expand distribution to daily direct-to-store delivery which will result in supply chain efficiencies, better service for RAD customers, and an increased generation of additional cash flow.
Rite Aid Health Alliance
The chronically & polyphonically ill represent the most salient demographic for drugstores. Catering to this demographic and growing Rite Aid's market share provides a tremendous growth opportunity. The focus of this program will be to support the patient in their wellness goals by having pharmacists, in-store care coaches, and local physicians working together. Rite Aid is the first in the drugstore industry to implement a program similar to this, which should give it a first-mover advantage. The pilot tests of this program have been very successful:
"We are excited about the results of the program to date and believe it presents a significant opportunity to deliver improved health outcomes for those who need them most. We look forward to bringing this unique healthcare model to more Rite Aid markets and customers in the future." (March 10th Press Conference)
Recent Acquisition to Further Rite Aid Health Alliance
Rite Aid acquired Health Dialog which will provide in-store care coaches and will play a key role in advancing the Rite Aid Health alliance initiative. Moreover, the purchase of RediClinic will be critical in Rite Aid's overall health and wellness strategy. RediClinic currently operates 30 clinics in the greater Houston, Austin, and San Antonio areas. Rite Aid will be able to offer customers nearly all of their health care needs. These initiatives will build brand loyalty as customers will appreciate the robust offerings of Rite Aid. Instead of going to a myriad of locations for healthcare needs, customers will be able to fulfill all of their needs in one location.
Forward Guidance
Rite Aid management expects to remodel 450 more stores, open 1 new store, relocate 18, and close 40. Additionally, RAD projects opening up 70 more RediClinics over the next 18-24 months. Finally, Rite Aid has plans to open at least 50 GNC stores within a year which will enhance the front-end offering and drive more traffic.
Rite Aid provided sales guidance of between $26 billion and $26.5 billion resulting in projected EBITDA of $1.325-$1.4 billion. Net income guidance was given at $313 million-$423 million which translates to $.31-$.42 earnings per diluted share. Same store sales growth is expected to be 2.5%-4.5%. Rite Aid has underestimated guidance in the past and should be able to beat these conservative estimates. However, even if results fall within this range, it will still mark significant improvement.
Reasons for Optimism
Operating Efficiency
It is evident that Rite Aid is returning from the doldrums of a few years ago and its business is ever improving. Rite Aid is deleveraging from debt each quarter and currently has around $9 billion. This debt results in an annual interest expense of about $500 million. Rite Aid has been adding to its liquidity and had $1.3 billion which increased by $286 million from last year and can be used to pay down debt. The reducing of this debt will allow for net income growth to improve moving forward. Operating efficiency is also improving due to the decreased amount of underperforming stores to 10% as well as the dark store rent falling to $70 million.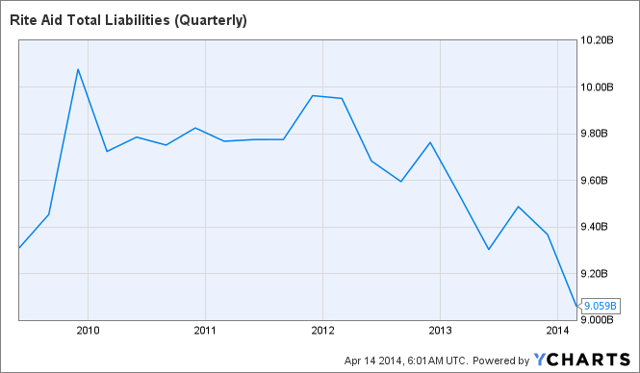 Sales Growth
Rite Aid's acquisitions will allow its seminal Health Alliance program to grow its market share and spur sales growth. The controversial decision by CVS to halt selling cigarettes will help Rite Aid as well. Although CVS may have created goodwill with the public with this decision, the offsetting losses in sales will prove this move to be a net negative. Rite Aid will see higher traffic from those customers who can then purchase other items as well. Although it is not the most moral business model, it is clearly a prudent one. Sales growth from the newly remodeled stores will be a significant positive contributor. The integration of GNC stores and the McKesson agreement will also drive traffic and ultimately sales.
Valuation
Rite Aid's two closest competitors are CVS Caremark (NYSE:CVS) and Walgreens (WAG). Upon viewing valuation metrics it is evident that Rite Aid trades at a significant discount to its peers. Price to sales generally provides a good indication of value for a retailer. This metric tells investors that Rite Aid is grossly undervalued. Although the margins of RAD are simply not on par with CVS and WAG, the improvements to its debt structure as well as new initiatives should correct this. Another metric that provides valuable insight is the PEG ratio. This ratio again reveals that Rite Aid is significantly below where its competitors trade.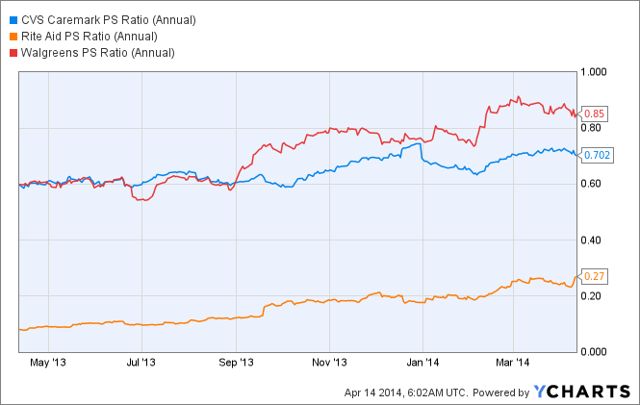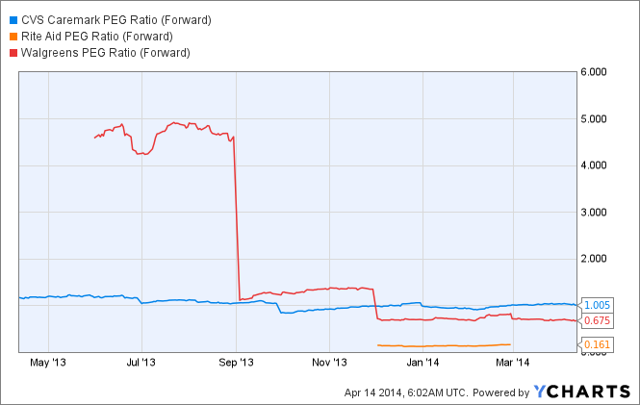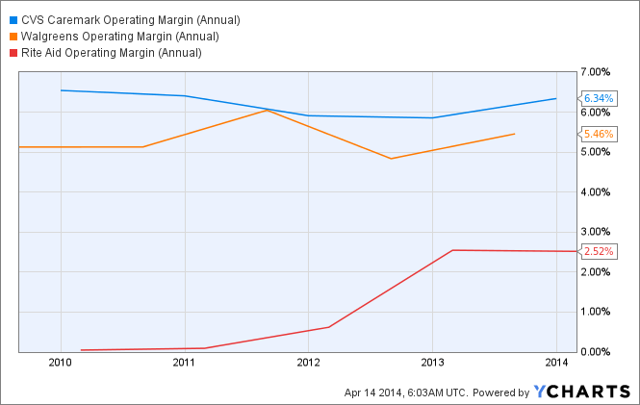 Final Thought
The drugstore industry as a whole will benefit from the recent alterations to legislation through the Affordable Care Act. However, Rite Aid is uniquely positioned to take advantage of this trend through its many initiatives and acquisitions. The combination of its superior position as well as undervaluation compared to peers gives investors an ideal investing opportunity. Although RAD has enjoyed a significant share price appreciation over the past few years, it is still grossly undervalued.
Disclosure: I have no positions in any stocks mentioned, but may initiate a long position in RAD over the next 72 hours. I wrote this article myself, and it expresses my own opinions. I am not receiving compensation for it (other than from Seeking Alpha). I have no business relationship with any company whose stock is mentioned in this article.