I'll admit - I'm not a market timer.
I often voice my disfavor for analysts, authors and investors who try to pitch some confusing thesis for a stock that is predicted to achieve high returns with short-term trades. I guess I'm just not good at picking bottoms and, although I'm impressed with those select few mathematicians who occasionally capture large returns, I have found it impossible to consistently make money playing the timing game.
It's rare to achieve long-term investment success by practicing the "instant gratification game". On certain rare occasions, I have been mystified by the select few who are well-schooled in finding stocks that are ready to advance or in danger of falling.
Don't worry. I'm still (and always will be) a value investor, and I have found true success with my strategy of investing for the long term. I believe that my research and training have given me an added advantage - or extra security - of knowing that my stocks have one or more characteristics of long-term winners and that I have a definitive margin of safety that helps me to sleep well at night - that's why I call it SWAN investing!
A few months back, I was reading an article by my friend, and "well-schooled market timer", Thomas Sobon. His topic of the day was a Salt Lake City-based self-storage REIT called Extra Space Storage (NYSE:EXR).
Sobon is one of the above-mentioned "select few" authors who have a certain skill-set that I believe to be complementary to mine. In other words, Sobon's expertise at charting stocks, combined with my research-based investment strategies offer a compelling combination of science and fundamentals. In this article, I plan to merge the two unique worlds and determine if I'm ready to make a move with Extra Space.
He Blinded Me With Science
Some of you may remember the 1982 new wave hit song (by Thomas Dolby), She Blinded Me With Science. I was in high school at the time, barely getting through my Chemistry class with a passing grade. That should also give you a clue that I'm not a "market timer".
Sobon, on the other hand, appears to be a "momentum master". In addition to an MBA in finance from Wharton, he is an incredibly smart and talented writer. I have reviewed many of Sobon's articles (he has written 30 for Seeking Alpha), and although our two worlds of investing are light miles apart, there is a common thread which we both find rewarding. That is -getting in at the bottom of a stock market cycle produces better returns that getting in at the top.
In Sobon's article, he not only offered his opinions on the cycle for Extra Space storage, he also offered some excellent self-storage fundamentals, including:
The industry is highly fragmented, having only five publicly traded companies with a national reach, some 4,500 large and mid-sized firms that own and/or operate more than one facility, and about 30,000 one owner-operator facilities.
Collectively, they (all public self-storage REITs) own, operate, and/or manage some 5,800 self-storage facilities. They account for about 12% of the country's storage facilities. And, they have competitive advantages over the smaller entities because of their large advertising budgets and sophisticated revenue management models that determine what rent should be quoted to each customer, based upon multiple inputs.
It takes about three years for a new facility to reach a stabilized level of occupancy, and that serves as a barrier to entry for new entrants into any given market. Very few new facilities were built in the last five years, because financing was unavailable for all but the strongest operators.
The geographical distribution of U.S. facilities is as follows: 52% suburban, 32% urban and 16% rural.
About 84% of all U.S. counties (that's 2,634 out of 3,141) have at least one "primary" self-storage facility.
Occupancy rates for self-storage in Q3 2013 were 87.4%, up from 83.6% at the beginning of the year.
About 9% of all American households currently rent a self-storage unit.
About 13% of all self-storage renters rent for less than 3 months, 18% for 3-6 months, 18% for 7-12 months, 22% for 1-2 years, and 30% for more than 2 years. The short-term rental agreements make it easier for operators to increase rates to what the traffic will bear in each market.
The last two fundamentals that Sobon offered are, in my opinion, the strongest. There are tremendous opportunities with operators to consolidate and take advantage of the extraordinary fragmentation that exists. There are just four publicly traded self-storage REITs, and there are many smaller players that don't offer the same brand characteristics of Extra Space and the other three REITs.
There are more than 110 privately-held firms that own and operate 10 or more self-storage facilities, about 2,450 firms that own and operate two to nine facilities, and some 30,800 firms that own and operate just one facility. Combined, they provide significant opportunities for the large firms to grow their businesses, via the acquisition route. Most of the acquisitions made by the major players involve privately held regional and small local owner/operators who represent about 90% of the self-storage universe. A few years ago the acquisitions often involved distressed properties.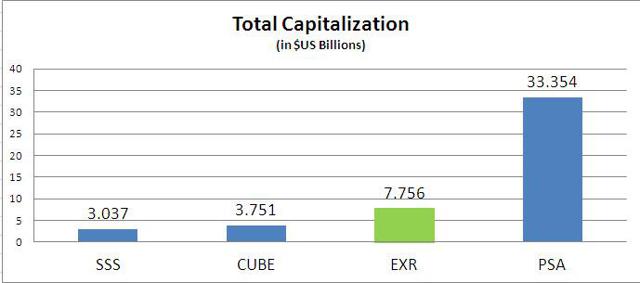 Finally, Sobon referenced the supply and demand fundamentals. There was a tremendous amount of new products added prior to the Great Recession, primarily due to overzealous lenders and developers. We are now seeing a wave of consolidation and, by merging the brands and operating platforms, the public REITs are well-positioned to benefit from the evolutionary opportunities.
It took the industry more than 25 years to build its first billion square feet of rentable space. And, it added the second billion square feet in just 8 years (1998-2005).
Let's Examine The #2 Self-Storage Chain
Extra Space owns, operates or manages 1,029 properties located in 35 states, Washington, D.C. and Puerto Rico. The company's properties comprise approximately 700,000 units and approximately 78 million square feet of rentable space. The breakdown of properties consists of 506 wholly-owned sites, 273 joint venture sites and 250 managed sites.

Extra Space continues to expand by adding new properties in major, well-established trade areas. Extra Space leads the industry in high-quality, well-located facilities, and that's evident by the average 3-mile population radius of around 136,806 people. Extra Space also leads the peer group in average household income in a 3-mile radius of around $75,000.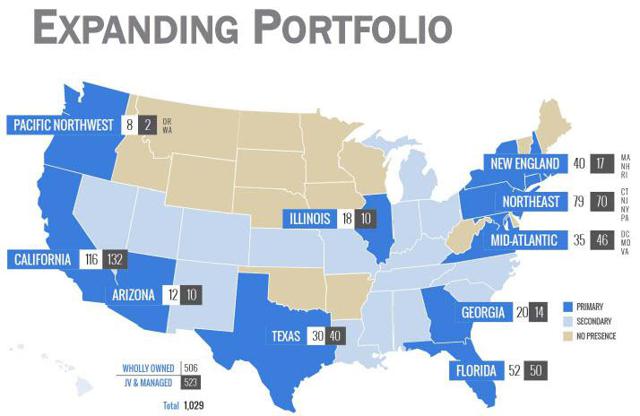 In 2013, Extra Space acquired 78 sites at a cost of $585.7 million, and so far in 2014, the company has acquired 18 sites at a cost of $213.8 million. The company has 8 sites under contract, valued at $89.9 million.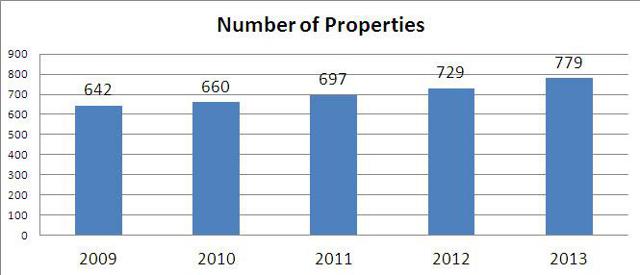 Extra Space had a considerable cash balance of $126 million - at the end of 2014, that went towards buying a portfolio in Virginia. The company also issued equity in November. Total assets as of Q4-13 were $3.98 billion and total debt was $1.95 billion. Extra Space is the only self-storage REIT that does not have an investment-grade rating. A majority of the company's debt is secured.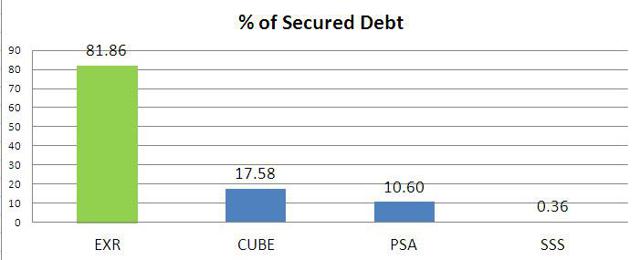 Public Storage is one of a few A-rated (S&P) REITs, and the company's fortress balance sheet is built on a successful track record of preferred shares and modest debt. Extra Space has no preferred stock.

Let's Examine The Latest Results
Extra Space reported Funds from Operations (or FFO) of $0.52 per share for the fourth quarter, which included $0.01 of non-cash interest expense related to exchangeable notes and $0.04 of acquisition-related costs. Adjusted for these items FFO was $0.57 per share for the quarter and $2.12 for the year.
Extra Space continues to lead the peer group in same-store NOI growth: up 6.6% in Q4-13. Also, the company led NOI growth with an impressive 8.9% uptick in NOI during the latest quarter.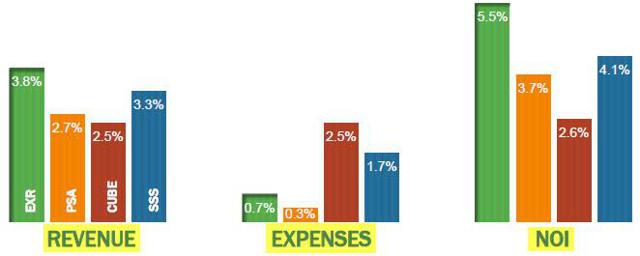 Clearly, Extra Space has earned the number one spot for consistency as the company continues to crush the competition in same-store outperformance. From Q1-06 through Q4-13, Extra Space has averaged same-store NOI growth of 5.5%.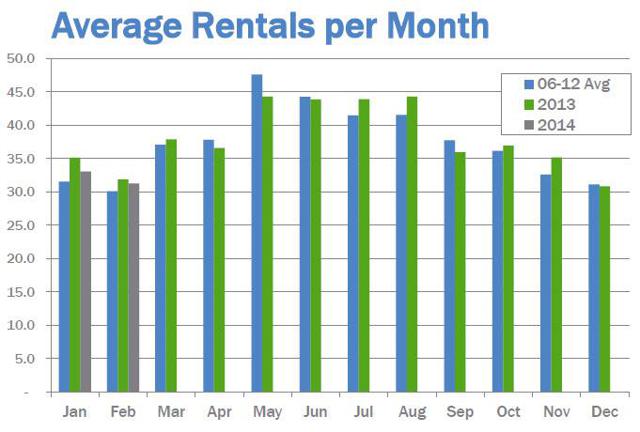 Having maxed out existing customer rate increases in 2013, and by keeping occupancy elevated during the seasonally slow 4Q/1Q leasing season, Extra Space indicated plans to push more aggressively on street/new lease rates in 2014.
Specifically, the company indicated that it expects to grow street rates by at least 3%-4% in 2014, pushing aggressively during peak leasing season, while further occupancy gains of 100-200bps approaching 92%-93% during the summer months (vs. a suggested ceiling of 94%-95%) should support revenue growth well-exceeding EXR's trailing 8-year average of 3.8%.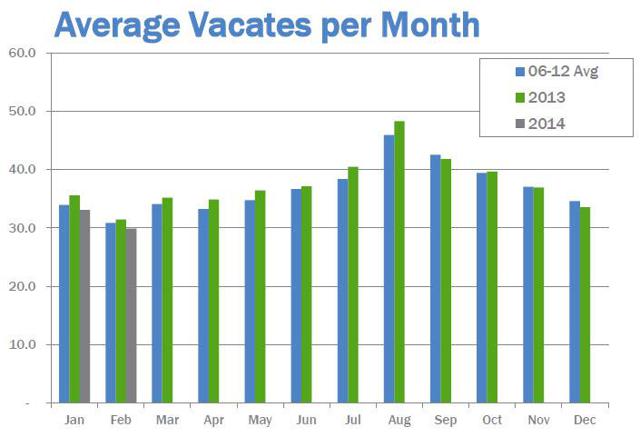 Lower 1Q14 vacates tied to the adverse weather limited move-outs in the first quarter, and this favorable variance, combined with strong occupancy retention efforts in 4Q13 should keep revenue growth elevated, positioning Extra Space well to aggressively push street rates entering peak 2Q-3Q leasing season.
Extra Space continues to see very strong growth in rentals generated through its mobile technology platform. The company noted that close to 25% of its sales leads came from mobile devices in 2013, while over the next couple years, it believes the amount of leads generated through mobile devices could exceed 50%.
With most of its private counterparts seeming to lack the capacity to quickly migrate to mobile platforms/interfaces, Extra Space expects the rapidly changing migration to mobile technology to afford the REITs yet another advantage in gaining market share. Extra Space believes this advantage should also translate to greater opportunities on the third-party management front over the next several years.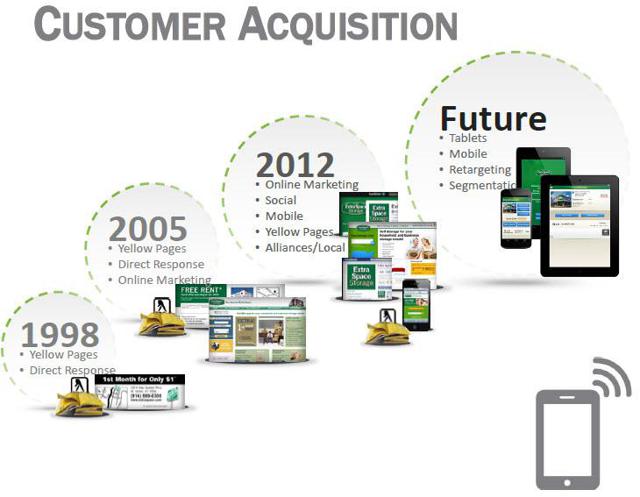 Let's Look Back at Previous Years
From 2004 through 2014, Extra Space averaged 12% annual FFO growth: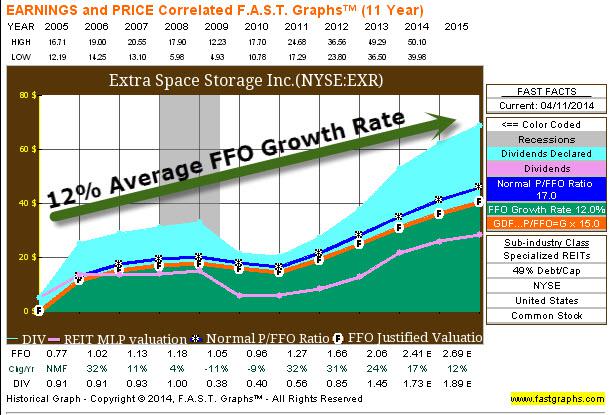 Over the previous five years, Extra Space averaged 17% annual FFO growth: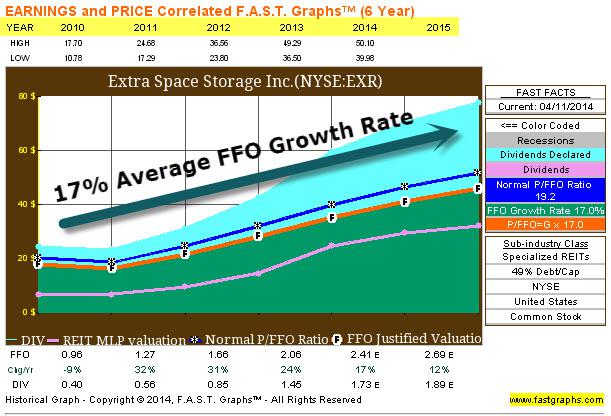 Over the previous three years, Extra Space averaged 20.6% annual FFO growth: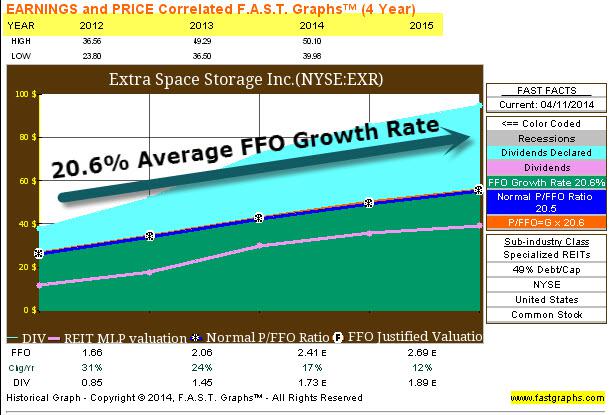 As we can see below, Extra Space went public in 2004, and the company began to quickly grow its earnings record by paying out strong dividends. However, in 2010, the company was forced to cut its dividend (from $1.00 to $.3800).
Public Storage was the only self-storage REIT that did not cut its dividend during the Great Recession.

Over the last two years (2012 and 2013), Extra Space has raised its annual dividend by an average of 46%.

Extra Space shares hit a low of $5.07 in 2009, and the price has since sky-rocketed by 750%.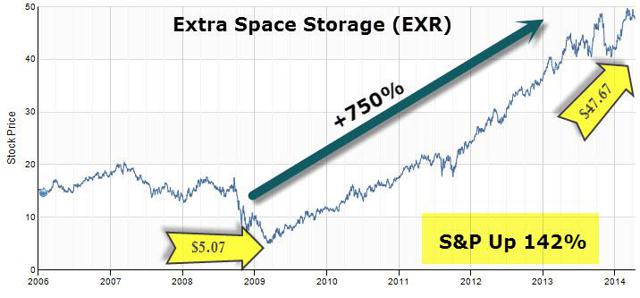 If one had purchased shares then (n 2009) at the highest margin of safety, the Total Return would be over 873% (169% for the S&P 500).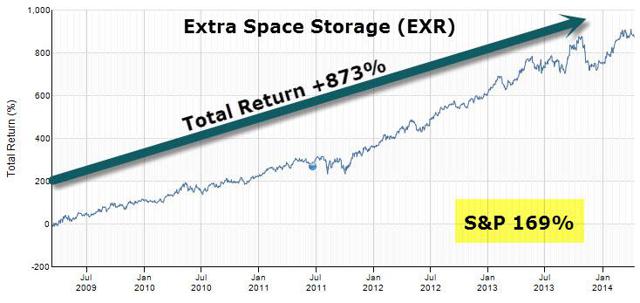 Now Let's Examine Mr. Science's Results
As mentioned at the outset, Thomas Sobon wrote an article on Extra Space on January 13th (2014), and he explained:
It is mathematically impossible for a stock to trend higher until it breaks through its downward trending moving averages and its trading range starts to shift upward. The chart shows that on four occasions, EXR found support at about $40.50, so that price can be considered to be a hard technical bottom for EXR.
Then Sobon offered up his "trace of wisdom":
More importantly, the price line has now broken above its downward trending moving averages and the trading range has shifted upward. The relative strength line has not yet followed suit. It will have to do that if EXR is going to outperform the market, which is what I am guessing it will do.
Let's take a look at the stock price for Extra Space. The chart below illustrated the trading history from the day of the article through today: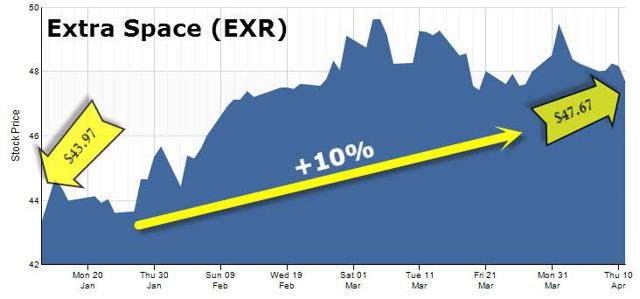 As you can see, Sobon was right! Extra Space shares have climbed from $43.97 to $47.67. Now let's take a look at Extra Space over the last 30 days. As you can see, the company is now trading at $47.67, below its 30-day average of $48.25.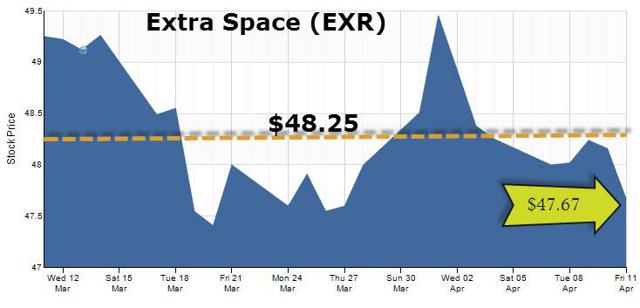 Now let's take a look at the peer group P/FFO valuation metric. As you can see, Extra Space is trading in a moderately fair value range of 19.7x. In other words, I don't consider the current price of $47.67 to be a bargain (by any stretch), as I would find greater comfort with an earnings multiple of around 17x.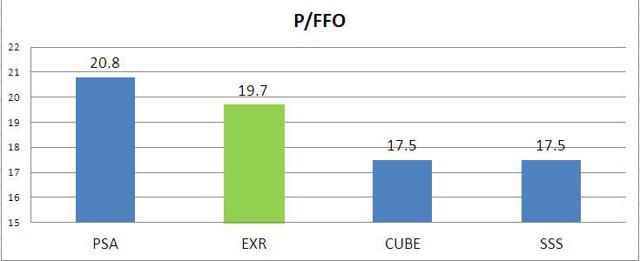 Extra Space has not announced a dividend increase yet this year, and the current payout is 3.36%. That's just a tad higher than Public Storage (3.32%) and lower than Sovran's (SSS) yield of 3.70%.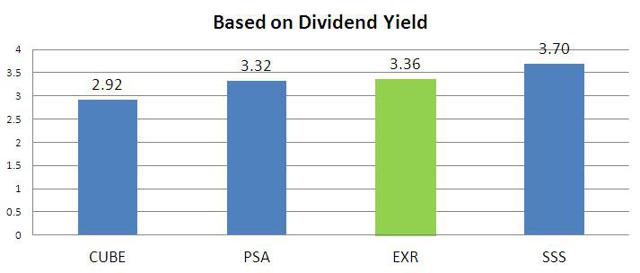 As I alluded, I'm not a market timer, so I can wait patiently for a better entry point. I am interested in adding shares of Extra Space to my portfolio, and I believe the fundamentals remain sound. Conclusively, Sobon was accurate with his momentum bet, and perhaps I should have pounced on the shares (at $43.97) back in January.
However, we all know that there's simply no way to consistently time Mr. Market, and what's most important to me is to own stocks when the market does go higher. Six analysts have rated Extra Space shares with a hold rating, and six have given a buy rating to the company's stock. The stock presently has an average rating of "Buy" and an average target price of $48.60.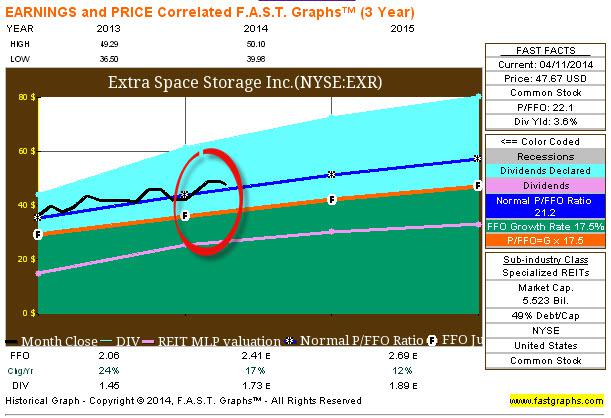 I intend to establish a position in Extra Space at $45.00, and although I have no confidence when I'll be afforded that opportunity, I believe that my stake in the #2 self-storage chain will be a good long-term investment. Here's what the company's CEO had to say during the latest earnings call:
We are coming off two years of superior results, and are heading into what we see to be a great year. Our forecasted double-digit FFO growth is quite remarkable. The fact that a real-estate Company is able to produce this level of earnings growth is definitely noteworthy. We expect storage to be amongst the best performing sectors in the REIT land in 2014.

Let me reiterate that our focus for 2014 is the operational excellence of this Company. We're making long-term investments that will continue to give Extra Space the technological advantage to produce best-in-class results.

Sometimes, it is possible to become a successful investor utilizing all of the wisdom one can "muster-up" - that includes analyzing the research of others to form a reasonable opinion about a company's "margin of safety". After researching all of the facts and fundamentals, I can attest that Extra Space has the best operating platform in the industry, and the company has become a leader in building out a differentiated platform of repeatability. While it may not be possible for Extra Space to operate at an accelerated level (+10% growth), I do expect robust growth in 2014 and beyond.
There's plenty of runway for Extra Space to grow from 1,052 sites to over 1,500 sites over the next few years. I'm ready to get in the game.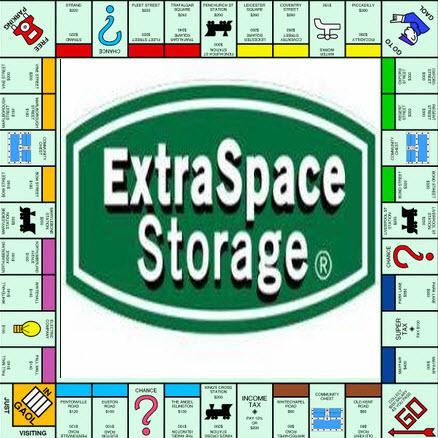 For more information, subscribe to my newsletter here.
Source: SNL Financial, FAST Graphs, and EXR Investor Presentation.
REITs mentioned: (NYSE:CUBE), and (NYSE:PSA).
Disclaimer: This article is intended to provide information to interested parties. As I have no knowledge of individual investor circumstances, goals, and/or portfolio concentration or diversification, readers are expected to complete their own due diligence before purchasing any stocks mentioned or recommended.
Disclosure: I am long O, DLR, VTR, HTA, STAG, UMH, CSG, GPT, ARCP, ROIC, MPW, HCN, OHI, LXP, KIM. I wrote this article myself, and it expresses my own opinions. I am not receiving compensation for it (other than from Seeking Alpha). I have no business relationship with any company whose stock is mentioned in this article.