Intercept Pharmaceuticals (NASDAQ:ICPT) (Part IIa)
Quick Takeaways on OCA from EASL Abstracts and Presentations
Intercept's OCA continues to demonstrate statistically significant superiority over placebo for improving surrogate markers of liver disease that are correlated with clinical outcomes. Intercept presented third-party data from a Japanese study with >3,000 participants stratifying them based on NAFLD status, with mean follow-up more than 10 years, found that non-alcoholic fatty liver disease (NAFLD) improvement is associated with a reduced Diabetes incidence.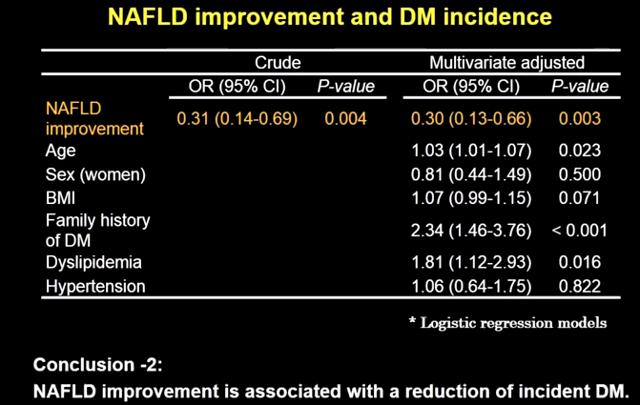 A second trial, known as the FLIP study demonstrated that NAFLD is a statistically significant and independent predictor of carotid atherosclerosis with increased risk of cardiovascular events, and higher Framingham risk scores. The data establishes a strong correlation with the progression of atherosclerosis and NAFLD.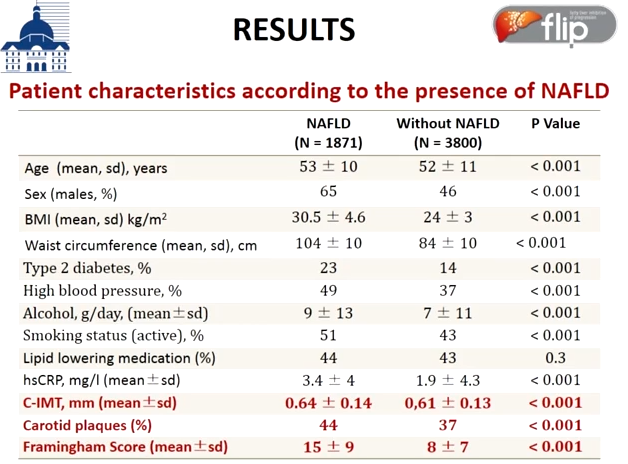 This provides verification that investigating the liver provides complementary information independent of traditional measures of atherosclerosis when assessing patient's risk factors. We are not at all surprised by this correlation; the negative outcomes from atherosclerosis are not limited to the circulatory and cardiovascular system (a common misperception outside of healthcare professionals). In our view, evidence continues to accumulate that demonstrates the importance of thoroughly examining and monitoring multiple organ systems beyond cardiovascular (liver, kidney) to deliver optimized outcomes for patients. The data shows that this additional clinical perspective for physicians can be gained treating cardiovascular disease that will inevitably increase the diagnosis and treatment of liver diseases such as NASH. Critically, the positive implications of which are not exclusive to Intercept, but also for Gilead (NASDAQ:GILD), Abbvie (NYSE:ABBV), Merck (NYSE:MRK), and Bristol Myers (NYSE:BMY).
Why is this worth highlighting? As the body of evidence matures that NAFLD is an important risk factor cardiologists and endocrinologists this could translate into higher screening and diagnosis rates for PBC and NASH, amongst many other liver diseases. The bearish thesis on Intercept (and Gilead), assuming OCA secures FDA approval in NASH, centers around the notion that despite a high prevalence of NASH (and HCV) in the general population, the vast majority remained undiagnosed and unaware of its existence. However, we view the data at EASL incrementally positive, as the more specialists screening for NAFLD's the higher the probability are that more of these undiagnosed NASH (HCV) patient's are treatable with OCA. Side note: We view the largest barrier to treatment uptake with OCA in NASH (assuming FDA approval) is the lack of a rapid, cost-effective screening tool to detect its presence in a patient.
Not all patients with PBC respond to Ursodeoxycholic acid (UDCA), a Phase IIa study demonstrated long-term durable efficacy of over 3 years with OCA reducing Alkaline Phosphatase and "other hepatic enzymes", as mono or combo therapy with UDCA.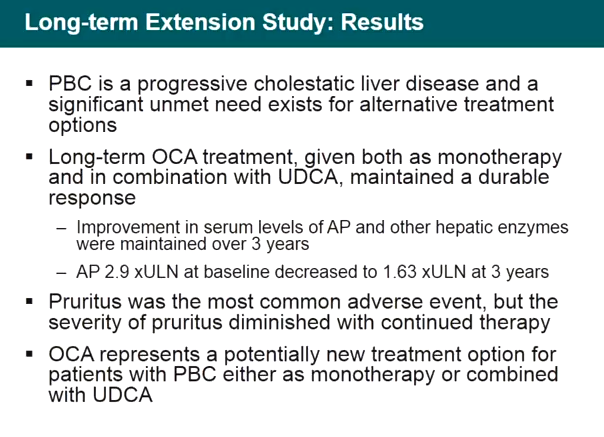 The slide below from the Journal of Medicinal Chemistry in 2002 shows differential agonist activity on the FXR transcription factor amongst OCA, CDCA, and UDCA. While this has already been established, it is important to reiterate because it demonstrates a distinct mechanism from UDCA, and superior potency to OCA's parent compound CDCA in FXR agonism and provides clinical rationale for combination or monotherapy with OCA for PBC.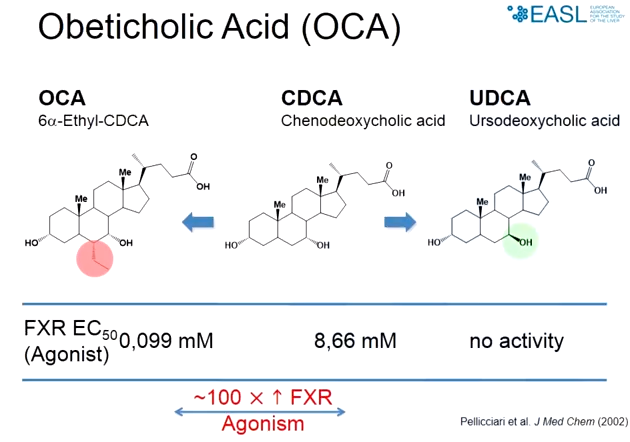 The most common and severe side effect with OCA is pruritus plateaus and diminished after 1 year of treatment. OCA's safety profile continues to look benign and we expect that the FDA's focus on safety and efficacy in this case will merely be dependent on OCA's demonstration of efficacy.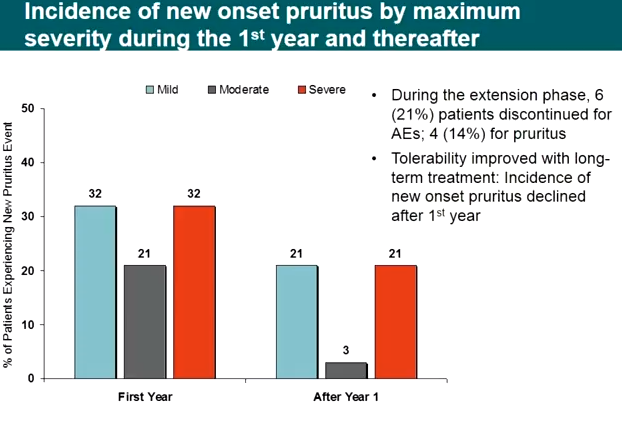 Essential to Intercept's future success rests with the FDA's ultimate stance on using surrogate markers, such as Alkaline Phosphatase and bilirubin, among several others for demonstrating clinical benefit in liver disease. Intercept presented data from the Global PBC Group meta-analysis showing that there was a strong correlation between thresholds with Alkaline Phosphatase <1.67x ULN and >15% reduction in bilirubin reduces the risk of liver related death and transplant free survival. While this data isn't new, we view this as Intercept continuing to build awareness around the validity of their clinical development strategy for OCA. We view this as a "potential" demonstration of efficacy for slowing progression of liver disease by reducing Alkaline Phosphatase and other liver enzymes.
As noted in previous reports, a demonstration of a reversal or slowing of fibrosis is the Holy Grail for the FLINT trial in NASH. While we cannot extrapolate directly from a PBC trial to a NASH trial, this study nonetheless is a major positive and further adds to the body of evidence with OCA's mechanism of action may be improving clinical outcomes through a variety of mechanism.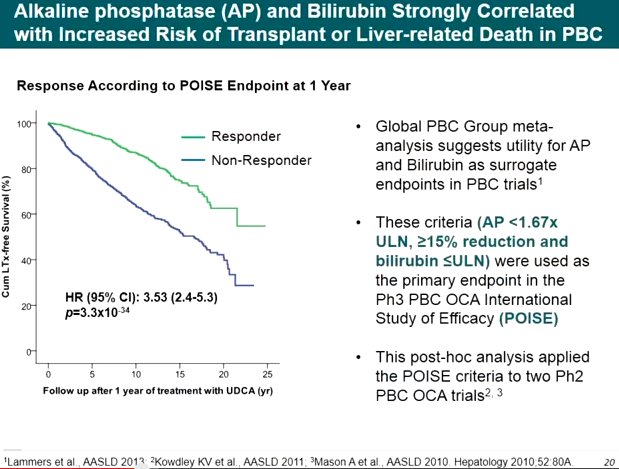 Several preclinical studies were presented demonstrated a reduction of bacterial translocations from the intestines, and reduced markers in inflammation. Adding OCA demonstrated an inhibition of bacterial translocation, it is thought to occur via OCA's presence in the intestines initiating an increase in protein expression of gap junction proteins. Clinical translations of this preclinical data are quite clear, bacterial translocations significantly impact survival of patients with liver diseases (HCC, liver transplant patients, PBC) among others. Important to note, that this was demonstrated in a rat model, while the results are favorable, this does translate into "strong" evidence in this setting yet. Intercept intends on demonstrating these results in future clinical trials and could represent potential new therapeutic indications for OCA in the future.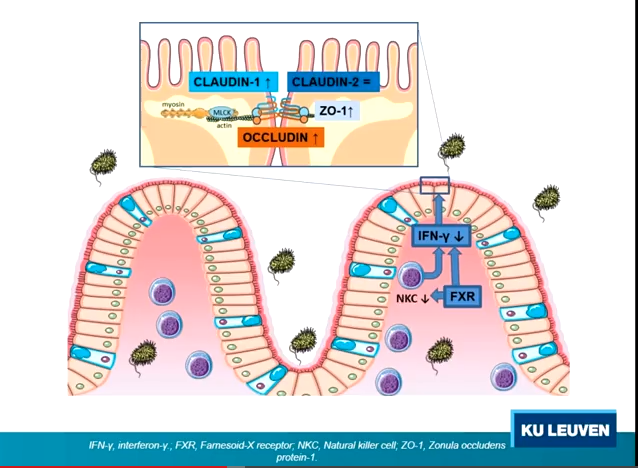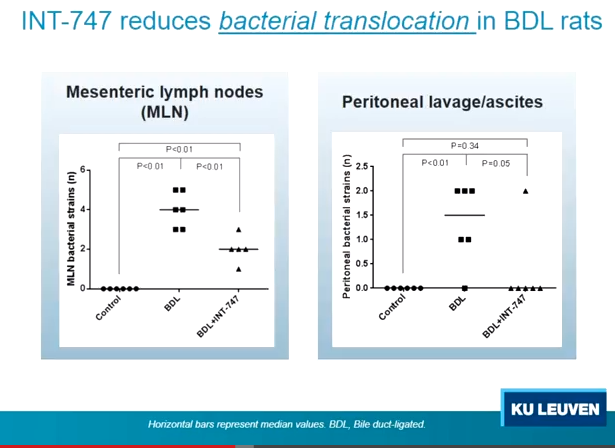 Now focusing on the Phase III POISE trial results, which was in-line with our expectations demonstrating a statistically significant reduction of biomarkers correlated with liver disease. The proportion of patients meeting the POISE primary endpoint: 10% in the placebo group, 47% in the 10 mg OCA group and 46% in the 5-10 mg OCA group (both dose groups p < 0.0001 vs placebo). New data on the POISE trial from the EASL presentation shows that OCA treated patients achieved a highly statistically significant reduction in alkaline phosphatase (ALP) as early as two weeks, with a peak effect achieved by six months. Only one (1%) of the patients in the OCA 5-10 mg titration group discontinued therapy due to pruritus after moving up to the 10 mg dose, as compared to seven (10%) of the patients in the 10 mg OCA group. Importantly, the incidence and severity of OCA related pruritus diminishes with time on therapy. Specifically, pruritus scores were no different from placebo in both OCA treatment groups during the second half of the trial. Intercept intends to submit the Phase III POISE data and the two Phase 2 trials of OCA for the treatment of PBC as part of a New Drug Application to the FDA and EMA in 4Q14.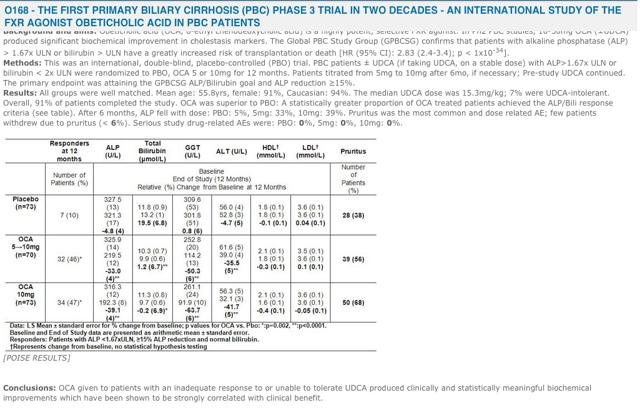 In conjunction with the data already presented, a proof of concept Phase IIa trial showing that OCA reduced the hepatic venous pressure gradient (HVPG) in cirrhotic patients supports the notion that OCA has an effect on eNOS expression. It has previously been established that higher levels of portal hypertension leads to increases in mortality/morbidity. The abstract states that this benefit was driven through the eNOS (vasodilator) pathway, however it did not specify if eNOS was measured, although it is a plausible mechanism when examined through the lens of previous preclinical data establishing an effect on eNOS expression. This adds additional support of OCA's pleotropic effects and again without any new safety signals of concern.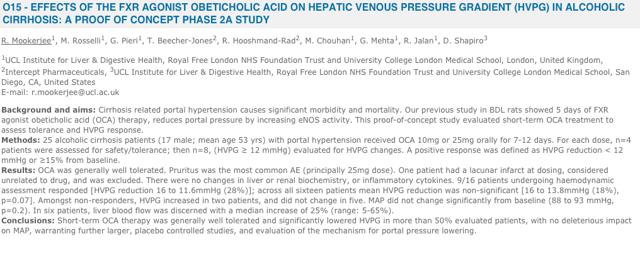 We come away from the EASL conference incrementally more bullish than before, as OCA continues to demonstrate a positive pharmacological effect on multiple pathways in various clinical settings without the emergence of any new safety signals. A brief remark on Intercept's regulatory pathway, we see them as continuing to build a strong basis of evidence with their data set in Liver Diseases with OCA and given the scarcity of available treatment options in PBC and NASH this bodes well for their probability of approval, and skews our bias with the FDA to an accommodative regulatory position.
Disclosure: I am long ICPT. I wrote this article myself, and it expresses my own opinions. I am not receiving compensation for it (other than from Seeking Alpha). I have no business relationship with any company whose stock is mentioned in this article.