Industries that are active in the processing of raw materials depend heavily on availability of resources. If there are only few places in the world, where certain raw materials occur, risky dependencies can emerge. Hence, it is clear that companies aim for regional diversification. This can sometimes lead to the construction of facilities or mines in countries companies don't have any experience with. Therefore, it is not very surprising that these expansions do not always work well. Even big companies can be shaken to the very foundations by bad decisions. Such a scenario also happened to RHI (OTC:RXHKY) , an Austrian producer of fire proof materials. When the company opened its new fusion plant in Porsgrunn, Norway, in 2012, RHI was sure that the facility had great potential and would be an investment the company could be proud of in some years. Today, announcements are different and RHI would be glad, if they could only reach break-even.
Overview
RHI Group is active in producing heat-resistant refractory products for various industries. Its annual producing capacity of more than 2 million tones makes it the world's largest company in this business sector. From mining to production, the company controls all steps along the value added chain of fire proof materials. It has sub divided its operation in three groups:
Raw Material Division: responsible for the production of the group's basic materials. Most of RHI's demand for raw materials (100% magnesia, 80% dolomite) is self-supplied. On a smaller scale, this division also sells its products to external companies.
Steel Division: the most important business sector of RHI. In 2013 62% of the company's revenues were associated with this sector.
Industrial Division: this segment contains all of RHI's final product sales to companies not active in the steel sector. This sector can be further subdivided into Cement, Nonferrous (Metals), Glass and EEC (Enviro-Energy-Chemistry).
RHI employs roughly 8000 people and is listed on the Vienna Stock Exchange with a market capitalization of about €1 billion ($1.38 billion). With more than 30 production sites and sales offices on four continents, RHI has a strong focus on internationalization. In 2012 more than 60% of the company's revenues came from outside Europe.
Financial Situation
RHI has a debt-equity ratio of about 2.2. This value has remained approximately equal within the last years. More than 75% of the company's assets refer to classical positions like property, plant, equipment, inventories and trade. Goodwill and other intangibles amount only to 7% of balance sum. Summarized, I would say that the company is sound from a financial point of view.
As customers of RHI are mainly active in areas that highly depend on business cycles, the same is true for RHI. After the crash of Lehman Brothers there was a significant drop in both sales and profit.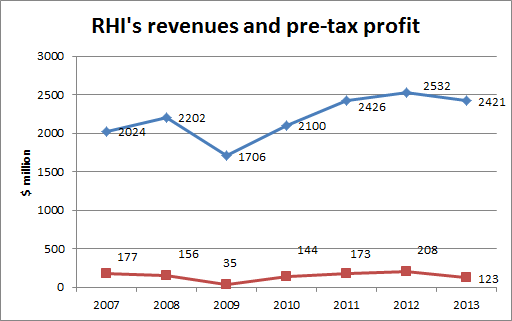 (source: RHI's annual reports)
Revenues have recovered quite quickly, while profit situation has remained more difficult, a clear indicator that market conditions have become harder. By analyzing these numbers one should also consider that increase in revenue is partially also due to acquisition, e.g. the purchase of Orient Refractories Ltd., India in April 2013.
Nevertheless, the fact that RHI has managed to earn money even after a revenue drop of more than 20%, is evidence for an able management. RHI's business year is equivalent to the calendar year.
Revenues of Steel Division have decreased by 1.4% from 2012 to 2013, as world steel producers are still facing difficult times. World steel production outside China was lower in 2013 than it was in 2008. Producers in the European Union were faced with the highest decline. Profit from RHI's steel division increased from €54 million ($ 74.5 million) to €64 million ($88.3 million), due to one-time effects associated with the termination of a 13 year old US Chapter 11 proceeding. The number also includes write-offs related to an investment project in Brazil that was stopped.
Drop in revenues of Industrial Division was significant with more than 8%. Reasons for this can be found in weak demand, especially in subdivisions Glass and EEC. Additionally, the decrease is influenced by the non-recurrence of a major project in the previous year. Operating result dropped by more than 23% from €92 million ($127 million) to €70 million ($97 million).
Raw Material Division was the business segment most affected by the Norwegian plant. Although revenues (internal and external) rose by 15%, operational profit fell from €19 million ($26 million) in 2012 to a loss of €8 million ($11.4 million) in 2013, mostly attributed to the facility in Porsgrunn.
Management reacted to decrease in demand and decided to close a production facility in Duisburg, Germany. Restructuring costs of €25 million are also included in RHI's profit statement for 2013. All in all, the company's profit after tax was €63 million ($87 million) in 2013, after €113 million ($156 million) in 2012. ROCE fell from 23.4% to 13%. At a market capitalization of €1 billion ($1.38 billion), profit means a P/E of about 15.2.
RHI generates an operational cash flow in the order of €160 million ($221 million) each year. This number is normally sufficient to outbalance cash flow from investing activities. RHI has a relatively high P/B of 1.77. No hybrid capital can be found in the balance sheet. The company has earned itself a reputation as constant payer of dividends. Payment for 2013 will be €0.75 ($1.04), as it was in 2012. At a stock price of roughly €24 ($33), this means a dividend yield of more than 3%.
All numbers in this section refer to the Annual Report 2013.
Norwegian Plant
The biggest issue for RHI is its fusion plant in Porsgrunn, Norway. Opened in August 2012, the facility should convert sea water to fused magnesia, a high-grade refractory raw material used in RHI's European plants in Germany and Austria. But already in November 2012, the facility had to be closed due to technical problems. At first it was announced that it would reopen soon. But things did not develop in the way RHI predicted:
In business year 2013 the plant had two negative effects on RHI's performance. Operating result was burdened by more than €30 million ($41 million) and impairment losses based on revised assumptions for the facility added up to €65 million ($90 million). In February 2014 CEO Franz Struzl explained that RHI did not want to shut down production. He added that major technical problems have been solved and the company would be able to generate positive cash flow within two years. Nevertheless, the plant would strain RHI's profitability also in 2014 with €15 to €20 million ($21 to $28 million).
Risks
It seems that things are going into the right direction with Porsgrunn, but it is not in the least sure whether RHI will be able to earn money with its Norwegian plant in the foreseeable future. Additional problems here could harm RHI's profitability. This is not only true for the Norwegian plant. A severe incident in any of the company's plants or mining facilities is a serious threat for RHI.
Another risk for RHI is an economic slowdown that would harm demand for steel and subsequently the company's business. This is especially true for the emerging markets.
Conclusion
RHI is a company with a long history. Since its foundation the group has faced a lot of difficult times. Situation at the moment is in no way threatening. It is true, that the company had a bad year due to the Norwegian plant and low demand in the steel segment. But in both areas the worst should be over. This can also be seen in the company's expectations for future. Revenues of €1800 million ($2490 million) and a margin of 8% for 2014 (as announced in the last press conference) would mean a P/E of 9. I consider this to be a very low price for a company with constant success over many years. I can hardly think of any scenario in which RHI is not worth today's market capitalization.
Disclosure: I have no positions in any stocks mentioned, and no plans to initiate any positions within the next 72 hours. I wrote this article myself, and it expresses my own opinions. I am not receiving compensation for it (other than from Seeking Alpha). I have no business relationship with any company whose stock is mentioned in this article.