Did the old adage, "Sell in May and go away" come a few weeks early this year? Based on Bullish Percent Indicators (BPI), this may be the case as the U.S. equity markets definitely weakened this week following a less than stellar period last week.
Index BPI: Four more U.S. markets handed the ball over to the defensive teams as the NYSE, S&P 500, DJIA, and DJTA flipped sides. In addition, all indexes are now below the over-bought zone (70% or higher) with the DJTA dropping 20%.
After a long positive run since last fall, with a few breaks, the overall market conditions are now poised for the annual poor seasonal summer. It is not a sure thing as investors have been fooled before. While I don't make investment decisions based on BPI data, I become cautious when I see these movements show up just prior to the summer months.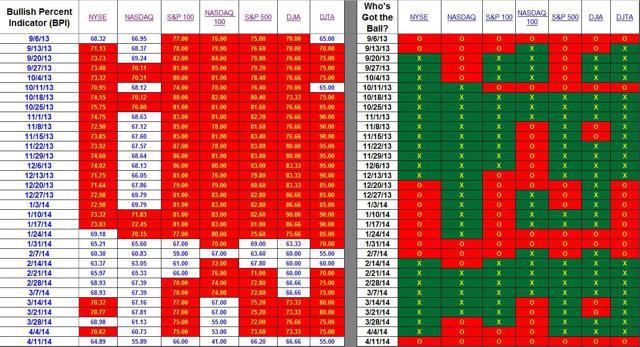 Sector BPI: While there are pockets of strength among certain sectors, the right side of the following table does not instill confidence this market will soon improve. What is helpful is that the recent correction is moving indexes and sectors out of the overbought zone. Five more sectors made the move next week. Better buying opportunities will exist when the percent of bullish companies are 50% or lower.
I question the Telecom data as the huge upward jump does not fit the pattern of the other sectors. Another week of data will help sort out if this data point (87.5%) is accurate or if it is an outlier.
The general message of these BPI tables is to be patient as there is a high probability better buying days should arrive in November.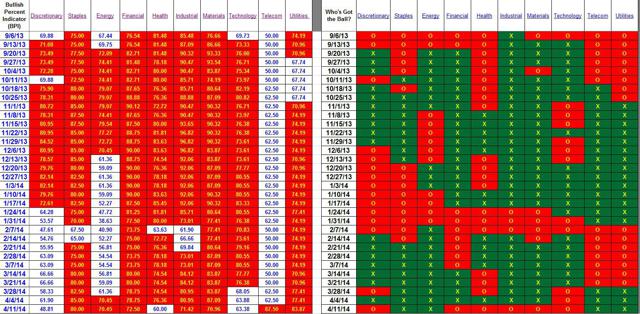 Disclosure: I have no positions in any stocks mentioned, and no plans to initiate any positions within the next 72 hours. I wrote this article myself, and it expresses my own opinions. I am not receiving compensation for it (other than from Seeking Alpha). I have no business relationship with any company whose stock is mentioned in this article.