Let's Celebrate the Fourth of July Every Week!
No News is Good News
There was very little last week in market-moving news. It was only a four-day market week. There were almost no economic reports or earnings reports. Earnings pre-announcements remained docile. The geopolitical fronts were relatively quiet. So naturally the markets exploded on the upside with their biggest up week in almost a year! Who said you can't get anything done in a four-day work week? The suspicions are that most everyone set their trading computers on autopilot and went away to enjoy the beaches, leaving no worrywarts around to override the buying algorithms.
The one hiccup for the market last week came on Tuesday. A disappointing report for the ISM services index at 10 a.m. wiped out an early morning market surge. But the market managed to close up and then explode up the next day, followed by strong gains on Thursday and Friday. The DJIA gained 5.3%, with similar gains in the S&P 500 and NASDAQ. Basic Materials and Financials, with price gains of 9% and 7%, respectively, led last week's Fourth of July parade. Beating the drums in the back row was Health Care with only a 2% gain, but at least all ten industries were marching in the same direction.
Needless to say, some of the milestones passed on the downside two weeks ago were surpassed on the upside in last week's parade. The DJIA, at 10,198, is back over 10,000, although not by much. The 10-year Treasury yield is at 3.06%, but still at abnormal lows.
Sell-Side Sentiment Now in Downward Trend
After seven weeks of flashing bullish in May and June, the First Coverage Market Indicator flipped to bearish three weeks ago and remained in that position last week. However, the market indicators for individual industries are continuing to flash bullish for all but the Consumer Services industry.
First Coverage Market Sentiment fell 0.9% last week, the fifth decline in the last six weeks. The 0.9% decline wiped out most of the 1.4% blip up the week before. A six-week downward trend in sentiment now seems in place.
Most of the damage last week was done in the Consumer Services and Basic Materials industries. Sell-side sentiment for Consumer Services fell 10%, and for Basic Materials fell 9%. Six other industries had gains in sentiment, led by a 4% rise in Telecommunications. The gains by the six industries were not enough to offset the huge drops in Consumer Services and Basic Materials and smaller declines in Health Care and Technology.
Oil & Gas Remains on Top
For the second week in a row, Oil & Gas was the industry ranked highest in sell-side sentiment. Throughout May and June, Oil & Gas was consistently one of the highest rated industries, and on occasions held the number one spot. A 3% rise in sentiment last week cemented its hold on that top spot. However, Oil & Gas has had difficulty establishing a sustained upward trend the last two months.
The other commodity industry, Basic Materials, had a brief sojourn with the leaders. In the last week of June and the first week of July, sentiment for Basic Materials rose 6% and 5%, respectively. Last week, it gave back much of that rise when it fell 9%, pushing back down into the pack.
Technology and Industrials stayed within striking distance of Oil & Gas in sentiment rating. That was despite Tech sentiment falling 2% last week. Technology continues to show a gradual uptrend over the last three months. Unfortunately, Industrials, despite remaining in the top group, has been in a sustained downward trend in sentiment for over two months.
Financials, which had showed so much promise in sentiment improvement in May and early June, has now fallen into a downward trend.
Limited and Lackluster Fundamental News Last Week Ignored
Although it was a very slow week for information on fundamentals, there were some reports of note. The ISM report for nonmanufacturing companies took a deeper hit than expected, although it managed to remain just above 50, indicating some further expansion. That report had the biggest impact on the market among the few last week, but it was only temporary.
Thursday's market was helped some by a benign weekly report on initial jobless claims. They fell to an eight-week low, but still were above the low end of the range of the last several months. There is no evidence of a downside breakout yet of the flattish trend since the beginning of 2010.
The individual monthly reports on June same-store sales for various retailers were mixed. The 3.1% overall year-over-year gain was a bit anemic and a tad below expectations. Department stores, at 5.8%, did much better than the overall. The 2.9% growth for discount stores and also for apparel stores was somewhat disappointing, with Target and Gap being especially so. The consumer credit report was also disappointing, with outstanding consumer credit falling 4.5% in May, much more than the 1% drop expected. It was the fourth straight monthly decline.
One weekly data series often used as an indicator of global economic health that is lately becoming a concern is the Baltic Dry Index. It hit a 14-month low last week.
Coming Week
All the important economic reports this week come during the last three days. It is a big week for manufacturing, consumer spending and inflation data. It is also the first week of substance for Q2'10 earnings reports, although, the floodgates do not open until next week.
The manufacturing headliners are industrial production and capacity utilization on Thursday, accompanied that day by reports on the Philadelphia Fed and Empire State Manufacturing surveys. Business inventories are reported on Wednesday. Given the number of encouraging manufacturing related reports in recent weeks, the market will expect good things here; although, the ISM manufacturing and the factory orders reported week before last were disappointing enough to cause a little worry this week.
Consumer spending is represented by retail sales on Wednesday and consumer confidence on Friday. Given the number of disappointing consumer related reports in recent weeks, the concerns are on the downside. A small decline of 0.3% is expected in retail sales, much less than the 1.3% decline for May. Consumer confidence for July is expected to be about flat with June. We believe the downside concerns are likely to be fulfilled.
Indices for producer prices and consumer prices are reported on Thursday and Friday, respectively. These should not be an issue. The headline number is expected to decline 0.1% for both, but the headline number tends to be volatile and that is well understood. The core numbers are expected to remain benign.
There are no monthly housing or employment reports this week to draw attention to those areas, but the two weekly reports might be at a turning point. Jobless claims fell last week, but only to the low end of the range of recent months, so it will be interesting to see if claims can break through that range on the downside this week. Purchase mortgage applications fell again last week, the eighth decline in the last nine weeks and we expect no relief this week.
In terms of the number of companies reporting, this week is not as big a week as the media has led many to believe. It is the smallest of the big three weeks and it does not offer much breadth. Only 21 companies in the S&P 500 report and only five of those are in the DJIA. Next week we get about 100 S&P 500 companies reporting, and even more the following week. There are not enough companies reporting in any one industry this week to offer much of an indication of what is to come later in the reporting season.
As we've discussed before, the actual results for Q2'10 should be very good relative to expectations, especially since estimates for Financials were cut by three percentage points last week to 18%. The ratio of negative to positive earnings pre-announcements remain at unusually low levels for this point in the reporting cycle. We strongly expect the final numbers to show earnings for the S&P 500 will be up 30% or so over Q2'09 results. More importantly, we expect the guidance will remain predominantly positive, although, maybe with more hedging than usual. However, our confidence on our guidance prediction is lower than that for earnings.
There are only a handful of what we consider bellwether companies reporting earnings this week. They include CSX Corporation (NYSE:
CSX
), General Electric (NYSE:
GE
), Intel (NASDAQ:
INTC
), Bank of America (NYSE:
BAC
), JP Morgan Chase (NYSE:
JPM
), and Yum! Brands (NYSE:
YUM
). Next week is when you have to tighten your seat belts.
Stocks to Watch
Over the last week, the following stocks had the largest bullish and bearish sentiment shifts amongst the sell-side (click on each chart to enlarge).
Bullish: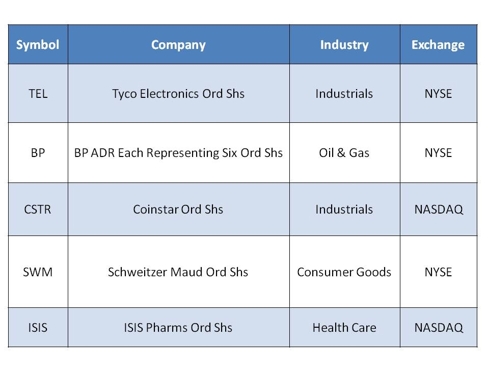 About The First Coverage Weekly Street Sentiment
Derived from the aggregated analysis of thousands of actual trade ideas and data being sent in real-time from the sell-side to the buy-side, the First Coverage Weekly Street Sentiment provides a snapshot of market trends and a unique perspective of the mindset of the Street for the week ahead. The following data has been extracted directly from all information transmitted in the past week by sell-side representatives from more than 300 firms submitting information to portfolio and asset managers worldwide via the First Coverage platform.
DISCLAIMER:
First Coverage's Weekly Street Sentiment ("WSS")is derived from sources believed to be reliable, but which we furnish "AS IS" and "WITH ALL FAULTS." We do not warrant or guarantee the suitability, timeliness, sequence, accuracy, or completeness of WSS. THERE ARE NO WARRANTIES OF ANY KIND, EXPRESSED, IMPLIED OR STATUTORY(INCLUDING, WITHOUT LIMITATION, SUITABILITY, TIMELINESS, TRUTHFULNESS, SEQUENCE, ACCURACY OR COMPLETENESS), ANY IMPLIED WARRANTIES ARISING FROM TRADE USAGE, COURSE OF DEALING, OR COURSE OF PERFORMANCE, OR THE IMPLIED WARRANTIES OF MERCHANTABILITY OR FITNESS FOR A PARTICULAR USE OR PURPOSE. THERE ARE NO WARRANTIES, EXPRESSED OR IMPLIED, AS TO THE RESULTS TO BE OBTAINED FROM USE OF WSS. Any analysis, observation or other opinion that WSS may contain is, and must be construed solely as, a statement of opinion and not a statement of fact, indication of preference or recommendation of any nature. Content contained in WSS is not intended to and does not constitute investment advice and no investment adviser-client relationship is formed.


Disclosure: no positions