Who is IMS Health Holdings, Inc.?
IMS Health Holdings, Inc. (IMS) provides information, services, and technology to the healthcare industry worldwide. The company develops healthcare measurement solutions, such as IMS LifeLink program that provides data sourced from longitudinal prescriptions, medical claims, and electronic medical records; IMS NPA Market Dynamics, a national prescription audit program; IMS Xponent Prescribing Dynamics, a solution that allows clients to segment and identify physicians, refine messages, adapt and change tactics, and align sales compensation metrics; IMS PlanTrak Market Dynamics, which integrates with patient-level data providing payer and plan level visibility within key performance indicators separating new, switch, and repeat prescriptions; and Specialty Market Dynamics that integrates patient-level data from specialty pharmacy providers, retail pharmacies, and mail service suppliers to help clients in measuring, monitoring, and benchmarking specialty market performance. The company also provides consumer health insights, forecasting solutions, payer insights, pharmaceutical measurement solutions, and publications. In addition, it offers healthcare analytics and services that include specialty healthcare analytics, pharmaceutical R and D services, government solutions, business process outsourcing solutions, patient-centric solutions, pharmaceutical commercial services, and payer solutions; and consulting services. The company also serves pharmaceutical, payers, government, providers, pharmacies, consumer health, pharmaceutical distribution, and financial community sectors.
IMS recently held an IPO on 4/4/2014 and sold 65,000,000 shares. The main underwriters were JP Morgan, Goldman Sachs, and Morgan Stanley.
What do they do and how do they expect to remain competitive going forward?
In the simplest, most convenient terms, what IMS does is bring big data to big medicine. IMS is a leading global information and technology services company providing clients in the healthcare industry with comprehensive solutions to measure and improve their performance. They have one of the largest collections of healthcare information in the world, spanning sales, prescription and promotional data, medical claims, electronic medical records and social media. Their data set contains over 10 petabytes of unique data and over 500 million comprehensive, longitudinal, anonymous patient records. IMS delivers information and insights on approximately 90% of the world's pharmaceuticals, as measured by sales revenue. IMS standardizes, organizes, structures and integrates this data by applying their analytics and leveraging their global technology infrastructure to help their clients run their organizations more efficiently and make better decisions to improve their operational and financial performance. IMS has a presence in over 100 countries, including high growth emerging markets, and generated 63% of their $2.54 billion of 2013 revenue from outside the US.
IMS serves healthcare organizations on a global scale, running the full spectrum of life science companies, including pharmaceutical, biotech, consumer health and medical device manufacturers, as well as distributors, providers, payers, government agencies, policymakers, researchers and the financial community. The amounts of data provided by IMS and the suggestions and actionable plans derived from this massive amount of data is currently not available from any other single source and as it stands creates a massive physical barrier to entry to competitors in this lucrative space looking to steal market penetration from IMS. IMS has worked hard as they have grown and evolved over the last 60 years to integrate themselves as deeply as possible into the infrastructure and workflow of their clients to become as close to a joint venture as possible, increasing their value and necessity of services. The average length of their relationships with their 25 clients, as measured by 2013 revenue, is over 25 years and their retention rate for their top 1,000 clients from 2012 to 2013 was approximately 99%, per the company S-1. IMS has effectively leveraged these long standing relationships and their value prop to the end result of predictable financial results and has created a platform that allows the majority of their revenue to occur annually (70%) via subscription and service contracts.
IMS has a comprehensive value prop, as mentioned above, that they believe provides major competitive advantages that help them improve the operating performance of clients. Their solutions include information, tailored analytics, subscription software and expert service. Data obviously is their biggest proprietary asset, followed by a 9500 person, diversified, well trained, professional staff with unique expertise in areas such as biostatistics, data science, bioinformatics, healthcare economics, outcomes research, epidemiology, pharmacology and key therapeutic areas. They also bring an industry unique cloud to the table that integrates clients existing applications with IMS, eliminating the cost and hassle that has become standard with third party cloud integration, a huge value add that should not be overlooked. Finally, IMS has time tested, scale tested, and results tested proprietary products (listed in the opening description of the company) that they feel dwarf the competition in all three categories, I would agree with them. IMS is THE brand name in this space that while huge, is still growing and has a massive amount of growth left.
Speaking of the target market, IMS is able to offer services to several channels within the information, technology and services market in the life sciences and healthcare industry. Although they focus on the market for information and consulting services primarily supporting the commercial functions of life sciences organizations, which they estimate to be a $5 billion market currently, in response to the needs of a broader set of life sciences clients for more specialized information, such as longitudinal anonymous patient data and clinical trial analytics, IMS has expanded their offerings to serve the market for information and services, which we they to be a $22 billion market, currently. In addition, they offer an expanded range of tech services that include data warehousing, IT outsourcing, software applications and other services in the broader market for IT service which represent an additional $28 billion market, currently. As a result, IMS now operates across a life sciences marketplace for information and technology services they estimate to be $50 billion, currently. They also see massive opportunity in the $25 billion market for information and technology services for payers and providers. Again, as their existing book of business grows and expands their needs so should the numbers that IMS puts up, which are already an anomaly from a consistency and predictability standpoint.
Finally, the company that makes it's money helping others get more efficient and streamlined did just that in early 2010. In February 2012 IMS was purchased in an all cash transaction by TPG Global, LLC,
CPP Investment Board Private Holdings, Inc., and Leonard Green & Partners, L.P. After completing the acquisition the new ownership quickly implemented a new CEO and with that implemented several changes that have helped to make the newest version of the company one that brings even better risk/reward dynamics to investors portfolio. From the S-1:
STRATEGIC INVESTMENTS AND OPERATIONAL CHANGES:
| | | |
| --- | --- | --- |
| • |   | improving our operating efficiency by streamlining our organization, deploying lean methodologies throughout our global operations, and standardizing and automating processes; |

| | | |
| --- | --- | --- |
| • |   | in-sourcing development activities and capabilities, with approximately 70% of our development resources in-house as of 2013 year end, compared to approximately 30% in 2010; |

| | | |
| --- | --- | --- |
| • |   | increasing our offshore delivery resources to over 2,000 people as of 2013 year end, compared to 250 in 2010, which has driven substantial productivity improvement; |

| | | |
| --- | --- | --- |
| • |   | shifting our employee mix, with over 50% now client-facing as of 2013 year end, compared to approximately 33% in 2010; and |

| | | |
| --- | --- | --- |
| • |   | expanding our offerings and capabilities by investing over $900 million in 22 complementary acquisitions, internal development projects and capital expenditures since the beginning of 2011 through 2013 year end. |
RESULTS DIRECTLY ASSOCIATED WITH CHANGES MADE:
| | | |
| --- | --- | --- |
| • |   | revenue increased to $2.54 billion, generating a CAGR of 5.6% on an as reported basis and 5.9% on a constant dollar basis; |

| | | |
| --- | --- | --- |
| • |   | Adjusted EBITDA increased to $829 million, generating a CAGR of 10.2% on an as reported basis and 10.6% on a constant dollar basis; and |

| | | |
| --- | --- | --- |
| • |   | Adjusted EBITDA as a percentage of revenue increased to 32.6% from 28.7%. |
I really like it when an already excellent company gets experienced, well capitalized ownership that retains a majority of the company voting power and board seats into an IPO and also takes a long term approach to building the company. The new ownership came in, increased CAPEX, changed management, turned over the staff, and came out on the other side with a company that more closely resembled what they thought they were buying. Anytime I can get two private equity firms and a pension plan buyer (CPP Investment Board Private Holdings, Inc) to want to own 79.5% of common stock in an attractive business, I'll take it. Here's a look at the structure of the company as of the writing of the article: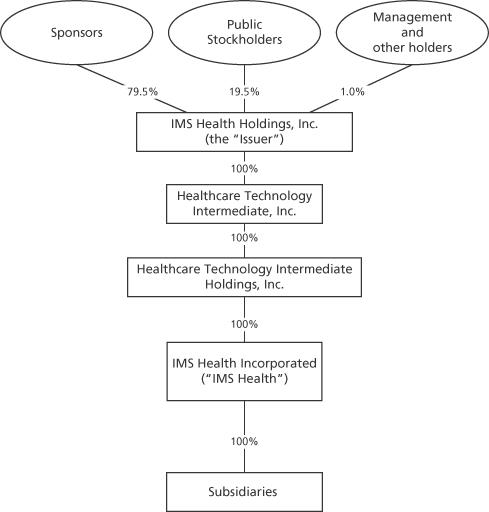 What's the growth strategy and where's the trade?
IMS has ample opportunity for growth and the strategy as a whole is one that isn't that complicated and is one that I see IMS executing, especially with the help of the three new owners.
The first area of growth, one that is readily available and requires no CAPEX, is to expand product saturation within their existing massive book of clients. This goes without saying, but it does need said in this instance because of the size and level of trust that IMS has within its existing portfolio. IMS has also made large CAPEX investments into developing its product of newer products and they aren't at levels of saturation that they feel approach a top end for their book. I agree with them, these guys will continue to implement newer products, increase rates on existing products (slowly, within contractual limits) and be the vendor of choice when their clients expand their own business. Huge internal growth is not only possible, it's almost a certainty historically speaking.
Second, grow their international book. IMS currently generates 17% of their rev's from international sources. They feel like they can improve on their CAGR of 11% (since 2010) if they make Brazil, Russia, China, and India a focus over the next several years. Again, for the most part, this is without major CAPEX, something that will be huge for adjusted EBITDA and other key line items. They can use their domestic book to take advantage and partner with companies expanding to international business and tap their existing international book to look for joint venture opportunities in helping expand their footprints. The consistency and global credibility of the IMS platform, along with the newer products coming online, make this possible, and remember, new buyers of the stock invested nothing (time or capital) into the existing platform - they simply get to take advantage of the benefits of that hard work.
Third, the company sees a huge opportunity to be the primary source for innovation in helping the industry transition to a mobile health space. The majority of platforms, including IMS' platform, are not primarily mobile based. It seems like a simple transition to move the platforms from PC bases to mobile but it's not. As the developed markets look to make more use of mobile apps and integrations IMS thinks they'll have a leg up on the competition and that they can lead the charge into the next evolution of the space. They're looking to make this their primary strategic initiative over the next few years, which further gives me confidence that this company will continue its consistency and staying power. Too often companies find security in what works and wait too long to make necessary changes to stay relevant. IMS is doing the opposite by anticipating needs and being agile.
Finally, and this is one of those rare IPO's where you get to use this as a part of the growth strategy, growth by strategic acquisition. Remember, IMS has just shy of an $8 billion market cap. They aren't the new company raising capital to make a name for themselves, they are the name. These guys have invested $586 million of capital in 22 acquisitions since 2011 and aren't afraid to pay up for something they see that can help them. Obviously, IMS wants to expand into the secondary and tertiary target markets that we talked about above and if they can speed up the process of doing that by acquisition, they have the funds and the size to do so. The majority shareholders have a huge asset base individually and come across opportunities that may or may not have come to IMS individually. That's a big reason I'm so bullish the new ownership. It puts IMS in four places at one at all times from an acquisition opportunity standpoint and having an experienced team being those negotiations is a priceless asset.
So where's the trade? The trade is a 90 mile an hour fastball coming right down the center of the plate. The trade is to get long this company and hold it forever. I like these guys that much. I actually can't find much not to like, they did have some fluctuations as to net income over the last few years but that was in the midst of making sweeping changes to get leaner and more efficient, but other than that I think this is a solid long position. The balance sheet looks great, other than a few blips like that net income, the debt maintenance has gone down since the IPO allowed for refinancing of some debt, there's great ownership, a lot of quality names on the list of lenders, and a ton of organic and cheap growth in the space. This is a sector, specially the servicing of the sector, that I want to own going forward and a chance to own a brand name like IMS is rare. I like that they continue to innovate any chance they get and that they have the size to buy out competition and time delays in developments (should they see somebody doing something that can help get there faster, where there is). I'm excited for this company and think that because of the predictability of their numbers and the large backers on board that they'll have a significantly less amount of volatility than a traditional IPO, even taking into account their size. I'm excited that I can get long all the hard work they've put in and that I get to own the newest version of the company. I think at the very least this is a company that belongs on a consistent watch list and at best could develop into a core position for younger buyers. Good luck to all.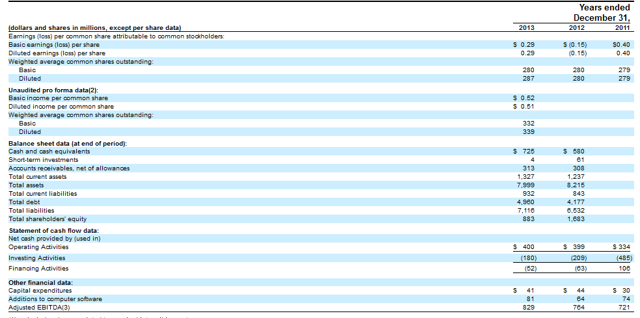 Disclosure: I have no positions in any stocks mentioned, but may initiate a long position in IMS over the next 72 hours. I wrote this article myself, and it expresses my own opinions. I am not receiving compensation for it (other than from Seeking Alpha). I have no business relationship with any company whose stock is mentioned in this article.