After a challenging week for the equity markets, one in which Linn Energy (LINE) held up surprisingly well, investors might ask how to evaluate the recent increase in volatility and whether more turbulent waters justify increased exposure to high-yield equity investments. Unfortunately, the market overvalues the short-term and undervalues the long-term and investors too often focus solely on what's in plain sight. The endorsement of a long-term vision, however, is, I believe, the primary determinant of sustainable shareholder value. Linn Energy, in my opinion, does everything right with its accretive acquisition policy and might even benefit from sustained tailwinds in the coming years as the high-growth exploration sector enters a phase of consolidation.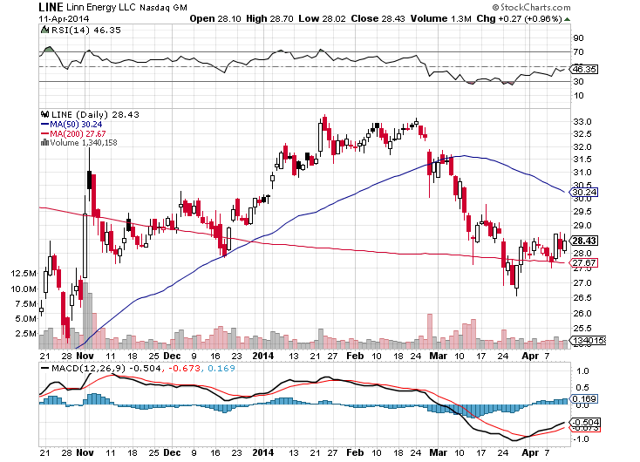 (Source: StockCharts.com)
Generally, I am on the risk-taking side. I view pullbacks constructively, especially when investments in my long-term income portfolio are concerned. While Linn Energy held up well during the most recent consolidation, the company experienced its fair share of market pressure lately -- much of it was the result of ongoing short-sighted negativity with respect to Linn Energy's distribution policy.
Not too long ago, Jim Cramer recommended an investment in Kinder Morgan Energy Partners (NYSE:KMP) at the expense of an investment in Linn Energy. I have pointed out at the time, that I see Jim Cramer's endorsements as contrarian signals. For now, it appears that the initial excitement over Jim Cramer's pointed recommendations has subsided. Just about a month ago, I wrote:
While I don't think that Linn Energy in particular is a crowded trade or that an investment would be extremely contrarian, Cramer's recommendation to ditch Linn Energy certainly contributed to the decline in Linn Energy's share value this week. Linn Energy quoted at $30.90 on March 10, 2014, when Cramer talked about "swapping out of Linn Energy", and is down approximately 7% since Monday.

I view a Jim Cramer recommendation with a high degree of skepticism, since it usually means that a herd of short-term thinkers are impacting the share price of the company and adding to volatility. Even if I hold a long position in a stock, as in the case of Kinder Morgan Energy Partners, I prefer to not have the "Cramer crowd" in my investments.

Linn Energy's minor sell-off after Cramer's announcement, however, allows investors to pick up the independent oil and gas company at a higher yield. Linn Energy pays investors $0.2416 monthly ($2.90 annually), which translates into a forward annualized dividend yield of 10.1% - which is at the higher-end of the yield spectrum.
I still stand with the assertion made in the last article and believe Linn Energy is an extremely attractive income vehicle for investors who want to play the secular trend of domestic energy exploration, who desire high income and who want to gain exposure to cash flow accretive portfolio acquisitions. Linn Energy's transaction history shows, that the exploration company is a busy driver of upstream acquisitions in the domestic oil- and gas sector.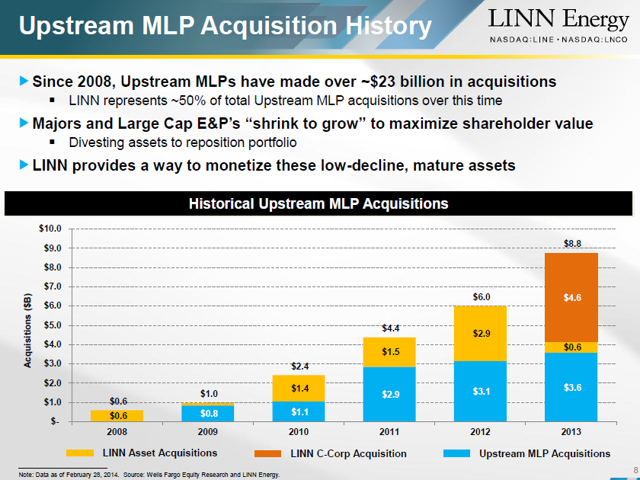 (Source: IPAA's OGIS New York Presentation April, 2014)
Linn Energy's unit price in the coming years will be largely determined by whether the company can continue to add value by acquiring select portfolio assets in high-impact drilling regions. I think investors in Linn Energy are well advised to not focus solely on short-term distributions, but rather on management's execution skills to grow reserves and cash flow.
So far, Linn Energy's acquisition record has been impressive and the company is about to reach new heights with its Berry Petroleum acquisition in December 2013.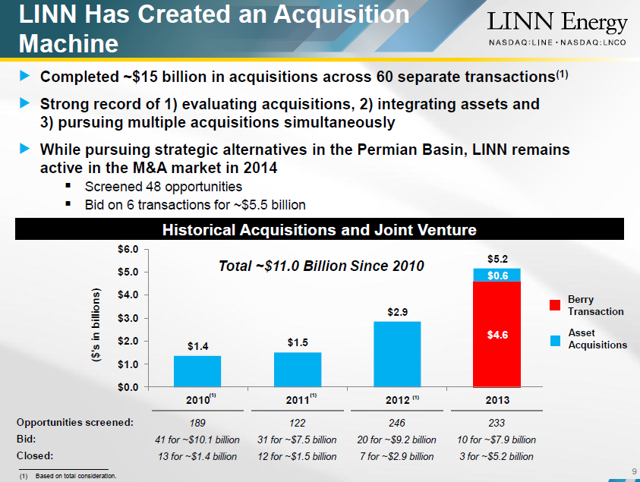 (Source: IPAA's OGIS New York Presentation April, 2014)
Like any other industry that faces a rush of capital deployment, a pool of high-growth investment opportunities and a buoyant market environment with easy access to capital, the oil- and gas industry will experience slower growth in the coming years and a consolidation wave will wash over the oil- and gas exploration sector. The prime beneficiary of an extended consolidation in the US energy sector will be an opportunistic acquirer of select oil- and gas properties which has an experienced transaction department and skilled management with solid experience in integration -- just like Linn Energy.
Also, let's not forget that Linn Energy increased proved reserves from 4,796 Bcfe in 2012 to 6,403 Bcfe in 2013 -- a plus of 34% largely due to the Berry merger. The increase in proved reserves goes to show that Linn Energy has a record of adding reserves which, ultimately, will drive cash flow and support distributions.
Distributions
Linn Energy declared a monthly cash distribution of $0.2416 per unit on April 1, 2014, or $2.90 per unit on an annualized basis, for all of its outstanding units. This translates into an annualized forward distribution yield of 10.2%. This yield is still among the highest yields in the oil- and gas sector.
Conclusion
Linn Energy is an experienced acquirer of portfolio assets which should serve the company well when the fractured US energy sector starts to consolidate. With a track record in acquisition and integration, Linn Energy should be greatly positioned to benefit from increased mergers- and acquisitions activity in the domestic energy sector in the coming years. Adding substantial reserves, which are the underpinnings of cash flow and distributions, indicates that Linn Energy is busy planting seeds today for distributions in the future.
While the hysteria about Linn Energy's production growth and potential distribution cuts make for good headlines, I believe, as I have said before, Linn Energy's distributions will be covered and are safe in 2014. Linn Energy's stock also appears to have bottomed out at about $28 per share which only adds to the appeal of the stock. Management's execution skills are solid and long-term investors might want to be a part of the ride. Long-term BUY.
Disclosure: I am long LINE, KMP. I wrote this article myself, and it expresses my own opinions. I am not receiving compensation for it (other than from Seeking Alpha). I have no business relationship with any company whose stock is mentioned in this article.