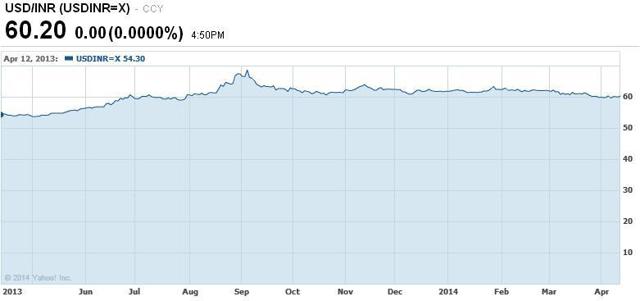 Source: Yahoo Finance
In 2013, the Reserve Bank of India (or RBI) took steps like restricting gold imports, and mobilizing Foreign Currency Non Resident (or FCNR) deposits to control depreciation of the Indian Rupee (or INR). Since the beginning of 2014, the INR has appreciated 3.17% against the U.S. Dollar (or USD). However, the downside risks for the INR still remain due to India's external debt, poor economic conditions and large foreign capital inflows.
External debt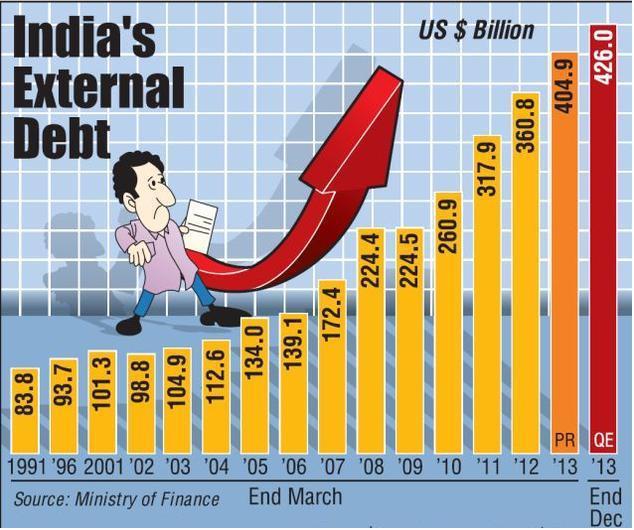 Source: The Hindu
India's total external debt increased 5.2% between March 2013 and December 2013 to about $ 426.0 billion. The increase in external debt was due to a sharp increase in FCNR deposits mobilized under the swap scheme during September to November 2013. Component-wise, commercial borrowings accounted for 31.5% of the total external debt, followed by NRI deposits (23.2%) and multilateral debt (12.3%). Government sovereign external debt stood at $76.4 billion, (17.9% of total external debt). India had to repay short-term debt worth $172 billion by March 31, 2014.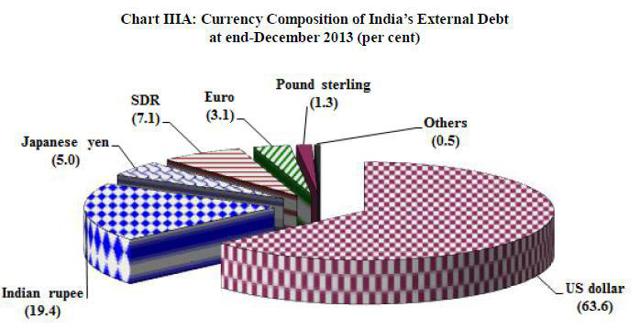 Source: RBI
The USD denominated debt accounted for 63.6% of total external debt, followed by debt denominated in INR (19.4%), SDR (7.1%), Japanese yen (5.0%) and Euro (3.1%). The latest figures are yet to be published by the RBI.
Foreign capital inflows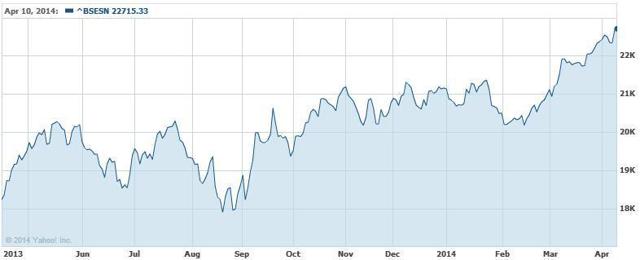 Source: Yahoo Finance
The cumulative investment of FIIs in India since 1992/93 (April 1992 to March 1993) to date has crossed $150 billion. In March 2014, the Sensex had risen 6.45% on a month-on-month (or m-o-m) basis and 18.61% on a year-on-year (or y-o-y) basis. According to the Securities and Exchange Board of India (or SEBI), foreign institutional investors (or FIIs) have made net inflows of $13.28 billion (INR 797.09 billion) in the Indian equity market during 2013/14 (April 2013 to March 2014). FIIs were net buyers of Indian equity stocks worth $3.3 billion through March 2014, while domestic Institutions remained sellers to the tune of $523 million. However, FIIs have sold Indian debt worth $4.67 billion (INR 280 billion) during 2013/14 due to weakness in the Indian currency.
The risk
Between June 2013 and July 2013, FIIs withdrew over $10 billion from Indian debt and the equity market due to weak economic conditions in India and volatility in global markets. In August 2013, the INR had touched an all time low of 68.85 against the USD.
India's trade deficit for 2013/14 was around $138 billion, compared to over $190 billion in 2012/13, while foreign exchange reserves increased by $2.97 billion to $306.64 billion. According to Moody's, India is most vulnerable to capital outflows due to high reliance on external funding.
I have mentioned about the state of the Indian economy in my article" Economic Challenges For The Next Indian Government." The recent rally in the Indian capital markets is in anticipation that a BJP-led government will take charge after the 2014 central election and bring about economic reforms.
If the outcome of 2014 election results in an unstable government or a hung parliament, then there is a possibility of huge capital outflows from Indian debt and equity markets. In such a scenario, I expect the INR will approach 68.85 against the USD or even cross that limit because an unstable or weak government will not be able to solve India's economic problems. If India votes for a stable government, then capital inflows from FIIs could lead to appreciation of the INR to around 56-58 against the USD in the short term, as a stable government can take policy measures to revive India's economy.
Conclusion
If the 2014 election delivers a stable government, then foreign capital inflows would increase, which will increase strength in the INR. However, the large dependence on foreign capital inflows coupled with poor economic conditions increases the downside risk for the INR.
Disclosure: I have no positions in any stocks mentioned, and no plans to initiate any positions within the next 72 hours. I wrote this article myself, and it expresses my own opinions. I am not receiving compensation for it (other than from Seeking Alpha). I have no business relationship with any company whose stock is mentioned in this article.