Piqqem released its weekly technology sentiment update for the week ending July 9, 2010, and the overall Piqqem technology index was higher led by the strong semiconductor sector. The semiconductor index remains above the 9 week moving average for the third straight week and points to bullish sentiment for semiconductor stocks. The current semiconductor sentiment is just below 30. A sentiment rating of 25 and above is considered positive. Intel (NASDAQ:INTC) and SanDisk (SNDK) are the leaders in the semiconductor sector each with sentiment ratings at 38.50.
Intel & AMD Earnings this Week
The strong sentiment in semiconductor should provide a positive lift for Intel and AMD (NASDAQ:AMD) who are scheduled to release earnings this week. Intel is scheduled to release earnings on July 13, while AMD is scheduled to release earnings on July 15. I will be publishing earnings reports on each of these securities this week, so check back to see the results and if you have an opinion you can vote at Piqqem.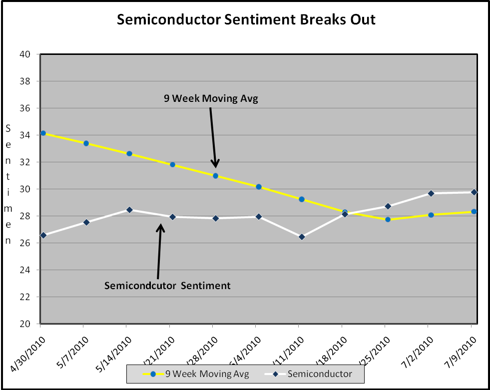 About the Piqqem Technology Sentiment Index
Piqqem tracks sentiment on all securities including stocks, mutual funds, ETFs, and major market indices. The Piqqem sentiment scale runs from 100 on the high end to -100 on the low end. The actual Piqqem Technology Sentiment Index is proprietary blend of technology stocks covering the hardware, internet & mobile, software & gaming, and semiconductor sectors.
Disclosure: No Positions