Company Overview: L-3 Communications Holdings, Inc. (NYSE:LLL) provides command, control, communications, intelligence, surveillance, and reconnaissance (C3ISR) systems; aircraft modernization and maintenance; and government services in the United States and internationally. Its C3ISR segment offers fleet management sustainment and support, such as procurement, systems integration, sensor development, modifications, and periodic depot maintenance for signals intelligence and ISR special mission aircraft, and airborne surveillance systems; strategic and tactical signals intelligence systems; secure data links; secure terminal and communication network equipment and encryption management; and communication systems.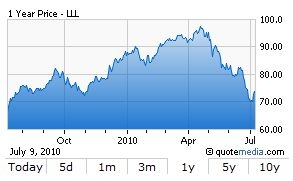 Prognosis: The stock has dropped nearly 20% in the last few months on concerns about the prospects for defense spending in future years as the administration seeks ways to cut the growth of the budget deficit. However, consensus earnings estimates have increased over last ninety days.
Valuation: LLL is selling for approximately 8 times this year's consensus earnings and 7 times next year's projected earnings. It is selling at less than .6 times revenue and less than 7 times cash flow. It sports a middling 2.2% dividend yield.
Catalysts: There are several factors that we believe should provide support for a higher stock price in the near and medium term:
Company's mix of products is well situated given high government demand for intelligence, surveillance, and reconnaissance products

Margins are less than it peers, mainly due a string of acquisitions. This should be core focus area for optimizing and consolidation to improve margins going forward

History of consistently beating earnings estimates and is currently low end of historical P/E range

It is not dependent on major weapon systems that should be focus of procurement cuts in coming years
Recommendation(s): Given its solid revenue streams, low valuation and strong cash flow, we feel the stock is currently undervalued. In our opinion, the stock should be trading at a more reasonable rate of approximately 10-11 times next year's projected earnings of around $8.95. Our target price is $89-$98, up from the current price of $73.22.
Disclosure: Author is long LLL