Vale S.A. (NYSE:VALE) is a well-diversified multinational corporation with operations spread across the globe. The focal point of this article is iron ore production and demand in the future since the mineral is a major contribution to the top line of the company.
Revenue Drivers
Geographically, Asia contributes 57% to the top line of the company. Within Asia, China happens to be the biggest client of the company accounting for approximately 71% of the total revenue generated from the region and generates about 41% of the aggregate net revenues of the company. In fact, China has remained a major growth driver for metals and minerals over the past few years due to the ongoing urbanization of the country. The figures for 2013 indicate that China accounts for approximately 64% of global seaborne iron ore demand, 50% of global demand for nickel and 43% of global demand for copper. Since iron ore and pellets make up roughly 73% of the total net revenues of the company the company's profitability is in direct relationship to the iron ore driven economic growth factors in China.
How Does China Impact Iron Ore?
The fluctuation in the mineral's price this year is attributed to weakness in the Chinese steel industry and lowered economic growth targets in the future. The outlook for iron ore is rather confusing. On one hand, China is initiating various stimuli to be able to meet its more than 7% GDP growth target and on the other hand steel mills have been ranked as the number one polluting agents. Note that the Chinese steel industry consumes about 63% of the total iron ore trade and accounts for a 55% share in the global steel production. Although the country is concerned about the pollution attributed to steel manufacturers and is presently employing efforts to dampen the environmental impact, it seems to be a rather unattainable goal for the time being. Evidently, the steel industry is one of the major employers of the country and China is in the process of enhancing employment opportunities. The effort to shut down steel mills to curtail pollution and overcapacity concerns conflicts with this aim. Nonetheless, overall industry production has declined and is consistent with the slow economic growth of the country. With the slowdown in the steel industry, iron ore fell 13% since the start of 2014.
China's steel production has risen by 1.25% YoY to 2.096 million tons per day in 2014 compared to 2.07 million tons per day in 2013.In comparison with Jan-Feb 2013 figures, Chinese iron ore imports have risen by 21% so far this year and full year growth is expected to stall around 12% at 921 million tons compared to the imports figure last year. The figure is further expected to rise to 1.18 billion tons per year by 2018.
Demand Versus Supply
Vale is making extensive efforts to improve its iron ore production volume and increase the mineral's exports from 311 million tons per year to 450 million tons per year by 2018. With an increase in the production volume, the company will benefit from further economies of scale. The company's cost of production is already measured at below $50/ton and this is expected to decline to approximately $18/ton prior to shipping costs as per the CEO of the company. The figure of $18/ton is even lower than the present day cost of production of leading participants BHP Billiton Limited (NYSE:BHP) and Rio Tinto plc (NYSE:RIO). Note that these two competitors are also working towards enhancing their production volumes. The increased production volume by the global leading players is expected to put a downward pressure on price if demand does not increase at the same pace.
Let us take a look at the other side of the spectrum as demand for iron ore is expected to be relatively slow in 2014. I am going to gauge iron ore's demand from steel production since iron ore is a crucial raw material for steel making. Since China is the largest steel producer let us focus on the projected steel growth of the country. The growth forecast of steel production in China is set at around 3.5%, almost 150 basis points below last year's growth, and is further expected to decline to approximately 2% by 2017-18. Increasing iron ore production volume will put additional bearish pressure on the mineral's prices. This led JP Morgan to lower its price forecast of the company, however, Vale is still expected to report positive cash flows owing to its ability to sustain lower prices due to low production costs. However, margins are going to shrink somewhat due to lower prices of the mineral as a consequence of the demand-supply relationship.
Strategic Efforts
The company slashed its SG&A expenses by almost 40% in FY2013 and plans to further cut this cost by another 10% in 2014. The company has slashed its capital expenditures and has been on a divestment spree to streamline the operations of the company.
Vale sold off $6 billion worth of assets in FY2013 and is expected to dispose of more assets in order to operationally streamline the company by divesting low or underperforming assets. As part of these efforts the company has entered into an agreement with GDF Suez to sell off its 20% stake in Brazilian natural gas exploration blocks. Vale let go of its 22% ownership stake in Norsk Hydro ASA (NHY) in exchange for $1.82 billion and the stake in Japan's Mitsui & Co for approximately $1.2 billion.
Moreover, the company cut down its capital expenditures by approximately 12%. We already know that the company is making serious efforts to augment its production capacity. Vale has high hopes in this regard with its Brazil based S11D project that would have a production capacity of 90 million tons per year. The plant is expected to begin production in the second half of 2016.
Investor returns
The company returns value to shareholders in the form of cash dividend payments and share repurchases. Although the company has put a halt on its repurchases over the past year its dividend yield trends are superior to that of its competitors'. Take a look at the chart below to compare Vale's dividend yield with BHP and Rio Tinto.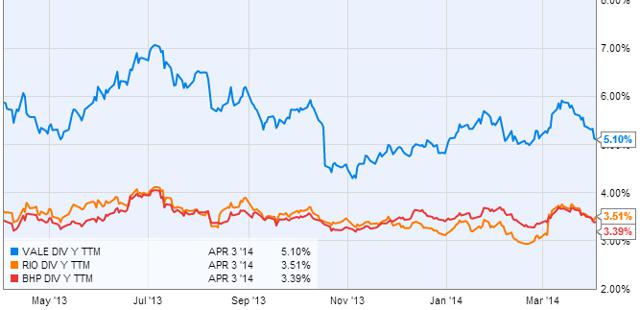 Source: Y-charts
The company's claim to pay a minimum dividend of $4.2 billion this year translates into a 6% dividend yield going forward on the basis of current data.
Conclusion
The company is aggressively cutting off its non-core, low margin, and underperforming businesses and realigning its focus towards its core operations. Although iron ore prices are expected to decline Vale still maintains a strong position. The company's low production costs enable it to sustain price declines. Plus Vale is able to distribute high returns among the shareholders.
Although Chinese steel mills are expected to maintain their production volume even if they are shut down in response to pollution and over capacity concerns, Vale is going to benefit as low quality iron ore is replaced by high quality iron ore pellets and lumps.
Disclosure: I have no positions in any stocks mentioned, and no plans to initiate any positions within the next 72 hours. I wrote this article myself, and it expresses my own opinions. I am not receiving compensation for it (other than from Seeking Alpha). I have no business relationship with any company whose stock is mentioned in this article.