Chevron (NYSE:CVX) has been in the oil game for a long time, ever since it was established as the Pacific Coast Oil Co. in 1879. It has grown organically and through mergers since that time into the global oil company it is today.
On April 9 the company announced a profit warning for Q1 2014. Subsequent to this warning, the stock has fallen somewhat. As such, this should be a good time to analyze whether an investment in this company should produce good long-term returns or not.
The Fundamentals
This Dog of the Dow is one of the largest integrated energy companies in the world today. According to the company, approximately 75% of the company's production occurs outside of the United States.
A recent trend among many of the big oil companies has been to divest the downstream business and retain the upstream business. Not so with Chevron. It explores, produces, refines, distributes and sells its products worldwide. We should have a quick look at how this strategy has served the company in the past.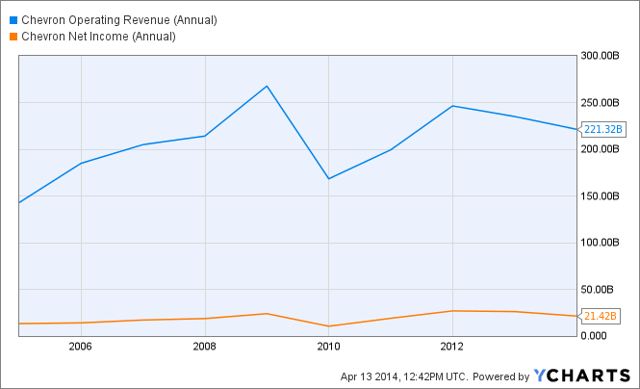 CVX Operating Revenue (Annual) data by YCharts
Over the last ten years revenue has increased but not at an impressive rate given that oil prices have had a nice run over that period. Net earnings have also risen but also at a less-than-impressive rate.
Over the shorter time frame since 2010 the company has also grown but only slightly. Net income increased from $19.024 billion to $21.423 billion between 2010 and 2013 for an average annual growth rate of 4%.
Even though growth has been somewhat disappointing, the balance sheet's strength is unquestioned. At the end of fiscal year 2013 the company had stockholders' equity of $136.524 billion and total equity and liabilities of $232.982 billion for an equity ratio of 58.6%. It also had cash of $21.913 billion. The company should therefore have plenty of firepower to both reward shareholders in the short term with dividends and in the longer term through profitable investments.
The company's strategy for future growth is to use its experience of operating in varied operating environments with multiple partners to grow profitably in core areas and build new legacy positions by:
Achieving world-class operational performance.
Maximizing and growing the base business.
Leading the industry in selection and execution of major capital projects.
Achieving superior exploration success.
Commercializing the equity gas resource base.
Indentifying, capturing and effectively incorporating new core upstream business.
Some of these sound like ambitious targets but in such a competitive business I guess shareholders would require no less of the Board and management. It will be interesting to see if it is able to meet them, especially the one about superior exploration success, which is notoriously difficult to achieve.
That said, the company certainly has a global footprint which is good from a diversification standpoint.
Source: Chevron 2013 Supplement to the Annual Report.
It operates both in promising but politically unstable areas and politically stable areas with less upside. Taken together this should be a nice base to build upon for the future.
Risk Factors
An obvious risk is the oil price. That just goes with the territory when investing in the oil sector. Global diversification should help as certain areas have lower cash-costs than other areas so some fields should still be profitable as others lose money. Another risk is the increasing cost of leasing rigs, subsea equipment and other services. The industry has tried to address this by emphasizing return on investments rather than production growth. This will hopefully put pressure on suppliers, relieving the oil companies of some of the cost pressure. A third risk is geopolitics. In one way it could be positive as oil prices tend to increase under geopolitical turmoil but there is a risk of export-bans or production stops, etc., in tumultuous times in countries where Chevron operates. Global diversification helps mitigate this risk.
Valuation
Before making any investment, one should always see how the company in question is valued in the market both on a standalone basis and compared to its key competitors.
| | | | |
| --- | --- | --- | --- |
| | Chevron | Exxon Mobil | ConocoPhillips |
| Price/Sales | 1.0x | 1.0x | 1.5x |
| Price/Earnings | 10.6x | 13.1x | 11.0x |
| Yield | 3.4% | 2.6% | 3.9% |
Source: Morningstar.
Chevron beats them all on both Price/Sales and Price/Earnings. It comes in second on the dividend yield, behind ConocoPhillips (NYSE:COP) in first place with a yield of 3.9%. Exxon Mobil (NYSE:XOM) is the most expensive on all three metrics.
Compared to the broad market, though, they are all cheap as the S&P 500 trades at a Price/Earnings ratio of 18.0x and a dividend yield of 2.4%.
The Dividend
Chevron is a steady dividend grower. 2013 marked the 26th year in a row of dividend increases. In fiscal year 2013 the company paid out dividends per share of $3.90 while diluted earnings per share were $11.09. This represents a payout ratio of 35.2% which means there is plenty of room to increase dividends even if the company were to have several sub-par years in a row.
In addition to the dividend the company repurchased $5 billion of stock in 2013. As this is a $223 billion market cap company it means it repurchased about 2% of its outstanding stocks last year.
Currently the company pays a quarterly dividend of $1.0 per share. This was last increased in late April 2013 from $0.90 per share. Over the last 10 years the dividend has increased from a split-adjusted $0.365 per share to $1.0 per share for a compound annual growth rate of 10.6%. With its low payout ratio it is not inconceivable that the company declares an increase in the dividend in late April of approximately $0.10 per share.
The analyst community expects Chevron to grow its earnings per share by 5.2% over the next five years. With a yield of 3.4% and expecting no change in the valuation multiple, shareholders can expect a total shareholder return over the next five years of 8.6%. Not exactly impressive but not bad when one considers the upside potential on both valuation and an increase in the payout ratio.
Conclusion
Chevron is not the most exciting stock in the world. But it offers dividend-focused investors both a solid balance sheet, a high current yield and a strong history of dividend growth which looks set to continue. If current yield is more important to you than a long history of dividend growth, you might consider ConocoPhillips instead. Conservative investors who focus on the security of their investments and future dividend growth should do just fine with a position in Chevron.
Disclosure: I have no positions in any stocks mentioned, and no plans to initiate any positions within the next 72 hours. I wrote this article myself, and it expresses my own opinions. I am not receiving compensation for it (other than from Seeking Alpha). I have no business relationship with any company whose stock is mentioned in this article.