Is it possible that your ship can come not once but twice? We think so. This is a situation where shareholders of AquaAmerica (WTR) get to understand exactly what Geraldine Weiss, author of Dividend's Don't Lie, means when she says that a stock trades in its own value range.
In our research recommendation (found here) of WTR, it just so happened that we managed to pick the proverial bottom in the stock's price. The stock has not fallen below the level indicated in the last year. However, in our haste to obtain 10% profits, we sold our position in the stock on our sell recommendation of December 15, 2009. On an annualized basis, we landed a 79.35% gain on our invested capital in 46 days. Just a note about our view on investing, we want 10% returns in the shortest time possible with the fallback provision being the compounding of dividends if we happen to be wrong in our timing.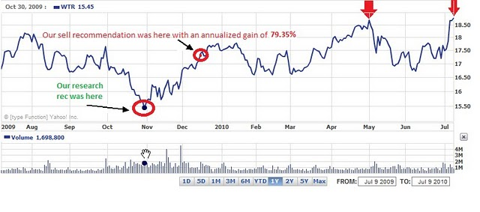 In the chart above, you can see our own buy and sell points along with the two most opportune times to exit WTR after our sell recommendation. With WTR reaching a new high in the stock price and exhibiting signs of topping out on a technical basis, it may be worth selling this stock. If you had bought based on our research your total return so far (including dividends) would be 22.77% or an annualized gain of 33.44%.
We know for a fact that better alternatives exist in the world of Dividend Achievers based on our Watch List and strongly recommend that you capture the sizable gains that have been made thus far. An opportunity to cash out now is the equivalent of your ship coming in for the second time since May.
Disclosure: No positions