Market Overview
In the hotel industry, companies tend to fall into one of 2 main classifications: franchisors or owners. Franchisors license their brands to hotel owners, most often receiving a set percentage of each hotel's revenues as franchise and marketing fees. In exchange for these fees, the hotel owner benefits from the brand name of the franchisor and a number of other perks of being part of its franchise system, such as its reservation system and its loyalty program, each of which helps to lower costs and drive increased revenues to the hotel.
There is a distinct separation between hotel owners and franchisors: most of the major brands are franchised, and franchisors often own only a small percentage of the hotels that bear their name (occasionally less than 1% of total room count).
The low level of franchisor hotel ownership came about because of the industry's rapid early growth and the capital-intensive nature of owning a hotel; the top brands could not keep up with the early growth of the industry with internally-generated funds, leading many of them to start franchising in the 1950s and 1960s.
Another major reason for this division is taxation. In the US, the largest hotel market, as well as in a number of other major markets, real estate that is owned by an individual or through a REIT structure is able to avoid the double taxation that would be incurred by a corporation, as well as presenting opportunities for tax benefits from the property's depreciation. Because of these benefits, most hotels are privately-owned or owned through REIT structures, and a number of franchisors have spun off or sold their hotel holdings over the last few decades in order to pass on these tax benefits to their shareholders.
In order to qualify as a REIT, the hotel owner cannot operate or manage its hotels; it can only passively earn rents from its properties, and must distribute over 90% of the taxable income it earns. Because REITs can't manage their own operations, many of them turn to their franchisor to manage their hotels, reimbursing them for all expenses related to operating the property and paying them a base management fee based on their revenue and incentive-based management fees based on the hotel's profitability.
Since franchisors earn revenues from franchise fees, management fees on properties they operate and normal operating profits on any of their owned hotels, almost all of a franchisor's revenues are directly tied to the revenue and profit of its franchisees. Because a franchisor's revenues are dependent on its franchise system, both hotel owners and franchisors are subject to the same underlying business trends, and their revenues tend to move in lockstep.
Despite these similarities, franchisors and hotel owners have very different profitability profiles, risk and return characteristics, and underlying competitive environments, with franchisors presenting a better investment opportunity.
Hotel Owners and REITs: Competitive Factors and Industry Analysis
Owning a hotel is highly capital-intensive, and operators suffer from extreme competition. Hotel ownership has low barriers to entry; all that is needed to open a hotel is access to capital and the time to permit, build, and staff it. Very little is stopping someone else from opening up a competing hotel around the corner or expanding an existing hotel in order to take advantage of a market opportunity. Because of this factor, hotel ownership is highly fragmented and profitability tends to be short-lived, with large ups and downs over the economic cycle.
Hotels compete based on the level of accommodations and amenities offered. Hotels are typically categorized by their average daily rate (ADR), which measures the average price paid per room per night, as this value impartially shows the value a customer is willing to pay for a night's stay. In this reading, I will use the rankings created by STR Chain Scales (specifically their 2013 rankings), which places each brand into 1 of 6 categories: economy, midscale, upper midscale, upscale, upper upscale, or luxury. Although there is differentiation between different pricing categories and certain brands have some level of pricing power, most of this benefit flows to the franchisor and hotel ownership is essentially commoditized. Changes in ADR have a direct impact on revenue and profits, and are an important attribute in evaluating a hotel owner, a franchisor, or the hotel industry as a whole.
Occupancy is another major factor affecting the revenue and profit of hotels (rooms nights filled over rooms nights available), with this measurement gauging the utilization of a hotels' assets. Multiplying ADR by occupancy gives the hotels' RevPAR, or revenue per available room, which gives the average revenue earned per night for each rentable room.
RevPAR is the most important measurement of profitability for a hotel owner, as it closely corresponds to the hotel's revenue and it must cover the large amount of fixed costs per room required to attain profitability. RevPAR movements cause large changes in profits due to the high levels of operating and financial leverage inherent in hotel ownership.
Occupancy tends to move in a normalized range over an economic cycle. Periods of higher occupancy are either caused by increased traveling volumes (increased demand), or follow periods of lower building (reduced supply). The average daily rate tends to move up and down with this supply and demand, as periods of higher occupancy grant more pricing power to owners, fueling industry-wide price increases. Periods of lower occupancy, whether caused by recessionary periods or periods of overcapacity, force hotel owners to reduce their prices to help drive volumes. Because ADR and occupancy tend to be correlated, per unit profitability for hotels tends to be highly cyclical and RevPAR and overall profits can experience dramatic swings over the economic cycle.
The changes in year-over-year ADR and occupancy growth over the last 19 years in the US market help to illustrate this effect (shown below). The cycle tends to progress in a counterclockwise manner, with strong economic periods leading to both occupancy growth and price increases (upper right-hand corner, 2004-2006, 2011-2013). Overbuilding and/or weakening economic conditions will first have an effect on occupancy (movement to the upper left-hand corner, 2007-2008), as the overall demand for hotels is decreased or the same travel volume is spread over more hotels. Lower occupancy levels will then cause hotels to reduce prices in order to curtail volume declines, with a period of both ADR and occupancy declines commonly occurring during recessionary periods (lower left-hand corner, 2001, 2002, 2009). When a recovery occurs, occupancy recovers quickly, with ADR declines first stabilizing, then growing slowly as occupancy growth moderates (movement back to upper right-hand corner, 2003, 2010).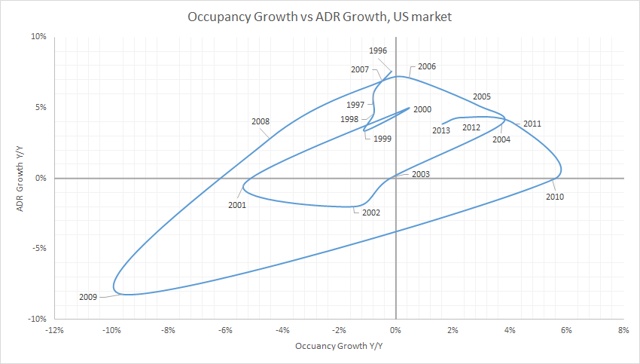 (Source: Choice Hotels 10-K: 2013, 2002)
These changes in occupancy and ADR move in tandem with hotel construction. Periods of high RevPAR lead to increased construction, as owners profit by bringing excess supply to an undersupplied market, whereas owners are more reluctant to build during a period of lower RevPAR or recessionary conditions, instead choosing to preserve cash and strengthen their balance sheet. Construction levels are also influenced by interest rates, capital availability, and general economic conditions. These factors, along with cyclical levels of travel demand help to link the hotel industry's results with that of the broader economy, with peaks and troughs roughly corresponding with the rest of the market.
Because construction is completed with a lag, growth in rooms tends to occur 2-3 years after periods of strong RevPAR growth (as shown below), and periods of oversupply and undersupply can persist for some time before new hotels become active.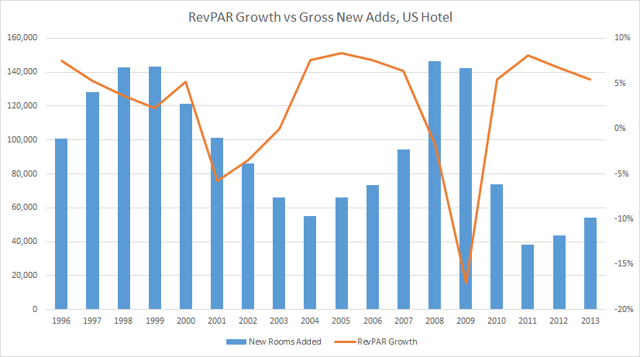 (Source: Choice Hotels 10-K: 2013, 2002)
This delay in adding additional supply means that the economic environment which a hotel enters is often very different from when construction was started, and it is common for there to be increased growth in the number of hotels during a recession. This is exactly what occurred during the recent financial crisis, where a large number of the hotels built during the boom years of 2006-2007 began operating in 2009 during a period of reduced occupancy and RevPAR, exacerbating the cycle by adding excess capacity.
Although hotels' RevPAR will change dramatically over an economic cycle, over a longer period of time, occupancy will stay within a normalized range, and ADR will tend to increase with inflation.
ADR's inflation resistance is backed by both competitive factors and tangible assets. New hotels will only be built if they can earn a profit commensurate to the cost of the new hotel. Because the cost of building a hotel will increase over time with increasing materials and labor costs, the revenue and profits earned from a hotel will also tend to increase with inflation (although this wouldn't be the case during a prolonged period of significantly increased supply or reduced demand). A hotel's value can also be realized through its sale, so the lower bound of a hotel or hotel REIT should be the underlying value of its real estate less its net liabilities, which also tends to increase over time with inflation.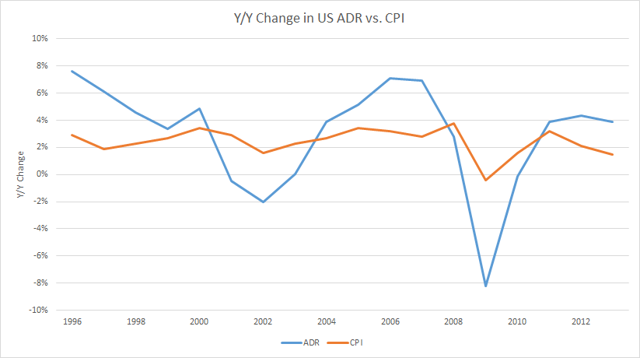 (Source: Choice Hotels 10-K: 2013, 2002)
In practice, US ADR has followed inflation somewhat closely over the last 19 years, only with more pronounced peaks and valleys (as shown above). Over this time frame, CPI and ADR increased by 54% and 68%, respectively (shown below), with part of the outperformance of average daily rates compared to inflation resulting from market share gains by higher-end price categories. Going forward, ADR should continue to follow inflation for the average hotel, helping to deliver positive real returns to hotel owners and franchisors alike.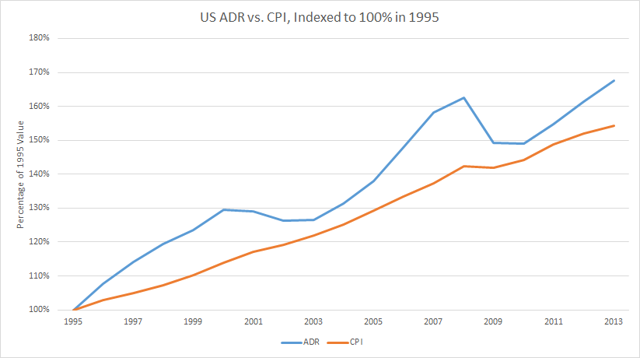 (Source: Choice Hotels 10-K: 2013, 2002)
Overall, hotel owners have 3 major sources of return: they earn income from their properties, they benefit from the appreciation of the properties through higher cash flows and the properties' eventual sale, and they can grow organically by building new hotels, expanding existing properties, or acquiring other buildings. A hotel's value will fluctuate with property values and economic conditions, and valuation can be based on either the market value of the properties owned or its estimated cash flows.
For publicly traded REITs, valuation is often based on either a Price/Book ratio or its Price/FFO (funds from operations), which removes the effect of non-cash related expenses such as depreciation, and better approximates its cash flows. Hotel or hotel REIT ownership can be right for investors who want regular income that is inflation-resistant, yet can handle high variance in returns and a greater amount of cyclical exposure.
Hotel Franchisors: Competitive Factors and Industry Analysis
Hotel franchising, in contrast to hotel ownership, involves low levels of tangible assets, and the cost structure is far more variable, causing more moderate levels of earnings cyclicality.
A company's performance can be measured in the same manner mentioned above, with growth in system-wide RevPAR, occupancy, ADR, and room count driving the majority of revenue and profit growth. Despite these similarities, franchisors have a number of competitive advantages which grant them much higher operating margins and returns on capital than their franchisees.
Franchisors employ long-term contracts with hotel owners (typically 10-20 years), and building a brand is difficult, expensive, and takes a lot of time, so franchisors benefit from strong barriers to entry. Franchisors also enjoy significant economies of scale, so the established, larger companies have significant cost advantages over any new entrants.
Franchisors' relationships with their franchisees also benefit from switching costs, as there is a large cost associated with changing the branding at a hotel, paying a new initial franchise fee, changing the reservation systems to those of a new franchise system, and retraining employees to use the new system, even before considering the business risk involved in these changes.
Over recent years, many of the top brands have built large loyalty programs, with the loyalty programs of market leaders boasting tens of millions of members worldwide. This development further improves franchisors' already considerable competitive advantages through network effects, whereby hotel owners profit from the increased occupancy that loyalty programs create, and members benefit from a greater range of hotel options as the number of hotels in the franchisor's network increases. The larger loyalty programs bring in significant amounts of revenue, making it more attractive for hotel owners to join these top brands. InterContinental, Hilton, and Marriott have 3 of the largest programs, with InterContinental's program delivering 38.2% of its total room revenue, and Hilton and Marriott's programs accounting for more than half of each of their room nights (Marriott 10-K 2013, InterContinental 20-F 2013, Hilton 10-K 2013).
These competitive advantages have greatly reduced the business risk of franchisors, making it so the same set of companies have been competing for decades, and market share gains and losses tend to be at a glacial pace. These factors have also helped to grow and protect the revenues and the impressive profitability inherent in hotel franchising, and should continue doing so for years to come.
Another attractive trait of hotel franchisors is that they incur only minimal reinvestment costs in order to grow. Unlike their franchisees, who often need to raise additional equity or debt capital in order to expand, all of the growth of a franchise system flows to the franchisor. Investing in a hotel franchisor allows you to fully experience the growth of the hotel industry without the dilution that would occur in a REIT which attempts to grow at a similar rate. The minimal amount of reinvestment needed to run their business also means they can return a large amount of cash to shareholders through dividends and share buybacks, or reinvest this capital by building hotels, acquiring other related companies or investing in other growth projects.
Investing in a hotel franchisor generates returns in a number of ways. Growth in the number of rooms, RevPAR expansion, and increases in the average franchise fee help to grow franchisors' cash flows and expand their market capitalization. Franchisors augment these capital gains with regular dividends and buyback programs, although this is usually only a small portion of their total return.
The valuation of franchisors is primarily derived from their franchising cash flows, which often closely mimic their earnings, but it may be appropriate to include an adjustment for owned hotels for some companies. Hotel franchisors will primarily appeal to growth-oriented investors, as they often pay out only a small portion of their cash flows as dividends and most of their return is through capital appreciation.
This article will focus on hotel franchisors as an investment opportunity, with a particular focus on the market leaders: Marriott (NYSE:MAR), Hilton (NYSE:HLT), Choice Hotels (NYSE:CHH), InterContinental (NYSE:IHG), and Wyndham (NYSE:WYN). The higher returns on capital and growth prospects of franchisors make a stronger case for investing in them instead of hotel operators, as these characteristics tend to lead to excess returns over an economic cycle. Also, since the companies presented in this article are the top 5 hotel franchisors, representing 21.4% of global rooms and 45.6% of US rooms as of June 2013 (Hilton S-1), looking at the operating results of this group allows us to make inferences about the industry as a whole.
Hotel Portfolio of Major Franchisors
The most important factor in the competitive positioning of a hotel franchisor is which pricing categories they compete in. The number of rooms a company has in each category is the best context to view its results, as RevPAR, ADR and Occupancy are all per room measurements, and each category has distinctive characteristics affecting its risk, growth, and return potential.
This article will first focus on the US market, as it is the largest and most important market for the hotel industry and it constitutes the majority of revenue and profits for each company. The international market, however, represents a significant future opportunity which will have a meaningful impact on each company's growth rates going forward, and will be addressed later in the article.
Each of the top 5 companies has a unique competitive positioning. Marriott and Hilton are strongly weighted toward the upscale and luxury categories, InterContinental has a dominating position in midscale, but also has a significant luxury holding, Choice has a strong position in Midscale, and Wyndham has the majority of its portfolio in the Economy category, as shown below.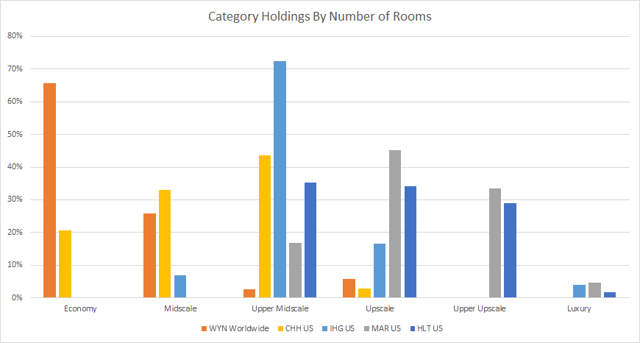 (Source: Choice Hotels 10-K, 2013; Wyndham 10-K, 2013; Hilton 10-K, 2013; InterContinental 20-F, 2013; Marriott 10-K, 2013, STR Chain Scales 2013)
This can be further analyzed by brand. The chart below shows the ADR and number of rooms for the major brands owned by these 5 companies (showing brands within the $50-$165 ADR range). This helps to highlight how important a small number of brands are for each franchisor's results and the brand equity inherent in these franchisors' portfolios, as many of these brands are household names.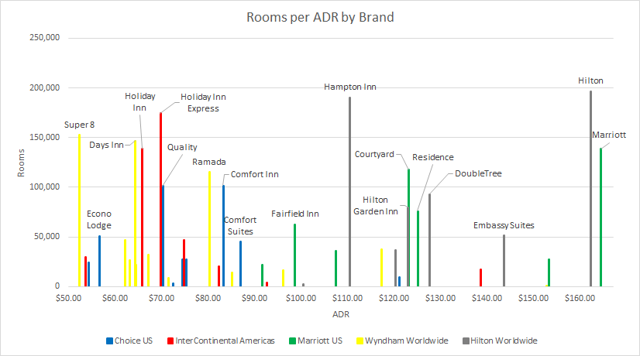 (Source: Choice Hotels 10-K, 2013; Wyndham 10-K, 2013; Hilton 10-K, 2013; InterContinental 20-F, 2013; Marriott 10-K, 2013)
Wyndham's primary lodging positioning is in the Economy segment, with Days Inn (22.8% of worldwide rooms), Super 8 (23.7%), and Howard Johnson (7.2%) making up the majority of its portfolio. The Midscale and Upscale segment make up most of the remainder of system-wide rooms, with Ramada (17.9%) in Midscale and Wyndham (5.8%) in upscale as its largest non-economy brands. The heavy weighting toward the Economy segment brings down its average worldwide RevPAR to $36.00 and ADR to $68.27, the lowest in this group.
Choice Hotels has a strong position in the Economy, Midscale, and Upper Midscale segments with the Econo Lodge (12.7% of US system rooms), Quality (25.2%), and Comfort Inn & Suites (36.7%) brands, respectively. The greater weighting toward Midscale means Choice has a somewhat higher US RevPAR of $42.08 and ADR of $74.76.
InterContinental has a dominant position in the Upper Midscale category, with Holiday Inn and Holiday Inn Express (72.5% of its Americas segment's rooms) constituting the bulk of its size. A higher weighting toward Upscale with Crowne Plaza (10.9%), and Luxury with its InterContinental (4.0%) brand bring up its average ADR and RevPAR beyond that of Wyndham or Choice, with a RevPAR of $71.68 and an ADR of $107.88 within the company's Americas segment.
Hilton has a fairly high weighting toward Upscale and Luxury, but still has a fair market position in Upper Midscale with Hampton Inn (34.7% of US rooms). Upscale brands include DoubleTree (13.7%), Hilton Garden Inn (13.6%), and Homewood Suites (6.9%), and Upper Upscale brands include Hilton (19.3%) and Embassy Suites (9.6%). This assortment of high-end brands gives Hilton a RevPAR of $95.38 and an ADR of $131.13 in the US market.
Marriott has an impressive offering in the Upscale, Upper Upscale, and Luxury markets. Upscale is served by their Courtyard (23.2% of US rooms), Residence Inn (15.0%), and Springhill (7.1%) brands, with Upper Upscale covered by Marriott (24.3%) and a number of smaller brands. Luxury is split between JW Marriott (2.5%) and Ritz-Carlton (2.2%). The large portion of brands in Upscale and Luxury help to elevate Marriott's US RevPAR and ADR to the highest of the top 5 franchisors, at $97.48 and $136.05, respectively.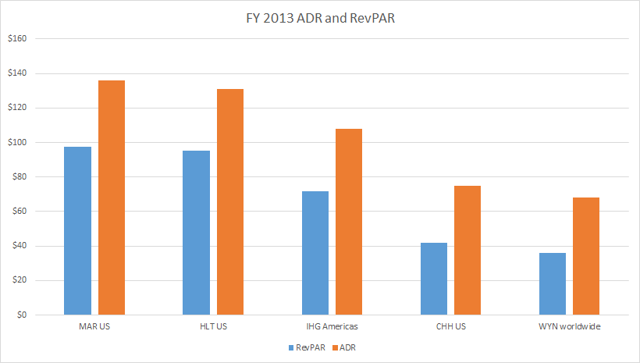 (Source: Choice Hotels 10-K, 2013; Wyndham 10-K, 2013; Hilton 10-K, 2013; InterContinental 20-F, 2013; Marriott 10-K, 2013)
This is further deconstructed below in the following 2 graphs, with the first graph showing the number of rooms at each ADR level and the second showing the number of rooms at each RevPAR level (with each brand shown, left to right, at increasing price levels, with the width of each line segment showing the number of rooms at that price level). This helps to show visually how each company's average ADR and average RevPAR is affected by their varied holdings.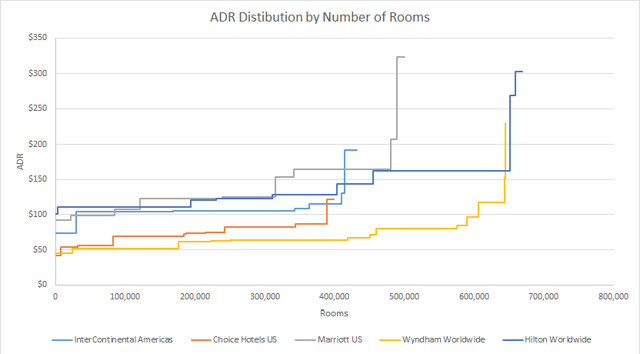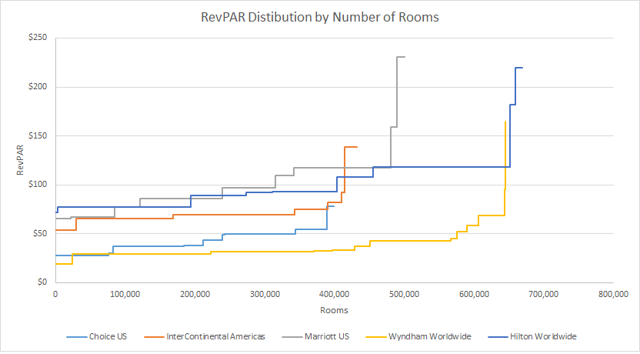 (Source: Choice Hotels 10-K, 2013; Wyndham 10-K, 2013; Hilton 10-K, 2013; InterContinental 20-F, 2013; Marriott 10-K, 2013)
Characteristics of Different Pricing Groups
The different weighting each company has for each pricing category has a large impact on its revenue, profits, growth rates, and cyclicality, amongst other factors.
Each pricing scale has a different level of risk and cyclical exposure. The Luxury and Upscale categories have more turbulent results over an economic cycle compared to the Economy and Midscale categories (as shown below), with ADR declining by a greater amount during recessions and benefitting from a stronger recovery when economic conditions improve.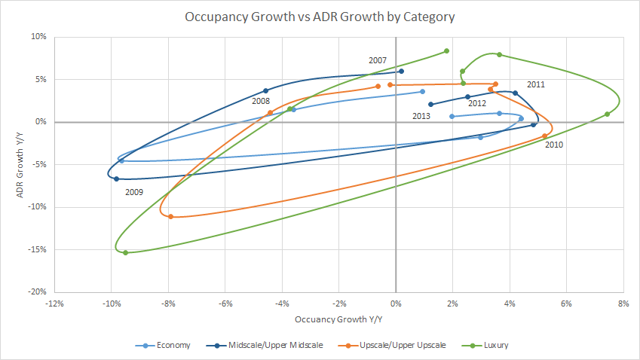 (Calculated as the room weighted average of a Wyndham's worldwide results, InterContinental's America results, and Choice and Marriott's US results. Source: Choice Hotels 10-K, 2013; Wyndham 10-K; InterContinental 20-F, 2013; Marriott 10-K, 2013; STR Chain Scales 2013)
The greater rates of change in occupancy and ADR are directly reflected in RevPAR (with the gray lines in the graph below showing the RevPAR growth corresponding to that level of occupancy and ADR growth) with higher-end hotels showing greater RevPAR volatility relative to their lower-end competitors over an economic cycle (shown in 2 graphs down, labeled Y/Y RevPAR Growth by Category).
(Calculated as the room weighted average of Wyndham's worldwide results, InterContinental's Americas results, and Choice and Marriott's US results. Source: Choice Hotels 10-K, 2013; Wyndham 10-K; InterContinental 20-F, 2013; Marriott 10-K, 2013; STR Chain Scales 2013)
Size and growth rate are also important considerations affecting the attractiveness of each market. The size of each category (US market size shown below) limits the scale and revenue potential for companies competing in that market. The Luxury market, for example, is highly lucrative, but only represents 2.2% of US rooms, meaning there is not a lot of space for companies attempting to enter this niche market.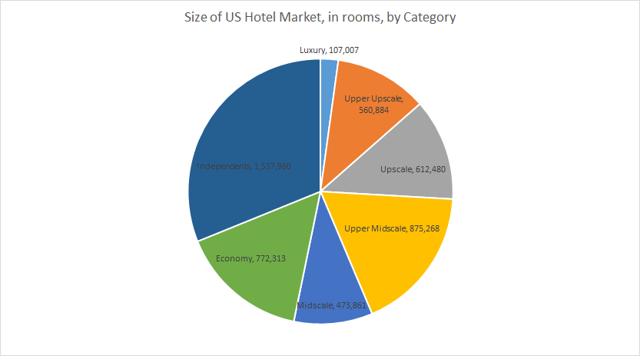 (Source: Choice 10-K, 2013, citing STR research)
The pricing category a hotel franchisor competes in also has a significant effect on room growth. The Luxury and Upscale markets grew relatively quickly over the last decade, with annualized room growth rates of 3.9% and 3.0%, respectively, with the Midscale category trailing behind at 1.3% annual growth. Over this period, the number of rooms in the Economy segment stayed level and independent room count declined modestly, with both categories losing share to their high-end competitors.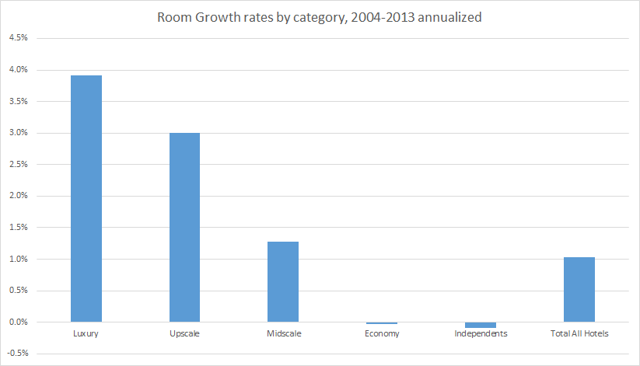 (Source: Choice 10-K: 2013, 2004, citing STR research)
Because Upscale and Midscale are so much larger than the Luxury category, they have represented the largest portion of overall US room growth, even though the Luxury segment has grown at a faster rate. Since 2004, the US market grew by 437,366 rooms, representing 9.7% total room growth, with 274,505 rooms, or 6.6% of this growth coming from the upscale category and 146,136 rooms, or 3.3% coming from Midscale (year-over-year industry growth and contribution per category shown below). The Luxury market grew considerably over the last decade, showing room unit growth of 41.2%, but because of its small size, this only represented overall growth of 31,247 rooms, making up just 0.7% of the industry's growth over this period and expanding its market share from 1.7% to 2.2%.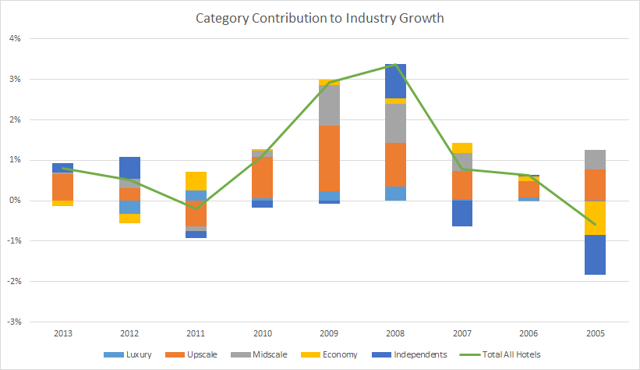 (Source: Choice 10-K: 2004-2013, citing STR research)
This analysis shows the importance of the Upscale category to overall industry growth; despite only accounting for 23.8% of current US rooms, it was responsible for 62.8% of hotel room growth over the last decade. Companies such as Hilton and Marriott, who have higher exposure to both Upscale and Luxury categories, have experienced greater growth than competitors such as Wyndham and Choice, who are more heavily weighted toward the Economy and Midscale categories. This is revealed in the data: based on ex-acquisition worldwide rooms, Hilton and Marriott grew 5.0%* and 3.8% annualized between 2007 and 2013, whereas InterContinental grew 2.7%, and Wyndham and Choice grew 1.4% and 1.9%, respectively. Although these comparisons use worldwide data in order to improve comparability (as Wyndham and InterContinental don't break out US results), which inflates growth rates somewhat, it helps to show the outperformance of premium brands relative to lower-end chains.
*Hilton data runs between June 30, 2007 and 2013, whereas the rest of the companies' was end-of-year data.
The attractive growth rates experienced by the Luxury and Upscale markets are tempered somewhat by their greater volatility. Generally speaking, investors with a greater risk tolerance may prefer hotel franchisors with a higher-end positioning, to benefit from their more attractive growth prospects, whereas investors with a lesser risk appetite might be more comfortable owning companies with a lower RevPAR positioning, to benefit from their inflation-resistant and recession-resistant qualities.
Position Within Market Cycle
By comparing our current positioning with the last 2 economic cycles (shown again below), it can be seen that we are in the later innings of RevPAR growth.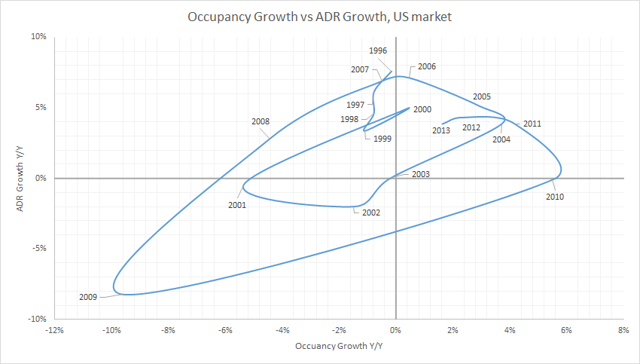 (Source: Choice Hotels 10-K: 2013, 2002)
Already occupancy growth is starting to slow, and it can be seen in the graph below that we are close to occupancy levels seen during the 2006-2007 market highs (with each category's ADR and occupancy measurements moving in a counter-clockwise manner similar to the growth graphs above). Occupancy has a natural upper bound; once hotels are filled during weekends, holidays, and other peak days, it is more difficult to achieve occupancy gains during off-peak times. Going forward, occupancy should stabilize around these levels until supply or demand conditions, such as overbuilding or reduced travel demand, bring about a cyclical decline in this measurement, with all future RevPAR growth derived from growth in average daily rates.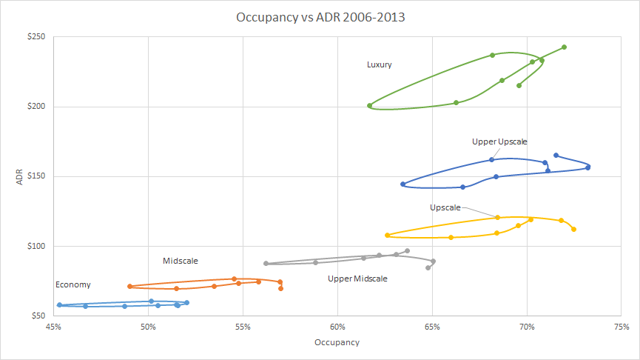 (Source: Choice Hotels 10-K, 2006-2013; InterContinental 20-F, 2006-2013; Marriott 10-K, 2006-2013, Wyndham 10-K, 2006-2013; STR Chain Scales 2013)
Our current position within the economic cycle necessitates additional precautions when investing in higher-risk companies within the space. Luxury and Upscale hotel owners and franchisors, especially those with higher debt levels or those whose earnings are more dependent on management contracts, should be approached with caution and should warrant a higher margin of safety.
International Opportunity
International markets are poised for meaningful growth in branded hotels. Between 1990 and 2009, the share of branded hotels in the US market had grown from 46% to 69%, although this figure has remained stable in recent years (Choice 10-K, 2009-2013). The international market has been undergoing a similar transformation (shown below), with many international markets growing their branded market share, helping to boost overall industry growth rates. Currently, only 53% of global rooms (including US figures) are affiliated with a brand (Wyndham 10-K, 2013), and many key markets are experiencing a trend of increased branding levels. Growing branded market share, in conjunction with increased wealth in emerging markets will provide a tailwind for international growth rates going forward.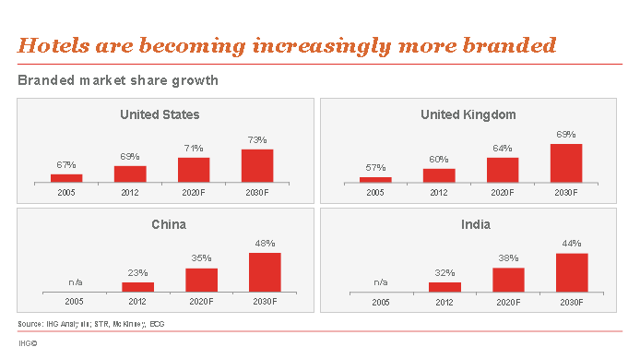 (Source: InterContinental investor presentation)
The international hotel market is also more fragmented than the US market, with the top 10 brands accounting for only 31% market share internationally, compared to the top 10 players in the US market holding 58% share (Hilton S-1). This gives larger competitors the ability to grow faster than the international market as a whole through the use of a consolidation strategy. This tactic involves acquiring smaller competitors (such as Marriott's recent purchase of Protea), creating joint ventures (such as AC Hotels by Marriott, a JV between Marriott and AC Hoteles of Spain), building a greater number of company-owned hotels, or other investments designed to spur growth.
Another notable international strategy is pursuing master franchise agreements, where a company's brands are licensed to international franchisors that are more familiar with the market. This entity or entities sub-franchises the company's brands to hotel owners, paying the owner of the brands a fee based on the licensing revenues it receives. This gives a franchisor without the experience or financial resources to directly compete in a market a foothold in the region and gives them a high-margin, low-cost revenue stream.
Similar to the domestic market, Upper Upscale and Luxury brands have a distinct advantage internationally. Each of the major franchisors has a larger proportion of Luxury and Upscale brands in overseas markets compared to US markets. Across Choice, Hilton, Marriott, and InterContinental*, the international segment has roughly 5 times the proportion of Luxury rooms (12.8% of international rooms vs. 2.7% of US rooms) and 64.9% more Upper Upscale rooms (28.4% vs. 17.2%), with each of the other categories having a lesser presence relative to their US operations (shown below).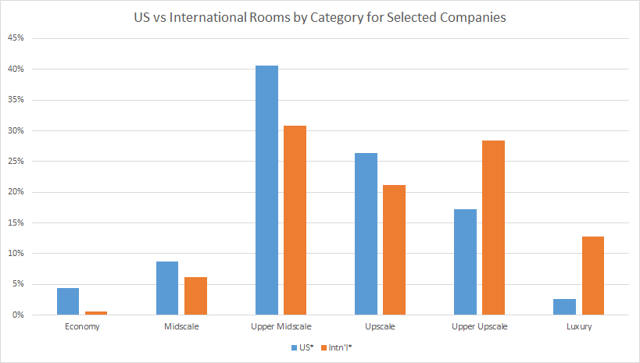 (Source: Choice Hotels 10-K, 2013; Hilton 10-K, 2013; InterContinental 20-F, 2013; Marriott 10-K, 2013, STR Chain Scales 2013)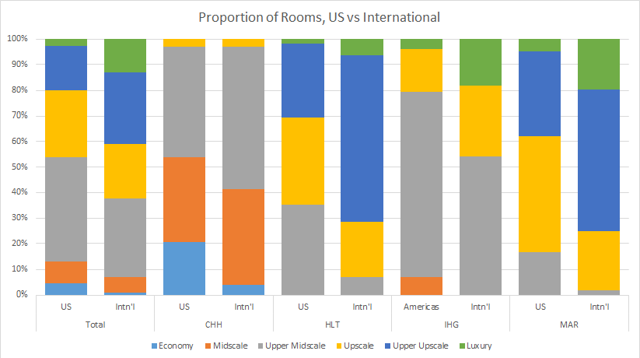 (Source: Choice Hotels 10-K, 2013; Hilton 10-K, 2013; InterContinental 20-F, 2013; Marriott 10-K, 2013, STR Chain Scales 2013)
*Wyndham doesn't break out US vs. International rooms by brand, also note that InterContinental rooms data is Americas vs. non-Americas and that the Total includes IHG's Americas' data in the Total US.
Part of the reason behind the increased proportion of high-end brands overseas is a result of aggressive investment in high-end brands by their franchisors; these companies are more willing to devote their own capital to build company-owned luxury hotels, as this is an effective way to grow international brand recognition and helps to spur future franchisee growth. This is reflected in the greater number of owned and leased luxury and upscale properties, especially in international markets.
This greater level of market penetration of premium brands also shows an increased willingness of international franchisees to invest in these brands and a greater inclination for consumers to stay at these higher-end hotels. The lower adoption of Economy and Midscale hotels can also be partially explained by a difference in consumer preferences, with hostels being far more common internationally, effectively replacing a large portion of the Economy and Midscale hotel market.
All of these reasons make it more difficult for franchisors with budget brands to expand overseas, and make it easier for owners of high-end brands to gain worldwide market share. Franchisors with a stronger high-end position should continue to benefit from greater international growth rates going forward, increasing the growth gap between high-end and low-end brands even further.
Elements of Growth
For a hotel franchisor, cash flow growth can be broken down into a finite number of components. Revenue growth can be found by combining room growth, franchise fee rate increases, RevPAR growth, and growth in ancillary revenues, such as owned hotels, timesharing, and other operations.
Room growth for each company is discussed below, and takes into account the competitive positioning of the company's brands and the company as a whole, without factoring in growth from acquisitions. Franchise fee rate increases can also meaningfully increase growth rates, even over longer time frames, with changes to international master franchising agreements having the largest potential revenue impact.
RevPAR growth can be viewed as being roughly equal to inflation over longer time periods, with changes in category mix and expected market trends having a tangible effect over the short or medium term. Inflation over the next decade is expected to be approximately 2.14% annually, using the difference between 10-year treasuries and TIPS to find the market's expectation for this value.
Each of these components is affected by the franchisor's current strategic positioning and strategy, and are discussed further below.
Choice Hotels
Strategic Positioning
Choice Hotels is the purest of the major hotel franchisors, with less than 1% of revenue from owned hotels and the remainder derived from franchising activities. Choice doesn't engage in management contracts with its franchisees, instead earning almost all of its revenues from franchise fees. Although this has reduced Choice's revenue potential, it has helped the company earn the highest operating margin amongst its major competitors and has made Choice's earnings far less dependent on economic conditions.
Because of its smaller size, limited financial resources, and positioning toward Economy and Midscale brands, Choice Hotels has pursued a greater number of master franchise agreements and joint ventures in global markets compared to its peers. This strategy is appropriate for Choice, as it helps to reduce risk and minimize the investment necessary to compete in international areas. This strategy has also had the effect of reducing the company's international revenue opportunity, with only 8% of revenue coming from overseas markets, despite representing 20.8% of system-wide rooms (Choice 10-K 2013). Although most of the company's master franchising agreements have multi-decade terms, over the long term, Choice can enter these markets as a direct franchisor, which can significantly expand the revenues it earns in international areas.
Growth
Choice's growth has been negatively affected by the large number of Economy and Midscale hotels in its system and the reliance on sub-franchisors in international markets. Despite these headwinds, Choice has performed impressively in recent years, growing rooms 2.9% annually since 2000 (2.8% ex-acquisitions), with outstanding performers such as Quality (7.5% annual US room growth), Rodeway Inn (5.7% annual US room growth), and Ascend (growing from 0 to 9,206 rooms between 2007 and 2013) providing more than half of Choice's net room growth during the period.
Going forward, Choice's room count can be reasonably expected to grow by 2.0%-2.5% annually over the next decade before factoring in acquisitions. RevPAR growth should approximate 2.5% each year over this period, with Choice's outperformance compared to inflation resulting from the above average growth of the company's Midscale and Upscale brands.
Revenue growth should be buoyed by roughly 0.5% per year due to increases in franchise rates. This 0.5% expected growth is less than the 1.1% experienced since 1999, and marginally less than the 0.6% growth of the last 5 years (Choice Hotels' 10-K, 2002-2013), since realized franchise rates and stated rates have been converging over time, and franchise fee growth rates have slowed somewhat as a result. This prediction also factors in accelerated franchise rate growth from international sources propping up, slowing domestic growth later in the next decade.
Overall growth over the next decade, before considering acquisitions and revenues from owned and leased hotels, should be roughly 5.0%-5.5% annually, in line with its recent history. Earnings and cash flow growth should closely follow revenues, as Choice's operating margin (excluding non-earnings related items, such as marketing and reservation costs and restructuring charges) has stayed within a narrow range, and cash flows have closely followed earnings. Although Choice's growth is expected to be marginally less than that of other franchisors, it will be accompanied by less earnings volatility and cyclicality.
Relative Valuation
Choice Hotels is somewhat pricey relative to its historic valuation. The graph below shows Choice's price graphed alongside its trailing 4-quarter earnings, with these 2 values intersecting at a price to earnings multiple (P/E multiple) of 20.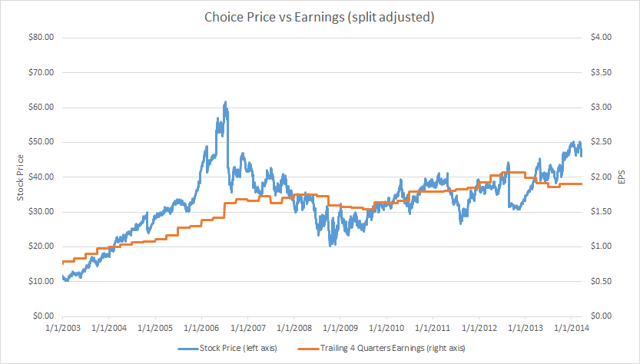 (Source: Choice Hotels 10-K, 2003-2013; Yahoo Finance)
Over time, Choice's price has closely followed its earnings, with its stock price having generally fluctuating around a P/E ratio of 20, with a median P/E ratio of 20.5. There were only a few brief periods of deviation, with its valuation exceeding norms during the real estate bubble of 2006 and overreacting on the downside during the recession of 2009.
The most recent deviation occurred after issuing a $10.41 special dividend in 3Q 2012, with the market price declining by a similar amount as a result. Since this special dividend, Choice has experienced more than a 40% price increase during a period where earnings have declined modestly (primarily because of interest from debt used to finance the dividend).
This outperformance over a relatively short period and the company's current premium to its historic valuation should be a concern to current and prospective investors in the company. Also troubling is recent sales by larger shareholders in a 3-million share secondary offering, indicating that this group may view shares as overvalued.
In general, Choice appears to be fairly valued between $38 and $42, giving the company a P/E ratio of 20-22, and would warrant further review at that level (pay attention for a follow-up piece on Choice in the future). That price level would give the company an earnings yield of 4.5%-5.0% and give investors a dividend yield of 1.8%-2.0%, with the remainder retained for growth projects, acquisitions, and share buybacks. This earnings yield, combined with a moderate yet stable growth rate of 5%-5.5% and low reinvestment requirements would give the company an attractive total return in the high single-digits or low double-digits.
At Choice's 4/4/2014 closing price of $44.95, the company has a P/E ratio of 23.5, pricing the company less than 10% above its fair value and just under 15% above its median valuation. Because of its competitive advantages, below-average risk levels, and inflation resistance, it is reasonable to purchase shares with only a modest discount to fair value; this is a worthwhile company for risk-averse investors to keep on their watchlist, and a worthwhile purchase following a modest price decline.
Wyndham
For Wyndham, hotel franchising only constitutes 20.3% of 2013 revenues and 22.2% of EBITDA, with the remainder of its revenue derived from timesharing sales and services. This is a complimentary business to hotel franchising, with a number of similar characteristics, such as stable recurring cash flows from membership fees (although sales of timeshare interests are more cyclical), high returns on invested capital, and high margins. Because the timeshare business is far more important to Wyndham's results, and this article does not intend to look in depth into the timesharing industry, it will forego a detailed discussion of Wyndham's growth prospects and valuation.
Hilton
Hilton can best be described as a hybrid of a franchisor, a hotel owner and a timeshare operator.
Because of Hilton's large size and considerable financial resources (due in part to their recent private equity ownership), the company has boosted its growth rate by expanding the number of their owned and leased hotels. Hilton's stake in owned hotels is the largest of the major brands, representing 9.1% of system-wide rooms and 41.9% of both revenue and EBITDA. This willingness to internally build hotels has helped to give Hilton a faster overall growth rate, and has given them one of the strongest international positions. Hilton is also a significant competitor in the timeshare industry, with 11.4% of revenues and 13.4% of adjusted EBITDA coming from this source.
As the largest hotel franchisor by earnings, one of the largest hotel owners, and a significant competitor in the timeshare business, Hilton has amongst the most diverse holdings of its peers. These diverse holdings make it more difficult to project the direction of Hilton's future results, as the company could follow in Marriott or InterContinental's footsteps and spin off or sell its hotel or timeshare holdings, and the growth of each division is dependent on the capital allocation decisions of senior management, making it difficult to determine the growth rates of each segment. Hilton's short history as a public company also makes its future strategic direction somewhat murky, as companies that are sold by private equity often exhibit different characteristics after their IPO.
Because of this uncertainty, and because discussing the valuation and growth of Hilton's real estate holdings are outside of the scope of this article, Hilton's results and valuation won't be discussed in greater detail in this article.
Marriott
Strategic Positioning
Ranking at a close third in number of worldwide rooms (behind Hilton and InterContinental), and with the highest RevPAR and ADR of major brands, Marriott is the top-grossing hotel franchisor by revenue.
Marriott is focused on franchising, having spun off most of its owned hotels over a decade ago, discontinuing its synthetic fuel operations after 2005, and recently spinning off its timeshare business into Marriott Vacations (NYSE:VAC). Marriott retains a licensing agreement, where it receives a percentage of Marriott Vacation's timeshare revenues for the use of its brands; these fees only contribute 0.5% of total revenue, so the vast majority of Marriott's cash flows and valuation are dependent on the hotel industry.
Management contracts are a significant part of Marriott's revenues, with 43.0% of its worldwide rooms under management contracts, and these contracts contributing 56.8% of fee-based revenue and 87.4% of the company's total revenue. Management contracts are made up of base management fees based on the hotels' RevPAR and incentive management fees based on these hotels' profits; Marriott's reliance on these fees for the bulk of its revenue adds a good deal of economic sensitivity to Marriott's results, as incentive management fees vary considerably based on economic conditions and a large portion of these fees flow down to operating earnings (shown below).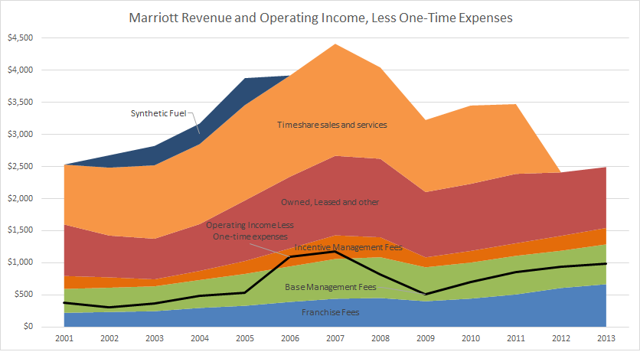 (Source: Marriott 10-K 2002-2013)
Growth
Marriott's management fees have also tended to grow at a slower rate than the company's franchise fees, with combined base and incentive management fees growing 3.6% annually between 2001 and 2013, compared to franchise fee growth of 9.7%. The large amount of revenue derived from management fees has brought down Marriott's fee-based revenue growth to 5.7%, diluting the strong characteristics of its core franchising operations.
Marriott's management fees should continue to experience below-average growth, as these fees began at unsustainably high levels after Marriott spun off its owned and leased hotels into Host Hotels (NYSE:HST), a REIT which maintained management contacts with Marriott after the spin-off. With this REIT still representing 15.3% of Marriott's revenues and looking to diversify away from its Marriott-heavy portfolio, management fee growth rates should continue to be negatively affected going forward.
Overall, management fee growth over the next 10 years should be around 3.0%, with incentive management fees experiencing slower growth from their current cyclically high levels and Host Hotel's diversification attempts weighing on near-term revenues.
Franchise fees are expected to continue their impressive growth trajectory. Marriott's strong positioning toward luxury and upscale brands has amplified the company's room growth, especially overseas. Since 2006, U.S. and international annual room growth rates averaged 3.4% and 6.3%, respectively, with overall room growth of 4.0% over this period. Going forward, room growth is expected to be modestly higher, between 4.0% and 4.5%, with some minor slowing of growth in domestic categories more than balanced by strong international performance, and faster-growing international revenues contributing a larger portion of overall growth.
RevPAR growth should modestly outperform inflation due to impressive Luxury performance, offset somewhat by above average growth in Upper Midscale brands, Fairfield Inn and TownPlace Suites. RevPAR growth and franchise fee expansion should add an additional 3.0%-3.5% to Marriott's franchise fee growth rate, leading to overall franchise fee growth of 7.5%.
Overall fee growth, including franchise and management fees, should approximate 5.0%-5.5% over the next decade. The faster growth of franchise fees has and should continue to benefit Marriott's operating margin, with the company's earnings and cash flows growing at a faster rate than revenue. Going forward, earnings and cash flow from fee-based revenue should average growth between 7.0% and 7.5% annually. Owned and leased revenues and profits have stayed relatively stable over the last 12 years, with future decisions regarding owned hotels having a large impact on profit and cash flows.
If we assume that Marriott continues to maintain a similar owned portfolio, overall profits can be reasonably expected to grow between 6.5% and 7.0% annually, albeit with a fair amount of volatility due to their high exposure to luxury categories and the dependence on management contracts.
Relative Valuation
Marriott's current valuation relative to historic earnings is somewhat high. The graph below shows the stock price compared to its trailing 4-quarter earnings, as well as these trailing 4 quarter earnings excluding one-time expenses, with these values intersecting at a P/E multiple of 20.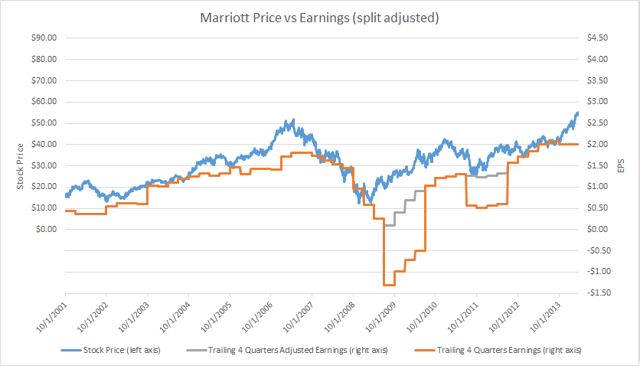 (Source: Marriott 10-K, 2001-2013; Yahoo Finance)
Marriott has tended to trade at a somewhat expensive valuation, with a median P/E ratio of 26.2 based on reported earnings and 25.7 based on adjusted earnings; this premium valuation is reasonable considering Marriott's strong competitive advantages and impressive growth rate. At its current price, Marriott is priced toward the high end of its historic range, which brings with it the short-term risk that its price will mean revert. Purchasing or holding shares at current levels also carries with it an above-average cyclical risk due to the economic sensitivity inherent in Marriott's results and the position within the market cycle.
Despite being priced high relative to historic norms, Marriott is priced close to its fair value, with this value estimated to be between $47 and $50, giving Marriott a P/E ratio of 23-25, which would give a reasonable return to prospective or current investors who are willing to hold for the long term. At its fair value, Marriott has an earnings yield of roughly 4.0%. Combining this 4.0% earnings yield with its 6.5%-7.0% growth rate and minimal reinvestment needs, this price would deliver a low double-digits return.
At its 4/4/2014 closing price of $55.80, Marriott trades just over 10% above this estimation of fair value and 5%-10% above its historic valuation.
Considering Marriott's heightened level of risk, investors should wait until Marriott trades at an appropriate discount to its fair value. A 20%-30% discount would alleviate a large part of the risk inherent in Marriott's operations, which would give the company a price between $39 and $45, and a P/E ratio of 20-22 with current earnings levels. Marriott would present a great opportunity at that price level to investors with a higher risk appetite, with this discount helping to mitigate some of its cyclical risk and giving investors strong returns going forward.
InterContinental
Strategic Positioning
InterContinental has the largest international presence, with more than a third of rooms and more than half of 2013 revenue coming from outside the United States (although the majority of profits still stems from the United States, as it houses a greater number of higher-margin franchised hotels). InterContinental's international investments have paid off handsomely, leaving them with strong positions in key overseas markets such as China, and giving the company an above-average growth rate.
InterContinental has taken a balanced approach to growth, with franchised, managed, and owned and leased hotels representing 37.9%, 28.2%, and 33.9% of revenue, respectively. The greater profitability of franchised revenues means this category represents a greater percentage of profits, with franchised, managed, and owned and leased hotels responsible for 61.2%, 24.7%, and 14.0%, respectively, of operating profit before regional and central overheads.
InterContinental has taken different strategic approaches in different markets, with the United States earning most of its profits through franchise fees; the Africa, Middle East, and Asia segment earning most of its profits from management contracts; Greater China profiting most from management and owned properties; and Europe splitting operating profits somewhat evenly between franchise fees, management fees, and owned properties. InterContinental's international strategy requires greater investment and has lower margins compared to pure franchising, but has helped the company achieve above-average growth rates and international penetration, and has opened the door for increased future franchisee growth.
InterContinental's strategy has undergone a transformational shift over the last decade, with the company greatly reducing its reliance on owned and leased properties by selling most of its hotel portfolio. This has allowed the company to expand its share of profits from franchised and managed properties, making operating results far less variable over the economic cycle, and strengthening its competitive advantages and strategic position. Over the last decade, owned and leased revenue in the Americas segment shrank by 55.9%, resulting in a 6.25% decrease in profit; international results were more heavily affected, with revenue and profit deceasing by 76.2% and 43.4%, respectively, due to the greater number of international property sales.
Growth
Over this period, franchised revenue and profit grew by 5.8% and 6.0% annually in the Americas, and international revenue and profit both averaged 11.3% growth. Management fees grew considerably, buoyed by these property sales, growing annual revenues and profits in the Americas by 10.8% and 26.6%, respectively, and by 16.9% and 14.2% internationally.
The company's strong earnings growth was backed by robust room growth. Annualized franchised room growth since 2004 was 2.3% in the Americas vs. 4.4% internationally (shown below), led by growth in Staybridge and Candlewood Suites in the Americas and Crowne Plaza and Holiday Inn Express internationally.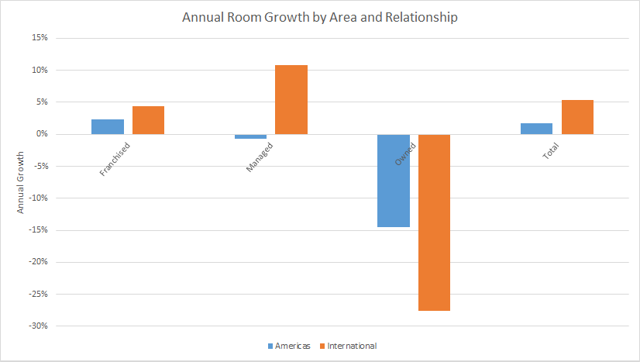 (Source: InterContinental 20-F, 2005-2013)
Managed room growth was -0.7% annually in the Americas and 10.9% internationally, with impressive performance from all brands in international markets. Owned hotels' room count declined across the board, with the overall number of rooms declining by 75.6% in the Americas and 94.5% internationally, with only a small number of InterContinental and Holiday Inn hotels remaining in the company's portfolio.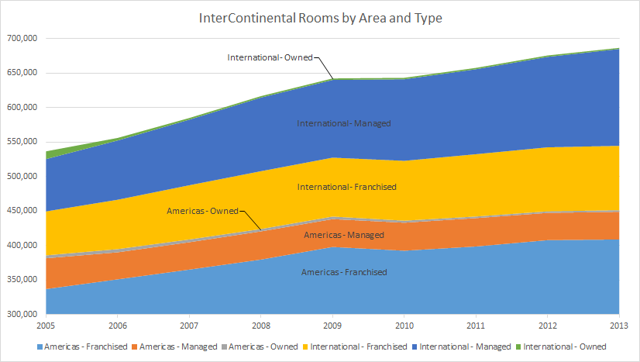 (Source: InterContinental 20-F, 2005-2013)
This combination led to worldwide annual room growth of 2.9%, with Americas' rooms growing 1.8% and international rooms growing 5.3%.
Future room growth should be reasonably higher, as past growth rates were negatively impacted by the re-launch of the Holiday Inn brand, which caused a large number of previous franchisees to leave the system. The Holiday Inn and Holiday Inn Express brands account for 63.9% of total rooms, yet only grew by 0.9% annually compared the remainder of InterContinental's portfolio averaging 7.6% room growth over this period. A rebound to more normalized growth would significantly raise overall growth rates going forward.
Over the next decade, annual room growth rates can be reasonably expected to accelerate to 4.0%-4.5%, with the faster growth of Holiday Inn bringing about much of this excess growth and the Americas region receiving most of this benefit. Overall room growth in the Americas segment is expected to rise to 3.5%-4.0% annually, with franchised hotels growing by 4.0%, managed hotels growing 1.5% -2.0%, and owned and leased hotels staying at a similar level. International growth rates should stay about the same, with overall annual growth of roughly 5.0% led by managed room growth of 5.5% and franchised room growth of 4.5%, with no growth in owned rooms.
RevPAR growth should be roughly in line with inflation, averaging between 2.0% and 2.5% over the next decade. The faster growth of Upscale and Midscale rooms, especially newer brands, compared to InterContinental's namesake Luxury brand will reduce Luxury's share of the portfolio, leaving growth fairly balanced. Growth in franchise fee rates should also be modest, with 0.0%-0.5% growth expected over this period.
Franchise fees should continue their steady growth due to InterContinental's strong international positioning and the faster growth of the company's Upscale brands, leading to annual revenue growth of 6.5%-7.0%. Franchise fee profit margins have historically stayed within a narrow range, meaning franchised profit growth should remain in line with revenue growth, also averaging between 6.5% and 7.0% annual growth over the next 10 years.
Managed revenue growth is also expected to be around 6.5%-7.0%, only with a greater level of volatility. Profits will undergo an even greater level of fluctuation, but they have the potential to grow somewhat higher than revenues due to depressed margins on managed hotels in Europe, which are less than half of what is achieved in other segments. Recessionary conditions in Europe are at least partially to blame; a rebound in the European segment should raise overall managed profit growth to 7.0%-7.5% annually over the next decade.
These results bring overall revenue growth to 5.5%, with profits growing at a somewhat faster rate of 7.0%-7.5%.
Relative Valuation
InterContinental is trading in line with its adjusted historic earnings. The graph below shows the stock price compared to its annual earnings, as well as its earnings excluding one-time expenses, with these values intersecting at a P/E multiple of 20. Because of InterContinental's many hotel sales over its recent history, the company has recorded a large amount of one-time gains on sales and write-offs, making its adjusted earnings far more indicative of its long-term earnings and cash flow potential.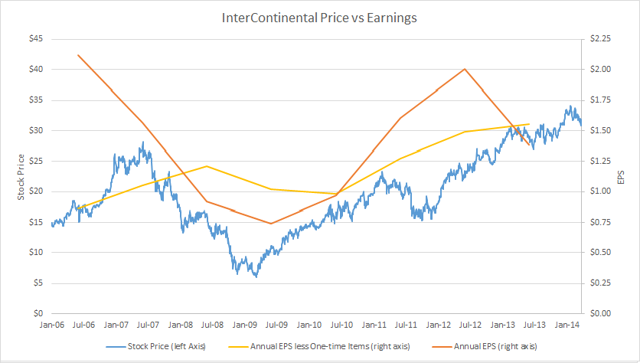 (Source: InterContinental 20-F, 2006-2013, Yahoo Finance)
InterContinental tends to trade at a relative discount to its peers, usually priced at or below a P/E of 20. This discount is unwarranted, as the company has amongst the best international positions, strong overall growth prospects, and below-average risk levels.
InterContinental's 4/4/2014 closing price of $31.71 gives the company a P/E ratio of 23.0, a fair amount above historic levels. Although it's priced high relative to historic pricing, InterContinental still presents an attractive buying opportunity. The company's current earnings yield of 4.4%, coupled with its 7.0%-7.5% growth rate would give investors stable, low double-digit return with only moderate risk.
It would be more appropriate for InterContinental to trade in line or above Marriott's valuation, because of their similar growth rates and because of InterContinental's lower associated risk. P/E expansion to match that of Marriott would give InterContinental shareholders more than a 20% return. A reasonable fair value for InterContinental would be $35-$37, giving the company a PE between 25 and 27.
At current prices, InterContinental trades at a 10%-15% discount to its fair value. A conservative investor may want to wait for a modest pullback in order to purchase, but because of the company's lower risk levels, purchasing shares between $28 and $30 would adequately dampen InterContinental's risk and would be a great entry point. InterContinental presents the best investment opportunity in the group at current prices, and would be a strong investment over the long term.
Disclosure: I have no positions in any stocks mentioned, and no plans to initiate any positions within the next 72 hours. I wrote this article myself, and it expresses my own opinions. I am not receiving compensation for it (other than from Seeking Alpha). I have no business relationship with any company whose stock is mentioned in this article.