Summary
Biotech companies are risky ventures by nature because they tend to fall into the category of 'One Trick Ponies.' Either the drug is approved and everybody gets rich, or it fizzles and investors are out of luck. BioLife Solutions (NASDAQ:BLFS) is entirely the opposite, and this nuance is what initially attracted me to the stock.
BioLife designs and manufactures cGMP bio-preservation media products. Basically that means the company creates a type of serum that is ideal for transporting and storing cells, tissues or organs. This product caters to the regenerative medicine market (better known to the public as stem cells), by allowing much longer shelf life and preservation of drugs/treatments. BioLife has several patents surrounding this technology, and is working to gain more.
Currently, there are over 100 clinical trials that involve BioLife's products; they vary from pre-clinical to Phase III. In each of these drugs BioLife acts as a storage/shipment medium, and is permanently included the 'recipe' for that treatment. Thus, when a drug that uses BioLife's preservation media gets FDA approval and begins commercialization, it will be forced to use the media in every application. BioLife currently estimates that the approval and then commercialization of a single drug could add between $500,000-$2,000,000 in annual revenue.
Betting on BioLife is a numbers game, not an attempt at understanding a complex proprietary medicine. For the past 3 years BioLife has been filling up its pipeline with new drugs, and is closer than ever to one of its customers receiving FDA approval. Of the 100+ total, 10 are in Phase III trials and 47 are in Phase II as of January 9th, 2014 (according to this research report done by LifeSci Advisors). Generally a Phase III trial can be 5-10X larger than Phase II, which is already 2-3X larger than Phase I. For this reason, BioLife stands to get a major tailwind over the next several quarters as a big portion of its pipeline enters Phase III.
Recently BioLife completed a $13M+ capital raise and debt conversion, while simultaneously up listing from the OTC to the NASDAQ. These events a are a major positive for the company and gives BioLife enough capital to operate without dilution for ideally the next 3-4 quarters, at least. BioLife was almost operating at breakeven throughout 2013, and appears to be headed towards profitability over the course of 2014. The market hasn't reacted kindly to these events, and as a consequence has punished the stock, and it now trades near 52-week lows. The most likely reason for the fall was the amount of dilution that occurred during the debt conversion/offering, as well as the overall time it took to complete the process. During the process BioLife's outstanding share-count more than doubled from ~5M to 12M. Although at first glance this is a little concerning, it had to be done for the longevity of the company, and a dilutive event of this magnitude appears to be a one time occurrence.
BioLife has completely transformed its balance sheet thanks to this recent financial engineering. The company ended the year with less than $200K in cash, and more than $10M in debt. Now BioLife has $13M+ in cash, with $0 debt. This means at $3.64 BioLife essentially has a market capitalization of just $30M.
Even without a commercially approved drug BioLife is already generating close to $9M in revenue per year and closing in on profitability. The approval of just 1-2 of its clients would provide a major boost for BioLife's core product revenue, and reinforce the viability of the company's long-term model.
Financials
Despite having no FDA approved drugs in its pipe-line, BioLife is already generating substantial revenue and growth.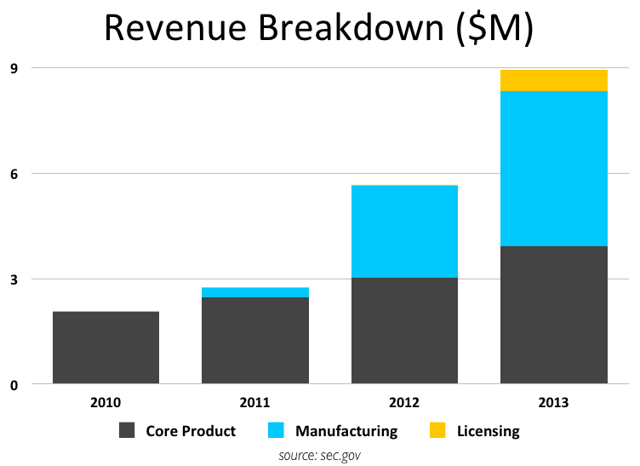 Overall revenue climbed 58% in 2013, led by a major increase in manufacturing and licensing sales. Core product revenue increased 30% year over year in 2013, rising from $3M to just over $3.9M.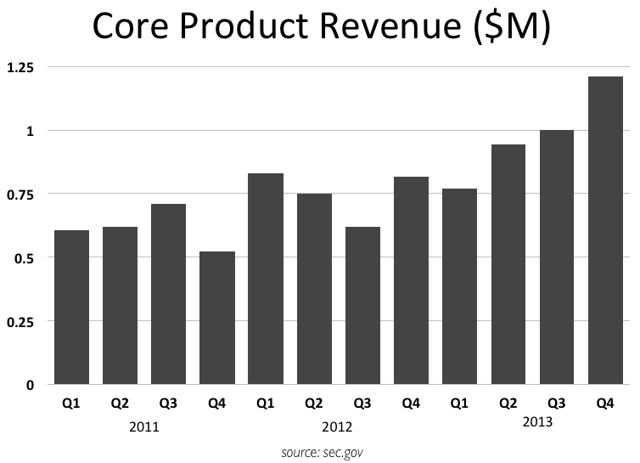 As you can see core product revenue has been increasing steadily since 2011 and is now at a run-rate of $4.8M.
Potential Exposure to 3D Bioprinting
3D printing has been a sector which has garnered a fair bit of exposure in the past year or two. One exciting aspect, known as 3D bio-printing could hold promise for biopreservation products such as the ones BioLife offers.


Recent press coverage by Forbes, CNN does a great job of detailing the disruptive potential of this emerging technology.
3D printed organs are destined to play a significant role in the rapid growth of the regenerative medicine market, which is projected to grow from $10B in 2011 to over $30B by 2018.
The leader in this expanding niche is a California biotech called Organovo (NYSEMKT:ONVO). The company is working on its first real product; 3D Printed Liver Tissue, and claims development is progressing ahead of schedule and it will be available within the calendar year.
BioLife's biopreservation products are designed to be able to store organs and tissues, as well as the cell-lines they are generally utilized for now. When production of 3D printed organs and tissues expands, along with increased adoption of personalized medicine, more premium biopreservation media will be required.
Further proof of BioLife's potential exposure to this sector is listed right on the company's website. BioLife products already are being used to preserve liver tissue, coincidentally the first 3D-Printed product Organovo stands to commercialize.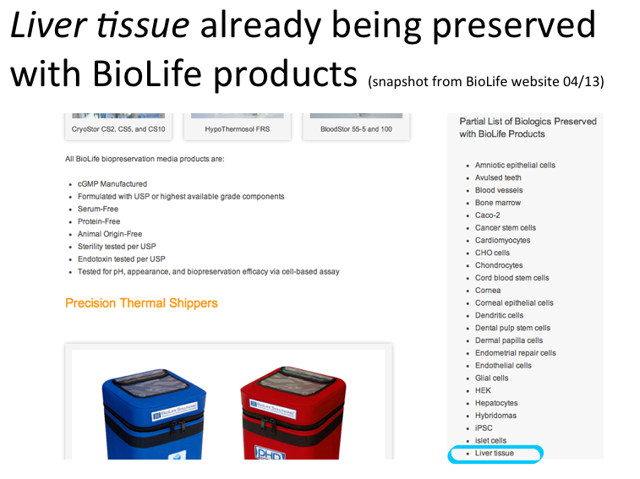 This shows BioLife is well positioned to capitalize on the 3D bioprinting market if it does indeed materialize. The amount of preservation media needed to store tissues and organs could potentially be much larger than BioLife's typical cell applications. For this reason, it seems reasonable to assume that more storage media will result in higher revenue per transaction or procedure.
Developments and contracts surrounding similar applications for BioLife's products within 3D bioprinting will be critical to watch going forward.
Competitive Advantage
Below are several slides of research complied in a LifeSci Advisors report which was released in early 2014. This information provides some insight into the supposed benefits of using BioLife's storage media, relative to traditional "home-brews."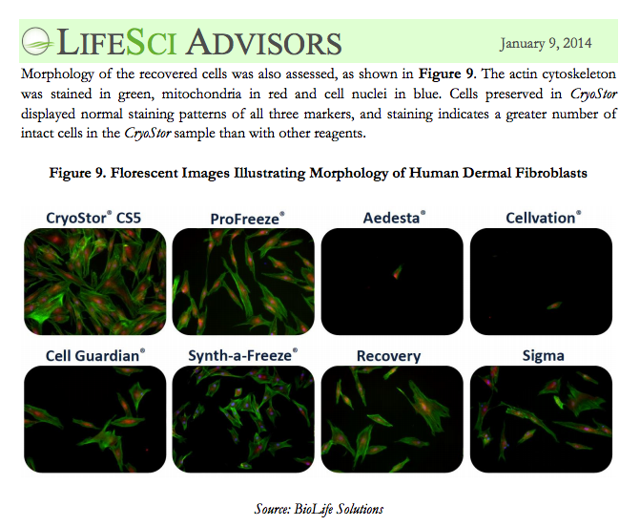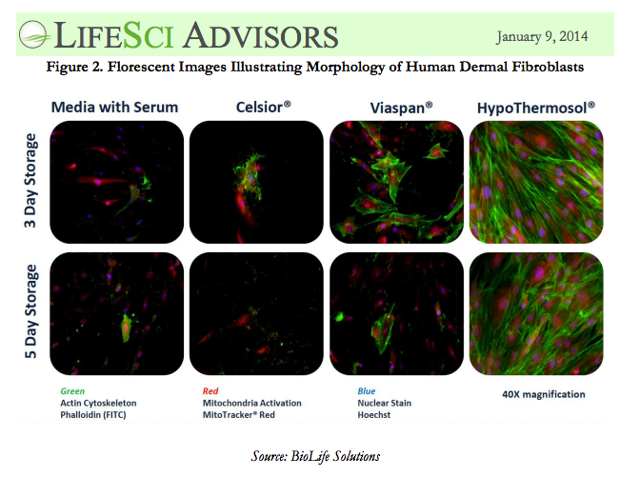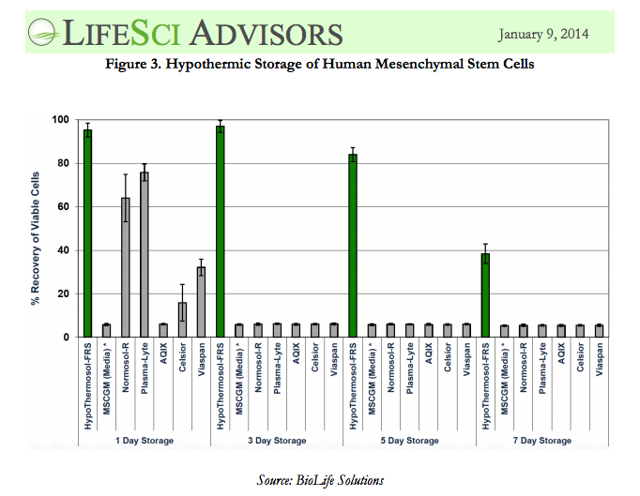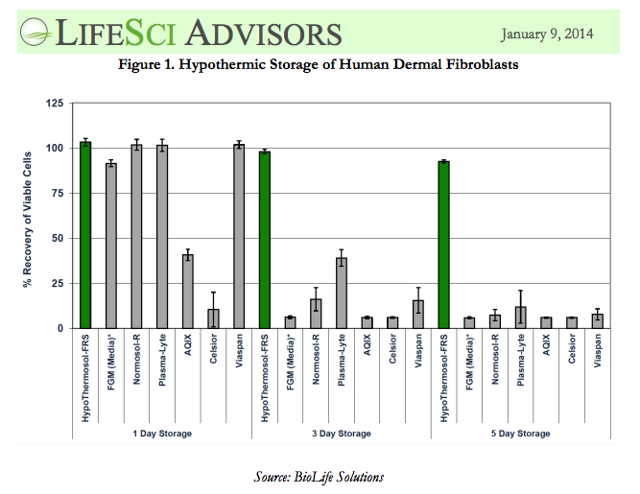 Valuation
Net cash, BioLife currently trades at a P/S valuation of 3.3X 2013 revenue of $9M. Looking ahead to 2014, management guided for proprietary core product revenue growth of 25-35%. This can be translated into a range of $4.9M-$5.3M.
With many of BioLife's drugs entering Phase III clinical trials over the next couple quarters, demand for its core products could rise exponentially.
It appears to be only a matter of time before a drug being stored with BioLife's media gets FDA or EU approval. Management estimates just a single approval could add in between $0.5M-$2M in annual revenue. This is when the company's pipe-line will begin to come to fruition.
By operating near breakeven BioLife will be able to fund growth while keeping dilution to a minimum going forward. This will allow time for the first drug approval, which is likely to bring the company's first taste of profitability.
Zacks, the only analyst covering the stock recently reported an updated $11 PT after the up-listing, implying upside of 233%.
Conclusion
With a market capitalization of just $43M ($30M net cash) and a growing pipeline of 100+ drugs using its products, BioLife appears worth a shot at $3.64 per share.
If several of the companies drugs get approved, BioLife's revenue could increase dramatically. Because of the company's unique business model, it has no R&D costs or marketing expenses once a drug is approved. This will give the company significant earnings leverage once revenue begins to ramp, and gives the stock major optionality given execution of the long term business plan.
Disclosure: I am long BLFS. I wrote this article myself, and it expresses my own opinions. I am not receiving compensation for it (other than from Seeking Alpha). I have no business relationship with any company whose stock is mentioned in this article.
Editor's Note: This article covers a stock trading at less than $1 per share and/or with less than a $100 million market cap. Please be aware of the risks associated with these stocks.
Editor's Note: This article covers one or more stocks trading at less than $1 per share and/or with less than a $100 million market cap. Please be aware of the risks associated with these stocks.