We have been following Uranium Energy Corp. (NYSEMKT:UEC) closely for over two years now. Our own due diligence is based on Doug Casey's 8P model to detect successful resource companies. UEC is on our shortlist as it passes the 8P test.
On April 7th, the share price of UEC dropped significantly on no company news. It appeared a bearish article on UEC was published on Seeking Alpha. The title was catchy, and the stock dropped over 15% on the same day the article was released. The company traded almost 5 million shares, over 200% more volume than its 90 average. Undoubtedly, there was a correlation between the two events.
Titled "Significant Shareholder Dilution Ahead," the article has some factual points but also several leaps and gaps which leads, in our view, to incorrect conclusions.
Our understanding is that UEC offers the ultimate leverage to a rising uranium price. We are positive about the company as it manages the current period of low uranium prices in a very smart way. In fact, it is one of the only resource companies in the world that has the courage to slow down production to an absolute minimum as long as the spot price of the asset it produces is low. Combine that with an excellent cash position and debt situation which is under control, and our view is that the company is in a position to create shareholder value. That uranium prices will rise is a fact, as the current spot price is half of the production cost.
We were pleased to see a confirmation of our view in a detailed March Haywood Securities report, released in March of this year. The analysts had worked out a scenario analysis based on several uranium spot price projections: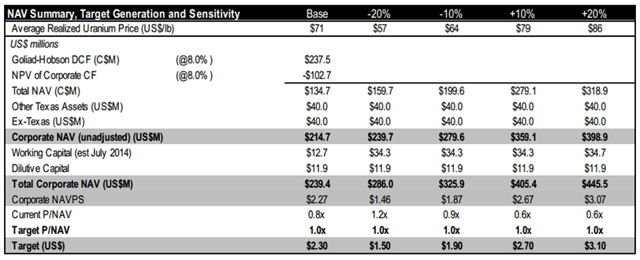 Based on the scenario analysis, were the spot price to return to the production cost, UEC would trade at $2.30.
Apart from the smart strategy of UEC's management, as outlined above, the facts and figures, as well as the management of the company, make us conclude that the company is solid. After having challenged our own analysis, we believe we do not share the same view on UEC as the author of the article that sees shareholder dilution in the company.
The first item that needs to be addressed is the title of the article: "Significant Shareholder Dilution Ahead." As far as we know, UEC is not planning any equity raise in the current market environment. Looking at how the company has positioned itself, we do not see any reason to do so. The whole purpose of restructuring the loan facility with Li Ka Shing's CEF Fund and Sprott Resource Lending was to position UEC such that it did not need to do any equity financing. Besides, that is the red line in the operational and tactical adjustments of the company, and it is the opposite of what the article is suggesting.
Secondly, the author has left an error in some key dates. The first payment is due July 2016, and its equal monthly payments with the final payment due in July 2017, not 2016 as the article suggested. That is a big difference, and allows for plenty of time to leverage the inevitable uranium spot price rise. This is a quote from a detailed March Haywood Securities report:
"UEC announced that it has drawn down the remaining $10 million available under the senior secured credit facility ($20 million total) and extended the facility maturity by two years to July 2017, with first principal payments beginning in July 2016."
The wealthiest man in Asia, Li Ka Shing, and one of the savviest resource sector investors, Rick Rule, would probably not be involved in a company unless it was a top tier management and asset. Warren Gilman, who is the CEO of the Li Ka Shings fund, CEF, has stated, in the UEC March 14, 2014 press release:
"Our investment in UEC is based on the uniqueness and quality of their assets as well as the strength of its management team. We are pleased to continue our support of the Company as it positions itself as the leading uranium producer in the U.S."
This is a strong verbal recommendation from a group that is putting US$10M to back Uranium Energy Corp. The cost of US$20 million and restructuring the facility is nowhere near the dilution when compared to the dilution UEC would of have suffered if they did an equity raise.
UEC management did the right thing by positioning the company to NOT need to dilute by doing an equity raise. As can be seen from the graphic below, UEC is actually in the best position of all of the US uranium companies moving forward in 2014.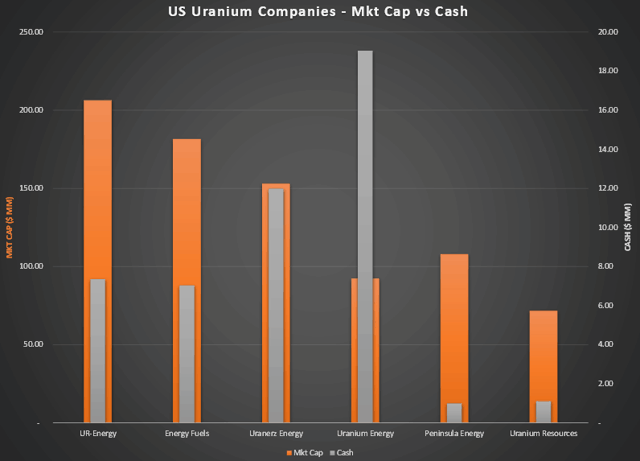 As can be seen on the graph, UEC is in the most financial flexibility of all the US uranium companies. Chart courtesy: Casey Research, based on Public Company Filings.
Ironically, looking at the graph, UEC is extremely undervalued when compared to its peers in the US. In fact, Australian listed Peninsula Energy (OTC:PENMF) has a market capitalization greater than UEC, and UEC has two permitted uranium mines, one operating and the Hobson Processing facility which can process up to 2 million pounds of uranium a year.
Besides, in terms of outlook for additional production, UEC expects a final permit for PAA-4 at Palangana in the coming summer, a production decision leading to completion of development of Goliad, and final permits for Burke Hollow by end of next year.
The article also points to a filed shelf prospectus and makes the assumption that UEC will raise up to US$100M. For what? The news releases on UEC's website show that the last time the company raised money via a equity raise was in October of 2013, and that was at $2.10 a share. We have not seen or heard of any sign of the company willing to raise money through an equity raise at current market pricing. The company has the financial flexibility to weather another 26 months before it needs to raise any money, and that being said, UEC has many options including selling off non-core assets, producing uranium, and restructuring the facility with CEF and Sprott.
The article states:
"The company has also prepared the ground to dilute existing share holders and we see a high probability of significant shareholder dilution in the not too distant future. Using the present share price as a yard stick the share count might more than double if the company uses the full share issuance capacity at its disposal. While this is an extreme scenario, we believe that there is a high probability of significant amounts of new shares to be issued before too long."
A high probability? We are following the company closely and have not seen any sign that it will dilute and raise money via an equity raise at current pricing. It does not need to, as far as we understand. The author prefaces his statement by stating it is an "extreme scenario" but the current scenario with such low uranium prices IS the "extreme scenario" for which UEC is taking a lot of measures to align its strategy and operations.
The article forgot to take some important facts into account. UEC is fully permitted and fully financed to bring not just Goliad onto full production, but to also advance its third project, Burke Hollow, into and through the permitting process. Moreover, UEC can bring 1 M pounds of uranium production to production as soon as the uranium price strengthens, which is expected over the next 12 months by most analyst firms.
In our view, UEC will be the best position uranium producer when the price of uranium increases. As far as we know, it is the only uranium producer with no hedges, meaning it is not required to deplete its uranium reserves in a low uranium price environment, except if the current price level holds on for an extremely long period. Management of UEC were in fact the first uranium producer (in September 2013) to state it will decrease production and exposure to a lower uranium price, and since that time, companies such as Cameco (NYSE:CCJ) and Paladin (OTCPK:PALAF) have followed.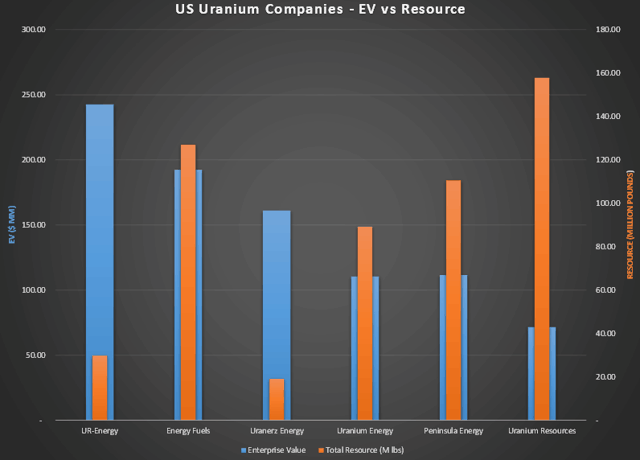 Even from an Enterprise Value (NYSE:EV) to resource evaluation, it is our view that UEC is undervalued compared to its peers. In the graphic above, everyone to UEC's left is a producer and to its right are not producers. It is clear that UEC is being priced as a non-producer, and yet the shareholder gets the Hobson Processing Facility, which would cost somewhere around US$100M to build today for free, not to mention both Palanagana and Goliad are fully permitted. Chart courtesy: Casey Research, based on Public Company Filings.
We remain convinced that UEC is smart and undertaking the right actions to weather the current storm in the uranium market. The company is a high risk investment for sure, but the risk reward is extremely high, based on our analysis.
For the sake of disclosure, we have a bullish bias towards UEC, but have not built a long position in the company until the uranium price reverses trend. If the company is able to stay its course, we are willing to take an aggressive long position in the company, for reasons outlined in this article.
Disclosure: I have no positions in any stocks mentioned, and no plans to initiate any positions within the next 72 hours. I wrote this article myself, and it expresses my own opinions. I am not receiving compensation for it (other than from Seeking Alpha). I have no business relationship with any company whose stock is mentioned in this article.
Editor's Note: This article covers a stock trading at less than $1 per share and/or with less than a $100 million market cap. Please be aware of the risks associated with these stocks.
Editor's Note: This article covers one or more stocks trading at less than $1 per share and/or with less than a $100 million market cap. Please be aware of the risks associated with these stocks.