Coming to market with a $9 billion market cap and a float of $500MM, Enable Midstream Partners LP (NYSE:ENBL) presents an investment opportunity for an attractive yield combined with double digit growth prospects. This new MLP contrasts with recent IPOs like Phillips 66 Partners LP (NYSE:PSXP) and Valero Energy Partners LP (NYSE:VLP), which are rapid distribution growth stories enabled by future asset drop downs from the sponsor corporations. Enable is looking at organic project growth to drive
Overview
The energy midstream assets owned by Enable Midstream Partners were contributed to the partnership by natural gas utility holding companies OGE Energy (NYSE:OGE) and CenterPoint Energy (NYSE:CNP). The two retained 54.7% and 26.7%, respectively of the ENBL common and subordinated units. Also involved in the formation of the partnership was ArcLight Capital Partners, LLC, which holds 12.4% of the common units after the IPO. The 25 million share IPO represents 6% of the total ENBL units. Of the total unit count, 50% will be subordinated - all owned by OGE and CNP - to the regular common units. The general partner, Enable GP LLC is owned and managed 60/40 by OGE and CNP.
Enable Midstream Partners owns pipeline, processing and storage assets to provide services to crude and natural gas producers through to the end users. Natural gas gathering and processing assets are focused on the Anadarko, Arkoma and Ark-La-Tex basins. The company also owns a growing crude gathering business in the Bakken shale. Transportation assets include 7,880 miles of interstate gas pipelines and 2,304 miles of intrastate pipelines. Natural gas storage capacity is 86.5 billion cubic feet.
In 2013, Enable Midstream generated pro-forma revenue of $3.12 billion and adjusted EBITDA of $779 million. Approximately 75% of revenues come from contracted, fee based business. In 2012 and 2013, the volume of natural gas processed increased by 61%.
Distributions to Unit Holders
The partnership agreement requires Enable Midstream Partners to pay a quarterly distribution of $0.2875 per unit - $1.15 annually. At the first day of trading close of $22.20 per unit, ENBL yields 5.2%. Common unit holders are well covered for this minimum distribution. The 2013 pro-forma distributable cash flow of $541 million provides 1.13 times coverage on the initial distribution rate. Forecast DCF for the 12 months through March 2015 is $550 million. 50% of the total units are subordinated, which means that these units do not receive distributions until the common units receive at least the minimum and any arrears. The subordination period lasts for at least three years or until common unit holders have received 150% of the minimum for four consecutive quarters.
Incentive distribution rights payments to the general partner start when the quarterly payout exceeds $0.330625 per unit vs. the current $.02875, which implies a 17.4% increase in distributions before IDRs become effective.

Potential for Growth
The S-1 describes Enable Midstream Partners as a large-scale, growth-oriented limited partnership. The prospectus lists the following strategies to achieve that growth:
Capitalize on Organic Growth Opportunities Associated with Our Strategically Located Assets.
Continue to Minimize Direct Commodity Price Exposure Through Long-Term, Fee-Based Contracts.
Maintain Strong Customer Relationships to Attract New Volumes and Expand Beyond Our Existing Asset Footprint and Business Lines.
Grow Through Accretive Acquisitions and Disciplined Development.
Leverage the Scale of Our Existing Assets to Realize Significant Synergies.
Enable Midstream starts out life as a large, financially stable MLP company. While the company does not have access to a portfolio of drop down assets from a sponsor, the company has the potential for organic growth similar to other natural gas focused midstream MLPs like Access Midstream Partners LP (NYSE:ACMP), MarkWest Energy Partners LP (NYSE:MWE), Western Gas Partners LP (NYSE:WES) and Targa Resources Partners LP (NYSE:NGLS). These companies have projected 3-year distribution growth rates ranging from 7.5% to 14.5%.
Profit Return Projections
Using peer company yield and growth projections, if Enable Midstream generates' DCF and distribution growth of +10% or better, the unit's yield should drop to 4% to 4.5%. If this occurs, the unit price will climb to $26 to $28. New MLPs often languish in unit value until a couple of quarterly distributions have been declared and paid. At that point the general investing public starts to notice the yield and increase the buying pressure for the MLP units, which due to the small float, might occur in a very short window.
Yield vs. Distribution Growth of Midstream MLPs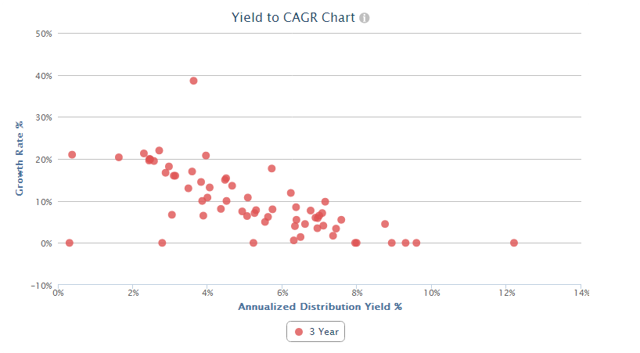 Disclosure: I have no positions in any stocks mentioned, and no plans to initiate any positions within the next 72 hours. I wrote this article myself, and it expresses my own opinions. I am not receiving compensation for it (other than from Seeking Alpha). I have no business relationship with any company whose stock is mentioned in this article.