Comcast Corporation (NASDAQ:CMCSA) is the largest mass media and communications company in the world by revenue. It is the largest cable company and home internet service provider in the United States, and the nation's third largest home telephone service provider. Comcast offers services to residential and commercial customers in 40 US states and the District of Columbia.
Highlights of Strong Performance
Compared to where it was a year ago the stock is now trading at a higher level reflecting both the market's overall trend during that period and the fact that the company's earnings growth has been robust. The stock was up by 19.5% while in comparison the S&P 500 increased 17.9% over a twelve month period. The future direction of the stock also seems to be upward and this stock still has good upside potential despite the fact that it has already risen in the past year.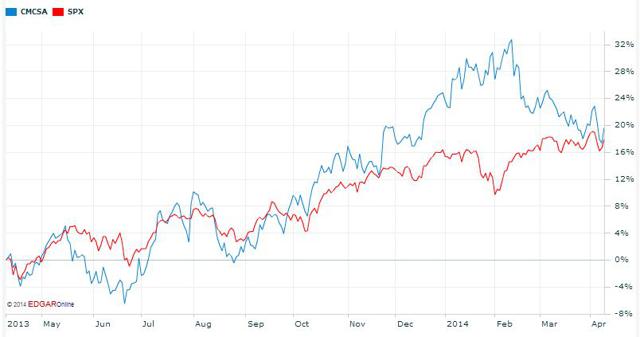 Source: NASDAQ
Comcast's revenue growth has slightly outpaced the industry average of 4.0%. Revenue for the fourth quarter of 2013 increased 6.2% to $16.9 billion and growth in the company's revenue appears to have helped boost earnings per share. Revenues for cable communication increased 5.2% to $10.7 billion in the fourth quarter of 2013 compared to $10.1 billion in the same quarter of the previous year. The growth was driven by increases of 8.7% in high-speed internet, 25.3% in business services and 2.3% in video. Combined, video, high-speed internet and voice customers increased by 649,000 in the fourth quarter reflecting an increase of 29% in net addition compared to the same quarter of 2012. By the end of 2013, video, high-speed internet and voice customers totaled 53.1 million reflecting an increase of 1.8 million or 3.4% compared to the previous year.

Source: Fourth quarter earnings release
The net income growth from the Q42013 has exceeded that of the S&P 500 and greatly outperformed the media industry average. Net income increased by 26.0% when compared to the same quarter one year prior, rising from $1,518.00 million to $1,913.00 million. Comcast's earnings per share of $0.72 increased by 28.6% in the fourth quarter of 2013 compared to $0.56 per share in the same quarter a year ago. The company has demonstrated a pattern of positive earnings per share growth over the past two years. During the past fiscal year Comcast increased its bottom line by earning $2.56 compared to $2.28 in the prior year and reflecting an increase of 12.3%.
Comcast to Merge with Time Warner Cable
Comcast announced it would merge with Time Warner Cable (TWC) in a deal worth $45.2 billion or $154 per share with an 11% premium compared to the current price. Comcast's business services segment generated $3.2 billion in revenues during 2013 reflecting an increase of 26% from the previous year. In comparison, Time Warner generates most of its revenue from its business services. In 2013 the company generated $2.3 billion in revenue reflecting an increase of 17% from 2012. Assuming that the deal is approved Comcast will also inherit Time Warner's $572 million acquisition of DukeNet that added 8,700 route miles to Time Warner's network and generated approximately $120 million revenue in 2012. If revenue from both companies is pooled together the new company will have generated $5.7 billion in business services reflecting a growth of 22%. The new company's retail business services share in 2013 will be 6.4% and led by business broadband internet access services with a 31% share. Its wholesale data services share will be 2.8% up from 2.3% in 2012.
The multichannel video programming distributor (MVPD) market is dominated by the 13 largest companies covering around 94% of the country. Comcast and Time Warner combined will be controlling around 30% of the market. This combination will give exposure to 19 out of the top 20 markets and 43 out of the top 50 markets. Comcast believes this deal will result in operating synergies worth $1.5 billion and $400 million in capital expenditures. After this deal Comcast intends to increase the share repurchase authorization by $10 billion to cancel the dilution and ultimately this will be in favor of investors. Currently Comcast has $7.5 billion repurchased shares in its basket and combined the number is $17.5 billion. Out of this the company intends to repurchase $3 billion in 2014.
Comcast is keen to provide better services to its customers for the sake of a smooth merger procedure. In this regard recently Comcast has increased its internet speed for the 12th time in 13 years and for the second time in two years. In the Northeast, the Xfinity internet blast tier now offers speeds of up to 105 Mbps and the Xfinity extreme 105 tier offers speeds of up to 150 Mbps.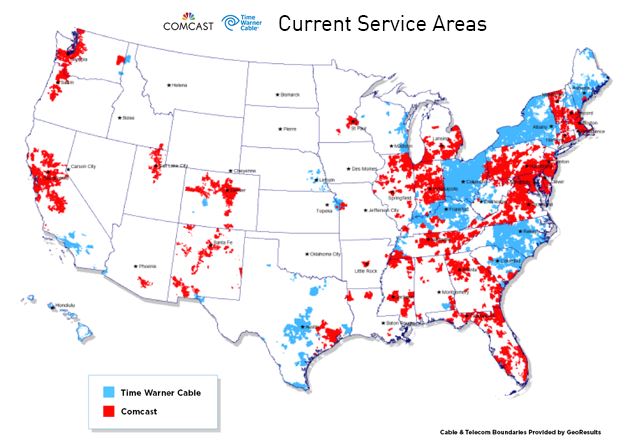 Source: engadget
Time Warner has an extensive subscriber base of more than 30 million homes in the U.S. and the company sells services to roughly half of them. In addition Time Warner is also connected to 860,000 businesses including 58,000 fiber-connected buildings. Over five years the company has invested $15 billion for the sake of its future growth and shareholder value has increased by almost 6.5 times.
According to the disclosed terms of deal Comcast will acquire 100% of Time Warner Cable shares for Comcast shares in a share-for-share exchange equal to pro forma ownership of approximately 23% of Comcast. Each Time Warner Cable share will be exchanged for 2.875 Comcast shares valuing Time Warner Cable's equity at approximately $45 billion.
Some Forecast of Earnings and Dividends
Comcast's earnings outlook is impressive and forecasts $2.86 per share earnings in 2014, $3.28 per share in 2015, $3.87 per share in 2016, and $4.39 per share in 2017. According to current EPS of $2.56 the earnings growth in 2014 would be 11.7%, 14.7% in 2015, 18% in 2016 and 13.4% in 2017.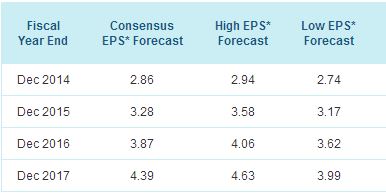 Source: NASDAQ
Over the last six years Comcast has maintained an average payout ratio of 28.4% - assuming that the company maintains a 30% payout ratio for the next four years based on the consensus forecasted EPS the dividend should be $0.858 per share in 2014, $0.984 per share in 2015, $1.161 per share in 2016 and $1.317 per share in 2017. This dividend growth will be in-line with the earnings growth that should be sustainable in the long-term.
On a multiple basis, Comcast is attractive as its trailing twelve months P/E of 19.1X is cheaper than the industry average P/E of 23.6X. Comcast is even more attractive as its forward P/E of 15.19X is lower than its five year average of 16.6X. The stock is trading at $49.79 per share and the average target price is $61.07 per share that gives rise to an upside potential of 22.7%.
Disclosure: I have no positions in any stocks mentioned, and no plans to initiate any positions within the next 72 hours.
Business relationship disclosure: The article has been written by a Gemstone Equity Research research analyst. Gemstone Equity Research is not receiving compensation for it (other than from Seeking Alpha). Gemstone Equity Research has no business relationship with any company whose stock is mentioned in this article.