The UN Security Council appears set to make some moves after tensions in the Ukraine/Russia standoff escalated with shots fired. Although it appears that Russia is not directly at fault for this latest tussle, the reports out of eastern Ukraine indicate that the weaponry being used by the pro-Russian forces are advanced and probably Russian military issued. This is significant because this is believed to be the work of militia and their budget would not be able to support purchases such as these.
There are many reasons to be bullish today in the commodities space, but we will focus mostly upon the news out surrounding production, drill results and deals.
Chart of the Day:
Cattle prices remain strong, so too do meat prices. This is great for farmers, but consumers are getting hit with these higher prices, along with higher energy prices. This might be something to watch moving forward if the job market does not pick up or prices of one commodity class do not retreat a bit, as it could impact discretionary spending this summer.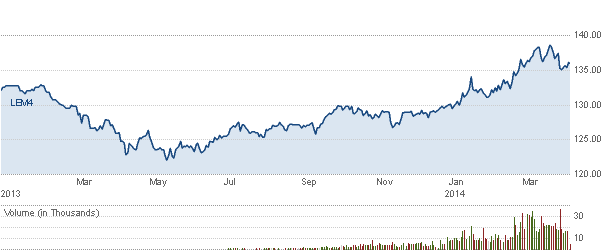 Source: CNBC
Commodity prices this morning are as follows:
Gold: $1,328.80/ounce, up by $9.80/ounce
Silver: $20.005/ounce, up by $0.059/ounce
Oil: $103.83/barrel, up by $0.09/barrel
RBOB Gas: $3.0221/gallon, up by $0.0077/gallon
Natural Gas: $4.553/MMbtu, down by $0.067/MMbtu
Copper: $3.0405/pound, down by $0.001/pound
Platinum: $1,469.40/ounce, up by $6.80/ounce
Utica Explorer Getting Roughed Up
Antero Resources (NYSE:AR) is under pressure this morning after the company announced its quarterly update and disappointed investors with news that it was revising downward its production curves in the Utica based on recent unconstrained production history.
The good news is that the company saw 16% growth in production quarter over quarter and 105% growth year over year. The average realized price for all production was up and Antero continues to lock up pipeline capacity and infrastructure to continue ramping up production. This might be a name to revisit down the road, but right now we are not buyers.
Perfect Timing
In this business it is always better to be lucky than good. Our call on Friday regarding Goodrich Petroleum (NYSEMKT:GDP) was a good call based on the chart and the way the stock closed the session, but was lucky in that today the stock is up over 29% on the release of solid well results.
Goodrich announced the results of its Blades 33H-1 well, which it has a 66.7% working interest in, this morning (press release located here). The 24-hr average production rate to-date is 1,270 BOE/d with 1,250 barrels of oil and 115 Mcf of gas. There were 20 frac stages on this well with a roughly 5,000 foot lateral.
We were looking for technical reasons to buy this name and today the geological reasons are kicking in. With the stock over $20/share, we think the bull move here is for real and will take the stock to new highs, so long as the next two wells come in line with the latest results.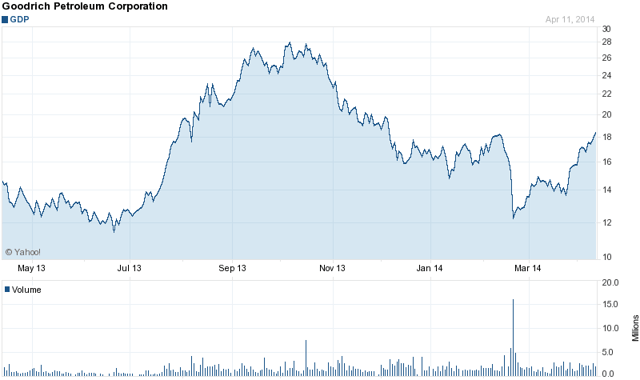 Source: Yahoo Finance
Goodrich Petroleum is currently drilling another well and beginning the fracking on a second, which will have 26 frac stages. This is a turning point in the TMS, which is why the stock is up sharply. With the company's large acreage position, we could see some serious upside should the next two wells have similar results.
Other names to look at in the play are Halcon Resources (NYSE:HK), a stock we would say is in the same risk neighborhood as Goodrich, and Encana (NYSE:ECA). Encana is drilling 9-12 wells in 2014 to test out the heart of the play and all the information over the past year or so indicates that the players in the TMS are beginning to crack the geological code. Halcon is a stock we personally own because of its diversified portfolio of shale plays, and it has been a big winner of late. Even with those gains it is still down from where we bought it almost a year ago, however this news, coupled with other recent company specific events, does have us feeling much more bullish.
The $5/share level will be important, but we view the $5.50/share level as an even more important resistance level and are focused on that right now. Look for some upgrades in the next week or two.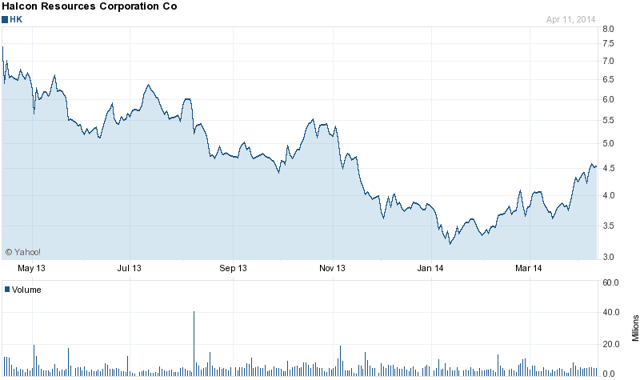 Source: Yahoo Finance
China Copper Deal
Many have been bearish on China lately, as the belief is that the country is cooling off too much and has allowed growth to stall to a point where stagnation will set in. We have heard this argument numerous times over the years and thus far have yet to see the Chinese drop the ball, which is why we think the news that Glencore (OTCPK:GLNCY) is selling the Las Bambas Copper project to a Chinese consortium is bullish.
We always say follow the cash, and when investors are putting up $5.8 billion in an all cash deal, we tend to believe they have conviction. The Chinese would not be buyers of a key metal they need to continue to build their infrastructure if they saw a recession coming, so we are led to believe that the Chinese see growth continuing in the months and years ahead with demand for copper continuing. This makes us feel good about the overall world economy and one of our favorite metals stocks right now, Freeport-McMoRan (NYSE:FCX). Although the stock has basically traded sideways, this is the type of news, which makes one want to double down. The time for that is not right this moment as there are geopolitical issues playing out, but this might be a move to look at in the near future.
Disclosure: I am long HK. I wrote this article myself, and it expresses my own opinions. I am not receiving compensation for it (other than from Seeking Alpha). I have no business relationship with any company whose stock is mentioned in this article.
Additional disclosure: FCX has previously been recommended.
Editor's Note: This article covers one or more stocks trading at less than $1 per share and/or with less than a $100 million market cap. Please be aware of the risks associated with these stocks.