Avago Technologies (NASDAQ:AVGO) is set to release its second-quarter earnings results in May, so it is practical to look at where the company currently stands and understand the hidden value within it. Avago is a Singaporean company that first began as the semiconductor products division of HP in 1961. Since then, it has spun off to become a distinct legal entity and its products provide a range of analog, mixed-signal, and opto-electric components and subsystems. In this article, we will examine the company's standings and see how its impressive financials will serve as its foundation for growth in the future.
Downside Risks and Going Forward
The company is currently trading near its all-time high, which has been a cause of concern for investors. Many are questioning the company's ability to maintain its impressive performance, and Avago will have to continue pushing and avoid the risks that are imposed on it. The company is in the precarious situation of competing within the semiconductor industry, which as part of the technology sector, is a highly competitive environment with many rapid developments and pressure from industry participants. Avago will have to keep up with this fast pace of change in order to operate efficiently. Also, potential slumps in specific technology markets such as mobile can hurt Avago in the future, as many of its products are dependent on the success of smartphones such as the Apple iPhone and the Samsung Galaxy.
What is promising about the company is its potential for growth within the industry, which is only complemented by its tremendous balance sheet and financial ratios. In addition, Avago recently acquired LSI Corporation (NASDAQ:LSI-OLD), giving it exposure to enterprise storage, which will further diversify its hold on the semiconductor industry. This acquisition, along with the growth of smartphones in emerging markets and its cheap valuation make the company a lucrative investment.
LSI Corporation Acquisition
Shareholders of LSI Corporation voted to approve the Avago-LSI merger on April 9. The cash-deal is valued at $6.6 billion, and LSI shareholders will receive $11.15 for each share following the acquisition. The process is set to close by the end of June.
This acquisition gives Avago the necessary diversification it needs. The company, whose existing business line is segmented mainly on wired infrastructure and wireless and industrial businesses, will receive new exposure to the storage chip market and enterprise storage. LSI has a diverse range of products that allow it to serve multiple businesses in the HDD server and networking end markets, and is associated with technology giants such as Intel (NASDAQ:INTC) and Cisco (NASDAQ:CSCO). Additionally, new LSI products and increased sales of flash-based products are expected to provide the basis for revenue growth in the future. The company's investor confidence is growing with continuous share buyback and dividend payout.
Smartphone Growth in Emerging Markets
Emerging markets across the world are in the process of transitioning from 2G to LTE smartphones. This process has boosted wireless chip revenues tremendously, and has led it to becoming the highest growth sector in semiconductors in 2013. Further deployment of LTE, such as China Mobile's (NYSE:CHL) plans to expand LTE service to major Chinese cities over this year, will give companies such as Avago additional power as wireless communications make up 48.4% of the company's revenue. In addition, this is especially important as China also makes up 46.4% of the company's money, according to Bloomberg geographic segmentation. China Mobile only offers 4G service in 20 of the country's major cities, so it is worth examining how revenues will be impacted as 4G continues to be rolled out and Chinese consumers make the move to new smartphones.

Financials and Valuations
Avago has financial ratios that overwhelmingly outperform its peers such as RF Micro Devices and Analog Devices. Its P/E ratio is 24.63, compared to a peer median of 26.00, and its main profitability ratios such as EBIT Margin, ROA, and ROIC are all better than its peers. In addition, Avago has very little debt and holds a lot of its assets in cash, which is useful for future investment activities. Analyzing the ROIC to WACC relationship, its ROIC of 20.33% is greater than the Bloomberg-calculated WACC of 11.6%, indicating that the company is using its invested capital efficiently.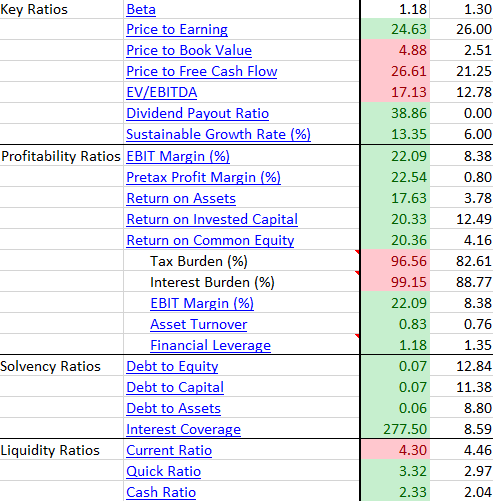 Conclusion
Avago has huge room to grow in the future with further growth of smartphones and its increased exposure to new, rising fields such as storage. The company has an impressive balance sheet and financial ratios that put it above its competitors, and it is a smart play that needs to be looked into. I expect the company to hit $70 by the end of this year.
Disclosure: I am long AVGO. I wrote this article myself, and it expresses my own opinions. I am not receiving compensation for it (other than from Seeking Alpha). I have no business relationship with any company whose stock is mentioned in this article.