By: Craig Bowles
Overview
Bank of America (NYSE:BAC) is scheduled to report 1Q 2014 earnings before the opening bell on Wednesday, April 16th. The results are expected to be released at 7:00 a.m. EST with a conference call webcast at Bank of America Investor Relations to follow at 8:30 a.m. Bank of America has the potential to impact the broader market indices, including the S&P Index Futures and corresponding ETFs. The earnings also come after previous releases from JPMorgan Chase (NYSE:JPM), Citigroup (NYSE:C) and Wells Fargo (NYSE:WFC) showed mixed results.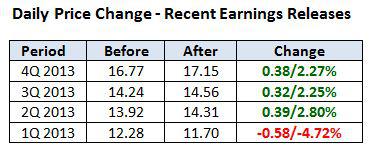 Outliers & Strategy
Key measures:
Earnings Per Share: The current Street estimate is $0.05 (range $0.02 to $0.11) (Source: Yahoo Finance). Consensus has been reduced from $0.30 two months ago. Bank of America typically provides a clean earnings number, but will produce an Adjusted Earnings Per Share or Earnings Per Share Excluding Items when necessary that compares with consensus estimates.
Revenues: Analysts expect a decline of 5.0% y/y to $22.33 bln (range $21.45 bln to $24.89 bln).
Bank of America shares have a price/book of 0.8% which is above the 5-year average 0.6% but below the industry average of 1.1%. The stock trades at 18.7x trailing earnings compared to an industry average of 12.5.
Bank of America recently announced a $4 bln buyback, following last year's $5 bln, and plans to increase the dividend to 5c.
Bank of America shares have a 1-day average price change on earnings of 3.83%. Options are pricing in an implied move of 3.15% off earnings.
Recent News
04/09: Bank of America cut 3000 jobs in the Philippines, Mexico and Costa Rica, according to a post by The Wall Street Journal.
04/08: BAC's Countrywide unit and insurer Allstate Corp. (NYSE:ALL) settled a 2010 lawsuit over $700 million in devalued mortgage-backed securities but no term were revealed, according to a post on Bloomberg.com.
04/07: Bank of America and QBE Insurance Corp have agreed to pay $228 million to settle claims that they engaged in a kickback scheme inflating the cost of insurance that homeowners were forced to buy, according to a post by Reuters.
04/04: BAC is expected to pay $800 million over disputed add-on products for their credit cards, according to a post by the Wall Street Journal.
04/03: BAC is still carrying $80.3 billion in outstanding HELOC principal (credit lines secured by the borrower's house), 48% of which was issued at the apex of the housing bubble in 2006 and 2007, according to a post by TheMotleyFool.com.
04/1: U.S. housing regulators abandoned their lawsuit against Bank of America Corp.'s Merrill Lynch unit as part of a $9.5 billion settlement resolving allegations the bank misrepresented loans packaged into bonds, in a post on Bloomberg.com.
Technical Review
BAC has traded steadily higher since the end of 2011 and the current pullback is about as large as pullbacks have gotten the last two years. Below $16.25 took out recent support, below which you have the 200-day MA at $15.29 and then a balance area around $14.00. Early 2010 saw shares trade as high as $19.50, so that's possibly an upside target if shares can get back over $17. Conversely, downside support was around $14 in the second half of 2013. (Chart courtesy of StockCharts.com)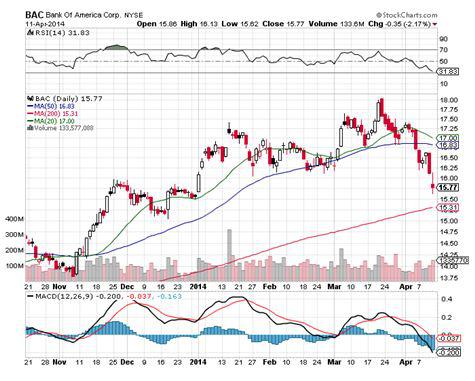 Summary
Bank of America shares have held up pretty well given the negative news and settlements suggesting a history of law breaking. Having the settlements suggests the problems are becoming past problems. Results from JPMorgan Chase, Wells Fargo, and Citicorp saw better than expected results from WFC and Citi. BAC's stock has only moved down on the one earnings miss of the past year, and current expectations have been reduced to only 5c from 30c two months ago, so a much lower bar has been set for this earnings report. A larger than 2c beat has produced only about a 0.1% additional rise on top of the initial 2.25% for the first 2c to 3c. The larger price moves might be expected on a miss, especially given the reduced expectations.
Disclaimer: By using this report, you acknowledge that Selerity, Inc. is in no way liable for losses or gains arising out of commentary, analysis, and or data in this report. Your investment decisions and recommendations are made entirely at your discretion. Selerity does not own securities in companies that they write about, is not an investment adviser, and the content contained herein is not an endorsement to buy or sell any securities. No content published as part of this report constitutes a recommendation that any particular investment, security, portfolio of securities, transaction or investment strategy is suitable for any specific person.
Disclosure: I have no positions in any stocks mentioned, and no plans to initiate any positions within the next 72 hours. I wrote this article myself, and it expresses my own opinions. I am not receiving compensation for it (other than from Seeking Alpha). I have no business relationship with any company whose stock is mentioned in this article.