By Sumit Roy
While gold and silver get all the headline attention, a stealth rally has been taking place in another precious metal: palladium. Prices for the autocatalyst metal are now up 13 percent since the start of the year and at levels not seen since August 2011.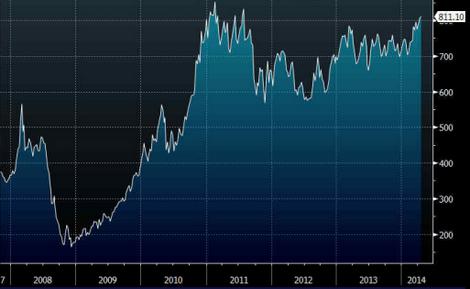 Along with platinum, palladium is a critical metal in the auto sector for its role as an autocatalyst. Autocatalysts reduce vehicle pollution and are often mandated by governments.
And just like platinum, palladium supply is highly concentrated in one or two countries. Together, South Africa and Russia account for 77 percent of global palladium supply. Both sources of supply are at high risk. South Africa routinely faces labor unrest and is currently doing so, while Russia is square in the middle of the current conflict in Eastern Europe. In fact, over the last five years, global palladium output has dropped 12 percent, according to Johnson Matthey.
At the same time, demand has soared. Growing auto sales both in developed countries and emerging markets has fueled voracious demand for palladium. Over the past five years, global palladium demand was up 16 percent.
Constrained supply and growing demand translate into rising prices. These supply and demand trends are likely to continue going forward, boosting palladium to new heights over the next few years.