Goldman Sachs (NYSE:GS), like many of our large financial institutions, has been no stranger to the additional scrutiny of media, government, or the central bank since the financial crisis. Last week, as Goldman's peers were facing doubts by the aforementioned groups, the stock seemed to move as if Goldman was explicitly named, giving up almost all gains from the past 52 weeks.
Source: Yahoo Finance
The correction of Goldman's stock sent the valuation below book value, which is an area it has rarely visited over the past 52 weeks.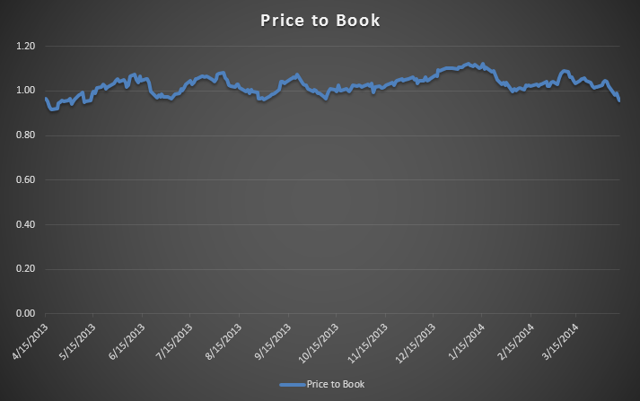 Book Value courtesy of YCharts
In order to assess value in Goldman, we will examine the P/E and forward P/E trading history and calculate a safe multiple that the stock should be trading at. From that multiple, we'll multiply forward earnings over the next eight quarters to get the moving price target. In the case of Goldman, the stock is trading at 10 times forward earnings, which is near a 52-week low.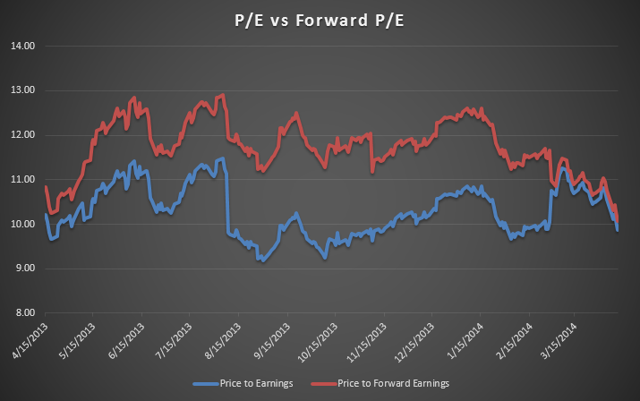 Trailing earnings courtesy of CNBC, forward earnings courtesy of Sentieo
In order to determine a safe price-to-forward earnings multiple, the forward P/E data must be organized into probability distribution based on frequency in the past year.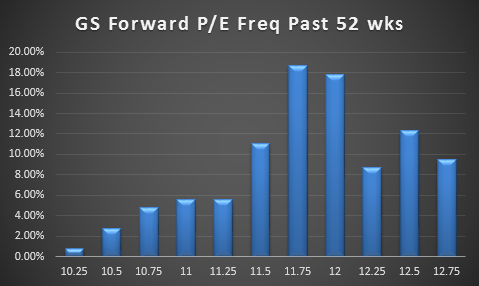 Based on this analysis, Goldman has traded at 11.75 times forward earnings or greater in 69% of the past year's trades. Taking this number and merging it with earnings data from Sentieo (Nasdaq has comparable data), the upside in Goldman Sachs becomes quantified.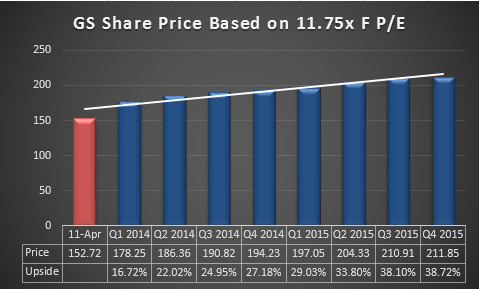 Note: I continue to use the "Q1 2014" data column, because it represents the most recent four quarters of earnings. This will change in future articles after Goldman's filing on April 17th.
This method concurs with recent analysis that estimated a $180 to $200 share price in April. In order for these multiples and price estimates to hold, the company must meet or exceed earnings expectations. Goldman has exceeded earnings estimates for nine consecutive quarters.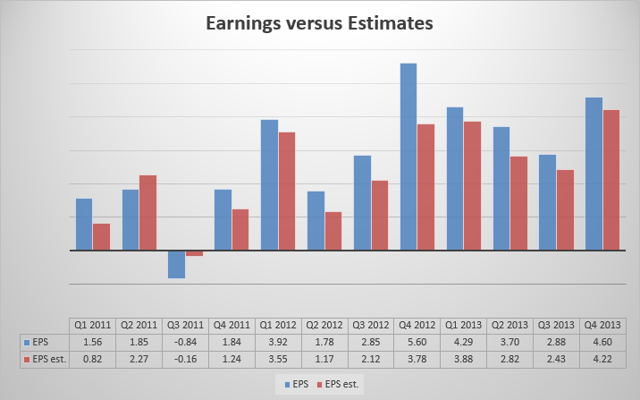 Data courtesy of CNBC
Despite this, there are some concerns that could hold down Goldman's price. First is the fact that analysts have been lowering estimates, as shown by Yahoo's Analyst Estimate section on Goldman.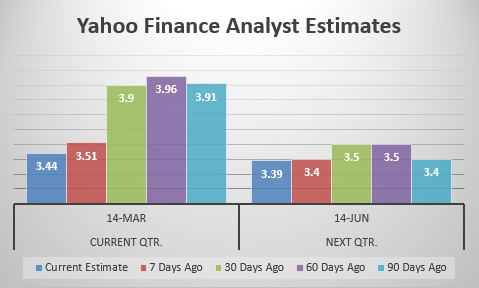 Data Courtesy of Yahoo Finance
The other concern is earnings growth. I tend to like stocks that have earnings growth that exceeds equity pricing. Goldman has had such luck, until recently.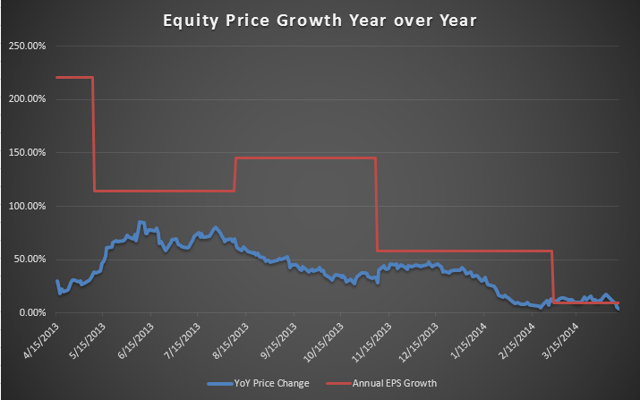 Even if the market is in correction, I have a tough time seeing Goldman at the $150-$160 level in the long term. As the market emerges from correction (or a less subdued version of one), the companies that have good earnings histories will resume their old multiples. Goldman Sachs is one such company.
Disclosure: I have no positions in any stocks mentioned, but may initiate a long position in GS over the next 72 hours. I wrote this article myself, and it expresses my own opinions. I am not receiving compensation for it (other than from Seeking Alpha). I have no business relationship with any company whose stock is mentioned in this article.