Like a number of people, I have my favorite investors whom I study and try to learn from their writings and actions. Among these are Benjamin Graham, Peter Lynch, Philip Fisher, and Warren Buffett. All of these are recognized as highly skilled investors and deservedly so.
Warren Buffett has demonstrated his investment prowess for many years and his investment methods and selections are often studied and copied. While I don't necessarily agree with everything Buffett says or does, I believe one can learn quite a bit from studying his investments in relation to his investment philosophy. His track record speaks for itself.
Just out of curiosity, I decided to look at the publicly owned companies in the Berkshire portfolio from the perspective of a dividend growth investor. The question I had in mind was in selecting his investments, what are the similarities to dividend growth investing and what might a dividend growth investor glean from his selections?
To be clear, there are a number of companies solely owned by Berkshire such as Geico, Fruit of the Loom, Burlington Northern Railroad, and H. J. Heinz. For the purposes this review, I'm only looking at those companies that are available to any investor in the market.
The Common Stock Portfolio and Dividends
There are 43 publicly owned companies in the Berkshire portfolio, which can be tracked here. These were consolidated from the SEC Form 13F which is available here. The following table lists them with total shares, market price as of 4/10/2014, and total market value.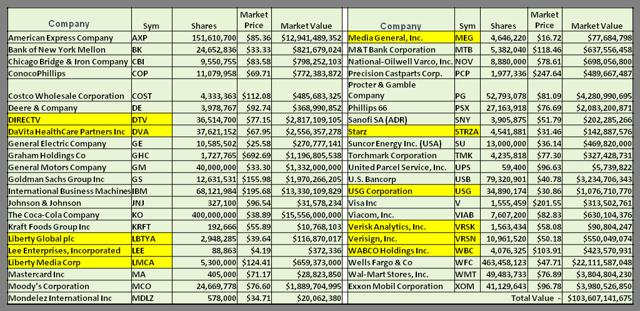 The companies highlighted in yellow are not currently paying dividends. How significant are dividends to the Berkshire portfolio? Consider the following points:
Of the 43 companies, 32 of them pay dividends. That means 74% of the companies in Berkshire's public portfolio are dividend-paying companies.
92% of the total market value of the portfolio is derived from dividend paying companies.
The 32 companies in the portfolio paying dividends are currently generating yearly income of $2,135,185,698 in dividend income. The top 8 companies represent 86% of the total dividend income.
Ranking the companies by market value, 82% of the total portfolio value is in the top 10 companies. 76% of the total portfolio value is in the top 8, all of which are dividend payers.
Many dividend growth investors place emphasis on companies being on the CCC List maintained by David Fish. There are 15 companies in the Berkshire portfolio on the CCC list. Those 15 represent 45% of the total portfolio value.
Of the top 8 dividend-paying companies, 5 are on the CCC list. Those 5 have been growing their dividends as follows:
Coca-Cola Company (NYSE:KO) - 52 years
International Business Machines (NYSE:IBM) - 18 years
Procter & Gamble (NYSE:PG) - 57 years
Wal-Mart (NYSE:WMT) - 41 years
Exxon Mobil (NYSE:XOM) - 31 years
Of the top 8 dividend paying companies, which again represents 76% of the total portfolio value, here is what their dividend contributions represent: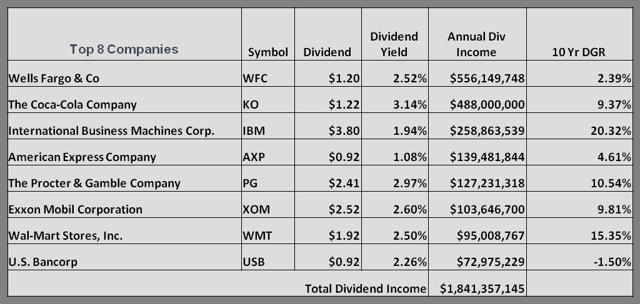 This chart from the YCharts website better illustrates what has happened to the dividends of those 8 companies over the past 10 years.

As you can see, Wells Fargo (NYSE:WFC), Berkshire's largest position, and U.S. Bancorp (NYSE:USB) were both forced to cut their dividend in 2009 due to the financial crisis. WFC began raising it again in 2011 and their latest announced increase to $1.40 will put them back above the pre-crisis levels. USB is yet to regain that level. The others continued their upward trajectory.
Diversification
In regard to diversification, Buffett advocates putting more money in your best ideas. With that in mind these are his top ten companies (based on portfolio size/market value), which would conceivably represent his best ideas.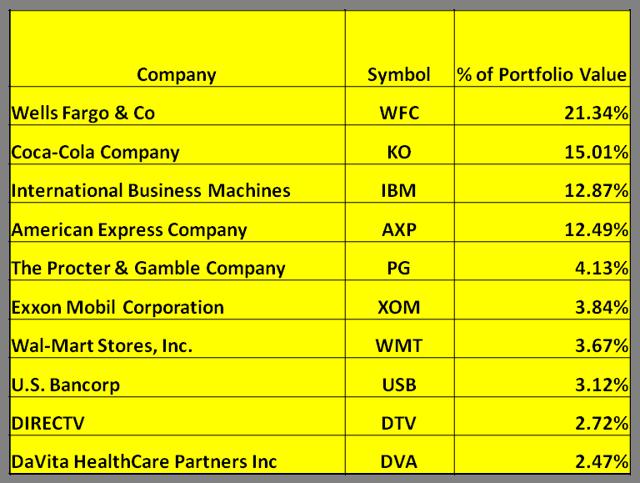 Obviously, Buffett practices what he preaches since about 62% of Berkshire's portfolio value is in the top 4 companies. One of the key concepts advocated by many dividend growth investors in regard to diversification is to diversify among assets (whether stocks, bonds, SS, real estate, etc.), number of positions and position size, and sector/industry allocation. The intent is to protect the DG investor from any one position doing considerable harm to the overall portfolio.
Position diversification for dividend growth investors varies greatly, anywhere from ~10 to ~50 positions (and even more). Since this review is only dealing with Berkshire's stock ownership in publicly owned companies, I'll disregard the asset allocation, and the 43 companies addresses the number of positions. That leaves sector and industry allocation.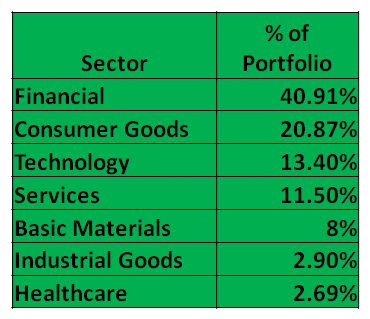 The sectors listed are as indicated by FinViz for the companies. 32 different industries are represented within these 7 sectors. Within Financial, the largest sector, there are 6 different industry classifications.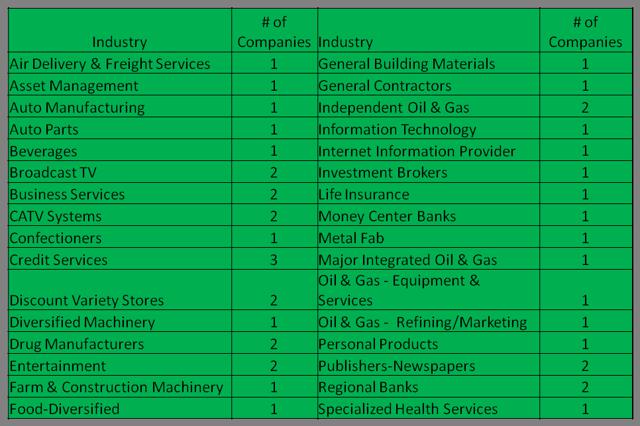 Metrics
In my opinion, there is a perception that dividend growth investors focus only on metrics centered on the dividend. However, there are other important metrics used by many dividend growth investors in selecting investments. While the preference may be toward dividends and income, that doesn't eliminate due diligence on the company as a whole, such as evaluating for economic moats, intrinsic value, profitability, and so forth.
Earnings per share, return on equity, and long-term debt are metrics mentioned often by Buffett. He has stated that he views buying stocks of public companies in the same manner as he would an entire company. Included in the Berkshire 2014 annual report were the acquisition criteria for buying businesses. The criteria included:
Demonstrated consistent earning power (future projections are of no interest to us, nor are "turnaround" situations);
Businesses earning good returns on equity while employing little or no debt,
Buffett uses these and other metrics to look for durable competitive advantages and calculating projected returns on an investment in companies. Applying those metrics along with payout ratio since many DGIs use that metric as well we get this picture of the top 10 companies: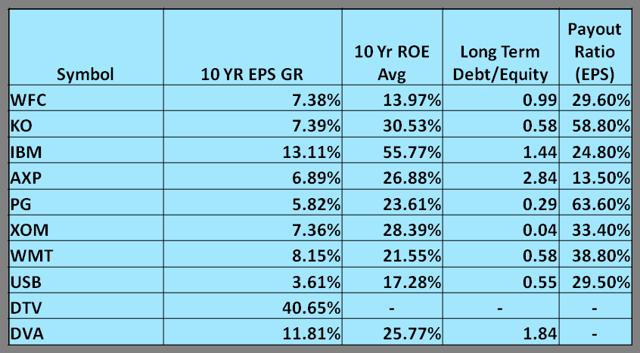 I calculated the CAGR for the 10-yr EPS and ROE average using Morningstar data. For DTV, the fields were blank for ROE and LTD/E so I checked the balance sheets. DTV has an extremely high amount of debt in relation to equity. FinViz lists the ROE for DTV as -45% (that's minus).
Annual Returns
Many DGIs have a portion of their portfolio for which they may buy non-dividend paying stocks. Additionally, while many focus on income that doesn't necessarily mean they completely ignore capital gains. With that in mind, I also reviewed the total return of the Berkshire positions. The data was checked on both longrundata and dividendchannel. Below are the results once again sorted by position sizes.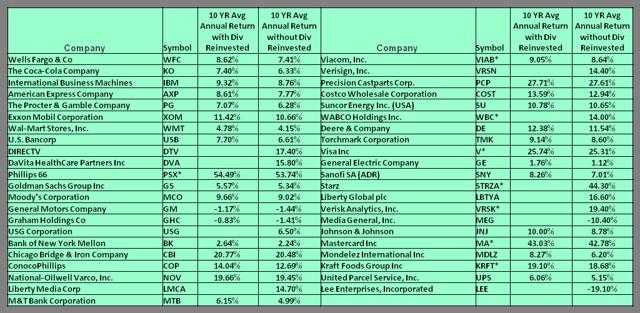 The time period used was April 1, 2004 to March 31, 2014. An asterisk next to the symbol indicates it is for less than a 10-year period. A blank indicates the company doesn't pay a dividend.
The average return of all the dividend paying companies with dividends reinvested was 12.52%.
The average return of all the non-dividend paying companies was 12.15%
The average return of the dividend-paying companies without dividends reinvested was 11.82%.
The average return of the 4 largest positions representing 62% of the portfolio was 8.47%.
The return for the S&P 500 SPDR (NYSEARCA:SPY) during this period with dividends reinvested was 7.07% and without dividends reinvested was 6.38%.
These are simple averages and are not weighted.
Lessons for Dividend Growth Investors
There are many similarities between the type of investing done by Warren Buffett and dividend growth investing. Here are several considerations for the dividend growth investor:
Look for consistency in financial performance over the long term. Buffett looks for a sustainable competitive advantage in a company. He invests in companies that are simple to understand and that have good products with strong economic moats. A high average ROE over a long period is an indicator of a potential competitive advantage or economic moat.
Buffett for years was known as a value investor, buying a dollar for 50 cents. He adapted that later to the philosophy that it's better to buy a wonderful company at a fair price rather than a fair company at a wonderful price. This portfolio has many wonderful companies.
Many of these wonderful companies pay dividends. Buffett uses the income from those dividends to add positions in other wonderful companies to the portfolio. If he doesn't find companies that match his definition of wonderful, he exercises patience.
He uses specific metrics that are important to him to determine how wonderful those companies are. As noted in his acquisition criteria debt is an important metric. Along with reviewing debt levels, using credit ratings may be helpful to dividend growth investors in looking for wonderful companies since excellent credit ratings can indicate a company efficiently manages appropriate levels of debt.
Buffett doesn't measure his performance and change his methodology because someone else is doing better over the short term. He has stuck with what he knows works over the long term.
One could expect Buffett's portfolio to underperform during a bull market and to outperform during a bear market or not to decline as much during a sizable market pullback. Dividend growth investors might expect this same thing from their portfolio if holding similar positions. While Buffett does reduce or sell positions in some stocks, he doesn't let underperformance on return shake him out of positions if companies remain wonderful and neither should you.
Summary
From an investment standpoint, I believe one could argue that if one didn't know this was Warren Buffett's Berkshire holdings, it could quite easily be presented as the portfolio of a dividend growth investor, with fewer shares of course. I am not insinuating Warren Buffett is a dividend growth investor. He invests to obtain an expected return on his investments. But he doesn't swing for the fence on return on each investment. He looks for wonderful investments.
As a dividend growth investor, I hear quite often that I should invest in stocks for greater returns and attempt to outperform a particular index. Here's a quick test. Can you name a currently active nationally known investor, without looking it up, who outperforms a nationally recognized index year in and year out? Neither could I.
Over a long investment period investing in wonderful companies at a fair or undervalued price that provide a regular and growing income performs very well, on both an income and return basis, as Buffett keeps demonstrating. There's a lesson to be learned there.
Disclosure: I am long KO, PG, WFC, WMT, XOM. I wrote this article myself, and it expresses my own opinions. I am not receiving compensation for it (other than from Seeking Alpha). I have no business relationship with any company whose stock is mentioned in this article.
Additional disclosure: I am not a professional investment advisor, just an individual handling his own account with his own money. You should do your own due diligence before investing your own funds.