The recent Nasdaq crash has created an interesting dynamic among media participants. Recent "momentum crash headlines" include...
History Suggests Value Outperformance has Room to Run
Tech Stocks Tumble - Is the Bubble About to Burst?
Are we set for another dotcom crash?
Fears about general equity bubblyness are clearly visible in Google Trends' latest view of the term "stock market crash." Very interesting considering we are just a few percent off all-time highs.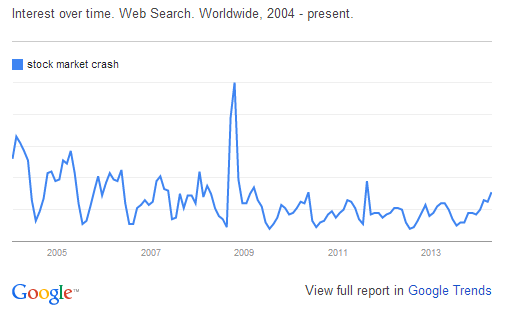 Consensus has emerged that we are under a mere sector rotation and that the overvalued part of the market is done, no longer to be a destination where investors will be rewarded. Given that journalistic consensus is probably not the best predictor of investment returns, it would not be surprising to see this recent sell-off in high fliers to be merely a temporary setback and not the sign of some secular shift to higher cash flow yield names.
No doubt there are arguably overpriced stocks in the batch, mostly in the social media space. But that does not make a whole market. Many in the media are quick to throw around high PE ratios as a justification for the argument of incorrect valuation. NFLX with a PE of 178, TSLA at a 53 times next year's earnings, AMZN with a current PE of 535; the list goes on. These "story" stocks all have something in common: their prices are built on a foundation of a high probability consensus that the future reality of operations will be substantially different from today. One can't deny Tesla has created enormous value by achieving something difficult in today's era: creating an aspirational brand in automotive. When the mainstream Model E comes out in several years, it's not a low-probability outcome that they will be able to displace countless entry-level luxury car competitors at much higher volumes than today, and at better margins to boot.
Most of these companies have business models that have substantial operating leverage in their current state. Present PE measures or even present conventional free cash flow metrics are inadequate to value a future substantially different from today, especially when levers can be pulled to materially change the nature of the bottom line. Netflix's uncertain and quite possible pricing power is one of those levers. The same goes for Amazon. There is massive optionality built into the management processes at these companies, arguably enough to justify current valuations of many of these new-economy leaders as being cheap. One thing we can agree on is uncertainty, and that justifies some degree of discounting.
That's not to say there aren't bubbly areas where investor consensus may be entirely wrong on what is actually able to happen in the future. Can Twitter turn out 1.2 billion dollars a year of free after tax cash flow in a steady state in several years? That's what today's valuation says (at a 3 or 4 year forward PE of 20). Probably not, unless they do a secondary and buy an oil producer with the proceeds. Facebook's expected terminal number is probably closer to 7.5 billion dollars of free after tax cash flow. With 19 billion dollars "investments" in arguably undifferentiated products like "WhatsApp," it's a likely clue they will fall short of such a lofty goal.
While a few Silicon Valley "visionaries" may be loose with their funny money, it may be the exception to the rule, not the rule itself. In an era where skepticism and disillusionment is rampant and somewhat bubbly, it's easy to dismiss the entire market this way. The message here is to be careful and ignore the noise.
With an index-wide PE of 18 times forward earnings (Source: Birinyi Associates) as of April 11th and today's price of the Nasdaq-100 firmly bouncing off of 2014 daily close lows of 3440 (last seen February), the Nasdaq presents a strong relative buying opportunity versus the S&P, which now trades 5.8% above since that same period low. Relative to forward P/E expectations of 15.4 for the S&P, growth can still be purchased at a relatively reasonable price.
Disclosure: I am long QQQ, NFLX, TSLA. I wrote this article myself, and it expresses my own opinions. I am not receiving compensation for it. I have no business relationship with any company whose stock is mentioned in this article.