Morningstar (NASDAQ:MORN) benefits from favorable industry dynamics, strong returns on capital, and wealthy (and liquid) customers. Further, the business is subscription driven and the demand for financial information is essentially perpetual -- although driven more or less by the bull and bear cycles of the market. The corporate stewards, too, use Buffett's language (10-K, p. 6): "Our strategy is to widen our economic moat." While not accepting the statement uncritically, the word choice is a sweet song to our ears. Warming our Buffett-loving hearts further, management writes: "our goal is to increase the intrinsic value of our business over time." Later, they also make a point to reference free cash flow. Swoon.
Morningstar, however, is pretty much fairly valued at a $3.28 billion market cap. In theory, considering its past growth rates and the quality of its business, the corporation could be undervalued today. For instance, in 2013 it grew revenues by 6.1% -- if that rate applied perpetually to its free-cash-flow the stock would be likely be undervalued because the quality of the business model suggests that a proper discount rate will be low compared with many companies.
We believe Morningstar will continue to grow, although the current price doesn't offer a margin of safety for the patient growth-value investor. If the growth only partially materialized, one may be better off buying other firms like FactSet (NYSE:FDS).
If we are interested in where the valuation is compared to the corporations history, we can look at the free-cash-flow yield -- it is, again, neither high nor low: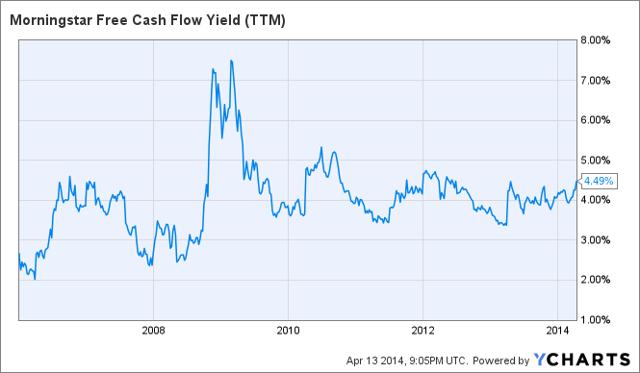 Hence, we don't believe there is a current opportunity in the shares. However, we believe Morningstar's business model is attractive enough to be worthy of discussion.
Operations
Morningstar is multifaceted in terms of revenue generation points. Here are its big revenue product categories (10-K, page 45):

Notice that all product categories, besides investment advisory, have improved year over year. The majority of the above businesses are subscription based (or license based) with recurring payment cycles as short as one month for retail facing services -- like Morningstar.com with its 9.3 million registered users and 124,000 paying users -- and between one year and three years for more institutional products. The company has sold 8,500 licenses for institutional products like Morningstar Direct and 170,000 U.S. licenses for Morningstar Advisor Workstation. Both counts increased year over year in 2013.
Then, of course, they have an asset management business which is typically a fee based on assets. This segment of the business has been facing a somewhat difficult environment due to previous clients who are now:
"…managing their funds-of-funds portfolios in-house instead of using outside subadvisiors. Because of this trend, assets under advisement were down $10.8 billion in 2013 and $43.2 billion in 2012." (10-K, p. 46)
The business also breaks down revenues this way (10-K, p. 46):

The investment information business is exceptionally attractive. Despite intense competition, many of the businesses in the segment produce very strong returns on capital and have achieved long-term growth with some consistency. That said, theories abound that the new technological architecture of the cloud-client variety will dramatically increase future competition. Considering that I myself want to enter this field, I suppose this is true. But the sheer quantity of data that Morningstar has gained over the years is an enormous barrier to entry -- that is, it would be incredibly difficult to compete along the specific lines of Morningstar. Further, all the advisors whom use Morningstar currently are faced with barriers to exit -- they are habituated to the design of Morningstar software.
The information business is very attractive -- especially when we look at the corporation's return on assets. Take a look: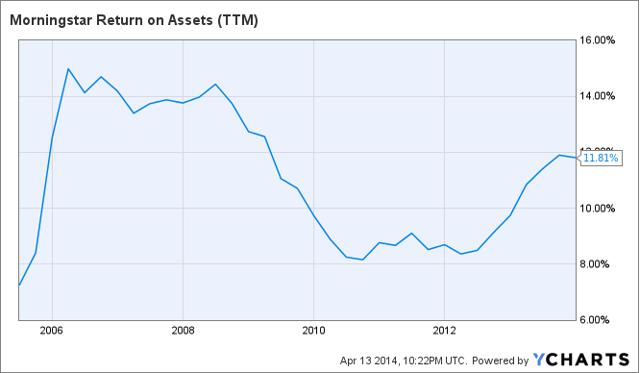 Counting the 23,680 companies with market caps over $500 million, only 1,235 -- or about 5.2% -- have ROAs above 10%. It is a rare trait.
Check out the company's revenue and net income: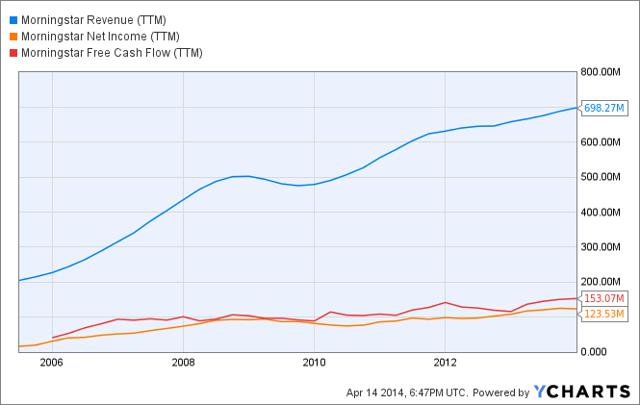 Historically speaking, the trend has been upward. The question is whether it will remain so. A recent SA article on Morningstar suggests that it cannot, due to secular headwinds in terms of passive fund management over active management and the proliferation of new technology (among other things). The author advocates for a share price around $52. I don't disagree entirely with the author's assessment of the negative secular trends, but some data out of Morningstar should temper our desire to short the stock.
Product Quality
For starters, take a look at the company's operating metrics (10-K, p. 45):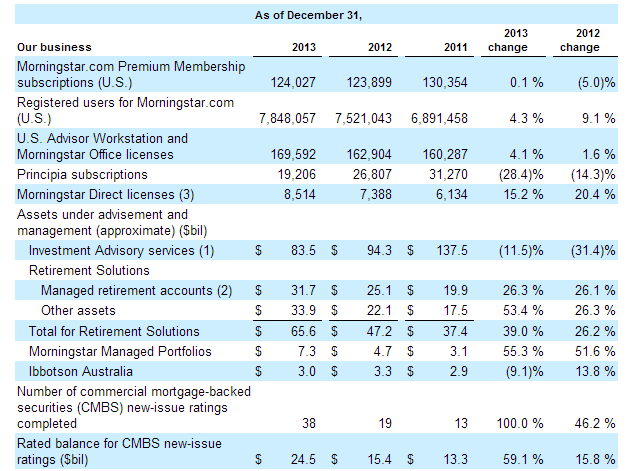 In almost every category, operating metrics have been favorable. (Note that the Principia subscription business is being purposefully cannibalized by the U.S. Advisor Workstation and Office business.) Now, these favorable trends are due in some measure to the recent bull market, but it nevertheless indicates that customers still believe in the Morningstar brand. In the case of retail customers, the loss of business for Morningstar.com has halted (it was in decline for a number of years). In the case of professional advisors -- making up the Advisor Workstation and Morningstar Office crowd -- the numbers keep increasing.
The latter products have increased licenses outstanding from 148,392 in 2009 to 169,592 in 2013. The number of reviews of this product are minimal, although at least one is favorable. (Note, I didn't find any explicitly negative reviews, although some reviews -- too old to be counted unfortunately -- certainly brought up specific criticisms.)
Controlled Corporation
There are a few views to this, but the question of whether it is good or bad that corporation is controlled is a case by case problem. With Morningstar, the controlling shareholder is also the founder, one Joe Mansueto. Presumably, it is the founder who has inserted Buffettisms into the 10-K and Buffettisms into Morningstar products --in both cases an intelligent move. Even his Wikipedia page notes that he likes "reading the occasional annual report." This guy launched Morningstar out of his home in 1984 with $80,000. This is my type of guy, so long as he continues to holds his 24,469,241 shares (out of 44,700,741 shares outstanding at Feb 21, 2014 for an ownership stake of 54.7%).
Corporate Reorganization
Lately I have been studying Alfred Chandler. His work, in which I am still a novice, discusses the role of management and management structure to the effectiveness of corporate growth strategies. Strategy defines structure, he argues. Anyways, Morningstar has undergone an internal reorganization. Previously, the corporation operated with many profit and loss centers. Now, they are organized under 5 "groups" which are not specifically run on a profit and loss basis but, instead, in terms of their contribution to revenues and expenses.
Anyways, this is not the first company with a digital presence which is "centralizing" operations. This trend (if you can call it a trend -- I may be experiencing the cluster illusion) seems to stem from the need to better integrate web apps and databases with sales and management. In my opinion, this trend is derived from the new abilities of cloud based technologies. We are barely scratching the surface with regards to the operating efficiencies the new centralized cloud-client architecture creates. Anyways, management wrote in a question/answer correspondence:
"Previously we had strategic business unit heads and division leaders who were responsible for running fairly independent, autonomous businesses. They were responsible for a P&L (both revenue and costs). In our new structure, responsibilities for portions of the P&L will be divided across groups. No individual organization will have a meaningful P&L, as most organizations will either be revenue generators (with limited associated direct costs, i.e. sales) or expense generators (with no direct revenue attribution). Our business model is characterized by a high degree of fixed costs that are leveraged across a variety of product and service offerings. Under our new structure, the majority of our financial analytics are available at the company level, and we think a single operating segment best reflects the new organization. We view our operations and manage our business as one segment."
If the strategy is to better coordinate the building products on top of their databases and proprietary data, then this seems a wise structure. Coordination between activities very well may improve. Specifically, the use of the corporation's data assets (intangibles on the balance sheet) may improve. Of course, this is highly speculative so we will just have to watch and see. The reorganization was effective as of July, 1st, 2013.
Conclusion
We do not believe Morningstar is an attractive short. We, also, don't think it is an attractive long at these prices. However, the business model is attractive -- despite some secular trends -- and the return on capital is excellent. At lower prices, Morningstar would be an excellent investment. Needless to say, the company has a great brand despite all the noise of competition in the sector.
Disclaimer: The opinions expressed in this article are those of the author as of the date the article was published. These opinions have not been updated or supplemented and may not reflect the author's views today. The information provided in the article does not provide information reasonably sufficient upon which to base an investment decision and should not be considered a recommendation to purchase or sell any particular stock or other investment.
Disclosure: I have no positions in any stocks mentioned, and no plans to initiate any positions within the next 72 hours. I wrote this article myself, and it expresses my own opinions. I am not receiving compensation for it (other than from Seeking Alpha). I have no business relationship with any company whose stock is mentioned in this article.