It's been a rocky start to public trading for Twitter (NYSE:TWTR), as you can see from the chart below. Shares nearly doubled from their post-IPO low to the 52-week high, only to come crashing back down to earth. There hasn't been a lot of financial information to analyze, with just one earnings report. Twitter actually beat handily on the top and bottom line, and issued strong revenue guidance. However, concerns over user growth knocked down the stock. Recently, a momentum based market sell-off has pushed shares back towards their post-IPO lows. Today, I'll discuss why all hope is not lost, and how Twitter can eventually double again if things go right.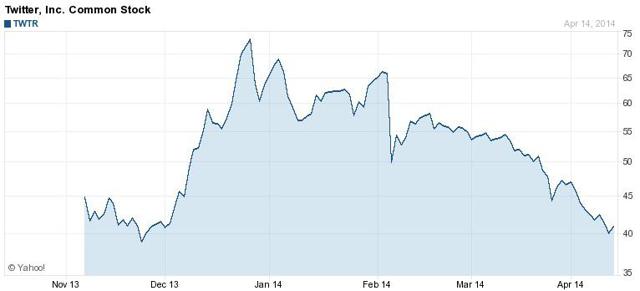 (Source: Yahoo Finance)
Lockup expiration fears calmed:
One of the major points from the bear camp was the huge lockup expiration coming up in May. Like many IPOs, insiders had a window in which they were not allowed to sell stock. Next month, one of the expiration dates hits, and this was the larger of the two lockups. The bear camp continues to argue that once the May date hits, insiders will sell a ton of shares. Theoretically, this would flood the market with excess supply, and shares would drop.
Well, some of the fears over the lockup have been calmed, as Twitter filed an 8-K on Monday. Here's the main detail:
Jack Dorsey and Evan Williams, co-founders of Twitter, and our Chief Executive Officer, Richard Costolo, have informed us that they have no current plans to sell any of their shares of Twitter common stock. If Messrs. Dorsey, Williams or Costolo decide to sell, they are required by our policies to do so pursuant to a trading plan intended to comply with the requirements of Rule 10b5-1 of the Securities Exchange Act of 1934, as amended (a "10b5-1 Plan"). We require any 10b5-1 Plan to be entered into during an open trading window and to have a "cooling-off" period, so the earliest Messrs. Dorsey, Williams and Costolo could sell would be 90 days after our next open window. Additionally, Benchmark venture capital funds, which are affiliated with a member of our board of directors, have informed us they have no present intention to sell or distribute stock to their limited partners before or immediately after the expiration of our lockup on May 5, 2014.
This might have been a surprise to some. However, you also have to remember that shares have come down a bit recently. If shares were still over $70, Monday's news may have been different. But with shares back down to where they were just after the IPO, insiders are deciding not to sell yet. If those insiders believe shares are going higher in the long run, this is the smart move to make. You might see some shares sold this year from insiders if they have tax obligations that need to be taken care of. You saw this happen with Facebook (NASDAQ:FB) CEO Mark Zuckerberg back in late 2013, when he sold more than $2 billion worth of shares to pay a tax bill.
Estimates rising, results need to beat:
Twitter gave stronger than expected revenue guidance at its Q4 report. Also, Q4 revenues and the non-GAAP loss beat expectations. Since then, analysts have been raising their estimates, and by a decent amount. Facebook estimates have also been rising a bit as Facebook continues to have large beats. In the table below, I've detailed Twitter's estimates since just after the Q4 report.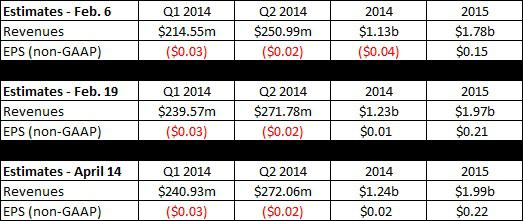 Twitter guided to Q1 revenues of $230 million to $240 million, so analysts are expecting a number above the high end of the company's range. Twitter's Q4 report was the first report as a public company, so this was the first time Twitter issued guidance. It will be interesting to see if Twitter gave conservative guidance being the first time around. The company also guided to 2014 revenues of $1.15 billion to $1.2 billion, so analysts are above that as well.
This brings up the discussion about analyst estimates versus investor expectations. Twitter had a huge beat at its Q4 report in terms of revenues and earnings. However, concerns over user growth knocked down the stock. Going into that report, Twitter shares were trading for roughly $66. At that price and valuation, investors were expecting a lot more. With shares where they are now, investor expectations shouldn't be as high. Twitter still needs a good report though, because without it, shares will continue to fall.
A valuation much improved:
When I did my last full update on Twitter, the valuation was still high, but it was coming down. The following table was from that article, showing Twitter compared to Facebook, LinkedIn (LNKD), Zillow (NASDAQ:Z), Tesla (NASDAQ:TSLA), Google (GOOG, GOOGL) and Apple (NASDAQ:AAPL). The table looked at revenue and earnings per share growth estimates for each name's current fiscal year, and showed the price to sales and price to earnings valuations based on those estimates.

*All earnings numbers above are non-GAAP except for Apple, and thus these are non-GAAP P/E values. Tesla's analyst estimates for revenues are also non-GAAP.
**Apple numbers are based on fiscal year ending in September 2014. All others use a calendar year.
Twitter's expected growth led the pack, but obviously so did the valuation. Twitter shares were over $55 at that point, so obviously, those valuation numbers have come down tremendously. Here's what that table looks like as of Monday. For Google, I'm using an average of the two prices/market caps between the two classes.

With Twitter being one of the main participants in this momentum based sell-off, the valuation has come down tremendously. Yes, the price to sales number still leads the pack, and the price to earnings number will be elevated until non-GAAP earnings really pick up. However, you have to remember that Twitter's growth story is still a few years behind that of Facebook, for example. Interestingly enough, the price to sales valuation gets even better if we look forward at 2015 numbers, when looking at the four main "new internet media" names from above.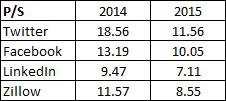 The valuation argument gets a lot better when looking at price to sales for 2015, especially when compared to Facebook. Twitter offers the most growth potential at this point, so it is important when the premium comes down a lot like this. Twitter's premium on P/S for 2014 is 62.61% above the average of the other three above. When you get to 2015, that premium is down to 34.92%. In my last full article in February, the premium for 2014 was over 101%.
Facebook shook off issues:
Remember back in October when Facebook had the "teen" issue? There was a concern that teen usage of Facebook was starting to decline, and everyone thought Facebook was in trouble. Facebook shares fell from roughly $57 to under $47 on that news. A few months later, those fears were calmed, and shares rallied to a high over $72 a share. Additionally, with Facebook having a much larger market cap, it took a lot more effort to get Facebook shares up.
So if Twitter can shake off the worries about its user growth, why can't shares start to rally again? Twitter has reported one quarter as a public company. It took Facebook a number of quarters before shares truly started to rally. Rising revenue and earnings numbers will certainly help.
Short squeeze potential:
There is one interesting item to note about Twitter's first near double during December. During that month, as the stock was rallying, short interest was still shooting higher. We've really yet to see what would happen if short interest were to drop while shares were rising. Part of the bull case is the potential for a short squeeze. In the chart below, you can see how Twitter's short interest hit a new high at the end of March.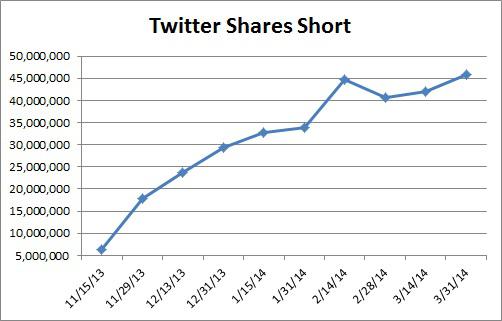 At the end of last month, more than 45.7 million shares were short. That compares to almost 29.4 million at the end of 2013, and just 6.3 million in the first short interest update after Twitter went public. With some of the insiders mentioned above not selling, it means Twitter's float will stay lower than expected for a little while longer. It will be interesting to see what happens if shorts have to scramble all of a sudden. If Twitter's short interest were to be halved, it could mean a sharp rise in the stock.
Final thoughts:
Twitter shares have fallen recently, but all hope is not lost yet. One of the biggest fears was the upcoming lockup expiration, but key insiders aren't going to sell. Revenue and earnings estimates are on the rise, and a Q1 beat could send those numbers even higher. Additionally, short interest is at its highest point, and the valuation has come well down. Facebook's teen problem was seen as a huge negative, and yet shares jumped 50% from their post-issue lows. If Twitter gets over its user growth issue, shares will go higher.
It seems obvious at this point that Twitter shares got ahead of themselves racing above $70. Now that they've come back down, investors can take a more realistic view of the name. Let's focus on the results, and if they are good, Twitter shares can start to climb again. Twitter can easily double again, but it won't happen as quickly as it did a few months ago. Facebook had a market cap of roughly $185 billion at its recent peak (not even counting the two acquisitions). Twitter's market cap is a little under $25 billion right now, so to get to $50 billion is not impossible.
Disclosure: I have no positions in any stocks mentioned, and no plans to initiate any positions within the next 72 hours. I wrote this article myself, and it expresses my own opinions. I am not receiving compensation for it (other than from Seeking Alpha). I have no business relationship with any company whose stock is mentioned in this article.
Additional disclosure: Investors are always reminded that before making any investment, you should do your own proper due diligence on any name directly or indirectly mentioned in this article. Investors should also consider seeking advice from a broker or financial adviser before making any investment decisions. Any material in this article should be considered general information, and not relied on as a formal investment recommendation.