In the middle of last year, Goldman Sachs' chief US equity strategist, David Kostin, provided a list of the 40 most undervalued stocks in the S&P 500. He considered the stocks on that list to offer a 23 to 57% upside. Freeport-McMoRan Copper and Gold Inc. (NYSE:FCX) is on that list, and at the time it traded at $31.46. As I write this article exactly one year later, the shares trade for $32.56.
In mid-January of this year, FBR Capital Markets set a $40.00 price target for Freeport-McMoRan.
A few weeks after FBR issued its opinion on Freeport-McMoRan, analysts at Zacks set a price target of $36.00 on Freeport-McMoran.
On the same day Zacks provided its price guidance, Barclays cut the price target on FCX to $45.00 from $43.00.
Less than a month ago, Morgan Stanley rated Freeport-McMoRan Overweight and valued the stock at $40.00.
The brokerage site I trade with utilizes two firms to provide stock valuations. The first values Freeport-McMoRan at $47.00 while the second, which grades company valuations on a scale of one to ten, rates FCX as a ten (10 being the most undervalued).
It seems Freeport-McMoRan is considered as undervalued by everyone. Everyone, except…well, investors.
FREEPORT-McMORAN: DEBT CONCERNS & COPPER PRICES
Freeport-McMoRan is the largest producer of molybdenum and the second largest producer of copper in the world. The company also earns approximately 8% of its revenue from gold production.
Seeking to diversify into other industries, Freeport-McMoRan acquired Plains Exploration & Production Co. (PXP:US) and McMoRan Exploration Co. (MMR:US) in December of 2012. The company was pilloried for the acquisition by many analysts. The purchase of the two companies resulted in an increase in Freeport-McMoRan's debt from $3.5 billion to $20.7 billion.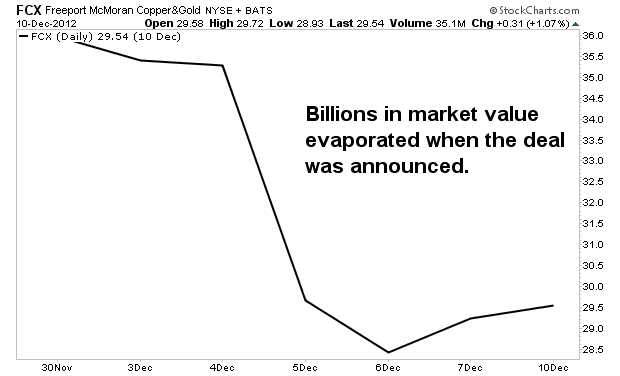 The increased debt, forecasts for declining copper prices and difficulties associated with the company's premier mining operation in Indonesia all contributed to the stock's depressed valuation.
If debt worries the investor, company executives apparently find no cause for concern. Perhaps in an effort to allay investors' fears, in June of 2013, Freeport-McMoRan paid a special dividend of $1.00 a share.
While perusing the most recent 10K report, I noted the bulk of the company's short-term debt was acquired at very favorable terms. Between now and 2018, the company's debt matures at an interest rate of 2.4% or less. Thereafter, interest rates generally increase to 5.4%.
Within the 10K one finds the following statement:
"Based on current sales volume and cost estimates and assuming average prices of $3.25 per pound of copper, $1,200 per ounce of gold, $9.50 per pound of molybdenum, and $105 per barrel of Brent crude oil, we are targeting reductions in total debt by $12 billion by year-end 2016, most of which is projected to occur in 2016."
Analysts employed by Merrill Lynch agree. They predict Freeport-McMoRan will have net cash on its books by 2020. There should, however, be a caveat attached to Merrill's analysis. Copper, oil and gas prices must remain at current levels for the next five years if Freeport-McMoRan is to extinguish its debt.

Freeport-McMoRan forecasts average copper prices of $3.25 per pound versus an average of $3.31 during the last fiscal year. Per the company's most recent 10K report, it predicts a change in revenues of $370 million for a ten cent fluctuation in a pound of copper, $85 million for a $50 change in gold prices and $120 million for a $2 variance in molybdenum.
A recent issue of Barron's predicted future oil prices of $75 per barrel. While I will not attempt to predict the future price of oil, there is reason to believe copper prices could face significant downward pressure in coming years.
Based on current consumption rates, the Earth has enough copper to satisfy demand for 150 years. Copper, therefore, is not in short supply. More importantly, early last month copper futures suffered the largest loss in over two years as fears of a slowing economy in China are predicted to curb demand. At that time, copper prices had dropped 9.2% for the year, the most severe loss among 34 commodities tracked by Bloomberg.
So copper prices are declining, right? Yes. Maybe. Sometimes. Fast forward just three weeks and one finds the following headline: Copper Futures Posts Biggest Weekly Gain in Six Months.
In the article, Phil Streible, a senior commodity broker at R.J. O'Brien & Associates provides the following quote, "There's a lot of speculation that China may inject liquidity into the system because they've run into some economic troubles recently. They'll also increase spending in new projects, and you're going to see copper demand start to rise."
If that isn't enough to muddy the water, a recent study indicates analysts are very poor at analyzing, at least when it comes to copper prices. Over the last ten years, the error rate on copper forecasts averaged -7 to -19%.
While analysts misanalyse, Javier Targhetta, Freeport-McMoran's senior vice president for marketing and sales predicts copper consumption will grow for "more than a decade." I would think Mr. Targhetta's optimism is produced in part by the fact that the U.S. imports about 35% of its industrial copper consumption, and Chinese consumption is up over 40% year on year for the first quarter of 2014.
However, the International Copper Study Group provides some sobering statistics for 2014. By their estimates, global mine production will increase to 18.6 million tons from 16.7 million tons in 2012. This represents an 11% increase in production versus a 4% increase in demand. Estimated production in 2013 exceeded demand by 390,000 metric tons in 2013.
It is my opinion that the price Freeport-McMoRan can demand for copper in 2014 will not equal the average price in 2013; however, the company may make up a significant portion of the per pound profit loss through the company's forecasted increase in production. Furthermore, the company has generally driven down the cost per pound of copper production, in part due to the superior quality of many of the deposits found in Freeport-McMoRan's mines.
Copper prices aside, Freeport-McMoRan has real concerns involving its operations in Indonesia. The company's Grasberg (Indonesia) mine, the fifth largest in the world, provides Freeport-McMoRan with well over 20% of its copper ore and nearly all of the company's gold deposits.
The Indonesian government recently passed laws requiring Freeport-McMoRan to pay an export duty of 25% in 2014 with graduated increases to 60% in 2016. The law also requires a ban on exports at some future date. Freeport-McMoRan has a Contract of Work (COW) with Indonesia that provides for international arbitration, and the COW does not expire until 2020. The provisions of the newly enacted law abrogate the COW and are clearly an attempt by the government to strong arm Freeport-McMoRan and other mining concerns within Indonesia into granting concessions.
Progress has been made towards a settlement between Freeport-McMoRan and the government, and it is in the best interests of Indonesia to pursue a constructive relationship with mining companies. The government of Indonesia relies heavily on taxes and other revenues generated by Freeport-McMoRan and other mining concerns. Additionally, the government of Indonesia holds a 9% interest in the Grasberg mining operations.
Freeport-McMoRan and Indonesia have a symbiotic relationship; however, third-world countries have underperforming economies for a reason, and the long-term relationship between the two cannot be assured. Nonetheless, it should be noted that the company has operated in Indonesia since the 1970s, and has navigated difficult circumstances in the past.
To offset difficulties in Indonesia, look to Freeport-McMoRan's mines elsewhere. The second phase expansion of the Tenke operations are complete, the Morenci mill expansion is nearing completion in 2014, and a major project at Cerro Verde in Peru is progressing on schedule. All of these initiatives will result in increased revenues for the company in the near future.
For example, the expansion at Morenci, a U.S.-based operation, is expected to add 25 million pounds of copper production per year, all at a very high rate of return.
FREEPORT-McMORAN: OIL OPERATIONS
Lost in the vitriol surrounding Freeport-McMoRan's acquisition of Plains Exploration & Production Co. and McMoRan Exploration Co. was the resulting expansion of the company's assets from $35.4 billion in 2012 to $63.5 billion in 2013.
Freeport-McMoRan entered the oil and gas business with the stated goal of providing a quarter of the company's cash flow from its oil and gas segment. In just seven months of operations last year, that segment produced $1.8 billion in operating cash. Since Freeport-McMoRan generated $6.1 billion in cash flow through all of last year, it appears as if the company can easily reach its stated goal.
During recent auctions for federal oil contracts in the Gulf of Mexico, the company's energy subsidiary was the highest bidder. It entered 16 successful bids totaling $321 million. With the new leases in place, Freeport-McMoRan forecasts 2014 production of 61 million barrels of oil equivalents (BOE), up from 38 million BOE produced in 2013.
More importantly, the new leases provide a significant increase in the company's projected reserves.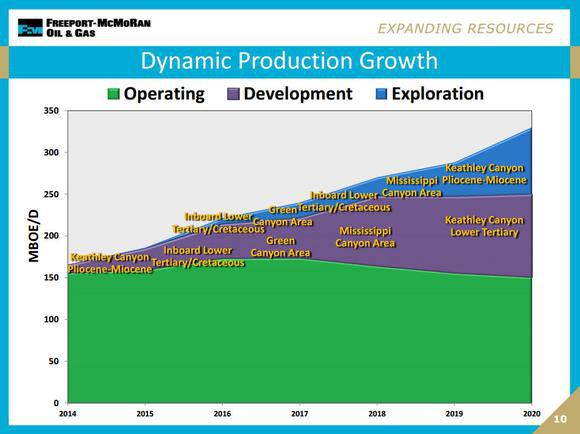 Source: Freeport-McMoRan investor presentation
Freeport-McMoRan is currently seen as holding an industry leading position in the emerging ultra-deep play in coastal Louisiana, with eight deepwater exploration projects in progress.
Projects in the Phobos prospect, in which Freeport-McMoRan holds a 50% ownership stake, recently resulted in the discovery of 250 feet of high quality oil pay.
In partnership with Energy XXI (OTC:EXXI), Freeport-McMoRan is focusing on salt domes in the Gulf of Mexico. Although discovering reserves in salt domes can prove difficult, they have been known to provide world-class oil resources.
Wells have been drilled in the Davy Jones field resulting in 200 net feet of pay in Davy Jones #1 and discoveries of 120 feet of pay and 192 feet of in Davy Jones #2.
An ultra-deep field in the Blackbeard East is another promising discovery. While test wells provided good preliminary results, further exploration is needed to confirm the initial findings.
These and other prospects for Freeport-McMoRan's energy segment lead one to conclude the company's energy acquisitions may warrant the increase in debt.
INSIDER PURCHASES
If you are not convinced Freeport-McMoRan is a sound investment, those who sit on the company's board of directors are. In roughly the last year, six insiders purchased more than 7,000,000 shares at prices as high as $37.45.
One of those purchasing shares is Gerald J. Ford. No, he isn't the former president of the United States. This Gerald Ford is a self-made billionaire who ranks among the 1,000 wealthiest men on the planet. To refer to Mr. Ford as an astute investor is akin to labeling Hank Aaron a good hitter. Methinks Gerald J. Ford could be privy to information you and I do not have.
A WORD TO DG INVESTORS
Freeport-McMoRan has a dividend payment history that includes the elimination of its dividend during the last bear market. On the other hand, the company provided special dividend payments to investors on eleven occasions since 2004.
In summation, I believe Freeport-McMoRan will be successful in its efforts to reduce company debt. Furthermore, I believe the newly acquired Oil and Gas segment will eventually be viewed as a masterstroke. I hypothesize that the inside purchases are a result of perceived improvements in cash flow that will soon stem from that acquisition.
From 2003 through 2013, the company grew revenues at a CAGR of 25.2% and EPS at a CAGR of 17.2%. With an expected operating cash flow of $9 billion in 2014, $2 billion in cash and $3 billion available from a senior unsecured revolving credit facility, the company is capable of weathering any unexpected downturn. While I believe copper prices could make the task of lowering debt a bit difficult, the long-term picture for copper is bullish.
On 04/07/14 I made a small purchase of shares in FCX. I believe negotiations between Freeport-McMoRan and the Indonesian government will soon conclude favorably for the company, and this will likely result in a mild catalyst for the stock. I plan to keep a close eye on Freeport-McMoRan and hope to add to my position incrementally as the situation develops.
Investment in this stock is undoubtedly a long-term play. It should be remembered, however, that the market will react to improvements in Freeport-McMoRan's prospects well before the company retires the current debt.
For access to the most recent conference call, click here.
For a synopsis of fourth quarter results, click here.
For Freeport-McMoRan 10K access, click here.
Disclosure: I am long FCX. I wrote this article myself, and it expresses my own opinions. I am not receiving compensation for it (other than from Seeking Alpha). I have no business relationship with any company whose stock is mentioned in this article.