Solid Q1 2014 results came yesterday from the Citigroup (NYSE:C) guys: The bank presented first-quarter revenues of $20.12 billion, which compared against an average analyst revenue estimate of $19.38 billion. Citigroup also beat analyst EPS expectations: Citigroup achieved an adjusted diluted EPS of $1.30, which compared against an average analyst EPS estimate of $1.14: A handsome earnings beat of 14%.
As a result, shares of Citigroup rocketed more than 4% in yesterday's trading session as investors cheered the results and remained hopeful of further improvements in the bank's underlying business performance.
Shares of large banks, in particular Citigroup and Bank of America (NYSE:BAC), however, remain fairly beaten down, even though their share performance has somewhat improved over the last year -- especially in the case of Bank of America.
Citigroup is down approximately 14% from its 52-week high at $55.28. Citigroup is still one of the most hammered stocks in the financial services sector, and its stock price development is one of the most frustrating in the sector as well. The bank has gained merely 6% over the last twelve months, and has traded in a trading range of $46-$53 most of the time. Bank of America gained about 34% over the same period, and has been a top performer in 2013.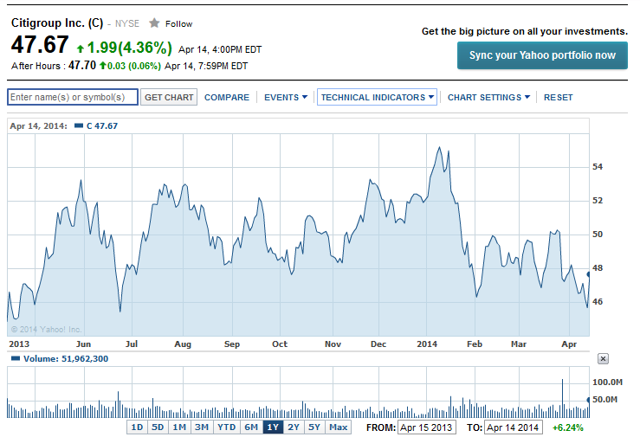 (Source: Yahoo Finance)
Extending the performance measurement period to a five-year horizon, investors can see that Citigroup still has a long way to go: Over a five-year period, Citigroup shares have gained only 30% in value, while Bank of America gained more than 30% in the last twelve months alone.
Citigroup's relative underperformance is one of the main reasons I like the bank. Underperformers of today are often the outperformers of tomorrow -- anybody investing in Bank of America in 2012 knows what I am talking about. I believe Citigroup has substantially more upside potential, and could very well manage to trade at two times book value a couple years down the road.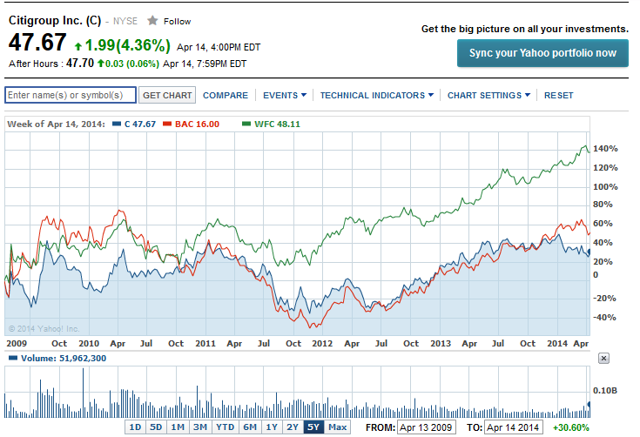 (Source: Yahoo Finance)
Quarterly results
As already indicated in the introduction, Citigroup outperformed analyst expectations by a healthy margin.
Adjusted revenues came in at $20.12 billion, compared to $20.57 billion in the year-ago quarter (down 2%). At the same time, Citigroup reduced operating expenses to $12.15 billion from $12.23 billion in Q1 2013 (down 1%). Operating expenses are still too high, and Citigroup will need to show higher cost discipline in 2014 (headcount reduction, branch consolidation, product streamlining, etc.) in order to woo investors. Citigroup's net income increased 4% y-o-y, from $4.01 billion in Q1 2013 to $4.15 billion in the most recent quarter.
Overall, Citigroup's results were solid, although cost-cutting remains a top priority in 2014 and beyond. If the bank can achieve further productivity gains and improve its revenue growth, Citigroup has serious upside potential.
Market valuation
From a valuation point of view, both Citigroup and Bank of America are still dirt-cheap. Citigroup fetches only a forward earnings multiple of 8.57, which translates into an initial earnings yield of 11.7%. Even Wells Fargo (NYSE:WFC), a well-run banking operation and favorite of Warren Buffett, only commands an earnings multiple of 11.26, indicating that large-cap banking franchises are still trading extremely cheaply: The peer group average P/E ratio stands at less than ten, which clearly is bargain territory.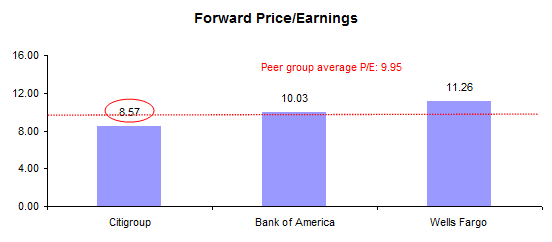 (Source: Achilles Research, Finviz.com)
Another valuation metric I consider is the bank's price-to-book ratio. The graph below shows that, again, both Citigroup and Bank of America trade at substantial discounts from book value, with P/B ratios of 0.73 for Citigroup and 0.78 for Bank of America. Large discounts to book value indicate a solid margin of safety, and actually are quite indicative of bargain investment opportunities.
Wells Fargo, on the other hand, is one of the companies in the financial services sector that already trades at a sizable premium to book value.
In a related article about Bank of America last month, I have referenced Dick Bove, bank analyst at Rafferty Capital Markets, who asserted the following during an interview in August 2013:
The U.S. banking industry is on pace for record profits in 2013, with low loan-to-deposit ratios, reduced loan-loss ratios, fewer bad loans, rising earnings quarter-over-quarter and "massive" historic over-capitalization.

"They are so liquid that their earnings are being negatively impacted by it," he said. "The only thing that can harm the banks right here is some weakness in the economy. Lacking that, bank stocks are very, very cheap."

He also said that going by historical valuation, "it is not very difficult for a bank stock in normal times to sell at two times book value. There are virtually no banks in the United States selling at two times book value."

Bove predicted that both Citigroup and Bank of America "will at least get 100 percent higher than they are right now… Now that's not going to happen in the next 12 months; it may not happen in the next 18 months, but it is going to happen."
I clearly have to side with Dick Bove here. The valuation metrics above show that financial services firms are still extremely undervalued, and I believe Citigroup will be among the outperformers in the coming years as the recovery in the financial sector gains traction.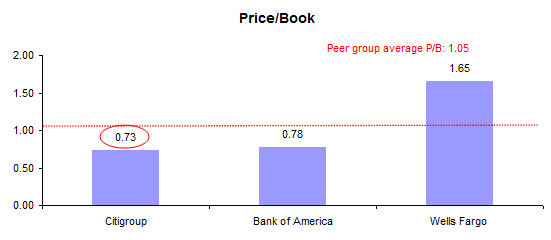 (Source: Achilles Research, Finviz.com)
The following table contains key valuation metrics and discounts to the respective peer group average ratios:

(Source: Achilles Research, Finviz.com)
Conclusion
I believe Citigroup is still one of the most undervalued and most promising large-cap banking franchises in the sector. While Bank of America managed to change investor perceptions about its underlying profitability in the last year, Citigroup remains a Fifty Cent Dollar with potential to double. With a large discount to book value and a low P/E ratio of 8.6, the bank clearly is a bargain. Add to that the ongoing relative underperformance to its peers, and bargain hunters have a solid set of reasons to buy Citigroup. With cyclical tailwinds providing revenue- and earnings boosts, the strongest consumer banking franchise in the sector has potential to double its equity valuation over the next two to three years. Strong, long-term BUY.
Disclosure: I am long C, BAC. I wrote this article myself, and it expresses my own opinions. I am not receiving compensation for it (other than from Seeking Alpha). I have no business relationship with any company whose stock is mentioned in this article.