Background:

Eli Lilly (NYSE:LLY) focuses on innovation and meeting medical needs in the fields of oncology, cardiovascular, diabetes, critical care, neuroscience, men's health and musculoskeletal. Eli Lilly employs 7500 people around the world in 50 different countries. With patents expiring and the company receiving a major penalty, Eli Lilly will need to make significant decisions regarding which direction they are looking to go. With less than exceptional revenue growth and coming hits to their exclusivity, things look poor on the horizon.
Key Points
Patents for Cymbalta and Evista recently ended at the end of 2013.
Total revenue increased by 2%
R&D increased 5%
Net Income increased 15%
Diluted earnings per share increased 18%
Eli Lilly has around 4 billion in cash on hand
Over the past five years Eli Lilly's total shareholder return has been on average 11%
The company's highest increase in revenue came from the cardiovascular area. However, the company remains balanced across all 6 of its revenue streams including: endocrinology, neuroscience, oncology, cardiovascular, animal health and others.
Eli was recently hit with a 3 billion dollar penalty over the effects of a diabetes medication because of a 40% increase in bladder cancer observed from its users.
Growth in China
Lilly employs around 4,000 in china and has tripled its sales force since 2008.
The company invested around 500 million into Chinese facilities during 2013.
Sales in China grew by 12% in 2013 and has tripled since 2008.
China is the world's second largest pharmaceutical market.
Drugs on the horizon
Eli Lilly has ongoing Phase 3 Ramucirumab trails and if approved, Lilly will have patent protection for 12 years.

Current Products (As of 2013):
Neuroscience Products:
Cymbalta- Treats major depressive disorder and general anxiety disorder (lost patent in 2013; however, still owns patent in Japan until 2018 and Europe until 2014).
Prozac- Major depressive disorder and OCD
Zyprexa- treatment for schizophrenia and manic episodes
Cardiovascular Products:
Cialis- erectile dysfunctional and prostatic hyperplasia. Patent protected until 2017
Effient- treatment of thrombotic events such as stent thrombosis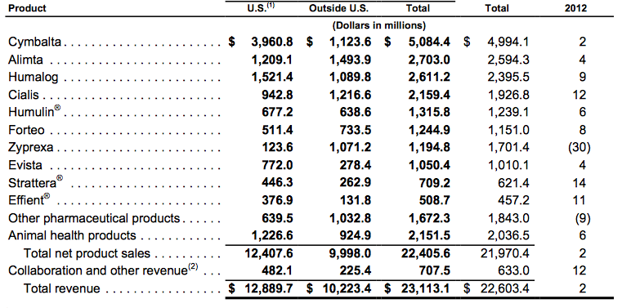 The company has only slightly increased research and development over the past few years from 5.02 billion in 2011 to 5.53 billion in 2013. With many of these patents expiring, Eli Lilly must look towards acquisitions and other forms of business if it cannot come up with drugs to replace expiring ones.
According to estimates from Eli Lilly, taking a drug from the discovery stage to final product typically costs 1 billion dollars and takes around a decade to accomplish the entire process.
Lilly has ongoing Phase 3 Ramucirumab trails and if approved, Lilly will have patent protection for 12 years.
Basic Patent protection Laws:
According to the FDA a patent for a human pharmaceutical drug may be eligible for patent term restoration to make up for the time invested in the clinical trials and review process; however, no patent can be extended for more than 14 years beyond FDA approval.
Lilly's higher net income last year was particularly driven by a lower effective tax rate gained by offsetting higher R&D costs, so one can look at this both ways. EPS increased due to a lower number of shares outstanding courtesy of buybacks. Both of these points do not help Eli Lilly's argument for the intrinsic value of the stock.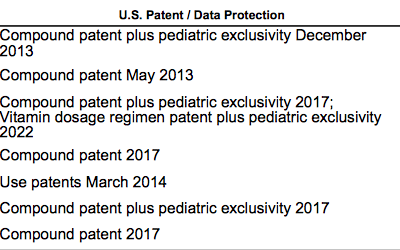 Worldwide revenue decreased by 7% due to the loss of exclusivity for Zyprexa. With Cymbalta making up an even larger portion of the revenue pie, losses could be even more significant moving forward.
Stock Price:
The stock broke a key resistance point of about 55 dollars in mid- February and has been hovering in the upper 50's for about a month. Resistance number two seems to be at around $61. If the price breaks $61 on high volume there could be a potential move towards $65. However, given the loss of patents recently it seems unlikely. Eli will report earnings later this month which could be a key determiner as to whether the stock breaks out or whether it reverts back to low $50 levels.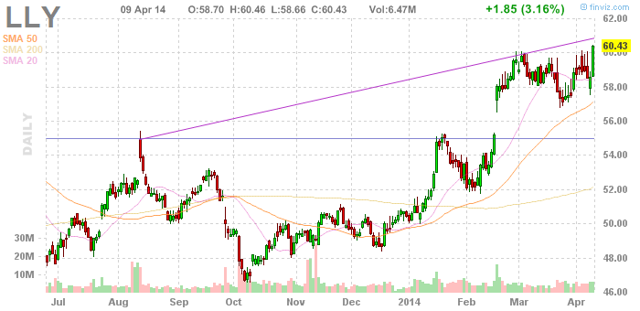 What Should the Investor Do?
It is clear that patent expiration in the coming years will drastically affect Eli Lilly's future sales and ability to strive without any major competition. The company's key revenue driver (Cymbalta) expiring, along with the massive 3 billion dollar penalty, could have a significant effect on the company's revenue and net income respectively over the next couple of years. Research and development costs have increased dramatically over the recent years. It is tough to assume that Eli Lilly can keep up with the ever demanding pharmaceutical industry if it does not pour even more of its resources into R&D at this point. With 4 billion dollars in cash maybe Eli can sustain dividend growth; however, it looks as though overall outlook is slow for the near future.
Disclosure: I have no positions in any stocks mentioned, and no plans to initiate any positions within the next 72 hours. I wrote this article myself, and it expresses my own opinions. I am not receiving compensation for it (other than from Seeking Alpha). I have no business relationship with any company whose stock is mentioned in this article.