Moody's recently released a report outlining the ongoing movement of activist shareholders raising heat on companies not enhancing shareholder value. Hedge funds or investment advisors pursued 220 targets in 2013, up from the 209 figure in 2012 and 179 in 2011. Healthcare and technology were two sectors that experienced the most shareholder activism, typically in a 13-D filing or through proxy contest (sometimes both). With the latest April 10 filing, Neptune's (NASDAQ:NEPT) largest shareholder George Haywood is continuing this latest activist trend by taking necessary steps to enhance shareholder value after a rough start to 2014. According to my calculations, Haywood could realize a potential 65% return to shareholders.
Why Haywood Is Taking Action
George Haywood, with the support of other shareholders Egan, O'Driscoll and Dobrich, intends to initiate all necessary actions to enhance Neptune value. This includes exploring changes to the current management team. This news came out after Neptune hit a 52 week low of $2.19 on April 7th. Granted the biotech (and the market as a whole) has been hit hard, but there is no justifiable reason why the company is trading at its current discounted valuation. To compare, the company was trading in this same mid-$2 range in Q1 2013, a time when there was no settled plan on the production facility and the future of patent infringements were uncertain. Yet, here we are a year later with both these issues settled in Neptune's favor, but hovering around the same price.
Management, led by CEO Henri Harland, has done some good things recently, such as successfully defending Neptune's intellectual property (discussed more here). However I believe this current team has hit a plateau. Last week, the company updated on its most significant catalyst; completion of production facility by April 7th. Yet, no update was announced on the date and as a result the share price continued the slide.
To complement the plant launching and an upcoming marketing campaign, Neptune has raised a gross $31M this year. A capital raise was imminent as the company needed to budget the Neptune Krill Oil (NKO) product launch. The discount issued for these shares however blind sighted investors. At the time of the raise in late February, Neptune's 50 day moving average was at a price of $3.20. A $2.50 financing was at a 22% discount to the moving average figure. No matter how we slice it, it's unacceptable for Neptune to be trading at 52 week lows amid the production facility developments. Much of this blame could be placed at the top.
Numbers Matter
Haywood owns approximately 7.3M shares (or 9.87% of outstanding shares). Together with the joint acting shareholders, ownership represents over 15% of outstanding shares. If we were to include Perceptive Advisors' 5.9M shares to side with Haywood (explained why below), then this would represent approximately 23% of the Neptune shares outstanding.
Will history repeat itself?
Neither Haywood nor Perspective Advisors, Neptune's second largest shareholders, are strangers to activism. As Propthink reveals, the same joint investors who are initiating against Neptune were influential in replacing former Sarepta Therapeutics (NASDAQ:SRPT), then AVI Biopharma, CEO Les Hudson in 2010. This is an experienced opposition Neptune management will be facing when they respond to Haywood's request.
Back in 2009, Perceptive initiated legal proceedings against Penwest Pharma to realize the full value of a royalty stream by seeking to reduce expenses and also fight for board nominations. Perceptive ended up controlling a majority of the board seats before Penwest was acquired by Endo for $144M later in 2010.
Haywood was also a large individual shareholder of Martek, a nutraceutical leader in production of docosahexaenoic acid (DHA), a primary omega-3 fatty acid. Similarities between Martek and Neptune operations should indicate what Haywood may have in store for Neptune shareholders. In 2010, Martek had annual sales of $450M before it got acquired by Royal DSM for $1.1B (35% premium to market). A potential buyout is not in Neptune's near future as the company must first prove to be worthwhile before attracting any suitors. Martek's fate and Haywood's recent actions could indicate that a sale is in distant plans however. This has already been speculated before by another Seeking Alpha article.
Patent Litigation Dragging Out
Enzymotec (NASDAQ:ENZY) and Neptune announced that a settlement had not been reached on the patent litigation. Neptune has been able to settle all other infringement cases, so this move by Enzymotec came as a surprise to many. This does not mean that Neptune has lost the case though. Enzymotec is leveraging time, but in the end results will be similar. All other competitors are paying Neptune a royalty to sell products in the US. It's just a matter of time before Enzymotec follows. By holding out, Enzymotec was negotiating for more favorable terms, which may come back to bite them as it may mean forfeiting more to Neptune and in legal fees. The trial will commence on April 28th, 2014 and a decision is expected by 1H 2014.
Top Line Drivers for Neptune
Growing awareness of krill oil benefits = expanded market = increased royalties
Chinese market opening up
Operational Sherbrooke production facility with ~$15M allocated towards production & marketing
The remainder of 2014 will have Neptune focus on convincing consumers of the benefits of krill oil over the current market dominant fish oil. Traction in awareness of krill oil is underway as the superior pill is the second-best selling form of omega-3s for supplements after fish oil according to market leader Aker BioMarine. This adoption is only expected to increase as the three major producers (Aker, Neptune and Enzymotec) have received the New Food Raw Material certification to sell in China. The potential for future revenues is vast with a booming Chinese market that's expected to overtake the US within five years as largest nutraceutical consumers.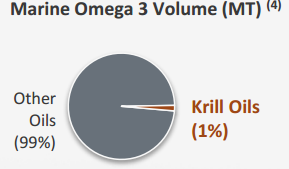 Krill oil's fractional segment of the omega-3 market (above) indicates that there is still much room for growth. According to Aker BioMarine and independent growth estimates, the krill oil market is growing by more than 30 per cent per year, making it the fastest growing ingredient in the omega-3 market. Looking at the sale figures of the largest three producers below, the 30% growth rate is supported as these companies make up more than two thirds of the overall market.

Valuing Neptune's Nutraceutical Segment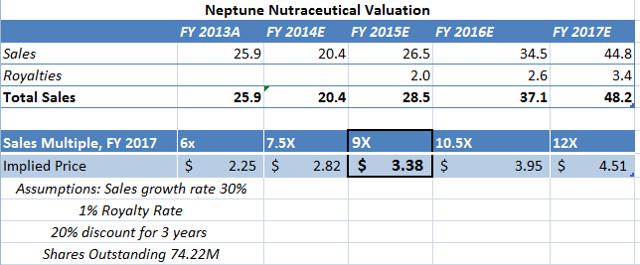 Looking ahead, I would expect Neptune to grow their top-line at the 30% growth rate of the krill oil market. Given the fact that a fully operational production plant (producing 150MT) will be able to satisfy emerging demand, this is a very attainable target. Neptune will now do away with any supply constraint while also satisfying the backlog of demand that has built up in the year that the production facility was out of action.
A conservative royalty rate of 1% was used to calculate how much Neptune would be receiving from competitors due to patent settlement terms. Hopefully, more guidance can be given on this figure during the next quarterly report that is expected anytime this month. A 1% royalty would value the overall krill market at $200M in calendar year 2014, the low end of its range.
With a functional production plant and supporting marketing campaign, much of the nutraceutical segment business risk will be reduced, thereby justifying a 20% discount rate. Applying an industry mean sales multiple of 9x would result in a nutraceutical valuation of $250M or approximately $3.38/share. Keep in mind, this does not include Neptune's pharmaceutical subsidiary, Acasti or private NeuroBioPharm.
Subsidiary Acasti Waiting on Data
Neptune's majority owned pharmaceutical arm Acasti (NASDAQ:ACST) is expected to release top-line data for treatment of hypertriglyceridemia in Q2 2014. Similar to Neptune, Acasti is trading near its 52 week low as investors await TRIFECTA results. The promising results from last summer's COLT trial could signify best in class results being released. In such a case, Acasti would experience a pop in price that would surely spill over to Neptune as well.
It will be interesting to see how the FDA responds to Acasti's drug, CaPre, after requiring more data from Amarin's (NASDAQ:AMRN) Vascepa, a direct competitor. The FDA wanted to ensure that Vascepa's lipid lowering characteristics were also beneficial to cardiovascular health. Due to this, more data was required from Amarin.
Acasti investors remain hopeful that CaPre is able to show lipid lowering characteristics as well as heart benefits. COLT results, released in August, hinted at the "trifecta" reduction in triglycerides, LDL and increase in HDL (read more here). No other competing drug or drug candidate has impacted all three main lipid components. These preliminary results give Acasti investors optimism that CaPre will experience a different fate from Vascepa.
Generally, an upcoming data release with as much significance as the TRIFECTA trial leads to a run up in price. However, this hasn't happened with Acasti so valuing the company becomes even harder. At a current market cap of ~$120M, Acasti would add about $60M (50% NEPT ownership) to Neptune's valuation (or roughly $0.80/share). Therefore, this would result in an updated target price of $4.18 ($3.38+$0.80) or potential upside north of 65% the current Neptune price.
Investors in store for an eventful season
The latest developments brought on by George Haywood have made Neptune a bright spot in the sea of red that has engulfed the biotech sector. Short term investors are best to pick companies with upcoming catalysts now that the tide has turned. Haywood's move to unlock value is certainly justified when analyzing the valuations calculated above that present Neptune as an investment opportunity with 65% upside. Value driving events will be what distinguish winners in this biotech bear market and Neptune has catalysts lined up. The message to Neptune management is clear: perform or step down.
Disclosure: I am long NEPT. I wrote this article myself, and it expresses my own opinions. I am not receiving compensation for it. I have no business relationship with any company whose stock is mentioned in this article.