Like many investment advisers, I watched Maria Bartiromo's interview of Alan Greenspan last Thursday. Without a doubt, the former Federal Reserve chairman can move markets with a single slip of the tongue.
Unlike my colleagues in investment management, however, I wasn't particularly interested in Alan's assessment of the U.S. economy. Predictions, even Alan's predictions, are notoriously suspect. (Incidentally, he believes that the country's economy is "probably" experiencing a "pause" and that it is likely to re-accelerate.)
I wanted to hear what Alan had to say about emerging economies and their stock markets. Fortunately, Ms. Bartiromo asked a question about U.S. reliance on developments in China, and Mr. Greenspan delivered. He called China the most dynamic capitalist economy in the world.
Having lived in Hong Kong and Taiwan for several years, I couldn't have agreed more. In fact, American investors should begin familiarizing themselves with Asia ETFs, rather than lament every blip downward for the Dow.
One of the reasons for the outperformance of Singapore (NYSEARCA:EWS), Malaysia (NYSEARCA:EWM) and India (NYSEARCA:EPI) in recent months is China's engineering of a soft economic landing. Specifically, China has been successful at curbing some of the excess in its equity and property markets; its economy is neither overheating nor underachieving, and that benefits its Asian neighbors.
Until recently, though, investors haven't had a great many opportunities to invest in smaller companies from emerging markets. Most emerging small cap ETFs became available… just as the world economy came to a screeching halt in late '08; the frightening losses out of the gate caused many to tag them as "too risky."
And therein lies an irony. Americans are ethnocentric enough to invest in small U.S. companies that they've never heard of… through mutual funds and ETFs; in fact, we're instructed to diversify. Yet most remain paralyzed by the prospect of investing in small companies from foreign countries.
To get over that paralysis, here are 3 reasons to consider Emerging Small Cap ETFs:
1. Emerging Small Cap ETFs May Be Less Risky Than U.S. Small Caps. The premier benchmark for U.S. small caps is the Russell 2000 and it is adequately tracked by the iShares Russell 2000 Fund (NYSEARCA:IWM). This fund has a beta of 1.19, indicating that it is roughly 20% more volatile than the S&P 500. It also has a standardized "risk grade" of 154.
On the other hand, WisdomTree Emerging Small Cap (NYSEARCA:DGS) has a standardized risk grade of 142, suggesting that it may actually be less volatile than U.S. small cap stocks. Moreover, according to the WisdomTree web site, DGS has a beta of .94… also less volatile than the 1.19 beta for IWM.
2. Emerging Market Small Caps May Be A Better Value Than U.S. Small Caps. We hear a lot about the P/E ratios for the S&P 500. Prices based on trailing 12 months for the S&P 500? 18. Prices based on forward projected earnings for the S&P 500? 13. Depending on one's perspective, U.S. large caps are fairly valued or undervalued.
However, the Russell 2000 is overvalued, with a Current P/E of 25, a Forward P/E of 21, and a dividend yield of only 1%. In contrast, the Current P/E for WisdomTree Emerging Small Cap (DGS) is 17 and the dividend yield is 5.1%.
3. Emerging Small Caps Show A Technical Uptrend. The price of DGS is above its long-term trendline. Unfortunately, the price of IWM is still below its 200-Day moving average.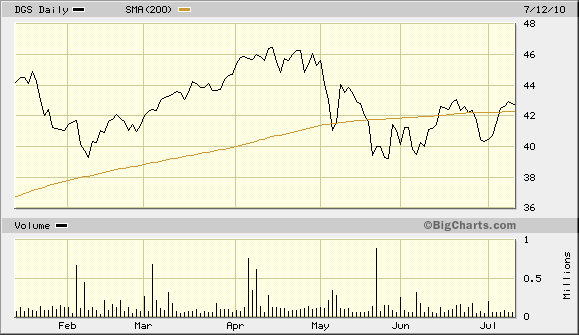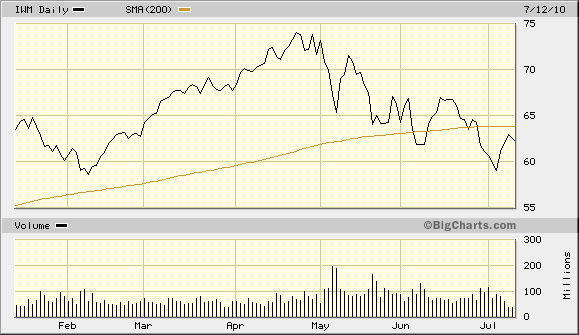 Disclosure Statement: Gary Gordon, MS, CFP is the president of Pacific Park Financial, Inc., a Registered Investment Adviser with the SEC. The company and/or its clients may hold positions in the ETFs, mutual funds and/or index funds mentioned above. The company receives advertising compensation at the ETF Expert web site from Invesco PowerShares Capital Management, LLC. The commentary does not constitute individualized investment advice. The opinions offered herein are not personalized recommendations to buy, sell or hold securities.