Glasses-free 3-D viewing on a phone is great but I hope Amazon (NASDAQ:AMZN) is not only exclusively relying on this feature to sell its forthcoming smartphone. Amazon did fine selling tons of the Kindle Fire tablet without this 3-D viewing feature. I wish Bezos drops it and instead focus on core features.
Amazon can learn from the success of Xiaomi. Lei Jun, CEO of Xiaomi created a $12 billion empire by making bigger-screen clones of the Apple (NASDAQ:AAPL) iPhone and selling them like Steve Jobs did. Jun created a must-have cult-mentality demand for Xiaomi Android phones by exclusively selling them on the company's website. He inspired Chinese customers to patiently wait in line for Xiaomi phones like what Apple does for every new iPhone.
Amazon Can Imitate Xiaomi, Who Imitates Apple
When it comes to smartphone success, nothing comes close to how Lei Jun rapidly steered Xiaomi to becoming the Apple of China. Xiaomi phones were imitations of the iPhone, filled with high-end components but sold at $330 and below to Chinese customers. The Xiaomi Mi3, with its phablet size of 5-inch display, helped Lei Jun's company sell 18.7 million phones in 2013.
Xiaomi is aiming to sell 60 million smartphones this year and 100 million in 2015. If a Chinese start-up can be this successful, Amazon can also sell at least 10 million smartphones this year. An Amazon phablet can disrupt the sales of the Samsung (OTC:SSNLF) and the iPhone 6 much like what happened when Amazon decided to sell tablets too.
As early as January 13, Amazon tablets were giving Samsung Galaxy tablets stiff competition. An Amazon smartphone in a phablet configuration can also give the iPhone 6 and Galaxy S5 some serious competition in the U.S. market for high-end smartphones. Americans who trust the Amazon brand will find it very attractive to buy a $399 contract-free clone of the S5 or iPhone 6.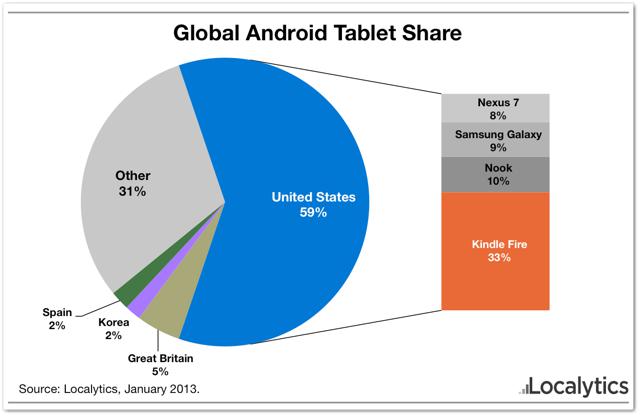 Amazon bought the Chinese Joyo.com online store in 2004 for $75 million. Lei Jun co-founded Joyo so he and Bezos are old acquaintances. Bezos can learn from Jun's cult-like marketing of Xiaomi phones. Amazon can build a clone of the Xiaomi Mi3. Equip it with a 5.5 inch display, a new Snapdragon 801 SoC, dual camera with Xenon flash, and then sell it for $399 to American customers.
I believe Amazon can save a lot on total Bill of Materials by just dropping the glasses-free 3D viewing feature. The company needs to make decent money on smartphones. AMZN investors are already grumpy about the company's recalcitrant razor-thin margin policy. Not everyone subscribes to Bezos' revenue-growth-first-before-profit motto.
Adding 4 cameras to allow glasses-free viewing of 3-D images will only increase the cost of the Amazon phone. A $499 smartphone from Amazon will find fewer buyers since Apple can also sell an iPhone 6 at $499. I am realistic, the Apple brand will always be a bigger pull than Amazon when it comes to phones.
Conclusion
Amazon plans to unveil its smartphone this June. The commercial launch date is scheduled for September. However, I firmly believe that the company can sell more units of its phone by launching it earlier. Apple plans to launch the iPhone 6 in the 3rd Quarter of 2014. Rumor has it that Apple's latest iOS phone will come in two variants, one 4.7-inch and the other a 5.5-inch iPhablet.
Once the iPhone 6 fever takes hold of America, Amazon will find it harder to market a Xiaomi-like phablet. Americans, being far more affluent than Chinese buyers, will likely go for the iPhone 6 despite of its high-margin price tag.
Those who dislike Apple, will go for the Galaxy S5. If Amazon can offer a $399 phablet clone of the Galaxy Note 3, complete with stylus, I see a lot of Americans going for the Amazphone phablet.
Amazon critics should understand that the company's zero-margin policy on its Kindle Fire tablets was greatly rewarded with more store purchases by Kindle tablet owners. Bezos will most probably apply the same zero-margin policy to the Amazon phone.
Amazon may even sell the phones at a loss and just recoup the losses, and hopefully some net profit, from the store purchases of Amazon phone owners. However, Amazon cannot recoup its losses by selling the phone at less than cost if most of the phone buyers will also purchase near-zero margin products from Amazon.com.
AMZN is trading at super high valuation. I do not recommend new investors to buy the stock right now. Current AMZN investors can only hope that Bezos will at least make selling the Amazon phone hardware profitable.
A $10 net from each handset sold will make a lot of people happy. A higher profit margin is a dream that all AMZN investors desperately long for. An operating margin higher than 1% is highly desirable for the Amazon phablet.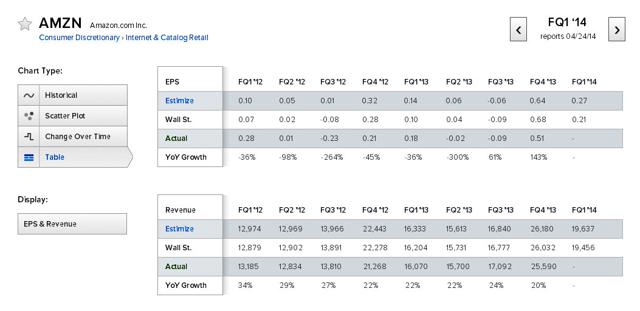 Source: Estimize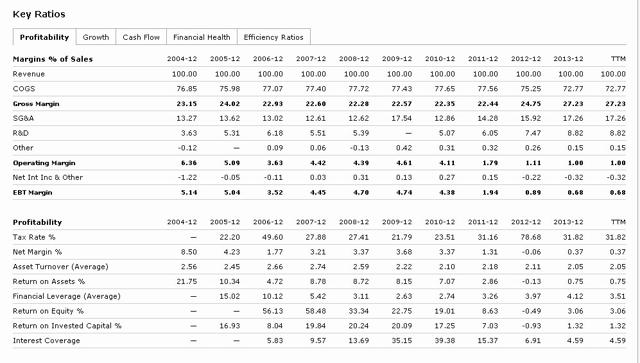 Source: Morningstar.com
Disclosure: I am long AAPL. I wrote this article myself, and it expresses my own opinions. I am not receiving compensation for it (other than from Seeking Alpha). I have no business relationship with any company whose stock is mentioned in this article.