The PowerShares DB G10 Currency Harvest Fund (symbol "DBV") may not be familiar to a lot of you. However, this fund is based on the Deutsche Bank G10 Currency Future Harvest Index - Excess Return™ (Index) and managed by DB Commodity Services LLC has been in existence since September 2006 and is an easy way to get a view of world currencies vs. the U.S. dollar.
The Index is comprised of currency futures contracts on certain G10 currencies and is designed to exploit the trend that currencies associated with relatively high interest rates, on average, tend to rise in value relative to currencies associated with relatively low interest rates. The G10 currency universe from which the index selects currently includes U.S. dollars, euros, Japanese yen, Canadian dollars, Swiss francs, British pounds, Australian dollars, New Zealand dollars, Norwegian krone and Swedish krona.
In the chart below, we see that a spread between DBV divided by the S&P 500 index ($SPX) has been moving up again since April. This spread should increase when either the basket of foreign currencies increases relative to the change in the value of the S&P 500 or the S&P 500 declines relative to the basket of currencies.
If we overlay a 50 week exponential moving average, we can see that when the spread breaks below the moving average, this is bullish for equity markets. When it moves above the moving average, this is bearish for equity markets.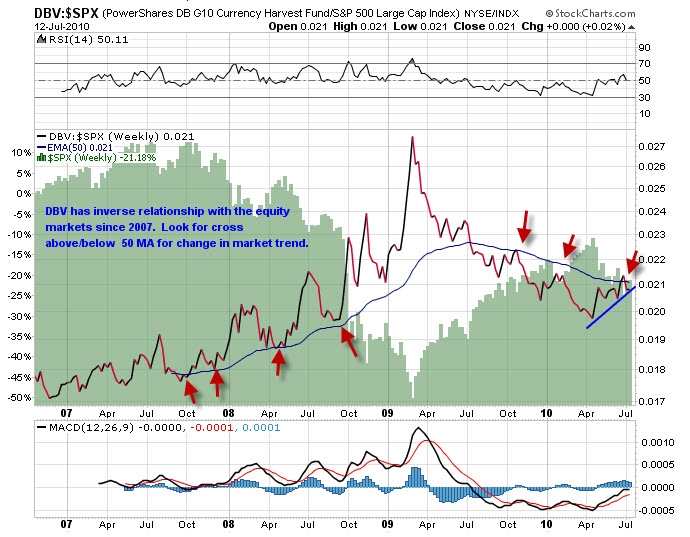 From the chart above, you can see that we are at a critical juncture. Either we hold and markets strengthen here in the U.S. or the U.S. dollar and/or markets fall allowing the spread price to move above the 50 week moving average which will confirm a change in trend.
Note the S&P 500 is highlighted in light green behind the black and red spread chart of DBV and the $SPX. You can see the inverse relationship that exists between the spread and the S&P 500.
Disclosure: Author holds a position in SDS