I'm always on the lookout for new to me dividend growth companies and recently received a request to do a full analysis on Family Dollar Stores, Inc. (NYSE:FDO). What was really surprising is that Family Dollar Stores has a 38 year history of increasing the dividend to shareholders. Family Dollar Stores is a major player in the discount retail space operating over 8,000 stores throughout the United States. Shares of Family Dollar Stores closed trading on Friday, April 11th at $56.10 giving a current yield of 2.21%.
Discounted Earnings:
Analysts followed by Yahoo!Finance expect Family Dollar Stores to grow earnings 3.15% per year over the next 5 years and I've assumed they can grow at 2.75% in perpetuity. Running these numbers through a discounted earnings analysis with a 10% discount rate and summing over 30 years yields a fair value price of $44.62. This means the shares are trading at a 25.7% premium to the discounted earnings analysis.
Graham Number:
The Graham Number valuation method was conceived of by Benjamin Graham, the father of value investing, and calculates the maximum price one should pay for a company given the earnings and book value. Family Dollar Stores earned $3.41 per share over the last twelve months and has a current book value per share of $14.13. The Graham Number is calculated to be $32.93, suggesting that it's overvalued by 70.4%. Since we invest for the future, let's replace the earnings per share with forward looking earnings of $3.32 for FY 2014. Keeping the book value per share the same and re-running the calculation gives a fair value of $32.49. Shares are still overvalued by 72.7%.
Average High Dividend Yield:
Family Dollar Stores' average high dividend yield for the past 5 years is 1.88% and for the past 10 years is 1.91%. This gives target prices of $66.09 and $64.80, respectively, based on the current annual dividend of $1.24. I'll use the average of $65.44 in my target entry price calculation which would correspond to a yield of 1.89%. Shares are currently trading for a 14.3% discount to the average high dividend yield.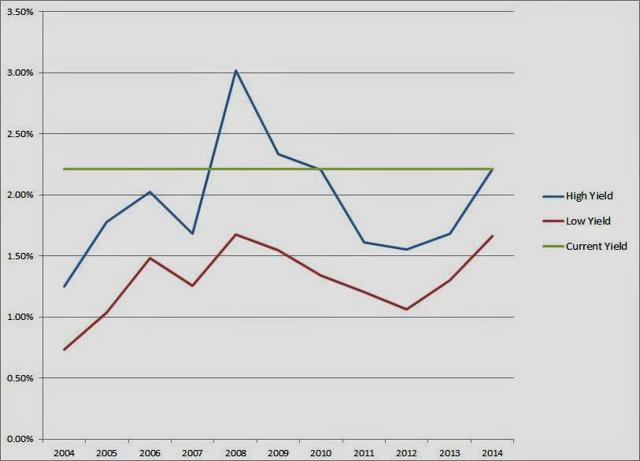 Average Low P/E Ratio:
Family Dollar Stores' average low P/E ratio for the past 5 years is 12.55 and for the past 10 years is 13.65. This corresponds to a price per share of $41.68 and $45.31, respectively, based off the analyst estimate of $3.32 per share for fiscal year 2014. I'll use the average of the two low P/E ratio models in my target entry price calculation. This gives a low P/E target of 13.10 and a price target of $43.49. Family Dollar Stores is trading at a 29.0% premium to the low P/E ratio valuation.
Average Low P/S Ratio:
Family Dollar Stores' average low P/S ratio for the past 5 years is 0.53 and for the past 10 years is 0.54. This corresponds to a price per share of $47.94 and $48.35, respectively, based off the analyst estimate for revenue growth from FY 2013 to FY 2014. 2014 revenue per share is estimated at $89.76 and is calculated from revenue growth but not accounting for potential share buybacks. Currently, Family Dollar Stores' P/S ratio is 0.63 on a trailing twelve month basis. Once again I'll use the average of the two P/S ratio models, $48.15, in my target entry price calculation. Family Dollar Stores is trading at a 16.5% premium to this price.
Gordon Growth Model:
The Gordon Growth Model is a quick way to calculate the fair value of a company using the current dividend, the expected dividend growth rate, and your required rate of return or discount rate. Assuming a constant 7.00% dividend growth rate and a discount rate of 10.00%, the GGM valuation method yields a fair price of $41.33. Family Dollar Stores is currently trading 35.7% premium to this price.
For the DDM, I assumed that Family Dollar Stores will be able to grow dividends for the next five years at the lowest of the 1, 3, 5, 10 year growth rates or 15%. In this case that would be 15% since all the annualized growth rates are higher than 15%. After that I assumed Family Dollar Stores can continue to raise dividends at 12% (80% of 15%) for the next four years, and in perpetuity at 5.75%. The dividend growth rates are based off fiscal year payouts and don't necessarily correspond to quarter over quarter increases. To calculate the value I used a discount rate of 10.00%. Based on the DDM, Family Dollar Stores is worth $46.06, meaning it's trading at a 21.8% premium to this valuation.
P/E Ratios:
Family Dollar Stores' trailing P/E is 16.45 and its forward P/E is 15.98. The PE3 based on the average earnings for the last 3 years is 15.98. I like to see the PE3 be less than 15 which Family Dollar Stores is slightly over. Compared to its industry peers Family Dollar Stores is fairly valued versus Wal-Mart Stores, Inc. (NYSE:WMT) 16.5 (full analysis here), and undervalued versus Costco Wholesale Corporation (NASDAQ:COST) 25.3 and Dollar General Corporation (NYSE:DG) 17.3. Previous comparisons are on a TTM basis. On a forward P/E basis Family Dollar Stores is overvalued versus WMT (13.26) and DG (13.35) but undervalued against COST (21.64). Family Dollar Stores is trading at a 5 year PEG ratio of 5.37 which has shares well overvalued against WMT (1.73), COST (2.24), and DG (1.07). A PEG ratio of 1 is generally considered fair value and FDO isn't even close to approaching that level.
Margins:
Family Dollar Stores' gross margins for FY 2012 and FY 2013 were 37.2% and 34.2%, respectively, and they have averaged a 36.8% gross profit margin over the last 5 years. The net income margin for the same years were 4.5% and 4.3% with a five year average of 4.4%. The retail industry is typically yields very low margins, especially the discount retail space. Family Dollar Stores' gross margin has been fairly steady over the last 10 years with a low in FY 2013 of 34.2% and a high in FY 2010 of 37.9%. I like seeing the gross margin be fairly consistent as it makes for easier planning by management. Net profit margin though hasn't been quite as steady. Net profit margin has ranged from 3.1% in FY 2006 to 4.6% in FY 2010. A trend of improving net profit margin was in place, although FDO has struggled over the last year with a TTM net profit margin of just 3.8%.
Since each industry is different and allows for different margins, I feel it's prudent to make a company to company comparison.
| | | |
| --- | --- | --- |
| Company | TTM Gross Profit Margin | TTM Net Profit Margin |
| FDO | 34.2% | 3.8% |
| WMT | 24.8% | 3.4% |
| COST | 12.6% | 1.8% |
| DG | 31.1% | 5.9% |
Family Dollar Stores is leading the way when it comes to gross margin at 34.2% and is middle of the road for net profit margin at 3.8%. Dollar General is a closer comparison to Family Dollar in the discount retail space and while FDO is ahead on the gross margin the net profit margin is lagging well behind.
Share Buyback:
Since the end of FY 2003, Family Dollar Stores has been great reducing the share count. From FY 2003 to the end of FY 2013, the share count has decreased from 173.4M to 116.0M. That's a total of 33.1% of the shares outstanding since the start and is good for an average annual decrease of 3.9%.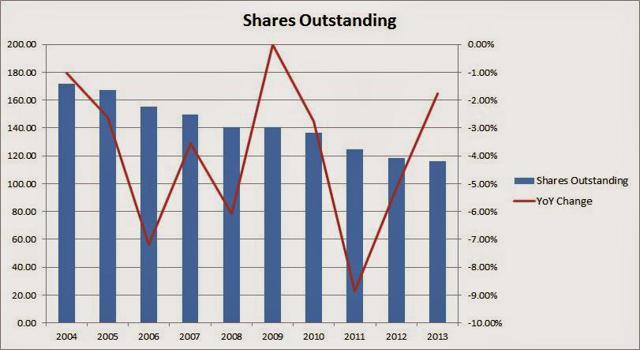 A negative number for the % change value means shares were bought back by the company and a positive value means the shares outstanding increased.
Dividend Analysis:
Family Dollar Stores is a dividend champion with 38 consecutive years of increasing the dividend. The dividend has been increased at a 21.3%, 19.4%, 17.0%, and 15.2% annualized rates over the last 1, 3, 5, and 10 year periods, respectively. Dividend increases are based off fiscal year payouts and don't necessarily correspond to quarter over quarter increases. FDO has done a great job increasing the dividend and I was quite surprised to learn that they had 38 years of increases behind them.
The payout ratio based off earnings per share has increased over the last 10 years from 20.9% to 28.3%. Over the last five fiscal years the payout ratio has averaged 23.8% and that's after a 17.0% annualized increase. However, going forward the dividend increases will need to be more in line with earnings per share growth, which analysts are calling for just 3.15% growth over the next 5 years. Adding in 3% share count declines could lead to 6.15% annual growth while keeping the payout ratio constant.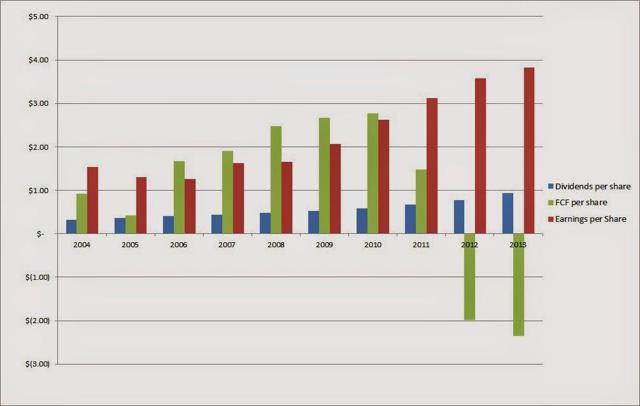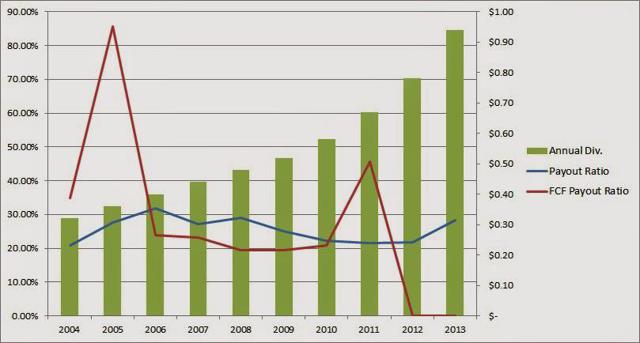 The free cash flow payout ratio is much more troubling though than the earnings per share and paints an entirely different picture. Operating cash flow has declined from $529.9M in FY 2009 to $472.0M in FY 2013. That's an average annual decline of 2.85%. Capital expenditures have also been on the rise over that time increasing from $155.4M to $744.0M in the same years for an average annual increase of 47.9%. Declining cash flow from operations coupled with increasing capital expenditures is not a good combination and spells trouble for free cash flow. Free cash flow, operating cash flow less capital expenditures, has declined from $374.5M in FY 2009 to -$272.0M in FY 2013. Family Dollar Stores now has two consecutive fiscal years of negative free cash flow as well as negative free cash flow over the trailing twelve months. As a dividend growth investor, the sustainability of the dividend is of utmost importance to me, so I also like to calculate the free cash flow after paying the dividend of FCFaD. The FCFaD obviously hasn't been all that great declining from $301.8M in FY 2009 to -$380.0M in FY 2013. Over the TTM FCFaD is at -$224.0M. The FCF payout ratio does not look good given the negative free cash situation that FDO has been in the past two fiscal years. Over the last five fiscal years the FCF payout ratio has declined every year although appears to have stabilized some during FY 2012 and FY 2013 with around the -39% mark. Something is going to have to give here with operating cash flow needing to income, capex decrease, or further debt will be needed to fund operations of the company and the dividend. I'll be watching the cash flow situation very closely before investing capital in Family Dollar Stores.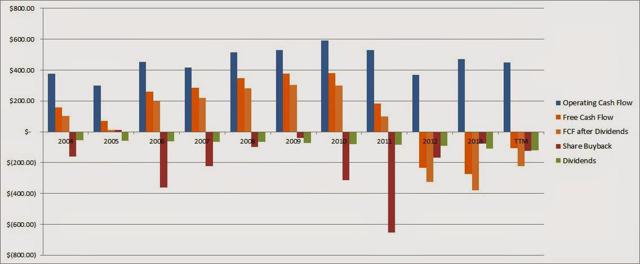 Return on Equity and Return on Capital Invested:
Family Dollar Stores' ROE has averaged a very strong 28.3% over the last five fiscal years with ROCI averaging 21.4%. However, between FY 2012 and FY 2013 ROE dipped from 32.5% to 27.8% which is a troubling sign. Long-term and total debt levels have been increasing and have more than doubled over the last five fiscal years. In FY 2009 total debt was at $250M and FY 2013 ended at $516M. The balance sheet is still very clean with a long term debt to equity ratio of just 0.31 for FY 2013 although it has increased from an even better 0.17 mark in FY 2009. You can't go bankrupt if you don't owe anyone money. Long term debt to capitalization has also been worsening, although it's still at healthy levels. In FY 2009 the LTD-cap ratio was 14.8% and at the end of FY 2013 it had increased to 23.8%. I'll be watching the debt levels throughout the year as well to see how management deals with operations that are struggling.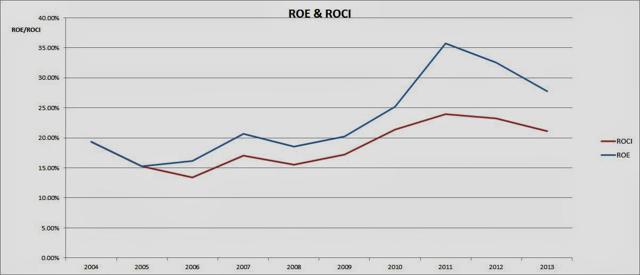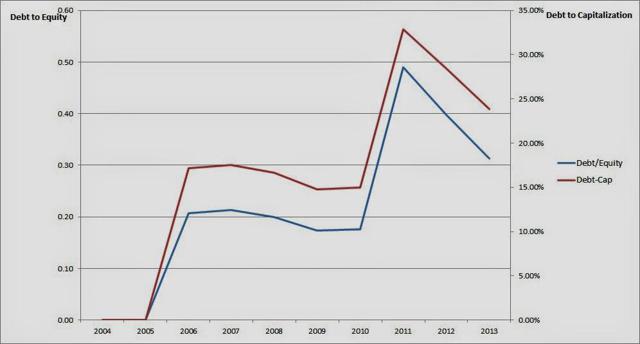 Revenue and Net Income:
Since the basis of dividend growth is revenue and net income growth, we'll now look at how Family Dollar Stores has done on that front. Revenue growth since the end of FY 2008 has been great with a 8.3% annual increase; growing from $6.984B to $10.391B. Net Income over the same years has grown at an annualized rate of 13.8% from $233.1M to $444.0M. Since net income has been growing faster than revenue, the net income margin has improved from 3.34% in FY 2008 to 4.27% in FY 2013.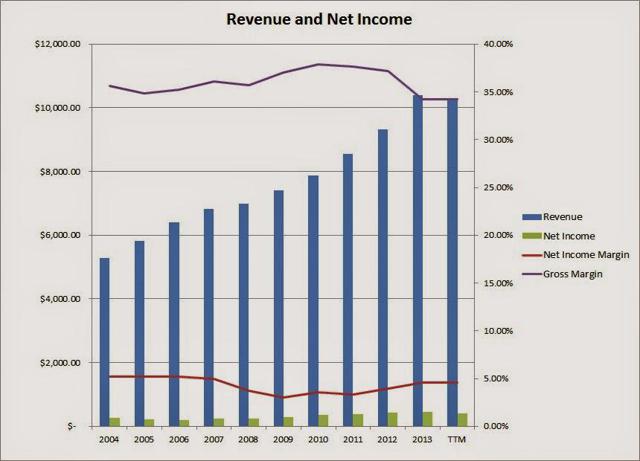 Forecast: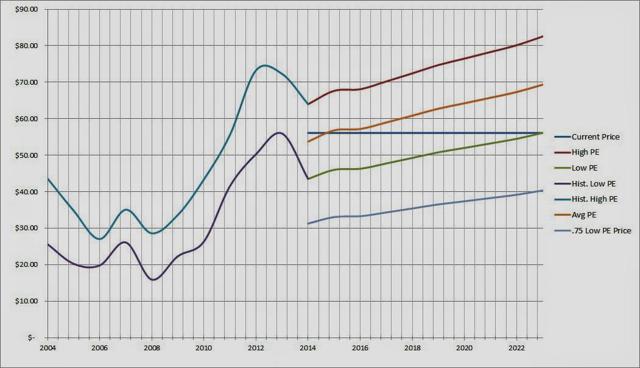 This chart shows the historical high and low prices since FY 2004 and the forecast based on the low, average, and high P/E ratios and the expected EPS values from the discounted earnings calculation above. I have also included a forecast based off a P/E ratio that is 75% of the average low P/E ratio. I like to buy near the 75% low P/E ratio price although this price doesn't usually come around very often. In the case of Family Dollar Stores, the target low P/E ratio is 13.1 and the 75% low P/E ratio is 9.8. This corresponds to an entry price of $43.49 based off the expected earnings of $3.32 for FY 2014, with a 75% target price of $31.26. Currently Family Dollar Stores is trading at a $24.84 premium to the 75% low P/E target price and a $12.61 premium to the target low P/E price. If you look at the chart the current price line intersects the average P/E line towards the end of FY 2015 suggesting that it's currently above fair value and that you're paying up for about 1.5 years of growth at current prices. The current price line intersects the low P/E line towards the middle of FY 2023 so you're paying quite a premium for a slower growing company. If growth comes in above analyst estimates then these numbers are subject to change for the better.
Conclusion:
The average of all the valuation models gives a target entry price of $45.94 which means that Family Dollar Stores is currently trading at a 22.2% premium to the target entry price. I've also calculated it with the highest and lowest valuation methods thrown out. In this case, the Graham Number and average high dividend yield valuations are removed and the new average becomes $44.73. Shares are currently trading at 25.4% premium to this price as well.
Assuming that Family Dollar Stores grows their earnings and dividends at the rates that I assumed, you're looking at fairly lackluster returns over the next 10 years. In 2023, EPS would be $4.32 and slapping an average P/E of 16.18 gives a price of $69.94. Over the next 10 years you'd also receive $26.66 per share in dividends for a total return of 72.2% which is just a 5.59% annualized rate if you purchase at the current price. If you purchase at the target entry price of $45.94 the 10 year total return jumps to 110.3% or a 7.72% annualized rate.
According to Yahoo!Finance, the 1 year target estimate is $56.68 suggesting that the share price has about 1.03% upside over the next year. The following table is from Morningstar and shows the current valuation of Family Dollar Stores compared to its' industry, the S&P 500, and its' 5 year averages.

Family Dollar Stores, Inc. operates a chain of discount retail stores focused on providing low cost household products and seasonal items to low and middle income consumers. Family Dollar Stores has approximately 8,100 stores operating in 46 states and operates solely in the domestic retail space.
Family Dollar Stores turned in a great FY 2013 with 11.4% growth in revenue and recorded its highest earnings per share with a 7.0% increase to $3.83. Even better news for investors is the $183.3M returned to shareholders in the form of dividends and share buyback. However, it's been a bumpy ride since the end of the fiscal year last August. Earnings per share for 2Q14 came in at $0.80 compared to $1.21 during 2Q13. Part of this can be explained by 2Q14 having just 13 weeks compared to 2Q13's 14 weeks. The weather was also to blame for Family Dollar Stores, as well as most of the retail companies, and according to the company was a drag of $0.05 per share in earnings.
Due to the disappointing operations Family Dollar Stores is embarking on a full review of their business and taking some immediate actions to improve their performance. First, they're working on lowering prices for around 1,000 products they sell. Second, they will be trying to lower costs through better use of their workforce. And third, they will be closing approximately 370 underperforming stores. They also announced they will be slowing new store growth starting in FY 2015, August 2014, to improve return on investment.
The winter of 2013/14 was very tough for the retail space as harsh weather kept people at home rather than venturing out into the stores and disrupted merchandise shipments. I was pretty surprised to see some of the financials as gut feeling would suggest that Family Dollar Stores would have slower growth in good economic times and excel during the bad economic times. While growth did accelerate as the economy worsened, the change between good and bad economic times doesn't appear to be as much as I'd expected. This is good for investors as the company continues to expand their footprint in the good times and when the economy starts to decline operations really improve as consumers look to cut their own costs wherever they can.
I'm a bit concerned about the cash flow situation as the combination of store count expansion, share buybacks, and increased dividends has led to cash flow negative results for the last two fiscal years. The recent announcement of closing 370 stores after opening 500 new stores in FY 2013 is troubling and will give just a net increase of 130 stores since the end of FY 2012. Granted, the 370 stores are being closed due to underperformance so hopefully the 500 new stores were strategically placed to deliver growth all around. The rapid expansion appears to have been an attempt to grow way too quickly in an economic environment that continues to improve, albeit slowly. The balance sheet remains strong despite the increase in debt over the last two fiscal years. The debt has been needed due to the high capital expenditures reducing free cash flow. I'd have preferred to see slightly lower dividend growth/share buybacks to avoid taking on additional debt, but there's still plenty of room on the balance sheet without jeopardizing the company.
Overall I think the valuation of Family Dollar Stores is a bit rich considering the struggles they're going through right now. The dividend growth has been very strong and if the slowing of store count expansion can move them into cash flow positive territory I'd be a lot more interested. My average valuation price is at $54.83 and shares are currently trading above that level. Right now I feel it's best to take a wait and see approach with Family Dollar Stores, Inc. since I don't see a big enough margin of safety.
What do you think about Family Dollar Stores, Inc.. as a DG investment? How do you think the long-term dividend growth prospects are?
A full list of my holdings can be found here.
Disclosure: I have no positions in any stocks mentioned, but may initiate a long position in FDO over the next 72 hours. I wrote this article myself, and it expresses my own opinions. I am not receiving compensation for it (other than from Seeking Alpha). I have no business relationship with any company whose stock is mentioned in this article.
Additional disclosure: I am not a financial professional and all thoughts/ideas here are my own and for entertainment purposes only. Investing involves risks. Please consult a financial professional and do your own due diligence before investing. The author is not responsible for losses of any kind by readers. All charts/images and data are sourced from my personal stock analysis spreadsheet, Morningstar, Yahoo! Finance, or Family Dollar Stores, Inc.'s Investor Relations page.