Where There's Smoke...
This is a question that many people should start to ask themselves. "Is my retirement money part of a fund that, somewhere, has a stake in Herbalife?" If so, has the manager of my fund looked long and hard at the potential risks as to what a government wipe-out of Herbalife (NYSE:HLF) could potentially do to the overall average of my retirement/401(k) fund?
There is no doubt that in its heyday at the beginning of this controversy, Herbalife was being bid up - all the way from the $30s, up to the high $70s. Fueled by analysts like Tim Ramey, Herbalife provided monster returns for those that went long at the right time. But, three things have changed.
Private investors and sell-side capital managers need to remember a couple of things as they reevaluate their Herbalife positions:
1. We can clearly see that "traditional analysts" don't have much of a clue about what, intrinsically, makes up Herbalife's business model.
This isn't a traditional P/E and net income situation. This Herbalife case is a specialty situation and if you do traditional analysis on this company without a comprehensive understanding of how the model works, you're likely to get burned because you're not looking at the forest for the trees.
I could go back and cite numerous blunders here - Tim Ramey's horrible start to 2014 with Herbalife, Stiritz's position that's now underwater, Icahn seemingly not knowing how the business model works (or anything at all about Herbalife, for that matter).
But, the best example that the traditional analysts are getting Herbalife wrong is Barclays' analysis of the stock, which was put out just days ago on April 8th. I immediately refuted this report the next day in my article, "Barclays Beefs Its Herbalife Analysis."

Barclays issued a 22-page report, trying to figure out just what the possibilities were for Herbalife at the end of the FTC investigation. Barclays concluded the most likely path was a slap on the wrist and some business changes that would only affect sales in the U.S. Barclays kept its overweight rating on Herbalife, with a price target of $94.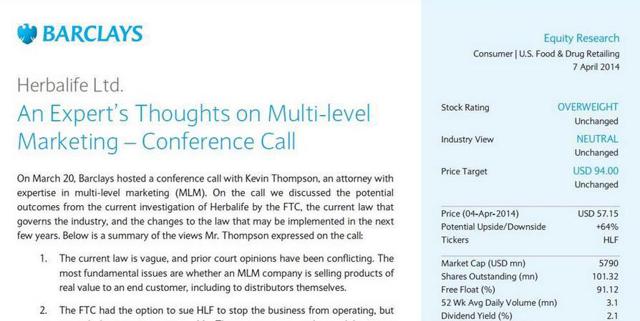 When Barclays penned this report, Herbalife closed at $57.81. Yesterday, the stock closed at $53.75. Barclays has managed to make 7% in equity disappear from customers who read their report on Herbalife in less than a week. That's embarrassing.
It also speaks to the oft-ignored fact that there are very few analysts that have a fundamental understanding of how Herbalife works - and the ones that do, Ackman, Herb Greenberg, Matt Stewart, myself, and the likes - all contend that Herbalife is a worldwide confidence game.
2. The upside/downside potential has been skewed significantly.
With Herbalife still at the (what I think is) ridiculous price of $53/share, the upside potential remains extremely limited. A 30-40% upside case, which would likely only occur in the case of complete exoneration, doesn't make sense to invest in when the bearish case, which (of course) I believe is correct has 100% return potential.
The case of complete exoneration is extremely unlikely, I'll cover that later.
3. There are regulatory agencies crawling all over Herbalife now.
Michelle Celarier of the NY Post was the first (yet again) to break the news of NY Attorney General Eric Schneiderman on Herbalife's case yesterday:
New York Attorney General Eric Schneiderman is investigating Herbalife over claims it is a pyramid scheme, The Post has learned.

At least two whistleblowers have come forward and given Schneiderman's investigators sworn testimony, sources said.

The New York lawman has also fielded complaints from former Hispanic Herbalife distributors who say they were defrauded by Herbalife, sources said.

A spokesman for Schneiderman declined comment.

The Los Angeles distributor of nutritional supplements is already the subject of federal civil and criminal probes over pyramid-scheme allegations.

A report on Friday that the FBI and Manhattan US Attorney Preet Bharara had launched criminal probes of the $5 billion multilevel marketer - which sells its products worldwide through a network of 3 million-plus distributors - spooked investors and sparked a 17 percent stock sell-off.
These organizations are not Herbalife's Board of Directors.
They can't glaze over details or ignore breaches in fiduciary duties.
These regulatory agencies are critical thinkers who are focused on removing criminals from positions of power that allow them to bilk the common folk.
When these agencies dig in and begin to look at the mountains of evidence against this company that Ackman is likely sending them, it's going to be clear as a bell that Herbalife, as a company, would be better off shut down in the U.S.
Conclusion
Further, in an absolute best-case scenario of total exoneration (which I think there is less than a 1% chance of), Herbalife is still going to be residually negatively affected by this whole mess moving into the future.
Less and less people will want to become distributors due to the increasing transparency that only a couple of thousand out of the million that sign up are making more than $25k/year. Further, the rules that Herbalife is already working on changing in-house to try and avoid investigations (too late), like their return policy, will also negatively affect the business.
There are no ifs, ands, or buts about it - if Herbalife makes policy changes that are beneficial to distributors, they're likely at the cost of the bottom line for the company, which then, in turn, will eventually cause the stock to slump. Herbalife doesn't really have a lot of outs right now - it's time for them to sit back and let the regulatory cards fall where they may.
Not only should private investors take a look as to why they're potentially holding Herbalife long, people with retirement funds and 401(k)'s that are being managed should be asking their capital managers (whom they pay fees to):
Is Herbalife in my current fund?
Is it prudent to keep Herbalife in my current fund?
Why would you subject your clients to Herbalife's pending risk?
Investment thesis: As yet, another regulatory body joins the probe into Herbalife, I continue to contend that Herbalife is a worldwide confidence game that will ultimately be shut down by regulators. I thank Eric Schneiderman for doing the right thing and protecting his constituency.
Disclosure: I am short HLF. I wrote this article myself, and it expresses my own opinions. I am not receiving compensation for it (other than from Seeking Alpha). I have no business relationship with any company whose stock is mentioned in this article.