On Monday rechargeable battery manufacturer Highpower Technology (NASDAQ:HPJ), announced a 1 million share private placement at $5.05 raised $5.05 million. The stock dropped a whopping 27% on the day. The market response was extreme and illogical as the stock fell to $4.21 - $0.84 below the placement price. Today, the company announced it is a supplier to SONY Corporation (NYSE:SNE) and is already receiving orders and shipping products. HPJ indicated SONY's "initial orders" for Highpower's lithium polymer batteries will be used in wireless products. I expect a strong snap-back rally in the shares today. Despite these short-term gyrations, Highpower's long-term fundamentals are solidly bullish. On the heels of the cash infusion and the SONY contract announcement, I am raising my 2014 price target by two bucks from $6.40 to $8.40, 100% above Monday's close.
After Monday's stock price swoon, I responded to concerned comments on my previous article Highpower Technology: Easy 30% Upside As Lithium-Ion Battery Demand Set To Go Parabolic with the following:
It's the new share placement. But don't sell. Despite the share dilution, the company did sell them at $5.05 and raised 5 million bucks. I think they will use the money wisely by leveraging their new manufacturing capacity and land new lithium-ion battery supply contracts. Selling today was way overdone. I'm not worried and keeping my shares.
This continues my lucky streak on HPJ predictions. After my last article predicted a 30% rise in the shares during 2014, the 30% gain was actually achieved in one day (April 1) and the stock exceeded my 2014 price target of $6.40 by running all the way up to $7.73 before profit taking set in. After yesterday's comment, I woke up today and read about the SONY contract. Two-for-two.
In past articles (here and here) I have written before about some of the very bullish fundamentals that will serve as strong catalysts for Highpower Technology's rechargeable battery business going forward:
Exposure to the fast growing rechargeable lithium-ion battery market.
A new state-of-the-art automated manufacturing facility.
Its first large scale EV battery order.
Expanding gross margins and management efficiencies.
A portfolio of over 100 patents.
Now I can add to this list the new SONY contract. While terms of the contract were not revealed, it is safe to make some assumptions from the supply announcement:
SONY is a very large consumer company and as such the volume of orders will likely be quite large.
Note HPJ's press release said "initial orders" were for SONY's wireless products. I read that statement as there will be follow-on orders that will likely be non-wireless products. That is, larger sized batteries with higher margins.
This is obviously very bullish. The SONY contract is a nice follow-on to HPJ's first ever large scale EV supply contract for rechargeable lithium polymer battery packs. The deal compliments the earlier large scale EV order with small sized consumer solutions for the wireless market. It's clear Highpower's new manufacturing facility can supply customers across the entire rechargeable lithium battery market spectrum from small-to-large. The contract is also tacit validation of HPJ's high-quality rechargeable battery manufacturing expertise to land a contract with such a large and well respected company like SONY. And of course the manufacturing efficiencies that come from higher volume production will certainly help the new manufacturing facility gain traction and increase margins.
Chinese Company Risks?
I frequently get questioned about the risk of investing in a Chinese company. I usually point out the fact that HPJ is only listed on the NASDAQ exchange and as such is under the same regulatory, accounting, and auditing requirements as is any other NASDAQ listed stock. You can find a list of all of HPJ's SEC filings here.
Browsing through the most recent 10K filing, I learned another interesting fact about HPJ: Thomas Fisher III sits on the Board and has served as a director since 2011. He is also on the Audit and Compensation committees. "TJ" Fisher was employed for 30 years at Energizer where he held numerous senior management positions including VP & GM of Power Systems, GM of Business Development - Miniature Batteries, as well as several international assignments. Fisher is also a stock holder in the company (see below).
Insider Holdings
A more significant finding discovered while perusing the 10K was the extreme level of insider stock ownership:

Note that the 6.45 million shares held by insiders equate to 45.7% of the total shares outstanding. Note also that two shareholders, Chairman and CEO Mr Pan and the VP and CTO Mr Li, own ~37% of the total shares outstanding. There are two ways of looking at this: a) either could decide to dump shares which would likely drive the stock down or b) the two executives are very bullish on the company's future and are working night and day to increase the value of their shares. I choose the later view.
New Recycling Business
Highpower's new recycling effort is a key differentiator for the company. On the Q4 conference call, HPJ announced it would start-up a battery recycling center in Q2. From the Seeking Alpha conference call transcript, CFO Henry Sun said:
According to a Frost & Sullivan report, the EV lithium battery recycling market is expected to be worth more than $2 billion by the year 2022, with more than half of the million end of life EV battery packs becoming available for recycling through the waste stream.
Sun said the capacity of the new plant is 40,000 metrics tons of metal. What this means is that HPJ will rely less on external sources for raw materials. The company will generate increased efficiencies by becoming less reliant on external suppliers. Bottom line: gross margins will expand.
Even if the recycling center is only able to reduce the cost of sales ($106 million in 2013) by 250 basis points, that would equate to $265,000 or nearly 2 cents a share.
Upside Potential
In the Q4 and full-year 2013 earnings release, Highpower Tech issued its 2014 guidance:
Revenues of $150-$170 million.
Net income of $2.5-$4 million.
A couple of takeaways from that. First, the guidance was given prior to the SONY announcement. Secondly, I would expect such a significant contract, announced early in the year with orders already shipping, will push the annual guidance on both revenue and net income toward the upper end of the ranges. Combining the SONY contract will the recycling center's ability to reduce raw material costs, and the higher volumes enabling the new manufacturing facility to increase efficiencies, one can make a case that net income will come in at the very top of the range: $4 million. That equates to net income of $0.27/share. That is based on 13,582,106 fully diluted shares outstanding at year-end 2013 plus the 1 million private shares placement for a total of 14,582,106 fully diluted shares at present. That would put the forward looking P/E at 17.6.
Valuation
Currently, HPJ is trading at $4.74 (up +$0.53 or 12.6% so far today), and has a market cap of only $69 million. Note that market cap is only 43% of the midpoint of 2014's expected sales.
Full-year 2013 earnings were $2.25 million. The midpoint of 2014's earning guidance is $3.25 million, or an increase of 44% YOY. At the top-end of guidance ($4 million), that's an increase of 78% YOY.
These valuation metrics indicate HPJ is an extreme bargain: a forward P/E of 17.6 for a company with a market cap only 43% of sales, set to grow net income between 44-78% YOY, and operating in a fast growing market like rechargeable lithium-ion batteries? Seriously? This company is undervalued by 100% in my opinion. At a minimum the market cap should be at par with sales. This is likely one big reason why insiders owned 45.7% of the shares outstanding at year-end 2013.
Summary & Conclusion
Highpower Technology's market cap is selling at a deep discount to sales. The market apparently does not believe in the sustainability of the company's growth prospects in the rechargeable battery market. Yet actual developments say otherwise. Lithium battery net sales were up 52.6% YOY in 2013, and up 79.2% in the Q4 2013 over the prior year Q4. The company has recently inked two big contracts: its first large scale order for the Chinese EV market for large format lithium polymer batteries, and on the other end of the spectrum a deal with SONY to supply lithium polymer batteries for small consumer wireless products. Both these contracts were announced so far in 2014 and we're only in April. Expect more big contract announcement as HPJ ramps up its new manufacturing facility (set to double sales capacity next year to $40 million). While some may see the recent $5 million share placement as dilution, I view it as an influx of cash to re-invest in growing the company's rechargeable lithium battery manufacturing capacity and its recycling business at a time when the worldwide market for both is taking off at a parabolic rate. I am raising my 2014 price target to $8.40/share, based on $0.27 in full-year earnings (which I fully expect to raise as more contracts are announced throughout the year), and an increase in the valuation of the shares from the current forward P/E of 17.6 to a forward P/E=30. I feel such a valuation is justified considering: the earnings growth rate, the two recent contract announcements, the fundamentals growth prospects of the rechargeable lithium battery market HPJ operates in, and the large insider stock ownership. After substracting insider ownership, and the 1 million share private placement, there are only ~7 million shares available for investors, and about 2% of those shares are held by institutions. What this means is the volatility in the stock is likely to continue. Yet long-term investors (like me) should understand the trend is definitely higher.
HPJ is a STRONG BUY.
| | |
| --- | --- |
| Market Cap: | 66.82M |
| P/E (NYSE:TTM): | 39.72 |
| EPS : | 0.11 |
| Div & Yield: | N/A (N/A) |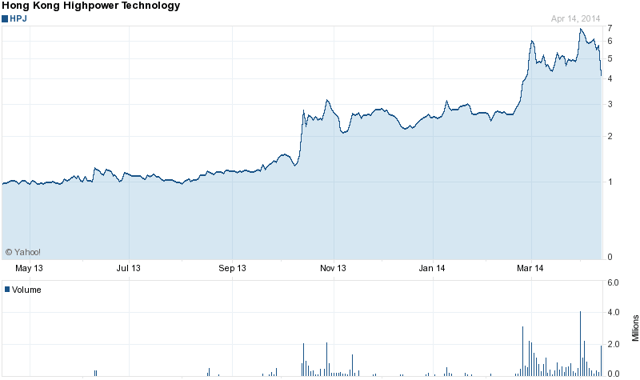 Disclosure: I am long HPJ. I wrote this article myself, and it expresses my own opinions. I am not receiving compensation for it (other than from Seeking Alpha). I have no business relationship with any company whose stock is mentioned in this article.
Additional disclosure: I am an engineer, not a CFA. The information and data presented in this article was obtained from company documents and/or sources believed to be reliable, but has not been independently verified. Therefore, the author cannot guarantee its accuracy. Please do your own research and contact a qualified investment advisor. I am not responsible for investment decisions you make. Thanks for reading and good luck!
Editor's Note: This article covers one or more stocks trading at less than $1 per share and/or with less than a $100 million market cap. Please be aware of the risks associated with these stocks.