Introduction
In this article I'll revisit the status of Coca-Cola (NYSE:KO) after writing an earlier article on the company wherein I concluded the company was relatively attractively priced. I will provide my view on the financial results and the balance sheet where after I will discuss the outlook for 2014 which will result in my conclusion at the end of this article.
All images in this article were directly sourced from the company's website and press release.
My view on the financial results
For the first quarter of financial year 2014, Coca-Cola reported a total revenue of $10.6B which is approximately 4% lower than in the same period last year. Fortunately the company was able to keep its costs down so the impact on the gross profit was just 3% compared to Q1 2013. Additionally, the SG&A costs dropped by 5% as well, which resulted in a slightly lower operating income (-1% to $2.4B). However, the net income decreased by 8% to $1.63B due to a higher interest expense bill and other losses. This resulted in an earnings per share of $0.36 compared to $0.39 last year.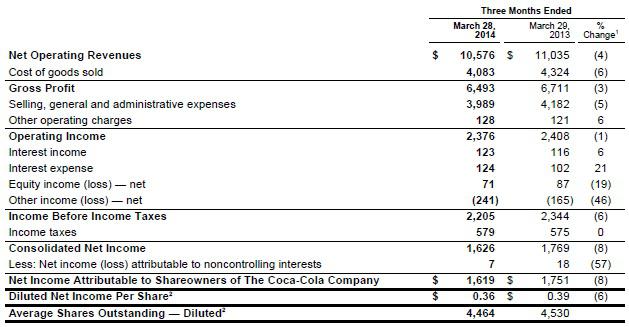 Source: Press release
However, most of my readers know I actually prefer to have a look at the cash flow statements of a company as well because I'm convinced those statements offer a better indication of the quality of the underlying assets. So when we move over to the cash flow statements, it's clearly visible the company had an operating cash flow (before changes in working capital) of $2.5B and it spent just $449M in capital expenditures. This means Coca-Cola had a free cash flow of approximately $2.05B or $0.46/share, which is substantially higher than the earnings per share. The majority of the free cash flow was used to take care of the shareholders, as Coca-Cola paid out its quarterly dividend and repurchased $713M worth of shares for cancellation which is approximately 0.4% of the total amount of outstanding shares.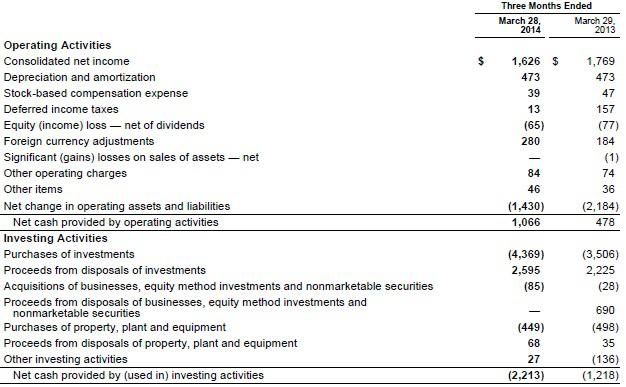 Source: press release
My view on the balance sheet
Moving over to the balance sheet, Coca-Cola's working capital as of at the end of March 2014 was just $1B, mainly due to the fact approximately $18.3B was payable in notes and loans. The current ratio was 1.033 which is quite low (a ratio higher than 1 means the company has sufficient current assets to cover its current liabilities).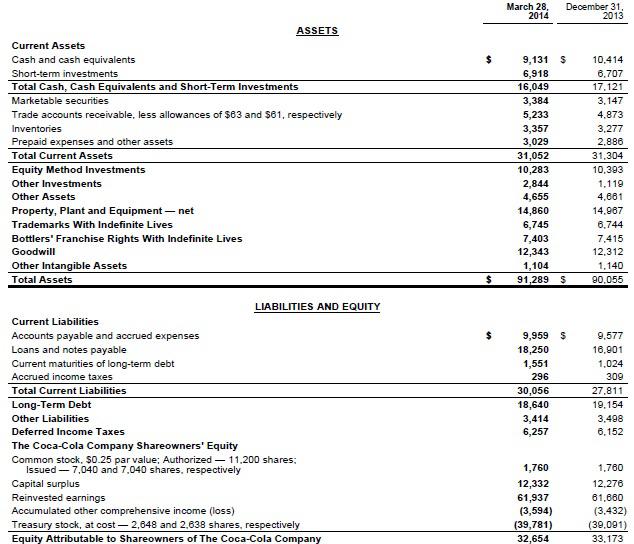 Source: press release
The book value at the end of Q1 was roughly $7.35, which means the company still is trading at a multiple of five to its book value which isn't particularly cheap.
Outlook for 2014
Coca-Cola is warning for the effects of currency exchange rates on its full-year performance and estimates there's a "seven percent headwind on the full year operating income of the company". After my last article I thought the management team was overestimating the currency risk, but I seem to be wrong here, so I'll monitor the currency exchange risks very closely from now on.
Additionally, the company reconfirms it will repurchase $2.5-3B of its own shares for cancellation. As Coca-Cola repurchased $713M worth of shares in the first quarter of this year, shareholder can look forward to an average share repurchase of $596-762M per quarter from now on. If the share price remains relatively stable, Coca-Cola will be able to buy back 1.5-1.8% of its own shares, which should allow the company to continuously increase its quarterly dividend at the same rate.
Conclusion
Coca-Cola's first quarter wasn't as bad as generally expected, and I'm actually quite happy with the numbers. The normalized free cash flow was $2.05B which results in an annualized $8.2B or $1.84/share. This means the dividend of $1.22 per year is sufficiently covered and there's room to buy back the amount of shares it has guided for. As the dividend seems to be stable, just like the free cash flow, Coca-Cola could almost be seen as a bond rather than a common share.
The company is seen as a "safe investment" by the community and I tend to agree. Whilst its numbers aren't very exciting, the company continues to have a free cash flow yield of just under 5%. I wrote a P30 January 2015 on Coca-Cola and I'm confident this put option will expire worthless. I probably will write some more put options at various strikes and expiration dates later this year to grab the option premium.
Disclosure: I have no positions in any stocks mentioned, and no plans to initiate any positions within the next 72 hours. I wrote this article myself, and it expresses my own opinions. I am not receiving compensation for it (other than from Seeking Alpha). I have no business relationship with any company whose stock is mentioned in this article. I have no position in Coca-Cola, but I wrote out of the money put options.