General Motors (NYSE:GM) has been dealing with the controversial recall of 2.59 million its vehicles after a decade long delay. The announced repairs of the defective ignition switches will begin soon as the company plans to inform affected customers this week about the arrival of spare parts at dealerships. Drivers will be required to schedule a service appointment in order to rectify the problem with the ignition switches. Multiple investigations initiated against the company are proving difficult for the company to handle at the same time and that's the reason why GM has been fined $7,000 a day by the N.H.T.S.A for not providing ample answers to the questions set by the safety agency. I don't think General Motors is trying to hide something because when the company knows that serious investigations have been initiated by higher authorities they have no choice but to be transparent. Also, the company's CEO had previously announced that they don't want to sacrifice accuracy for speed. I believe the auto maker should negotiate with the U.S. safety agency and ask for an extended time limit.
March Sales Results
Despite the health and safety concerns raised from the GM recalls customers of the company seem confident in the company's quality control standards. That is the reason why General Motors provided positive sales results for March.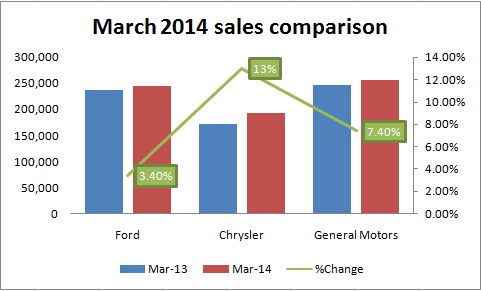 Source: International Business Times
After the frigid cold and snowy weather was over by the end of February the true picture of the US auto industry appeared. Sales of almost all the automakers resumed their momentum and General Motors was one of the companies with high single digit growth. Its sales for the month of March grew by 7.4% and the company secured the third position on the chart by virtue of sales growth. Note that General Motors was the only auto maker whose sales for the month crossed 250,000 units. This sales growth confirms that customers are less shaken by the safety concerns with the cars made and sold by the old GM. With the job market on a positive note, high household income and increased consumer spending, General Motors anticipates the growth momentum to continue throughout the coming months.
GM's Sport-Utility Vehicles Top Crash Test
The results of the crash test released this month have identified General Motors' Chevrolet Equinox and the GMC Terrain as the most robust among midsized sport-utility vehicles. This crash test was designed by the Insurance Institute for Highway Safety and incorporates one of the deadliest types of front end collisions. It is considered tougher than those conducted by the National Highway Traffic Safety Administration (N.H.T.S.A). The participant cars are assessed based on what happens when their front end collides with another vehicle, a tree or a poll. Interestingly Toyota Motor Corporation's (NYSE:TM) Highlander, Ford Motor Company's (NYSE:F) Explorer and Chrysler Group LLG's Jeep Grand Cherokee were rated as ''acceptable," "poor" and "marginal," respectively. This shows that General Motors has been improving the quality control standards of their cars to quell safety concerns.
Electric Vehicle Production
According to a WSJ report, General Motors is expected to announce a $450 million investment in two of its Michigan plants. This investment will be focused on the research and production capabilities of the company in terms of electric cars. The Chevrolet Volt and Cadillac ELR hybrid electric vehicles are considered the main recipients of the investment money. The investment is intended to add some spark to Chevrolet Volt's otherwise lackluster sales.

Source: Inside EVs
The following graph shows the historical sales data for the Chevrolet Volt since 2010. In 2010-11, Chevrolet Volt sales were 44% of the total electric vehicle sales during the period. The market share of the vehicle increased in 2012 by 1% but then saw a drastic decline to 24% in 2013 as Tesla Motors' (NASDAQ:TSLA) Model S and Nissan's (OTCPK:NSANY) Leaf topped the sales charts for the year in EV capacity.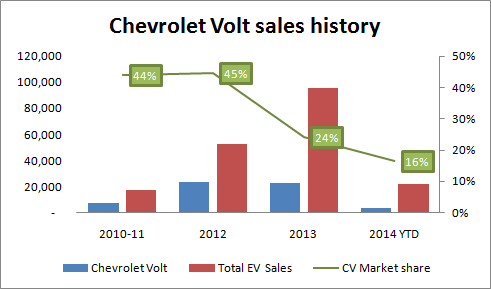 Source: Inside EVs
On the other hand Cadillac ELR is so new that we cannot estimate the market sentiment of the car yet. During 2013 only 6 units of the Cadillac ELR were sold in December while 2014 YTD sales have equaled 180 units. Also General Motors has recalled 656 of its 2014 models following a potential fault in the vehicle's electronic stability control system. Apart from that Cadillac ELR carries a price tag of $75,995 that is massive although the auto maker has announced a lucrative lease deal for the car of $699/ month that seems affordable.
In short, General Motors has been seeing conservative demand for its hybrid plug in vehicles despite price cuts because they offer limited mileage before shifting to gasoline. Volt consumers can go about a 40-mile range on a single battery charge and then have to shift to gasoline. Comparatively the Tesla Model S battery pack offers 265 miles and is the electric car with the greatest range available in the market. Therefore, General Motors needs to work on providing extended mileage before it can compete with big rivals in the sector such as Tesla and Nissan. Apart from operational efficiency, the affordability of the car also matters a lot. General Motors is going to launch two 2016 Chevy Volt models, one of them will be a lower priced model with a price tag of just over $30K. With that price the Volt would become one of the least expensive plug-in hybrids in the US market. However, the standard version will retain its current price tag of $35K.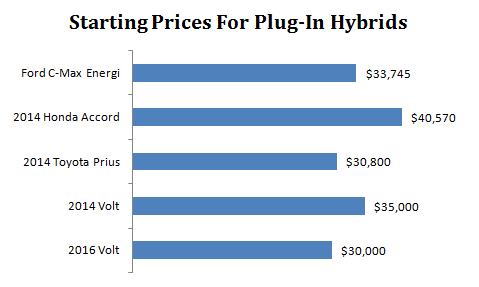 Source: Reuters
GM's Pickup Trucks Facing Tough Competition
General Motors is the nation's largest automaker with high expectations attached to its Chevy Silverado. The 2014 Silverado was expected to regain market share for the automaker in the pickup truck market that is led by Ford Motor's F-Series trucks. However, with the help of premium prices and low incentive spending General Motors was able to achieve profitability out of its Silverado sales. Still, it wasn't able to beat Ford's market lead. The Silverado was only able to beat sales growth for Ford's F-Series as it secured a 6.8% growth compared to F-Series growth of 5.1% in March. Year to date Silverado sales accompanied with the GMC Sierra are down 5% while F-Series sales are up 2.7%. Comparatively up until now Ford has outperformed General Motors in its pickup truck market.
The Ford F-150 proved itself not only as the nation's most popular pickup but also as the most popular vehicle of any sort. Moreover, Ford will soon be rolling out its new F-150 and the next generation F-150 will have an aluminum body that will offer not only fuel efficiency but also enhanced towing capacity. However General Motors has also planned to introduce an aluminum body Silverado by 2018 but that is a long time after Ford introduces its technically advanced aluminum body trucks. Hence, until General Motors comes up with its version Ford will already have taken a major part of the market leveraging on the first mover advantage.
On the other hand, Ram pickups from Chrysler penetrated the market through its cheap pricing. The affordability of the Ram pickups was attractive to price-conscious customers and thus Ram has seen a 25% increase in its market share this year. Chrysler is offering incentives averaging $5,600/vehicle nevertheless it is making plenty of profit on each truck it sells. In short Ram has become the third most popular pickup truck brand in the US.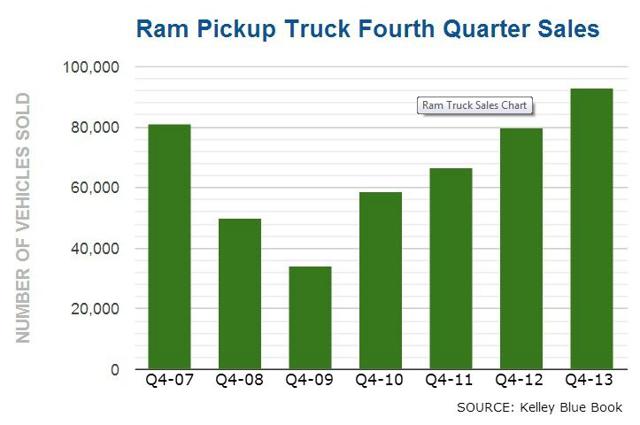 Source: International Business Times
Bottom Line
General Motors is facing challenges due to its controversial recalls and the company's negligence in handling the matter but I believe the company's new CEO, Mary T. Barra, has been tackling the issue in a reasonable way. Although the sales of the automaker have not been affected its stock has seen an excessive decline. We can take Toyota's recall of more than 10 million vehicles as a guide. Although Toyota's recall in 2009-10 was regarded as the worst recall ever data compiled by Bloomberg shows that Toyota will see record sales in fiscal year 2015. If analysts' expectations hold true for Toyota then it took Toyota almost 6 years to reach its record high sales again. In General Motors' case its sales didn't plunge as a result of the recall, unlike Toyota, and that assures us that the auto maker's top line will not experience serious trouble. Top and bottom line growth will eventually cause the stock price to elevate. Hence I will reiterate my stance on the stock and suggest investors take the current price dip as an opportunity to add this stock to their long-term portfolios.
Disclosure: I have no positions in any stocks mentioned, and no plans to initiate any positions within the next 72 hours.
Business relationship disclosure: The article has been written by a Gemstone Equity Research research analyst. Gemstone Equity Research is not receiving compensation for it (other than from Seeking Alpha). Gemstone Equity Research has no business relationship with any company whose stock is mentioned in this article.